Essentials
WHAT
Colorado at Michigan
WHERE
Michigan Stadium
Ann Arbor, MI
WHEN
3:30 Eastern
September 17th, 2016
THE LINE
Michigan –19.5
TELEVISION
BTN
TICKETS
From $54
WEATHER
mid-70s, overcast
20-30% chance of rain during game
Overview
Colorado's not good. They haven't been to a bowl game since 2007 and last year's 4-9 campaign was actually an improvement over 2-10 the year before. Like Michigan, they played Hawaii in their 2015 season opener. Unlike Michigan, they lost. The Buffaloes have been lost in the wilderness, head-butting each other, for going on 20 years now.
In this context a rousing blowout of in-state rival Colorado State does mean something. They squeezed by a 7-6 CSU team last year and spent big chunks of the last decade actually losing to them, so roaring out to a 30-point first-half lead and coasting the rest of the way is a notable improvement no matter how off this year's Rams are. How much improvement is an open question, but they could be a 6-6, 7-5 type outfit headed to Shreveport or wherever.
Vegas expects them to be Michigan's stiffest test to date, with a line more than two touchdowns closer than the UCF game. This shouldn't be close, but it should be a football game.
Run Offense vs Colorado
Tupou is large, man
Questions abound for Michigan after a performance against UCF which was disappointing even considering the Citronauts' box-stacking. A poor performance from the rotating left guard and indifferent ones from a couple others left Michigan fans fretting after a 37-point win, as they are wont to do.
In Colorado they meet last year's #96 rushing D per S&P+, but one that should improve after losing just one contributor in their front seven and getting back monster nose tackle Josh Tupou. Tupou, who pushes 330 and is the space-eater a 3-4 defense needs, returns after missing 2015 because of an off-field incident. He was honorable mention All Pac-12 in 2014 and should provide a stiffer test than anyone Michigan's interior line has yet faced.
Colorado is also entering their second year under DC Jim Leavitt, who you may remember seeming like a reasonably good idea* during Michigan's DC search. Leavitt put together quality defenses as USF's head coach a decade ago and CU should be past the inevitable hiccups that come with a coordinator change what with just about everyone returning.
Upside may be limited; most of the returners are juniors moving into their senior year and there isn't a touted gentleman amongst them, either by recruiting rankings or NFL prospects. This is a situation where improvement comes from the next generation pushing through.
Early returns are not good. CSU had 186 yards on 33 carries, 5.6 a pop, and many plays featured cavernous holes. Ace:
Colorado's safeties had to get involved quite a bit, and they were good enough to prevent chunk gains from turning into home runs, but they were involved more than they should've been. That's because Colorado's front seven had a tough time getting off blocks unless a CSU blocker comically fell over.
They dominated Idaho State for what little that's worth.
If there's a danger in the CU front seven it's at linebacker. Junior Derek McCartney (yes that McCartney) had 11.5 TFLs a year ago and five sacks as a sophomore; Ace and PFF liked WOLB Jimmie Gilbert's ability to get to the QB. He doesn't seem to do much else—he had six sacks last year and one other TFL plus just 25 tackles overall—but should be a test for Michigan's tackles.
The DEs and ILBs are weak points Michigan will go after. We'll see if Colorado plays as aggressively as UCF or decides they've got something to lose if they let Wilton Speight get going. Leavitt does have a reputation as a guy who wants to get after you.
*[On the field. Maybe not so much off it.]
KEY MATCHUP:  MICHIGAN'S LEFT GUARD versus WHATEVER THAT WAS LAST WEEK. Huge sinkhole was a major factor in the lack of production. Must get that fixed for Saturday and beyond.
[Hit THE JUMP for a LEGITIMATE ALL-AMERICAN… and SOME OTHER GUYS]
Pass Offense vs Colorado
Awuzie is Peppers wearing black. Peppers-ish.
Potential first-round CB/S/spacebacker Chidobe Awuzie is Colorado's best player and a legit All-American type who will go early in next year's NFL draft. Awuzie combines lockdown downfield coverage with a Peppers-like ability against opponents' horizontal games. Ace:
This destruction of a WR screen will remind you of a certain Wolverine defender:

Awuzie will rival Desmond King as the best defensive back Michigan's receivers will face in non-practice situations this year. This game didn't provide an opportunity to see him play much man coverage; he looked great doing everything they asked him to do, and his ability to make plays on the ball from off-coverage is special.
PFF graded him positively in coverage, run support, and pass rush last year; various NFL draft projection sites have him in the first couple rounds. ESPN ranks him as a second-rounder and loved his run support:
Strong in run support for the cornerback position. Physical and aggressive. Flies around the field. Plays with a linebacker's mindset. Takes very good angles and shows above average closing burst to ball carriers. Few DBs in college football are more reliable as open-field tacklers.
Nothing else is worse than average from NFL eyes, and is instincts and recognition are positives. He's legit. Like Peppers, though, he's had some issues finding the ball on deeper passes and ESPN complains about hip tightness. There's no doubt he's the best DB Michigan has faced and probably will face until the Iowa game; he appears to have some weaknesses that Chesson can exploit.
The rest of Colorado's pass rush defense is on shakier ground. They were all right at getting to the quarterback last year and finished 64th in S&P+'s pass defense metric. That's not the kind of output you'd expect from a unit featuring Awuzie. FWIW, Ace thought this year's version looked excellent against CSU:
Let's start with the good: this appears to be an excellent secondary. Awuzie was great no matter where he lines up, CB Akhello Witherspoon was all over the deep throws CSU tried to hit on him, and the safeties were aggressive and physical without letting much get over the top. The versatility of Awuzie and Laguda lets CU comfortably match up against a variety of looks, much like Peppers and Delano Hill allow Don Brown to get creative for Michigan.

Laguda had a couple dead-on-arrival stops against the run, and strong safety Tedric Thompson also had some impressive plays in run support, though a couple bad angles were mixed in there in his case. Despite making plenty of plays in the box, the safeties maintained discipline against the pass; this wasn't like UCF's safeties selling out against the run on seemingly every play.
While the eyeball test is encouraging for the Buffs, data this year is 404 file not found. Matt Gutierrez isn't walking through Idaho State's doors any more, and Colorado State's quarterback situation is a mess of rotation featuring Faton Bauta, the former Georgia quarterback who was inexplicably called upon to start against Florida last year. He's coming off a 6 of 17 performance against UTSA. So… yeah. Wilton Speight and Michigan's efficient pass-blocking line will be a challenge unlike any the Buffs have yet seen. So that goes both ways then.
Michigan has the luxury of avoiding Awuzie and throwing it to the two guys of their receiver troika not currently covered by a potential All-American, and their pass protection has been stellar so far. If that continues expect Wilton Speight to continue his efficient performances.
KEY MATCHUP: GRANT NEWSOME versus JIMMIE GILBERT and VARIOUS BLITZES. Colorado looks set to send Gilbert off the edge repeatedly as he attempts to speed-rush his way to Wilton Speight. Newsome will have his so-far excellent pass protection put to the test. 
Run Defense vs Colorado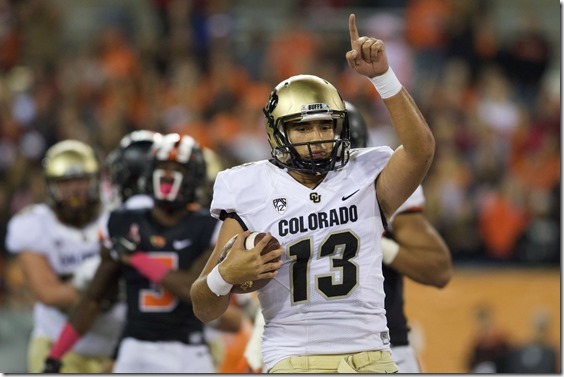 QB Sefo Liufau evens out the numbers and gives CU a chance
This is going to look familiar. Like UCF, Colorado is an uptempo spread team that will test Michigan on the edges and run the quarterback a lot. Sefo Liufau had 14 carries against Colorado State in a game that was over by halftime. (They did dial him back against Idaho State last week.)  Liufau is decently mobile and powerful, but he's not too different than UCF's Justin Holman with the ball in his hands. He's beefier and may grind out some yards after contact.
Wee Philip Lindsay is Colorado's top tailback option. He's coming off a 140-carry, 650-yard sophomore season, and at 5'8" is very much in the scatback archetype. He's a boom-or-bust type who doesn't get five yards often but tends to rip off longer runs when he does. Colorado also uses him out of the backfield, with 26 catches a year ago.
Expect the usual suite of spread running plays that will test Michigan's containment and assignments while trying to avoid relying too heavily on a shaky offensive line. Three consistent starters are back along with five different players who saw scattered starts; the left tackle is gone. For a line that was 83rd in adjusted line yards and 92nd in sack rate there should be some improvement, but not enough for them to compete down-in-down-out with Michigan's crew of killers.
Expect everyone to get optioned. Zone read, inverted veer, and midline stuff is all on the table as Colorado seeks to draw Michigan out of position with misdirection and tempo. They will probably have some success doing this as their approach stresses Michigan's young defensive ends and everyone's ability to get Michigan's new, complicated system down.
Michigan's run defense has been killer when not giving up an 87-yard run that saw a couple of individual breakdowns. That won't change on Saturday; Colorado's production will be about breaking a big run by getting a guy out of position, not consistent success.
KEY MATCHUP: IT'S STILL EARLY YET versus DON BROWN's WACKY SCHEMES and TEMPO TEMPO TEMPO. This is a similar challenge, albeit with upgraded talent. Not upgraded much, but upgraded.
Pass Defense vs Colorado
Shay Fields is Colorado's top deep threat
Liufau's blown up against weak competition thus far but the stats are a little deceiving since Colorado throws a blizzard of screens. Ace had him for ten(!) against CSU, and a couple of those broke outside containment for huge gains. Michigan will be a big step up, and likely a return to an established level of performance:
Liufau hasn't developed as CU fans hoped. His passer rating hasn't really changed at all: 128.3 as a freshman, 131.8 as a sophomore, 126.4 as a junior.
For the last three years he's been around six yards an attempt. His accuracy on anything longer than a screen is spotty; he'll hit some throws but he's the kind of quarterback who will occasionally turf one yards in front of his receiver. Over two thirds of his attempts this year are within ten yards of the line of scrimmage, and while he's been accurate on deeper passes so far competition level plays into that heavily.
Shay Fields is a do-everything receiver for Colorado, both a screen merchant and, at 5'11", the Buffaloes' top downfield option. He was explosive and inconsistent a year ago, with just a 55% catch rate and a ton of catches that did not qualify as "successful" per Bill Connelly's S&P+ rankings. That's a guy who's targeted frequently on screens and doesn't bring much else in. When he does bring in, though, it's often for a big gain.
Bryce Bobo is their biggest guy and had a spectacular catch against Colorado State; last year he was a mediocre possession receiver who didn't have many long plays and didn't catch many of the balls thrown his way. Generic slot guy Devin Ross and the top two tailbacks round out the receiving options.
You get the idea: dink, dink, dink, dink. Colorado's shown more explosiveness in the first two games but are likely to come crashing back to earth on Saturday; these are the same players (minus highly efficient WR Nelson Spruce, who graduated) who comprised the #100 S&P+ passing offense last year and exposed CU QBs to 40 sacks. Unless they were bitten by radioactive spiders in the offseason, deep balls will be quick fade routes with little chance of success.
The one thing that gives some pause is Colorado's new offensive coordinator, Darrin Chiaverini. A former Buff and Texas Tech import, Chiaverini's brought a solid dose of cleverness to the Buffalo offense. I was impressed with their variety against CSU; Ace broke down a very cool drag screen:
Coming off a game that was over in the first half and a virtual bye, Chiaverini will have some tricks up his sleeve.  Michigan could get got by a few.
KEY MATCHUP: MICHIGAN EDGE DEFENDERS versus ONE BIG OL' BUCKET OF SCREENS. Michigan was impregnable in this department a year ago; not so much against UCF. Will Michigan use Peppers as a dedicated screen defender? Will they get more aggressive with their alignments? Will Chiaverini pop some guys loose with inventive plays?
Special Teams
Buffalo special teams were poor a year ago. Freshman punter Alex Kinney was a terrifically boring punter, averaging just 40 yards a pop and reaping the return yardage benefits: despite a full third of his kicks being returned opponents only averaged 6.5 yards an attempt with no touchdowns and only one return of any length at all. He was basically a full time pooch punter, with just one touchback all year.
Field goals were iffy, with Diego Gonzalez hitting 18/29 and hitting only 70% inside 40; their kickoff guy got just 28% of his attempts to the endzone. All of these things are not great and worse when you consider that half of their games were at altitude.
Punt and kick returns were similarly nondescript, with zero touchdowns and few returns of any note. Coverage was the same.
Michigan's season has played out to expectations. Kenny Allen has continued to be automatic on short field goals. He blasted a punt 55 yards, but into the endzone. Most of his kickoffs reach the endzone. There are dual wildcards: the potential that Michigan's newfound kick-blocking skills are are not a one-off against a poor opponent and Jabrill Peppers.
KEY MATCHUP: JABRILL PEPPERS versus SOMETHING SPECTACULAR. Peppers is the kind of guy who can break through seven gents covering a 40-yard punt, and if Colorado gets to scoring some he'll have opportunities to bring kickoffs back.
Intangibles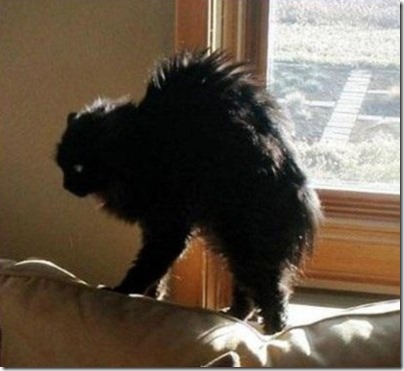 Cheap Thrills
Worry if...
Michigan again flounders on the ground.
Colorado's tempo gets them chunks of free yards on the regular.
Brown's content playing –1 on the edge and the guys out there can't make up that deficit.
Cackle with knowing glee if...
Wilton Speight sets fire to a much better secondary than Michigan has faced to date.

Michigan's defensive line once again cuts off half the playbook and stabby stabby stab stab.

Harbaugh lines up for a Hail Mary despite being up multiple scores.
Fear/Paranoia Level: 2 (Baseline 5; –1 for Another QB Who Is Limited, –1 for Another OL That Can't Handle This, –1 for Getting Gashed By Colorado State Ain't Good, +1 for They Do Have A Legit Player Or Three, –1 for 20 Point Lines Exist For A Reason)
Desperate need to win level: 10 (Baseline 5; +1 for You Are Not Seriously Breaking Out 1994 Uniforms, +1 for They Put Out A List Of Fictional Characters With Absolutely No Jokes In It And People Reacted Like They'd Just Seen Bring The Pain, +1 for 20 Point Spread Games Are Bad To Lose, +1 for 1997 Precedent Wouldn't Be So Bad, +1 for Uh, Some Stakes On This Season.)
Loss will cause me to... dig out all my clothes from 1994 and wear them the rest of the year.
Win will cause me to... I probably shouldn't have clothes from 22 years ago. I suppose I would burn them. Burn them allllllllll.
The strictures and conventions of sportswriting compel me to predict:
This is going to look a lot like the UCF game against a more talented opponent. I don't expect an 87-yard run, necessarily. I do expect Colorado to struggle on most downs and rip off chunks of yards, often in sequence, when Michigan ends up misreading what's going to be a blizzard of misdirection. Colorado will then get on its horse and try to tempo, which should be relatively successful.
Things figure to bog down in the redzone on Colorado's successful drive. CU won't be able to hide their OL nearly as much and Michigan will be playing 11 v 11 in the run game; while Michigan might give up some legitimate drives for the first time this year, they won't end up giving up buckets of points.
On the other side of the ball, Awuzie can only be so effective against a team that doesn't use WR screens unless they're there and has Jake Butt and Amara Darboh in addition to Jehu Chesson. Unless CU can get to the QB with regularity the Speight train should keep trundling down the tracks, picking up speed. So far so good in that department.
I hesitate to project what's going to happen on the ground because what Michigan gets from their left guard spot is suddenly in question. Ben Braden didn't seem like 2015 Ben Braden and is probably still hurt; Ben Bredeson was not good. If LG performs at the same level it did last week that's a lot of running plays blown up no matter what the rest of the blockers do. Get a bounce back there (Patrick Kugler?) and Michigan could plow them at least as effectively as CSU did.
Either way Michigan should steadily distance themselves, especially with special teams looking like a clear advantage.
Finally, three opportunities for me to look stupid Sunday:
Colorado approaches things more conservatively than UCF and Michigan's run game perks up; they get over 5 YPC (sacks removed).
Jabrill Peppers returns a kick or punt for a touchdown.
Michigan, 39-9