Preview 2012: Defensive Line
Previously: Podcast 4.0, the story, quarterback, running back, wide receivers, offensive line.
A note before we start: this preview relies heavily on the defensive UFRs of last year because there's a convenient numerical system that does a decent job of summing up a defensive player's contributions. One caveat: the system is generous to defensive linemen and harsh to defensive backs, especially cornerbacks. A +4 for a defensive end is just okay; for a cornerback it's outstanding.
Depth Chart

| STRONG DE | Yr. | NOSE TACKLE | Yr. | THREE-TECH | Yr. | WEAK DE | Yr. |
| --- | --- | --- | --- | --- | --- | --- | --- |
| Craig Roh | Sr. | Quinton Washington | Jr.* | Will Campbell | Sr. | Jibreel Black | Jr. |
| Nate Brink | Jr.*# | Richard Ash | So.* | Ryan Glasgow | Fr.# | Brennen Beyer | So. |
| Keith Heitzman | Fr.* | Ondre Pipkins | Fr. | Matt Godin | Fr. | Frank Clark | So. |
Okay okay okay. Breathe. Breathe in. Breathe out. Feel the lung expand and contract, and feel a calmness wash over you. Yeah. Calm. Calm.
Michigan lost three starters, may be starting a 280-pound three-tech, moved the only returning starter, and has a walk-on seriously pressing for playing time. If they're not starting a 280-pound three-tech, they're starting a 280-pound WDE. Will Campbell inherits a starting spot essentially by default.
No no no no. Calm. Callllm.
Defensive Tackle
Rating: 2.5
The big piece of news that hit when the Big Ten Network was let inside the velvet rope at Michigan practice was Jerry Montgomery naming Quinton Washington one of his starters instead of Brennen Beyer. This was followed up by a depth chart confirming this fact.
Clarity came Monday when Hoke made an appearance at the UM Club of Greater Detroit's kickoff dinner that I was at, waiting for the Q&A session with Greg Dooley and Angelique Chengelis. Hoke took questions, someone asked him about the defensive line, and Hoke gave a straight answer. To paraphrase: Michigan is planning on rotating six guys. Washington will be the nose in certain packages with Campbell at three tech and Black at WDE. In other packages they'll remove Washington and slide everyone down, inserting Beyer at WDE and going with Roh-Campbell-Black-Beyer.
Who's the sixth guy? You got me. I'd guess it's Nate Brink, but it didn't come up.
Anyway…
this year he'll totally live up to this image. really! (probably not really.)
This time we mean it, Will Campbell: it's now or never. The one-time five-star recruit is now a senior. He's been handed a starting spot by the graduation of three DL starters and Rodriguez's crappy recruiting. This makes everyone nervous because obviously.
There is some good news on this front. After a couple years in which Campbell appearances were all but guaranteed to draw this sort of commentary…
I'm not at the point where I can tell you the ten different things Campbell did to get blown four yards downfield, but I can blather on about pad level: man, pad level. Am I right?
…his cameos were fairly effective last year. He got limited snaps, of course, but only ended up negative against Iowa, when he got cut twice on big Coker runs. He had a +5 against ND, a +3.5 against SDSU, a +4 against Minnesota, and a +4 against Illinois, three of which came when he blew up a third and one by himself:
You can also watch him annihilate another Illinois OL to set up a Desmond Morgan decleater and flatten Max Shortell.
Unfortunately, these positives and highlights are all against the worst offensive lines on the schedule (and ND, oddly). Michigan didn't put him out there much against tougher competition; now they've got no choice.
Campbell's giving it a go. He's taken to showing off his chest after shedding 20 pounds in the past couple years. Taylor Lewan:
"The most dramatic change I've seen in a body on our team is Will Campbell," said left tackle Taylor Lewan. "His body is transformed. He was a sloppy 350 and now he's a toned down 308 kind of guy. He looks real good. His conditioning shows it. You should see him run. He's like a gazelle. It's unreal. I think Will is going to do some special things this year."
Come on, baby. He's getting the full-court press from Michigan's three-headed DL coaching staff, and I wished and hoped my way to thinking he was a lot better this spring:
Last spring game guy was a lump who managed to not get blown off the ball most of the time and just about never did anything. During the year he was largely that with some nice plays mixed in, but too infrequently to be encouraging. In the spring game he had clearly progressed enough to actually beat his man to the gap more than once.

You know all those runs Rawls had where he had to abort mission and find another hole? Most of those were headed at Campbell. Since we got a baseline for Ricky Barnum in the time he got before his ankle injury last year—decent Big Ten player even then—that's a hopeful sign.
While that hasn't kept the coaches from grousing about things, their expectations are not my expectations.
Finding out that Campbell will flip between three tech and the nose is probably a positive tea leaf. Leverage has always been a problem, and at 6'5" he's never going to be a great burrower. Get him one on one and he can deposit folks on their butts. That is what he'll generally be allowed to do at the three. His ability to do that on passing downs is going to be a huge factor in how effective that line configuration is—three techs can get good rush, and Michigan's ability to get pressure out of the WDE spot is very much in doubt.
What to expect here is a mystery. My WAG: adequate play that's on average a few points to the good on UFR charts (which is average for DL, as it measures MAKING PLAYS more than not doing so). Maybe a fringe draft pick if Michigan is pretty lucky. I don't think he'll be worse than Heininger, and he was pretty decent by the end of the year.
[hit THE JUMP for the GREAT MYSTERY beyond the KEN OF MAN (and Craig Roh)]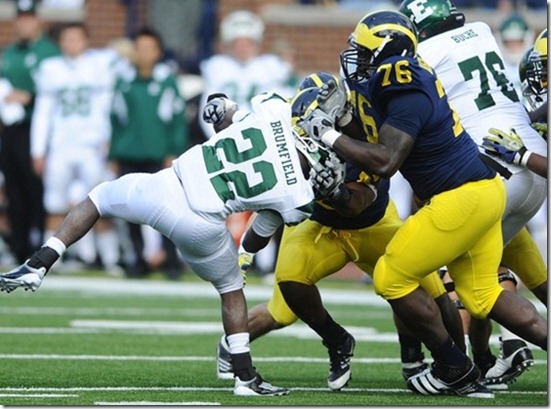 your head. I want it.
Now, the great unknown: Quinton Washington. Washington came to Michigan a soft-spoken but highly-touted guard recruit. He flipped to defense when Campbell flipped to offense under RR; unlike Campbell, his position switch stuck. We have no idea how that's going since he hasn't seen the field except on short yardage plays here and there. I didn't even bother putting him in the UFR chart, and I put a lot of people in the UFR chart. I put Jared Van Slyke in there for five or six games.
This is of course all nervewracking. Hoke has talked him up from time to time, like in this pre-Sugar Bowl presser:
You lose a lot up front on the defensive line. Who are some younger guys who might make an impact next year?

"I think Quinton Washington is a guy that's gotten better and better. I like how he has been practicing. I like his intensity about his work and his focus."
And at the Glazier clinic:
Quinton Washington got some love from Coach.  He talked about his strength and good feet.  The only set back for Quinton is he is a "pincher bug!"  Meaning he doesn't get his hands inside and get extension.  With three D-Line coaches on staff, you have to get technique right or you will not see the field.  He said "we need Quinton to get this right before September 1st!"
No one understood how important that last bit was at the time. As a recruit, Washington was praised for his strength and athleticism at 315 pounds, with his ability to climb to the second level a particular highlight. Nobody bothered to evaluate him as a defensive player.
Washington's only listed an inch shorter than Campbell, but for whatever reason he must be a better fit at the nose—probably the same reason he was praised as a drive-blocking future guard while the Campbell skeptics at ESPN projected a move to tackle. Body shapes and whatnot.
I have no idea how Washington will do. On the one hand, he was MIA in the Sugar Bowl even after the injuries whittled Michigan's depth down. On the other, three DL coaches. Washington is a redshirt junior and former touted recruit, so this could work out. Totally. Maybe.
Backups
There's not much to choose from down here if Black sticks outside. They'll flip Black back down against spread and spread-like teams and reserve the bigger lineup for short yardage and pounders like Michigan State, so this isn't the worst thing in the world. It is not the best, either. In any case, Black is covered at DE.
the last pahokicorn
So what do we have here… well, there's Richard Ash, the nose tackle out of Pahokee who's struggled to get in shape. Like Campbell, he's looking relatively svelte these days and turned in some hopeful signs in the spring game:
Richard Ash made a couple nice plays, which I was not expecting. One was an excellent string-out on a stretch play that forced the tailback to awkwardly cut behind him. I was beyond not expecting that. I don't think John Gasaway will get on me if I say I was shocked. Yeah. Later he showed up two yards in the backfield directly in the path of an iso; he got blocked from the side but the bounce he forced saw Marvin Robinson chop poor Vincent Smith down for a one-yard loss.
His recruiting profile is still about all we have to go on. I think Michigan will get some snaps out of him, and they'll be all right.
Pipkins, Godin, Henry
There is of course uber-recruit Ondre Pipkins [recruiting profile], a 330-pound squatbeast who draws comparisons to Vincent Wilfork and BJ Raji and impersonates Brady Hoke. Hype!
…a monster physically - he already looks like B.J. Raji or Vince Wilfork. He is one of the most physically imposing defensive tackles we have seen in awhile. At the point of attack, he is impossible to get on his heels and he penetrates quickly and athletically for a big man.
He's certainly got college-level size; he remains a freshman, one who suffered an injury scare earlier in camp. It'll probably take somewhere between a few games and a year for him to to work his way into the rotation. Even the top-flight defensive tackles usually have a rough transition to the college game, as this old West Texas Blue diary amply demonstrates. Don't expect him to roar into the starting lineup.
Fellow freshmen Matt Godin [recruiting profile] and Willie Henry [recruiting profile] are even less likely to play than Pipkins, but if one does it will probably be Godin since he's a better fit for the thin, thin, thin three-tech spot.
And here's a weird one: I've heard that Michigan thinks they have something in walk-on Ryan Glasgow, a true freshman and the younger brother of walk-on OL Graham Glasgow. It would be a longshot for him to see the field this year, obviously, but he's listed at 294 already and is a guy to keep an eye out for in case that pans out.
Kenny Wilkins is also around but is not expected to contribute.
Strongside Defensive End
Rating: 3
It wouldn't be recent Michigan football if Craig Roh wasn't adjusting to a new position. Roh's flip from WDE to SDE marks the fifth time in his four years that he's been moved. He arrived as a weakside DE, was moved to LB during the insane 3-3-5 days, forced himself back down to a 3-3-5 DE spot, ended up back at WDE, and now moves to the strongside. Get this man a bindle, stat. He's looking for work wherever you have it. (Except linebacker.)
During this sojourn Roh has worked his way up from 238 pounds as a freshman to 278 at last report. While that's still short of the 288 Ryan Van Bergen carried last year, it's not alarmingly so. And the strongside end is probably the best place for a guy who managed only four sacks a year ago. Roh came in with a reputation as a great edge pass-rusher, but at this point it's pretty definitive he isn't one.
Can he be Ryan Van Bergen? I'm a little doubtful on that, too. RVB was a better fit physically for the position and had the luxury of a redshirt year. Insert usual rants about wasted redshirts. Roh's UFR chart from last year is middling:
| # | Opponent | + | - | T | Notes |
| --- | --- | --- | --- | --- | --- |
| 1 | WMU | 1 | 1 | 0 | This, on the other hand, was disappointing. |
| 2 | ND | 2 | 1 | 1 | Do something! |
| 3 | EMU | 7.5 | - | 7.5 | Did some things. |
| 4 | SDSU | 6.5 | 1 | 5.5 | Not bad for splitting time. |
| 5 | MINN | 7.5 | 1 | 6.5 | Seems to have reclaimed the starting spot. |
| 6 | NW | 6 | 2 | 4 | Fourth down play; needs moar pass rush. |
| 7 | MSU | 8 | 3.5 | 4.5 | Adjusted well after initial problems getting outside. |
| 8 | Purdue | 6.5 | 2.5 | 4 | Got some useful speed rush; half sack in uncharted time. |
| 9 | Iowa | 3 | 2.5 | 0.5 | Sack was kind of a gift from freaked Vandenberg. Didn't do much else. |
| 10 | Illinois | 9 | - | 9 | Oh… oh wow. |
| 11 | Nebraska | 3.5 | 0.5 | 3 | Didn't get much action his way and is frequent dropper in blitz packages. |
| 12 | OSU | 5.5 | 3 | 2.5 | Got safety; let Miller outside on speed option counter. |
The most interesting contrast there is between Iowa (Reilly Reiff, LT) and Illinois (terrible OL). It seem like there's a middle ground against which he's moderately effective, a lower class against whom he's very good, and an elite he can't touch. Roh's right in the heart of the distribution curve.
On the bright side, Roh has flashed some pretty good shed-and-contain skills. Here's a play that you'll see again when we talk Kovacs:
Kovacs got the glory there; the guy swallowing Persa is Roh. He did that with a quick swim to the outside on a TE, something he'll be asked to do frequently this year. And Roh turned in his most impressive rush of the year in an opportune situation, drawing a holding call on Michael Adams for a safety:
If you squint, figure right tackles aren't as good, and assume tight ends won't be chipping him you can maybe get that sack number up from four despite playing a spot at which it's generally harder to generate a rush.
As far as rushing defense goes, Roh's been pretty good about not getting blown up so far in his career, and I've seen him take a fair number of doubles. With the extra weight I don't think he'll be a liability… or at least not much of one. I assume he's going to be doing a lot of slanting and attacking shoulders real quick—again, if you squint and use your hope muscles you can see that going pretty well.
This preview is using all of those on Denard's arm, so the prediction here is MOTS: Roh will be in the middle of the distribution, neither a star nor a problem.
Backups
Nate Brink; where Nate Brink came from
Nate Brink was the source of considerable panic last year when the coaches started talking him up in lieu of talking up Campbell. He started in the spring game (Van Bergen was held out) and was briefly supposed to start in the real world before Will Heininger came on and took his starting spot. He picked up a minus here or there during the season, and then got hurt right before the Sugar Bowl.
That injury held him out of spring and hampered him in his efforts to add the weight he needs to if he's going to be an effective Big Ten player. He's listed at 275 on the roster.
Is that enough to get him on the field? Probably. This from Mattison last year gives you an indication of how the coaches feel about him:
He's played like a Michigan football player. I hate to talk about a young man because I think when I do that they go right down in the tubes but this guy has come out every day as tough as he can. He listens to Coach Montgomery on every word. When he tells him to step a certain way, he tries, and he's really, really physical. …

In the spring, his toughness showed up and he was only 250 at that time. But his want-to and toughness stuck out like crazy. And that's what we want - 11 guys that play with that kind of attitude. He's a guy that if he keeps doing what he's doing, Michigan people are going to be very happy with him.
That is the sort of coachspeak that moves the needle. Brink will play. He was rotating in during the open practice, something it seemed like only two-deep folks were doing. He may even be effective.
Redshirt freshman Keith Heitzman [recruiting profile] should also figure in. Like Ash above, he moved the needle at the spring game:
Redshirt freshman Keith Heitzman also was a standout on the second units, though his inability to flow down the line at the proper angle was the main issue on Rawls's fourth-and-short touchdown. He got into the backfield plenty. Once you've got a guy who can get there it's not that hard to get him to take the right angle against air.
At the very least he should allow freshman Tom Strobel [recruiting profile] to redshirt; fellow freshman Chris Wormley [recruiting profile] tore his ACL and is out for the year.
Weakside Defensive End
Rating: 2.5
Jibreel Black's foremost contribution to the Michigan fanbase thus far is his wonderful quote about Mike Martin that an mgouser slapped on a likely-looking cat:
"When I see some plays that Mike (Martin) makes in practice, I be like dang. His explosiveness, his technique that he uses. You can tell the work that he put in with it."
The cat:
That's not to say he hasn't played. Usually an opener like that means the player in question has yet to see the field, but we are talking about USDA prime grade meme right there. Black has been in the rotation for two years now.
He hasn't done a ton with that. As a freshman his run defense was really, really bad ("abject" was the 50 cent word deployed last year) as a 265-pound WDE. He lost five pounds before his sophomore year and stopped that whole abject business, but he dropped off precipitously after a couple of good games early (a +6 against ND and +9 agaisnt EMU). After those first few games his playing time was significantly reduced and his UFR mentions started saying stuff like "limited time" and "not much PT."
I do have some nice clips for him, most prominently a Van Bergen-like ability to avoid multiple unbalancing things and get out on Braxton Miller on that critical third down in last year's Game:
He also turned future Iowa first-round pick Riley Rieff into meat on one(!) play and quicked his way past Mike Adams on a Kovacs blitz. It's not much, I know. That's enough to suggest he's a decent run defender these days, at least. I wish I still had my old clips so I could show you the difference; it's large. He got coached up significantly last year.
The problems are twofold. One: Black didn't get much pass rush a year ago. It was bad enough that true freshman Frank Clark started seeing the field as a pass rush specialist despite apparently never having heard of a zone read. Two: Michigan thought they'd make Black a three-tech to mitigate that weakness, bulked him up to 280, decided that maybe that wouldn't be the best idea, and then put him back on the outside for at least part of the time. This delays his progress as a DE and exacerbates problem one.
It's not a death knell. Brandon Graham flipped from weak to strongside a bunch and was a terror either spot. Black's been compared to Graham and is nowhere close to living up to that yet. Things tend to develop slowly on the defensive line, though. Ask Graham himself.
Unfortunately, skepticism gets the square. Position moves that end with the guy moving back are not usually great indicators, and Michigan was searching for a pass rush solution when he was supposed to be that solution. He's not going to be beating many left tackles, and his zone drops when Michigan blitzes with him at WDE are going to be suboptimal. The reconfigured line is about stopping the run first and foremost. It's a bend but don't break move.
When Michigan gets into passing downs things should be better. Black can use his quicks to threaten up the middle without worrying about taking a pounding double; Beyer or Clark will prove a more threatening threat on the outside. It's just when the opponent decides to drop back on first and ten or third and four that Black's (admittedly speculative) inability to get edge rush will hurt. A season like Roh's 2011 (four sacks, good edge play against the run, not thrilling) is the median expectation.
Backups
Beyer and Clark 30 pounds ago
Black's status as a WDE/3tech tweener gives this spot good depth. Sophomore Brennen Beyer [recruiting profile] slid over from SAM in spring and was expected to start until the revamp. A consensus four-star recruit in the 2011 class, he actually started the first game of his college career. That went about as well as you would expect (not well), Beyer was replaced by Jake Ryan against Notre Dame, and that was all she wrote for competition at SAM linebacker.
Beyer is now almost 30 pounds heavier and slides down to WDE at 252. That's reasonably sized for the spot. Michigan liked him enough to implement a 4-4 package late last year that featured him as a second SAM-type linebacker, passing over Cam Gordon to do so. He moves into the starting lineup when Michigan goes with the smaller edition of his line and will see plenty of time in that configuration and the nickel package, where he is a constant.
Frank Clark was a much lower-rated recruit than Beyer but the rest of his story is similar. He came in last year, saw a smattering of snaps, and added a ton of weight. Clark went from 228 to 260 in one offseason. He's going to be a different player when we see him on the field next.
Of course, no one knows when that will be. Clark got hit with a felony charge for allegedly lifting a fellow student's macbook. That charge is either more serious or less serious than Toussaint's DUI, but with his hearing scheduled a few days after the Air Force game we won't know which it is for a couple weeks. I doubt he'll play against Alabama and may be in for a somewhat longer suspension.
Clark's athleticism is reputed to be extreme—an insider told me "he can catch Denard" last year. That's certainly not true anymore, if it ever was, but the reason he barged past Black last year was because of his edge burst. Unfortunately, that burst was occasionally taking him past players with the ball, like against Illinois:
derp
Compensations for plays like the above were limited to a couple of decent pass rushes against Illinois's terrible OL… and the huge, game-changing interception in the Sugar Bowl. That play has a lot of people hyped up about Clark's future; to me it was more of a look-what-I-found moment. He's got a way to go to know how to play football.
With the legal troubles and a severe lack of understanding of what he should do to overcome, Clark is likely to be a bit player in 2012. He is reputed to have a lot of talent; it'll take another year before he can display it.
Freshman Mario Ojemudia [recruiting profile] comes in as undersized as Beyer and Clark were last year, but a redshirt that seemed all but certain during the summer seems considerably less so now. Michigan needs pass rush, and Ojemudia brings that($):
An acronym often used in the coaching world when describing defensive lineman is their BGO (ball get off). Mario Ojemudia is a defensive end with big-time BGO. Ojemudia is a fast twitch athlete at defensive end that can beat the offensive tackle out of his stance with his BGO.

Ojemudia has a large arsenal of moves to keep his opposing offensive tackle off balance whether it is the swim move, spin move, speed rush, or even the bull rush as he shows great strength for an undersized, 6-foot-2, 215-pound defensive end.
He also brings a death stare unparalleled in recent Michigan history.
He was getting time with the first team defense in nickel and dime packages at the open scrimmage and may find a role as a pass rush specialist. A redshirt would be preferable. Michigan may not be able to afford it if Clark is long-term trouble and Beyer can't get to the QB.