Preview 2011: Secondary
Previously: The Story.
The existential crisis that was last year's secondary has been the subject of emo rehash and frequently-updated "Never Forget" banners in this space for going on a year now. In mid-August of 2010, Troy Woolfolk did something strange and painful to his ankle and I—and I assume a good chunk of the Michigan fanbase—decided ankle-exploding time was drankin' time. Twitter archived the results; read from the bottom.
The headache I had the next morning did not subside until Greg Mattison was hired.
Woolfolk wasn't going to cure last year's secondary issues by himself but he was going to be a decent returning starter in a secondary without any other than Jordan Kovacs. Without him this section of last year's preview started "What's the point of anything?" because everyone left was either a freshman, walk-on, or JT Floyd.
After a deceptively promising start courtesy of the vast incompetence of Zack Frazer and Notre Dame's backup quarterbacks, the doom took hold. Everyone who saw a snap last year contributed to it but if we have to pick a single moment that best represents Michigan's 2010 secondary it would have to be this: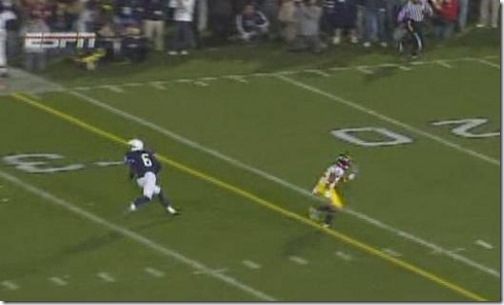 JT Floyd picking up a –3 against Penn State
That is how Matt McGloin tears you up for 41 points on nine drives. Let's never speak of this again.
While this year's secondary won't bring back memories of Charles Woodson, improvement is almost a given. It could be vast, even. Every contributor returns save James Rogers. Woolfolk is back and healthy, and there's a small horde of freshmen.
If you believe the message board chatter about Tony Gibson's coaching acumen, Curt Mallory is a huge upgrade. My favorite apocryphal story is that when Scot Shafer resigned he told Rodriguez he would take all the blame publicly if Rodriguez admitted to Shafer that Gibson was "the worst secondary coach in the country." Shortly after his resignation, Shafer did pop up in the News stating it was all his fault. Poppycock? Probably, but you can't rule it out.
Things are looking up. They could be okay. Not okay for Michigan, but okay for a mediocre Big Ten defense. They've got a cap—like everywhere on this attrition-wracked team the depth is a little scary. The starters still include a walk-on and the talent level as measured by stars is strictly second-rate. They haven't disproved that on the field, so expectations should be kept in check.
That there are any except doom is pretty cool. Bohemian Crapsody begone.
Cornerback
Rating: 3.
| Corner #1 | Yr. | Corner #2 | Yr. |
| --- | --- | --- | --- |
| Troy Woolfolk | Sr.* | Courtney Avery | So. |
| JT Floyd | Jr.* | Tony Anderson | Sr.*# |
| Terrence Talbott | So. | Blake Countess | Fr. |
[* = player has taken redshirt. # = walk-on.]
Woolfolk in T-Woolf mode
Unless something very depressing happens in the near future I will not need any power tools this year. Troy Woolfolk is healthy, and while he's probably not going to be All Big Ten he's fast and steady enough to get good reviews a couple of years ago when he split time between safety and corner. There is empirical evidence for this, and how: Woolfolk's absence from the safety spot marked the point the 2009 defense went off a cliff. Michigan went from giving up 23 points per game with Woolfolk at safety to 37 without.
Those reviews have moved from potentially ignorant bloggers to the head coach. Woolfolk was one of three defensive Wolverines to be named a starter by Hoke weeks before the season (Kovacs and Martin were the others) and is conspicuously first when Hoke talks about his corners:
"(Woolfolk is) is a guy who I think, as a senior, has taken some ownership and he's done everything," Michigan coach Brady Hoke. "J.T. is fighting. Courtney Avery is fighting, Terrence Talbott, they're all fighting with each other to see who's going to be the guy."
Mattison joined in as well:
What are your impressions of Troy Woolfolk? "I'm really, really impressed with a senior -- with a new staff, with a new system -- with a guy that comes out every day and says 'I'm going to do what you tell me to do, I'm going to do it how you tell me to do it, and I'm going to try as hard as I can to do it.' ... I think his technique is improving."
That bit at the end about his improving technique is a little ominous. Woolfolk's injury and position switches may leave him vulnerable to Morgan Trent-like deficiencies. The two are similar players: very fast, rangy corners who are tough to beat on a fade but can struggle when opponents are changing direction rapidly. Woolfolk's main advantage over Trent is want-to. Trent spent his senior year raging against the new regime and saw his play suffer. Woolfolk should have no such issues.
Assuming he's healthy, another year to learn the position and get bigger should see him improve on his previous form. There is a nonzero chance his earlier performances were not representative of his ability, but the smart money is on Woolfolk being at least average. It wouldn't be a surprise to see him go at the tail end of next year's NFL draft.
Opposite Woolfolk the battle is on between sophomore Courtney Avery and redshirt junior JT Floyd. The bet here is that Avery wins that battle. Avery drew into the starting lineup last year when Floyd exited with yet another injury and seemed to outplay the guy he was replacing.
What he brings to the table is still up in the air. He was seeing spot duty relieving Floyd and Rogers even before Floyd's injury; he also split time with Terry Talbott when Michigan went to nickel and dime packages. In that role he was erratic. He wasn't good, per se. But in the tire fire that was last year's secondary he showed a little spark. This spark allowed other portions of the tire fire to spew ever more pitch black tar smoke into the observers face, yes. The spark remained.
Here's an erratic UFR that might not mean that much because he's a corner and his playing time was highly variable:
| Opponent | ++ | -- | TOT | Notes |
| --- | --- | --- | --- | --- |
| Indiana | - | 6 | -6 | Zone vacancy II. |
| MSU | - | - | - | Didn't register. Yay? |
| Iowa | - | 5.5 | -5.5 | The whiff, the zone vacation, etc. |
| PSU | - | - | - | DNP, I think. |
| Illinois | 3.5 | 0.5 | 3 | Two key tackles. |
| Purdue | 3 | 6 | -3 | Gave up the big screen. |
| Wisconsin | 2.5 | 3 | -0.5 | Could have been harsher on him. |
It's not great, though a big chunk of his Indiana negative might have been erroneously given. The blogosphere ferociously debated whether a particular frustrating Iowa touchdown was mostly on the head of Kenny Demens or Avery and eventually decided it was kind of both but maybe probably mostly Demens. The UFR still registers Avery as the victim.
Given the circumstances—tire fire—he did well to not get hammered on a consistent basis. Try to judge him as a freshman by comparing him to his classmates: the highly-touted Cullen Christian was a blinking "throw at me" sign whenever he was on the field. Terrance Talbott was clearly behind. His main issue was playing zone coverage too aggressively, vacating his zone as he chased receivers across the field.
His quickness and aggressiveness bodes well. This is just Bowling Green (see also: the brief blip of Ray Vinopal hope) but Michigan hasn't had a corner who's able to recover like this in a while:
Avery's two years younger than Floyd and was healthy through the entirety of last year and spring practice. He played quarterback in high school; nagging injuries scuppered plans to play him both ways as a senior. He was just learning the rudiments of playing corner when he was thrust onto the field last year. Even if Avery and Floyd were close a year ago—something that is generous to Floyd—Avery should improve much faster than his competition. Avery has never seemed to "transparently lack the speed to be a Big Ten cornerback."
With practice buzz generally talking up Avery, it would be a surprise if he was not the starter. If not now, then by the Big Ten season. He should make a big leap forward in year two.
Backups: Extant
The primary backup and presumed nickel/dimeback will be the loser of the Avery/Floyd battle. This preview presumes that will be JT Floyd. Our last glimpses of him were against Penn State, when he turned in the coverage-type substance at the top of this post and a few other howlers. Here's one:
The game before that, it was Floyd who gave up slant after slant on critical third downs against Iowa. Even before that this blog declared his coverage "only brushes up against adequate."
JT Floyd: UFR '10

| Opp | ++ | -- | T | Notes |
| --- | --- | --- | --- | --- |
| UConn | 6 | 2 | 4 | Guh? |
| ND | 5 | 2.5 | 2.5 | INT |
| UMass | 2.5 | 8.5 | -6 | Run support. |
| BGSU | 4.5 | 1 | 3.5 | Solid. |
| IU | 7.5 | 11.5 | -4 | Poor tackling |
| MSU | 2.5 | 3 | -0.5 | Not victimized. |
| Iowa | 2.5 | 11 | -8.5 | Oh my god the slants. |
| PSU | 3 | 12 | -9 | Awful, awful, awful. |
Floyd was so overmatched as a redshirt freshman that Rodriguez and Robinson pulled him off the field, moved Woolfolk from his duties as a fairly effective free safety, and inserted Mike Williams to disastrous effect. Yeah, that could be another symptom of the insanity that ruled decision-making on the D these last few years. But unlike Kenny Demens's debut, Floyd's return to the field didn't make anyone think his removal was a mistake.
As you can see at right, Floyd started off well enough against the incompetent quarterbacks of the nonconference schedule. A number of whiffed tackles and Mouton-like angles against UMass were cause for concern. That concern bloomed, then metastasized in the Big Ten schedule.
First he was amongst the many Wolverines who were too confused or too slow to keep those four-yard Indiana routes from becoming eight. While he wasn't a major factor in the Michigan State game, he imploded against Iowa and Penn State.
In context it seems like his relatively benign Michigan State game was because the Spartans had even easier prey elsewhere on the field. And maybe Michigan protected him in favor of that prey. Remember the sinfully easy 41-yard touchdown Cullen Christian yielded? Yeah:
Why the hell is Cullen Christian the guy in man coverage on a receiver running a fly route? Why isn't it Floyd? Christian(-3, cover –3, RPS -2) is smoked crispy as he bites on an out and up gives up the touchdown. Roh was about to hit Cousins but no matter.
After that it was the elevator straight down and the injury. If he gets a lot better this year it's time to take the Gibson chatter seriously.
Anderson, Talbott
If there are injuries, options past the top three are dicey. With Floyd and Woolfolk held out of spring practice the starting cornerbacks were Avery and Tony Anderson, who's one of many walk-ons threatening for playing time. Anderson played ahead of Cullen Christian and Terrance Talbott; Christian transferred soon after. Talbott remains.
The hope is that's motivational or Talbott can accelerate past Anderson's spot on the depth chart as his scholarship-having self surpasses Anderson's walk-on ceiling. Talbott got sporadic time last year and was okay for a freshman. He got lost on zone drops and was a weak tackler, etc. The book on him…
The book on Talbott: short, smart, agile, excellent in coverage but needs a year or two to bulk up for college.
…seemed pretty accurate. He can be a contributor down the road… if he sticks with football. There were widespread rumors Talbott was off the team, by choice, for a period this offseason.
Beyond Talbott it's true freshmen, but at least there's a horde of them. Maryland's Blake Countess arrives with the most hype and should be the biggest threat to play. (Caveat: last year Cullen Christian arrived with the most hype.) Greg Brown [recruiting profile] enrolled early and was decent in the spring game. Those two feature on the first depth chart. Talbott does not.
The rest of the n00bs: Raymon Taylor [recruiting profile] is speedy, might not have the greatest change of direction, and got a fourth star from Rivals. Delonte Hollowell [recruiting profile] is yet another smurfy Cass Tech corner who can't be put on outside receivers; he'll probably have to wait for time to open up at nickelback. He is rooting hard for Thomas Gordon to win the safety job opposite Kovacs. Finally, Tamani Carter [recruiting profile] is probably a safety; as a guy Michigan hijacked from Minnesota it will be a bad callback to Ray Vinopal if he doesn't redshirt.
That's five dudes instead of three; if it turns out some of the guys ahead of them on the depth chart can't play the one who emerges as a contributor will probably be better than Talbott and Avery were last year.
Safety
Rating: 2.5
| Free Safety | Yr. | Strong Safety | Yr. |
| --- | --- | --- | --- |
| Jordan Kovacs | Jr.*# | Thomas Gordon | So.* |
| Marvin Robinson | So. | Carvin Johnson | So. |
| -- | -- | Josh Furman | Fr.* |
[* = player has taken redshirt. # = walk-on, or former walk-on]
Is it possible that last year's Michigan defense actually one-upped the safety horror on display in 2009? Yes. It was actually worse than even the situation that gave rise to this in last year's preview:
Their [Kovacs and Mike Williams's] powers combined in episodes like "Iowa tight ends are open by 15 yards," "We don't have a guy in the deep middle on third and twenty four," and "What would Juice Williams be like if he was an unstoppable 500-foot-tall robot?"
While the situation two years ago was never good it didn't drop off a cliff until Michigan moved Troy Woolfolk to corner. First Mike Williams and then Jordan Kovacs leisurely escorted opponents into the endzone for the remainder of the year, sure. But last year Michigan started out with this…
…and then pulled a similar switch by moving Cam Gordon to spur and inserting true freshman two-star Ray Vinopal. Vinopal wasn't quite as likely to take a terrible angle. Instead he was a 160-pound object in the way of Wisconsin's various house-sized Katamaris.
Artist's impression of Vinopal tackling Montee Ball
He also took some terrible angles. Kovacs was better but still kind of eh—he has not yet found that Iowa zen where the slow small white guy is always in the right place—and Michigan never got competent play from the other spot. Survey says increase doom panic victory 2010. And there was much rejoicing.
It can't be that bad again, right? I'm seriously asking this. Please, someone tell me it can't be that bad again. If no one else is willing to stand in front of that howitzer I guess it's up to me: they can't be that bad again.
It was already a foregone conclusion, but Brady Hoke explicitly confirmed that Jordan Kovacs will start for a third year this fall. He did so almost before anyone asked. The man once mistaken for Matt Cavanaugh by Greg Robinson is on track to becoming the first four-year starter at safety since Jamar Adams [Ed-M: Marcus Ray ('95-'98). Adams's RS Fr year was Shazor/Mundy]
Unfortunately, thanks to the defensive implosion of the last three years this does not necessarily mean he is any good. Whether he is or not is a subject of heated debate wherever Michigan's starting secondary is discussed. His freshman year he was solid as a box safety. His instincts and tackling made him an effective force player and blitzer. Then the whole Woolfolk-to-corner thing happened and he got switched into a deep half role. To say he struggled was an understatement. Some UFR comments from that portion of his freshman year:
Just can't play a deep half.
Again burned as a deep half safety.
Enormous bust #3.
So that didn't go so well.
Last year Michigan tried to move him back into the box by switching to a 3-3-5 in which he was the "bandit" (a strong safety that spends his time on or near the LOS), but then they spent a lot of time in a two deep shell that saw Kovacs's deep limitations tested again. He did not pass with flying colors but thanks to his awareness and solid tackling was not the flaming dump truck the rest of the secondary was. It's not a coincidence that the new coaching staff has been talking him up. Hoke:
"He's a guy that can get things lined up for you, and he's a tough guy, and he will go attack the football," Hoke said of the former walk-on. "He has a great deal of pride in his performance on a daily basis. He's one of those guys who has an urgency about getting to the football. I'm pleased with what he's done to this point. I would guess that he won't take a step backward."
Kovacs did improve last year, and significantly. Kovacs went from deep half dead meat to "the king of moderate-moderate-0". In three different games (ND, BGSU, and Indiana) he had plusses that exactly offset his minuses; in four more (UConn, UMass, Iowa, and Penn State) he was just above or below breaking even. He was excellent against MSU…
…may have had his best game at Michigan. He's so reliable; on a day when Michigan couldn't find a tackle it didn't want to miss, Kovacs twice dragged down TEs in space to boot MSU off the field. Only one counted, unfortunately.
…but he broke down late, picking up negative days against Illinois, Purdue, and Wisconsin.
Even so, his season was a step forward from obvious liability to "certainly not a liability." Even if he's a walk-on and even if he's obviously small and slow, he should continue improving. He'll be a little less small and slow with another year of conditioning. Being in a coherent defensive system should help put him in positions to make plays. His redshirt year was not spent on the team so he's not as close to his ceiling as your average redshirt junior.
He's not going to be Reggie Nelson. That won't keep him from becoming the first Michigan safety you only hate a little tiny bit since Jamar Adams.
Thomas Gordon: prison abs, manages to look badass on last year's D
The spot next to Kovacs is second to only weakside linebacker when it comes to mystery on this year's team. One candidate is sophomore Carvin Johnson, who had a plentiful helping of hype early and started in the spring game. The other is redshirt sophomore Thomas Gordon.
These two are familiar with each other since they spent last year duking it out with each other. The twist: they were doing so at Spur; Cam Gordon had locked down free safety. This year they're swapped.
The smaller Gordon has the advantage. He played at nickelback in the spring, swapping with the WLB on passing downs and covering slot receivers. He seemed well-suited for that spot. Moving him to safety signals some discontent with the options there, and since the move practice scuttlebutt has talked him up a bit more than Johnson. When Countdown to Kickoff flagged down DBs coach Curt Mallory he described the situation at safety like this:
It starts with Jordan right now. … He's done a great job, had a good two-a-days. Then we've got some younger guys in there. Thomas Gordon, I've been really pleased with how he's improved. [pause] And then with the two other guys…
That sounds like Johnson had eleven days to displace Gordon for Western Michigan. As of publication there's been no indication that switch has happened. Gordon was just named a starter by the WMU depth chart.
Gordon's 2010 was abbreviated. He started the season thanks to an injury to Johnson and played pretty well. Particularly impressive was his ability to roar off the edge without pulling a Brandon Harrison by zooming right by the quarterback. Gordon showed a knack for coming in at the fastest possible speed that would allow him to rope the QB to the ground, which accounted for many of his plus plays last year. Here's a good one against Notre Dame:
Outside of that it was minus half points here and there for poor coverage or missed tackles. He and Johnson displayed a knack for finishing his day with around three positive points and two negative ones. The spur was not a high-impact position either way last year until Cam Gordon switched to it and promptly got himself lost on flat zones he'd never been asked to play before.
Like Avery above, Gordon's ability to not be the most spectacularly flaming tire is encouraging. He came in with bler recruiting rankings but—again like Avery—he was a high school quarterback who got a Michigan camp offer and then did not play in his high school's secondary because of injury. He's beaten out some actual scholarship players and drawn praise from the coaches for his play. When I clipped something he did last year it was usually something positive.
I have the same optimism about this Johnson/Gordon combo that I had last year. This, of course, terrifies me. It seems unnatural to think an unproven Michigan safety could be competent. I like Gordon's agility and tackling, though, and while there will be rough spots early by midseason he should settle into that midlevel safety range like Englemon or Barringer.
Backups
Carvin Johnson does not like losing.
Curt Mallory wants his safeties to be interchangeable, so this will probably be a situation like offensive line where there's a line behind the starters and whoever the top backup is will come off the bench no matter who exits. That is likely to be Carvin Johnson. Johnson shouldn't feel too down: what small tea leaves we've gotten from the defense suggest he will be the first defensive back off the bench when Michigan goes nickel—in the Saturday punting demo he was on the field plenty as Thomas Gordon played nickelback in Michigan's third down package.
His season was even more abbreviated than Gordon's due to injury. I clipped three events from him last year:
A bad zone drop against UConn
An Indiana touchdown on which he was playing some sort of weird ILB and got crushed.
A nice open field tackle on Rob Henry.
#2 won't be an issue if he's playing a deep safety; #3 is an asset that was promised by his recruiting profile. One… maybe not so much. Though people talk him up Michigan felt it necessary to move Gordon back, whereupon he won the job. He's probably a little unreliable at the moment.
Past Johnson there are actual scholarship(!) players who weren't(!) in high school last year. One is Marvin Robinson [recruiting profile], he of the obligatory OMG shirtless pictures…
…and that thing he did in the spring game where he ran with a slant pattern while Mike Cox was waving at him en route to the endzone. Practice reports on Robinson alternate tales of massive here-comes-the-BOOM-type hits and equally massive touchdown-ceding errors. If you hit up that recruiting profile you'll see a lot of skepticism he can play safety; last year he spent a good chunk of his time at WLB. That may be his long term destination.
For now he's behind Kovacs. He seems to be the second guy in the pecking order; Michigan will try to avoid using him until he has that consistency thing every coach ever but especially Michigan's keep harping on.
The final scholarship guy is Josh Furman. Furman's a bit like Avery in that he was almost exclusively an offensive player in high school. (He put up some Rawls-like games in the Maryland state playoffs.) Michigan managed to redshirt him last year, so his recruiting profile is about all we know. He's reputed to be super athletic, like six FAKES out of five 40 athletic, and will have a role on special teams this year. When asked about the safeties for CTK, Mallory mentioned Kovacs, Gordon, Johnson, and Robinson but not Furman. He's still a year or two away from seeing the field on defense.