Preview 2011: Quarterbacks
Previously: The story, the secondary, the linebackers, the defensive line, the offensive line, the receivers, and the running backs.
| QB | Yr. |
| --- | --- |
| Denard Robinson | Jr. |
| Devin Gardner | Fr.* |
| Russell Bellomy | Fr. |
Rating: 5!
No more pictures of multiple dudes we've never seen play at media day. No more projecting things from a spring game performance. No more first-year starters, walk-ons, underclassmen, uncertainty, or woe. No more charts about how some guy was pretty good for a freshman.
There is only one person we are going to talk about this year.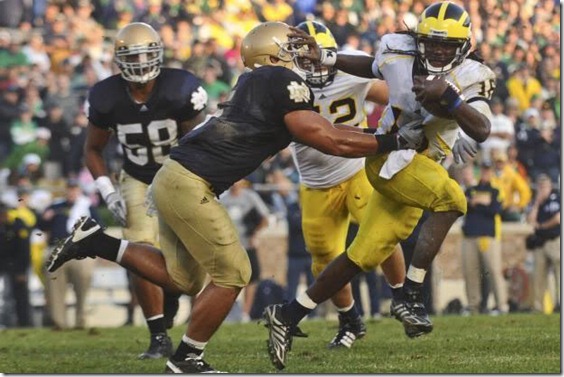 On a paper-thin roster lacking in stars Denard Robinson stands alone. For all the fretting about a lack of playmakers on the offense, basically the same set of guys finished 8th in total yardage last year and better than that in the advanced metrics that try to account for variations in schedule strength and opportunity.
Denard is an offense worth of playmakers himself.
The Man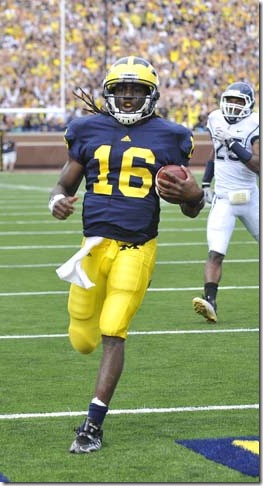 When it was all said and done Denard Robinson had shattered a half-dozen team and NCAA records. This is the kind of thing that gets you on All-America teams, so a bunch of different organizations put him on All-America teams.
These organizations go back to the days when passing was for communists and every team was led by a quarterback with more rushing attempts than passing yards. They should be used to the Fraziers and the Crouches that show up on their lists.
They are, but Denard was something else, something that caused the Football Writers Association of America to dump the word "running" from the previously very explicit "running back" spot so they could cram Robinson on their first team next to LaMichael James and Kellen Moore. Denard's 2010 was spent redefining what one man can do.
That was damn near everything. Robinson was the nation's fourth-leading rusher with 1702 yards on 256 carries; he shattered the I-A record for rushing yards by a quarterback. Vincent Smith was second on the team with 601 yards. Denard was 20th in passer efficiency with 2570 yards on 291 attempts, 18 touchdowns, and 11 interceptions. He averaged just under 20 carries per game in addition to all his passing attempts, got knocked out of damn near every game, watched Tate Forcier lead comebacks against Iowa and Illinois, and listened to every pundit in the world say the offense must not rest entirely on his shoulders lest we break him.
Do I even need to tell anyone this? Recapping Denard Robinson's 2010 is like reminding you about the time you fell out of an airplane. You remember. It was exhilarating, terrifying, and is etched into his memory forever. I probably don't need to tell you this. But here are some fun highlights anyway.
THE TOP FIVE THINGS DENARD ROBINSON DID IN 2010
5: I'M FROM TECMO BOWL, SORRY
4: WOOP WOOP SCORE
3: RANDOM LONG DRAW TOUCHDOWN THAT IS ALL RLDTDS
2: MAN UP CRAB
1: DENNIS BERGKAMP DENNIS BERGKAMP DENNIS BERGKAMP
That felt nice. Now to this year's business.
WE CAN MAKE HIM BETTER
Denard has spent the offseason working really hard and smiling at people. What are the areas in which Denard can improve? There are some. Really. There are three.
It's okay to scramble. This would be a much better example if it wasn't a spectacular long touchdown but sometimes your negative Denard Robinson highlight is also a spectacular long touchdown. Raise your hand if you had a slow-motion "nooooo" moment the instant Denard cocked his arm to throw that one pass to Junior Hemingway against Illinois.
Well done, well done YOU'RE DENARD ROBINSON AND THERE'S NO ONE WITHIN TEN YARDS OF YOU JUST RUUUUUUN.
Borges has been harping on this since his arrival. The latest version:
"If nobody's open, the broken play is probably the hardest play to stop in college football, any football," Robinson said Wednesday during a break in the Wolverines' preparations for their opener Saturday against Western Michigan.

He had been asked if he's been encouraged to scramble if the read isn't there.

Reading between those not-so-subtle lines, the answer was a resounding yes.
Hopefully we see some movement forward with the legs when Denard breaks the pocket.
If you miss, don't miss so spectacularly. Robinson's never going to be Ryan Mallet when it comes to zinging it in between levels in the zone, and that's fine. His accuracy isn't as thrilling as it seemed in his first couple games, and that's fine, too. It's still pretty dang good. Here's his UFR chart:
| Opponent | DO | CA | MA | IN | BR | TA | BA | PR | SCR | ZR | DSR |
| --- | --- | --- | --- | --- | --- | --- | --- | --- | --- | --- | --- |
| 2009, All Of It | 1 | 7 | 6(2) | 3(1) | 4 | 4 | - | - | ? | - | 44% |
| UConn | 2 | 15(6) | - | - | 3 | 2 | - | - | 2 | - | 68% |
| Notre Dame | 3 | 25(8) | 3(1) | 4 | 1 | - | 4(1) | 2 | - | - | 71% |
| UMass | 4 | 10(3) | - | 1 | 1 | - | 1 | 1 | - | - | 73% |
| BGSU | 1 | 4(1) | - | - | - | - | - | - | - | 1/1 | N/A |
| Indiana | 2 | 8(2) | 1(1) | 5(1) | - | - | - | - | - | 9/11 | 66% |
| Michigan State | 4 | 14(3) | 1 | 7(1) | 1 | - | - | 2 | 2 | N/A | 68% |
| Iowa | 1 | 11(3) | 2 | 3(1) | 2 | - | 1 | - | - | 3/4 | 64% |
| Penn State | 3 | 12(3) | 1 | 4 | 2 | - | 1 | - | - | 6/10 | 63% |
| Illinois | 4 | 9(1) | 1 | 4 | 1 | 3 | 1(1) | - | - | 3/4 | 60% |
| Purdue | 2 | 12(1) | 1 | 3 | 1 | 1 | 1 | 3 | - | 8/10 | 68% |
| Wisconsin | 3 | 14(2) | 2(1) | 4(2) | - | 2 | 2 | - | - | 8/8 | 71% |
Those numbers are slightly south of Chad Henne but not by much. But we start having issues when Denard not only misses but misses by a country mile. Many of his interceptions were like this:
LOL WUT. The chart shows he was performing at a near-Henne level when it came to downfield accuracy last year, but it doesn't show this:
That success rate has to be wrong.

It's not wrong, it just doesn't weight passes based on how damaging the particular inaccurate ball is. Against MSU, Denard threw the following balls not to his receiver:

Endzone interception #1 on route Roundtree had two steps on. [Zero points]
Wide open Stonum on fly route about 20 yards downfield that's airmailed. [Three points]
Hitch to Odoms on second and nine from the 11 that would have been first and goal. [Zero points]
Endzone interception #2 on slant that Hemingway was open on. [Zero points]
Covered slant zinged over Grady [Zero points]
Bubble too far in front of Roundtree. [Seven points]
Other interception on route where Grady had plenty of room to the inside of the field but the ball was way, way too far outside, allowing sinking corner to react and intercept. [Zero points]

How big of a deal is it to throw a bubble screen a step in front of a receiver? One unit of big deal. How big of a deal is it to throw a makeable 20 yard touchdown over someone's head on third and three? Two, three units of big deal. How big of a deal is it to throw endzone interceptions when you have open receivers? Five units of big deal.
Denard had too many units of big deal per miss last year. This is because he was one year removed from being a novelty freak show.
He will get better. Robinson's decision making is always going to be easier than your average quarterback because he doesn't get a heavy rush and can use his legs as the world's most deadly play action fake. He's just got to throw it to the guy.
That Denard managed to finish 20th in passer efficiency despite being 84th of 100 qualifying QBs in interception rate is testament to how deadly the offense is if he can just throw straight. Hopefully Borges's focus and Denard relentless workrate cuts down on the throws that are Pryor armpunt specials. He just needs to miss less badly.
Shift the ball outside and when you get hit hold onto it like whoah. Robinson's turnover issues are not limited to the passing game. Michigan lost 14 fumbles last year, tied for 15th-worst in the country. Though I'm not sure how many were on Denard since he was the offense it's safe to say a high proportion of them were his. His ball security needs to be improved.
Also he could get out of bounds if they've got an angle on you.
THE CATCH
Chris at Burgeoning Wolverine Star had an intuition about Robinson's effectiveness that he put into numbers. Those numbers bore his intuition out spectacularly. It's about Denard on passing downs. You'd expect he was less effective, but how much less effective is impressive and sobering:
| | | |
| --- | --- | --- |
| | Passing Downs | Season totals |
| Runs | 23 |   |
| QB runs (YPC) | 19 (7.9) | 256 (6.6) |
| Comp/Att | 31/71 | 182/291 |
| YPA | 5.7 | 8.8 |
| Scrambles (YDs) | 5 (31) | |
| Sacks | 4 | |
| TD/INT | 0/5 | 18/11 |
When robbed of his legs Robinson went from lethal to slightly better than 2008's Threet/Sheridan combo and their 5.1 YPA. A freshman Tate Forcier hit the NCAA mean of 7.2. Last year Michigan was an offense that had to stay ahead of the chains like those old Nebraska options teams. Third and long was over.
He'll do better this year. He remains a guy who gets his yards because the opponents are so focused on his legs that they do stuff like you see in the highlight clips above. I've trashed Gerry Dinardo for some goofy tweets about Michigan needing to run power to help the defense, but his analysis about the offense is hauntingly on the money:
"If you put Denard under center and you don't run designed quarterback runs — and I'm not sure whether they are or not — I think you become very easy to defend. They don't have a dominant tailback, Denard's not a typical under-the-center, drop-back or play-action quarterback, so I'm not sure where the offensive explosion is going to be generated.

"I think we've just watched this in Columbus when Terrelle Pryor is underneath the center and doesn't have a designed run, they struggle. So I think as you continue to put (Robinson) under center, if he's not moving the ball, and you put him in the shotgun, it's the same as last year — nobody can tackle him even if you don't block everyone you're supposed to block.

"What happens if you're not as explosive with him under the center as you are in the shotgun? You're going to revert back to some of the things they've done the last couple of years."
This is what I was talking about when I described my fear they would turn Robinson's legs from a threat you have to account for on every play into a nice bonus. Unless Michigan gets a bust-out year from one, possibly two, skill position players, the only thing on the offense that will force opponents to cheat is Denard Uber Alles. You either build your offense around that and roll the dice on Denard staying healthy or you degrade the offense's effectiveness until you need Superman to stop being Clark Kent and get in the damn phone booth.
This is an incredibly tricky balance. The instant Denard gets dinged everyone will moan that they're relying too much on him. Every drive that sputters because Denard is not deployed at maximum threat level will cause people to moan they're not relying enough on him. If Michigan had a defense that could give the offense some cover they could play it conservatively. Instead they have a tire fire Greg Mattison is valiantly hosing down.
If Michigan is going to keep Denard upright without sabotaging their offense, they will have to get progression from Denard as a passer even when he can't threaten a run. Running power with these running backs and this line isn't going to cut it.
Backups
When Denard inevitably gets banged up, Devin Gardner will be the guy flinging his helmet on and handing off a couple times. He filled that role in the first few games of 2010 before Tate Forcier reasserted himself in the backup role, whereupon Gardner came down with an extensively documented back malady en route to a medical redshirt. A recent NCAA policy change means we don't know if he actually got it or not, but that's a worry for 2014.
Gardner's action consisted of ten passes, seven of which were complete for 85 yards and a touchdown, and seven rushes for 21 yards and another TD. Everything except one negative four yard rush was against Bowling Green.
His other appearances on the field have been in a couple of spring games and the fall scrimmage/punting demo. In them he's looked kind of horrible. Disclaimers about practice apply, but I haven't seen what the usually glowing reports about him are talking about. I place equal faith in my lying eyes observing practice and someone else's lying eyes observing practice, so that's a push. If pressed into service this year he'll be an obvious downgrade; next year is when he'll be truly serviceable.
The third guy on the roster is Russell Bellomy, who is a true freshman. All knowledge about him is encapsulated in his recruiting profile. Unless disaster hits the two guys in front of him he'll redshirt. He's a raw, athletic thrower who's kind of like Tate Forcier if Forcier had played baseball during his summers instead of hanging out with Marv Marinovich. That's good and bad.