Practice Bits: Defense
3-4, 4-3, etc etc
I've said this before and I'll probably say it again several times before the season starts: Michigan is not likely to be moving to a traditional 3-4 system. Nor will they spend a lot of time implementing a traditional 3-4 to mix in with a 4-3. The time commitment to do so is prohibitive at the college level, and the kind of personnel who can effectively do both are too rare.
So what's with all the discussion about moving to a 3-4? It comes from the top, as this Sam Webb interview with Marcus Ray indicates:
Sam Webb: Michigan is telling kids that they are going to be basically 50/50 as far as 3-4, 4-3.  As best you can without having a visual aid or a grease board, explain to people, how that will come to pass and why Michigan is saying that, why that makes sense.
Ray describes the 4-3 under as something that could be looked at as a 5-2…
Brennen Beyer, the stand-up SAM in this picture, bounced between SAM and DE for his career
…and says that a 3-4 can look a lot like the under. Both accurate, and as I've mentioned before you can look at the under as a defense halfway between the traditional Miami-style 4-3 even/over and a 3-4.
But I think the distinction here is a bit of a red herring. I asked Spencer Hall what Florida ran last year and he replied it was a 4-3 with a standup end (Dante Fowler); my observations of the Florida defense rarely encounter a nose tackle lined up directly over the center. He's almost always in a gap.
Could it shade to a 3-4? Sure, I guess. Why would they do that? There are two reasons:
To run a 3-4! Obviously.
To disguise their 4-3. Gap-sound unpredictability is a major goal of all defenses. Putting a nose tackle over the center gives him an advantage if he's going to slant one way or the other, but the idea is still the same: get in a gap.
Ray explains:
"If you line up in that A gap or that center believes that they know you have this gap then it is easier for them to block you because you're more of a standing target, they know what gap you're responsible for, but in that 30 front, you can slant and angle in either way.  They don't know which gap you are responsible for and they have to guess and try to figure it out once the ball is snapped, but it gives the D-lineman the flexibility to go either way.  And then let the truth be told, in that same 30 front, if you have a noseguard that is lined up right over the center and he slants to the strong side, then that is technically going back to under.  If that noseguard slants to the weak side, in the weak side A gap, then that technically puts you in an over front, because the entire front has to shift along with him, so now that gives you some 4-3 flexibility from a 30 front if you just slant and angle, it puts you right into a 4-3 defense."
If you believe that Ryan Glasgow will hold the nose tackle job, a 30 front featuring him is an undeclared 4-3. Michigan doesn't have a Nix or a Gabe Watson to hold down the middle of that defense and two-gap the center unless Ondre Pipkins goes from afterthought to superstar in his final year or Bryan Mone is terrific as a sophomore.
Michigan may run a bunch of different fronts but at its heart the defense is probably a 4-3. And judging from Florida last year it's not going to seem that much different than Mattison's fronts.
Defensive Line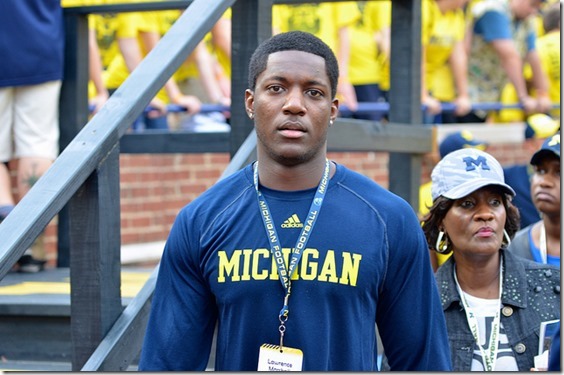 Lawrence Marshall is a name to watch. [Bryan Fuller]
Anyway this is all a lead-in to an assertion that for now I'm still assuming Michigan has a traditional 4-3 look this fall and I won't be changing up the nomenclature yet.
If and when we get enough data to do so it looks like the first change will be at WDE, which Florida folks sometimes call "drop end." Reports hold that Mario Ojemudia and Lawrence Marshall are frequently in a two point stance—something Marshall had never done and was taking some time adjusting to—this fall. Again, this gives the impression of a 3-4. In my mind it's taking the Mattison 4-3 under a half-step towards a 3-4 but whatever.
Marshall is doing well. His athleticism stands out and he's already about as big as Ojemudia. Ojemudia had to put on a bunch of weight and topped out around 250; unfortunately he hasn't displayed the explosiveness he had in high school at the bulkier number. A platoon is certain… unless Marshall wrests the job away and Ojemudia is again called upon to be a guy who plays spot downs to rest the starter. Michigan is trying out the occasional linebacker there as well, with Royce Jenkins-Stone the most prominent.
The other three spots have seen a ton of rotation, some of it involuntary. Injuries have held out big chunks of the line for a practice or three. When present, Willie Henry has been impressive. Chris Wormley is playing SDE again($), which makes sense given the depth chart (especially with Henry Poggi trying his hand at TE, and double especially if Michigan is moving back to more of an under). 4-3 under SDE is a better fit for him, as he can be that RVB type with a bit more pass rush.
Linebackers
There's as of yet no movement away from the presumed lineup of senior starters: Ross, Morgan, Bolden. With Greg Mattison still around I'm not surprised. 247 does mention a competitor to the presumed starters($):
[Ben] Gedeon has popped out early as a potential contributor in this year's defense. He has potentially the best combination of size, athleticism and intelligence at the position and it might turn into a situation where it's difficult to keep him off the field. For the second straight season, linebacker may be Michigan's deepest position, so if he stays on the field consistently, it will be because he's turned into a good to great player.
Scout also mentioned Gedeon as a potential breakout performer.
True junior Gedeon is a prime member of Team Why U No Redshirt who needs to start making an impact now. Michigan has rotated extensively in the past—not so much last year—and I expect he'll get playing time almost in line with the starters.
That is about all the chatter, with Ross/Bolden/Morgan the presumed starters. They look good when the DL isn't having them catch blocks all day, which has been something of an issue since a lot of guys have been out.
Secondary
There have been plenty of reports on Jabrill Peppers, who is looking like the Jabrill Peppers everyone dreamed about when he committed. Peppers bounces from safety to nickelback and looks like Jabrill Peppers should. He is taking ownership of his unit even as a sophomore:
"He's a high energy, high motor guy and he's going to talk trash," Countess said last week. "And he's going to get everybody going. He's been one of those guys you want on the field.

"Even if he has a bad play, he's going to let you know. And if he has a good play, he's definitely going to let you know."

Countess loves the energy and the intent. But when asked if there is ever a time when he'd like to have the ability to quiet his younger teammate, he's quick with an answer.

No way.

"I love it," he says with a smile. "He says the stuff that I don't say, but everybody's thinking."
As Michigan State demonstrated last year, one of the most important positions on the field as an aggressive defense going up against spread offenses is the slot-side safety. He often gets tested deep in cover four.
It'll be interesting to see how Michigan aligns. I'm guessing Peppers just gets the field side as they rely on the restricted space to help Jarrod Wilson out. An observer from the coaching clinic did note that Peppers is usually "aligning to pass strength," so that is encouraging in terms of keeping Wilson in a FS-ish role he's comfortable with and maximally utilizing Peppers's skills.
Jourdan Lewis is also drawing consistent praise. He was Michigan's #1 corner by midseason last year, passing both Countess and Taylor; it sounds like he has picked up where he left off plus a little bit of tackling strength. With Blake Countess set to be a four-year starter the top four guys in the secondary are pretty set. The main question is: can Countess bounce back from some rough times last year and play man to man? 247 has heard he is in "lockdown" mode, so there's that. I'm reserving judgment.
Freddy Canteen is getting a few reps at CB, so… that's odd. Harbaugh loves flipping guys around to see what they can do, and Canteen is a guy who could theoretically be a good corner. Doubt it sticks, but whatever.