Picture Pages: Blowing Up The Inverted Veer
Michigan couldn't get yard one with the veer against Nebraska, and most of them ended up with an unblocked Nebraska player blowing up Gardner. It is time to look at them. For some reason. Why didn't I start a blog about 1980s hairstyles? 1980s hairstyles never make you want to rub your face in gravel.
I digress. The first one comes on Michigan's first drive. A late blitz has just seen a power O slanted to and blown up for a one yard loss; it's second and eleven on the 24.
Michigan comes out with an H-back and two tailbacks in a twins formation, which necessarily means that the slot receiver is not an eligible receiver. Nebraska responds with 7.5 in the box, with the gray area defender just about splitting the difference between Funchess and the tackle.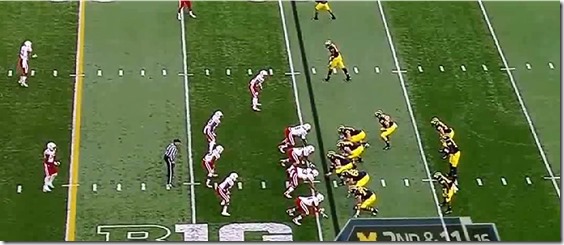 On the snap Bosch pulls and the gray area guy sits and stares the backfield down.
Michigan shows veer action with Kerridge leading Toussaint to the outside; Michigan blocks the playside end, which would mean they're expecting to option the slot defender except 1) Kerridge is out there, so they're using one of their blockers on him anyway and 2) Gardner does not appear to be reading him but something further inside, if he's in fact reading anything. Gardner's awareness of this slot defender seems to start after the mesh point.
You can see that Gardner's helmet is not pointed at the slot defender as he starts making his decision:
What's he reading? Is he reading anything? I don't know. it doesn't seem like it. Watch the video in real time to get a feel for it. Toussaint does react like a guy who might get the ball, juking the blitzer, so I guess they're reading something. What is unclear.
Meanwhile, Kerridge is expecting the slot guy to contain upfield; instead he shoots upfield inside of him hard, too hard for him to adjust to.
Gardner pulls and seems to sense a disturbance in the force now; he goes straight upfield.
Toussaint dodges the blitzer, running into Gardner; Kerridge  is prone, Gardner starts stumbling, and his momentum is taking him into the chest of an unblocked LB.
It's now third and nine, and Gardner's soul is now worn 1% more.
Video
Slow:
Items Of Interest
Optioning no one. We're back here, in year three. Michigan has a rudimentary read option game on which their QB doesn't know what to do too often and gets plays blown up, but here we're back to last year's Alabama game, where the defense made it so that Michigan's option plays didn't actually option off a defender, with similar results. No matter what happens on the edge here, the play still spends Kerridge and Toussaint on one defender and leaves an unblocked guy.
It would be one thing if I'd ever seen this fullback on the edge thing work. I have not. At best it's wasted him as he blocks a guy shooting up on the edge who is trying to contain Toussaint; at worst:
I'm about to get some comments about how this is Gardner's issue or Kerridge's issue and that Borges can't be held responsible for the results of this play. Sure. Any one play can be traced back to some execution error by the offense.
These posts are an effort to explain trends I'm seeing in the offense with particular plays, though, and this kind of half-ass option is par for the course. Michigan cannot get the fullback to be useful on these read option plays, and hasn't made him useful for three solid years.
This is the kind of stuff Denard papered over by being Denard. Even when Michigan was eviscerating Ohio State two years ago, they weren't really optioning anyone and it was left to Denard to make the magic happen against an unblocked dude at the LOS:
Michigan was fortunate that was a freshman Ryan Shazier on one leg. When you don't have Denard and you've turned your quarterback's ribs into a fine paste already, you no longer get 41 yard touchdowns and instead your unblocked dude gets a tackle for minimal gain, or more likely a loss.
They've had Kerridge for three years now and Gardner that long and Toussaint that long and they still can't get them to execute a real option. Either they're not trying or they're not coaching. And either way…
How is this supposed to work? It seems like the idea here is for the slot guy to run himself upfield outside of Kerridge to maintain a force back inside and then for Gardner to hit the gap between him and the rest of the defense. Nebraska beats that idea by using the slot guy super-aggressively.
How do you make this play work? Nebraska understood that Michigan's formation meant Funchess was not eligible; the gray area defender had no thought of a pass and ended up blowing up the play. But you can still make this work since Nebraska is sitting so deep with the safeties. Michigan has two options here: shooting Kerridge at the LOS, leaving Toussaint to his own devices, or using Kerridge to attack the slot defender and put Toussaint on the edge into acres of space.
This is the kind of thing you could come back to later with a tweak and bust a big gain. Clearly there were no big gains on this day. This design isn't necessarily bad; the inability to see what Nebraska is doing and get rock to their scissors at some point is. I mean, if you get this again and block the dude the defense has no force player, which means you get a lot of yards. This move by Nebraska violates a cardinal tenet of sound defense and works because they win on RPS, and if you probe at what they're doing here you can beat that. Instead Nebraska just kept chewing up Michigan's offense.
Hooray covered slot receiver. Hooray. I will never understand the point of that. If Michigan had some package where the ability of the H-back to get to the backside of the play meant something, okay. Instead you get nothing and if the D recognizes it, as they seem to here, you're playing 10 on 11. Temporary voluntary red card.
Again, maybe this is some sort of genius but since I've never seen it do anything productive it just seems dumb.