The Oral History of Yost, Part 1: Borrowing from Bears
[Editor's note: If you've wondered where Adam's been this summer, he's been working on this. We did not feel we could let the Red Berenson era end without doing it justice, and this is our attempt. Enjoy. –BC]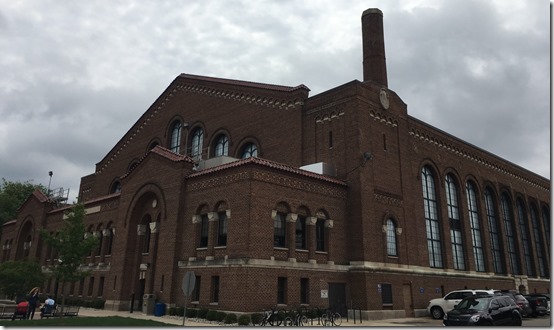 It's the roof. It has to be the roof. Yost Ice Arena, née Yost Fieldhouse, wasn't made for hockey, but stand outside and look up and it's impossible not to feel like it's a relative of an Original Six building, perhaps the Montreal Forum's cousin or the sibling of the Olympia in Detroit. No, it wasn't built for hockey. At its core, Yost is just a big brick barn; it's the people inside that made the barn a rink and made the rink one of the most maddening, intimidating places for opponents to play hockey in North America. The sharp wit of the crowd, the perfect pep band, the waves of sound that crawled the walls, crested at the ceiling, and crashed to the ice were staples of Yost throughout the 1990s. Getting there, though, might not have happened if not for a chance encounter with a bunch of Bears.
---------------------------------------------
Sponsor Note: this post made possible by our continued partnership with Homesure Lending. If you're in need of a mortgage, Matt will collect your information quickly, check several different mortgage companies for the best possible rate, and pass it along to you. Then you get a house.  Or a houseboat, I guess? Don't buy a houseboat, that's my advice to you.
Well fine, then. Be like that. Buy a dang houseboat. See if I care. –BC
---------------------------------------------
An Empty Barn
Red Berenson, head coach: It was disappointing [when I first arrived] from the standpoint that our team wasn't very good and the image of the program wasn't very good, so the fans were really— they weren't there very often. When we played Michigan State was the only time we had a full building, and there were more green and white people there than there were Michigan people. So, it was hard to recruit good players to come here and then see that we weren't getting the support from our fans, but we were all confident that when our team got better that they would come.
But we had to do some things away from the rink, too, and I think we did a good job. We got our players to go up and visit fraternities and sororities, we got the ticket office to take season tickets and particularly Michigan State tickets— those seemed to be the hottest ticket— up to the Diag and interact with the students; the same thing in the dorm. I constantly was on the move around town giving away tickets, trying to get people to come to the game, and just telling them "If you like it, I guarantee you you'll want to buy a ticket next time."
Mel Pearson, assistant coach: It was interesting. When I first got here one of the first things that happened to me was that I was given 400 tickets to give away for every game, which I found...odd. We had trouble putting people in the building. Then obviously when I left here later on I could hardly get four tickets for my family, so things really evolved.
The first few years I think we had to change the culture here, change the atmosphere. Coach Berenson brought an exciting brand of hockey. He would always say he wanted to play like the Montreal Canadiens in the '70s and the Edmonton Oilers in the '80s; upbeat-type teams. I think that really transformed the whole atmosphere in Yost.
Berenson: The building was never intended to be a hockey rink. It was built as an indoor field house, the first of its kind, but when Don Canham built Crisler for basketball and they moved basketball out of Yost, I don't know whose idea it was to put hockey in Yost— or to try it— but they did it and from the old Coliseum over by Fingerle Lumber, well, that's where I played. In fact, I lived just down the street from there at 424 South Hill Street my last two years here. So, I'd just walk to the rink. I could see people lining up all the way down nearly to our house before the games.
But anyway, when I came back it was disappointing, the support and the image of the program and so on wasn't very good, but then it slowly changed. Even in the building I thought our administration and building management— I think it was Wilf Martin at the time and Mark Renfrew and we recognized that we needed to spruce up the building, so we did that slowly. We filled in underneath the bleachers, for example, and we added some storage areas and we didn't put up new boards but we put up new signage and we got new nets, and slowly the rink started to look a little better. We cleaned up the lobbies and we tried to improve the lightning.
Well, it wasn't until '96 that we did any kind of a serious renovation, but we were doing something every year, so I felt better that the building was more acceptable. I think there was a time where Canham took all the mirrors out of the ladies' washrooms in football— I don't think we did that in Yost— because of the ladies taking too much time and then creating lineups. We didn't have that problem at Yost, but we tried to make it fan friendly, but you still had to win. But you didn't want people coming to a dirty rink or sticky seats, little things like that, so that's what it was like. We had our moments of glory in that building, but the fans didn't get to see much of them. Slowly they started to come.
[After THE JUMP: Kent Brothers' speech, the legend of the Doughboy, and how Yost boosted recruiting (for Michigan and opponents)]
The Doughboy (keep reading) vs Cornell, 1991 [Jose Juarez]
Borrowing from Bears
The spotlight was shining as bright as it had to that point in Red Berenson's tenure when Michigan hosted Cornell in the first round of the NCAA Tournament. The three-game series marked the first NCAA Tournament games for Berenson as head coach of his alma mater and provided an opportunity for fans in Yost to see playoff hockey in person.
-------------------------------
Pearson: I do remember the Cornell series very vividly and how they pushed us to the brink and just the fans, the cheers. I think a lot of people will tell you that it really started, the Children of Yost or whatever it was called back then, really were educated. Maybe some real true die-hard hockey fans knew the cheers, but obviously the rest is history from that moment on as far as our student section and just in general for the fans in Yost.
Berenson: The Cornell crowd, they come in with all kinds of enthusiasm and literally whatever happened in the game, they had a chant for it. So they were into the game and they were much more vocal and organized than our fans. Well, after that weekend it didn't take long for the Michigan students to say hey, we can't be embarrassed by these Cornell fans. It wasn't coming from us, it came from them. They figured it out and they did something about it and good for them. It was never the same after that.
Things didn't go as planned, however. Michigan dropped the first game of the series in overtime, 5-4. The loss left the Wolverines wounded both literally and figuratively: Jim Ballantine, one of only four seniors, suffered a lacerated kidney and, according to the March 18, 1991 edition of The Michigan Daily, was expected to spend the next five to seven days in the hospital. Kent Brothers, another of member of the four-man senior class, took it upon himself to address the team after the game.
John U. Bacon in Blue Ice: The Story of Michigan Hockey: [Kent] Brothers closed the locker room door, walked to the middle of the room, and said, "My hockey career ends when we lose our next game. But I'm not ready to finish. One of the keys to this program is to remember the guys who came before. And this time we've got to do all we can for the guys who never went on. We need to pull it together. Either I'll do it all by myself, or you'll join me."
Berenson: I think Kent [Brothers] was starting to get it. Some of the guys that I inherited here— now, I recruited Kent from Newfoundland, but some of the guys that we inherited had just graduated, like from '84 to '88 and so on. Our players, the players that we recruited, were just about taking over the team now. Kent was an emotional kid and I think he realized that fun time was over and let's get something out of this. He didn't want to go back disappointed again. He'd watched what happened the previous three years, but good for him. And then he stayed on as a grad assistant.
Pearson: I heard about it. I did hear about it. Kent wasn't a superstar on the team but he had a good way about him. He had a good feel for the players on the team. He was an outgoing guy. He usually talked a lot but didn't say a lot. [laughs] I think knowing Kent and at the time being a senior, just because of the personalities and he was likeable, for everybody on the team I think it meant a lot to hear from a senior. I do remember hearing about that. Obviously things went a little bit better for us after that.
--------------------------
Michigan evened the series with a 6-4 win in game two. The box score shows a quality game from the Wolverines, but the coaching staff saw something different. With less than 24 hours before the series' deciding game, the staff met to discuss switching personnel.
------------------------------
Berenson: I remember we changed goalies before the third game. Steve Shields had been our go-to goalie all year and was having a great season, but we get into that second game and you could see he was fighting the puck, and our team wasn't strong enough to make up for it. There wasn't much to choose between Cornell and us. We put in Chris Gordon, his backup, who was a very able goalie, and I think it woke our team up a little bit and shocked them. Then they also realized this was it. It was just a combination of things. I think our fans got into it and our team realized this is real playoff hockey, sudden-death hockey, and we had home ice and our fans and so on. We got off to a good start in the game and then it was all Michigan.
Pearson: The biggest thing is the goaltending. I still remember Steve Shields and Chris Gordon. It was a real tough meeting because here's your guy who'd played pretty well all year then struggled a little bit, so that was one of the things that sort of came to mind about that series. Really more than that, winning that series, I think, was a big milestone, a big hurdle to get over for our program in general. It was great. It was one of the things I liked back then about the NCAA Tournament is you hosted, which I thought was great for the fans. It was really huge at that time for our fans to be able to host an NCAA Tournament [series].
Berenson: Glenn Hall once told me, he said, "I can play every game but if I start fighting the puck, get me out" and that's the advice that I carried for a long time.
Pearson: Any time you get pushed to three games it can be scary because anything can happen. A goalie can beat you by himself. You never know. I think just the relief and the understanding that we won a game and that we're good. Even though it wasn't a big senior group, it was a group that had some calmness about them and just "stay in the moment and don't get too far ahead of yourselves" and I think they kept the team in the right frame of mind. And that's what you need on teams; coaches can say sometimes all you want, but you need some of that coaching in the locker room and I think the seniors provided that.
I think by the third game it was just, it seemed like we had the confidence. We lost the jitters that we had I think especially in the first night, and then the second night the pressure's all on you. Then obviously the third game I think we finally played the game we were capable of playing, that we wanted in the first game.
That's the excitement of it. If you blow a team out two games in a row there's not a lot of excitement to it, but the way the series unraveled I think it really did even though the third game was a bit of a blowout.
Brian Wiseman, forward (1990-94): Yeah, that was the makings of being a pretty good team. You saw really through that year crowds start turning out and coming down and supporting the hockey team that I think coach Berenson probably envisioned as we made our way through that season, and that was a special series obviously, too, to start this NCAA run for coach Berenson and then went onto BU the next week and it didn't go so well. Nevertheless, it was a tremendous series. One of the great series that we played here that I was a part of, anyway.
You have different points as you go along the history of Yost; that would be one that would probably be up there that started to create what this environment at Yost was, that season and specifically the latter part of that year and Cornell series to finish out that season at Yost. Then you saw the student body get really involved in Michigan hockey and supporting Michigan hockey thereafter with our student section. We've had great local community support throughout, and then it was a tough ticket and a very desirable ticket, at least during my few years here and then that lasted through the present time for the most part.
Scott Spooner, student season ticket holder: Freshman year we could still go and get tickets the day of the game and basically sit almost wherever you wanted. There were very few reserved seats.
Roger Spurgeon, student season ticket holder: I was thinking that myself. Hosting Cornell for the NCAA Tournament, I think that really got us excited about it and I think it really was the catalyst for students saying "We can make this place crazy" because that little group of Cornell fans came in and rocked the house.
Spooner: They at least planted the seed of what Yost would become.
Spurgeon: Some of the cheers that were started then were done by them first. They introduced us to how a group of fans could be loud and fun and I don't know if you really make a difference, but you feel like you make a difference.
Spooner: I remember there was one particular— I don't even remember what position he played or what his name was, but I do remember we were in about the third row just inside the blueline on the south end, and for some reason I picked on this one guy. Every time he would come out and there would be a faceoff and he would be in front of me and I would just yell at him because we were just at the level where we were just above the glass. I think he gave us a little bit of a reaction, which is the way to egg it on. Then just the whole series we were giving to him— I was giving it to him, at least.
-------------------------------------------
Michigan finished off Cornell 9-3 in the deciding game of a three-game series and moved on to Boston to face Boston University. BU's firepower proved too much, as Michigan fell 4-1 and 8-1 and was swept out of the tournament.
[via The Michigan Daily, 2/17/92]
The Doughboy
With Yost's crowd starting to come alive, Michigan's home record continued to improve. They were 15-1-2 at home in 1991-92 and 16-2-2 in Yost in 1992-93. During that period, Cottage Inn started a promotion that saw many patrons walk in… and a lot of free pizza walk out.
--------------------------------------
Spurgeon: I don't really remember a lot of super specific events when I was a student except the amount of goal scoring and the offense we had. I mean, we were regularly beating teams by 10 goals. I can tell you Ohio State had such a horrible team and we would beat them 13-1, 14-1. I just remember that for a couple years Cottage Inn had a promotion where if Michigan scored more than five goals, you got half off pizza and if they scored more than ten, you got free pizza. The chant was always "We want pizza." That promotion lasted about a year. That year Michigan scored more than 10 goals I think five or six times in the season.
It was just a crazy time for offense. As fans we kind of loved it when they went shorthanded because they'd score more goals shorthanded than I've ever seen before.
Spooner: [Cam Stewart] passed the torch not directly, because I think John Madden came in after Stewart had left, but there was a game, I think it might have been UIC, where Michigan scored on every powerplay and then scored on two of Illinois' powerplays. We had six special teams goals and four powerplay attempts. Crazy.
Wiseman: Cottage Inn used to sponsor if you scored ten goals, our team, then everyone with a ticket stub would get free pizza. Well, our team, I believe somewhere in about '92, I would guess, scored 10 goals I think it was three consecutive games at home. [Ed. A- They weren't in a row but Michigan hit the pizza number at least twice in 1991-92 and scored more than seven goals in nine of 18 home games.] So we were some high octane, but that was free pizza. It was great for us because our parents gave us the ticket stubs and we didn't have to cook. Probably not good for coach Berenson and us trying to manage our weight.
The crowd's chanting "Pizza" at around seven and we score, and one of my best friends to today and my roommate, Cam Stewart, scored the tenth goal like in three consecutive games. And I think it was the Daily or the Ann Arbor News: "The Doughboy Strikes Again" was the headline, so that nickname has stuck. And my daughter, who that's his godchild, calls him the Doughboy, so those are good memories of Yost and the teams that we were able to play and the crowd involvement and a different way of— that sticks out for me.
Pearson: Oh yeah, Doughboy. It happened that Cam was the guy that seemed to score the tenth goal that sent everybody home happy, including my family. The coupon I think was a free small pizza within so many days of the event, so I knew if we had a good game I'd always know what we're having that Sunday night. My wife would go and use the ticket stubs to get I think it was Cottage Inn. That was a great promotion. You could have that now and I don't know if you'd get that in a year. Now it'd maybe have to be down to six goals. Different style of game but Cam Stewart, to this day I call him Doughboy. That's my nickname for him. I don't call him Stewie or anything like that. I call him, "Hey, Doughboy." Obviously he's written in Michigan hockey lore as the Doughboy, the Cottage Inn man.
Holy Schnikes [via the Bentley Historical Library]
Yost's reputation was starting to be noticed by the rest of the hockey community in the early 1990s, and said reputation started to pay dividends in recruiting.
Yost Comes Alive
Pearson: A lot of places— not a lot of places, but many places will not bring in recruits on game nights even back then whether because you wouldn't fill the building or the atmosphere was terrible or maybe you weren't going to win, but we wanted recruits on game night. If you bring them in on a game night and they weren't touched and moved or swayed by that environment then you're not livin'. I mean, it was incredible. We wanted to make sure we brought kids in as much as we could to games because I don't know if you could find any atmosphere like that. It was unbelievable.
Brendan Morrison, forward (1993-97): I remember my recruiting trip when I came down to Michigan. It would have been in early '93 I came down there I believe in February. I got to see two hockey games there and I was blown away by the atmosphere at that point in time. The students were loud, they were raucous; they had chants I'd never heard before as a young 17-year-old coming into the rink and they were into the game and it really made the atmosphere.
Wiseman: People come to Yost, even if it's an empty building like right now, and we have recruits and families come in and we're talking 15-, 16-, 17-year-old kids, whatever age, they're wowed just by the uniqueness of the building. We bring them back to a hockey game on a Saturday night when it's full and the band's going and the Children of Yost, the student section, is there [and] they're mesmerized and that's all they talk about, even a 14-, 15-year-old kid to a 40-year-old parent, their time and their experience at that game. So we hope we can continue to create that. That's the goal.
We have to continue to do it on the ice with our team and how we play, but there's something special that's been around this building for an awful long time, even before I was here in '90. It makes it one of the most unique buildings and special buildings to play in, to be at, to get the opportunity to be involved with as a visitor, a visiting opponent; they talk about it often.
LJ Scarpace, goaltender (1999-2001): I think the visiting teams use that sometimes as a recruiting tool for them, like, hey, we're going to be able to visit Michigan and experience that environment. Hopefully once the games are over they're not happy they made that decision, but I think it's just a really unique place. For us it's adding to the tradition, it's adding to what you get to be a part of when you come to play for Michigan.
Bobby Hayes, forward (1995-99): You get five kids that go and visit five colleges in the CCHA and they'll go "I saw a game at Yost, I'm going to Michigan. It's done." The coaching staff was there and in place, the uniform, the helmets, the crowd, the rink; it's a no-brainer for a lot of kids.
Marty Turco, goaltender (1994-98): Even before I got there, when I went on my recruiting trip I was like "Holy Schnikes." The one thing I took away from it honestly is I don't want to come here and play, I want to come here and be on the home team; I don't want to be the opponent. These fans are awesome. They're tough, ruthless.
It was memorable to say the least, and just as memorable was my meeting with Red after the game. It probably helped me being a little naive and not totally understanding the legend of Red Berenson. So sitting down to dinner with the coaches, I was just a young kid, just wanted to play goal and be a part of something special and then I got grilled. I think I handled it okay despite the circumstances. I think my dad had an idea of the circumstances; I didn't, so probably just let me freewheel it a little bit better than I might have if I totally had full grasp of the gravity of the situation.
That being said, it was good. The whole experience was amazing and to get to go back to junior in Ontario just ready to kick some ass and go through a wall.
Berenson: Kids are so informed now. I mean, they can get virtual tours of rinks and so on without ever leaving home, but you have to see Yost during a game to get the full picture. And I tell players when they come here on a regular basis, "If you want to go to the nicest rink, go straight to North Dakota. Now, BU has a nice rink. Notre Dame has a nice rink, and there's more and more nice rinks, but to me the nicest rink is still North Dakota. But if you want to play in a player's rink where the fans and the players and this building has got some history and tradition— and you'll feel it when you play here— this is the rink." And so I think a lot of recruits will say, you know, what turned me on to Michigan was when I saw that game and they realized, wow, this is Division I hockey, this is Michigan hockey and this is Yost. This is special.
Spurgeon: Red had the program flying and they were just unstoppable in the '90s. The recruiting he could do was based on how well the team was doing, and they were just so much fun to watch. I think it's clear that when you have a program that's doing so well, it's easy to fill the arena. It was just so excited and the spontaneity of the fans and the noise. To be very honest, we say thank you to the Big Red from Cornell because they really showed us how to do it. It just took off from there.
Coming in Part 2: Now witness the firepower of this fully armed and operational battle station