Opponent Watch: Week 9
About last week:
No one played football. John Beilein ate subs. Crazy. (H/T Bagelz McDerman)
Upcoming Opponents:
Michigan State (7-1, 4-0 B1G)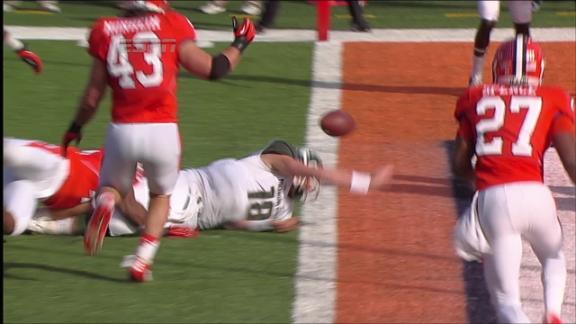 MIchigan State dominated this game. Obviously.
Last game: Michigan State 42, Illinois 3 (W)
Recap: This game did not start off well for State. Sparty's offense continued its offensive funk from the Purdue game into this one, moving the ball only 63 yards on Illinois' not-quite-Indiana-bad-but-still-pretty-damn-bad defense through the first quarter and a half, and Illinois faced a 3rd and goal from the 1 yard line to take a 10-7 lead. Two stuffed and a 99 yard touchdown drive, which was capped by… this… on 3rd and 25, and this one was basically over. Sparty proceeded to rip off four consecutive touchdown drives to open the second half to put this one in the 'laugher' column.
So, we have 8 games of data on Michigan State's offense. And I contend that we still don't have a clue what the hell they are. I can't mentally combine all of the data we have into a single coherent theory.  With Michigan's maddeningly inconsistent offense, we can at least point to a few obvious causal factors directly correlated with their struggles. I feel like the "keys to victory graphic" will say, "MICHIGAN: minimize turnovers, avoid negative plays on early downs," and "MICHIGAN STATE: use Good Connor Cook, don't use Bad Connor Cook."
Michigan State's offensive line has been surprisingly consistent these last few games, especially in the interior (grumble grumble), and they have been opening some decent creases and some large cutback lanes for Jeremy Langford and Delton Williams. But the key to the MSU O vs. Michigan D remains Connor Cook vs. himself, an there's no predicting which Connor Cook will show up.
Defensively, I now believe there is enough on tape from State's last few opponents such that a skilled tactician could plausibly develop an effective way to attack Narduzzi's murder-death-kill machine. It's like getting a single extra letter on the final round of Wheel of Fortune. You've gotta sound it out, but it's there. Notre Dame had success going over top of the MSU corners to the outside. Purdue had some success throwing underneath those corners when they had slightly softer zones. Illinois and Iowa had some success down the seams. I have no earthly clue how to beat this defense, but the pieces are there for some mad genius. I know this "OMG BORGESSSSS" thing is getting old, but this really will be a gigantic test of his ability to put together a game-plan.
One thing that WON'T work against this defense? The zone stretch. So I cannot be accused of second-guessing anyone, I'm putting my marker down here: Michigan won't average better than a yard a carry on stretches in this game.
I also have to give a quick note on Illinois. Before the season started, we all assumed Illinois would be the worst team in the Big Ten. But a couple of early season signs of life led people to opine, "gee, maybe they aren't so bad," and we turned our attention to BoilerQuest. But while Purdue may have the worst numbers, Illinois remains the worst team in the Big Ten. They make 2009-10 Michigan look like paragons of fortitude and resilience.  A couple of small things went wrong, and the team seemed to declare with one loud, resolute voice, "welp." This team is a collapse waiting for a trigger, and they're not very patient.
This team is as frightening as: In honor of Halloween, we're going with scary movies as our theme. For Sparty, that movie is 28 Days Later.  You know they're going to attack head on at high speed, and if you make one mistake you're doomed. Also… East Lansing on game day == post-apocalyptic London, but without the dry wit. Fear level = 8
Michigan should worry about: Mike Sadler. Michigan State WILL fake a punt in this game. It WILL work. There is nothing you can do about that. Just try to keep it to a minimal gain beyond the sticks.
Michigan can sleep soundly about: Michigan State runs the exact kind of offense that Michigan should be able to stop, both in terms of scheme and quality. They remain not good, and they're predicated on staying ahead of the sticks by running the football in a traditional manner, with an occasional jet sweep mixed in for texture.
When they play Michigan: Michigan should just camp 7 guys in a straight line along the first down line on 3rd down and medium. A crossing pattern is coming. Consider yourselves warned.
Next game: /checks schedule… It says here "vs. Michigan"
[AFTER THE JUMP: Things you won't care about until next week]
Nebraska (5-2, 2-1 B1G)
Taylor Martinez was decapitated (World-Herald)
Last game: Minnesota 34, Nebraska 23
Recap: It was not a good week to be a Pelini. Carl got fired from FAU for littering and…, and Bo got rolled and smoked by Minnesota.  Nebraska actually grabbed a 10-0 lead halfway through the 1st quarter, but Minnesota scored 27 of the last 30 points to pull away and hold off a late charge. Taylor Martinez returned to the lineup, and while he didn't look terrible he was either rusty or his timing was just off. He finished 16/30 for 139 (4.6 YPA) with a TD and a pick. Ameer Abdullah was the lone bright spot offensively, gaining 165 yards on 19 carries, though he did get dinged up. Ra'Shede Hageman spent the entire day in Nebraska's base killin' their dudes.
But the real story was Nebraska's "defense." Actually, let's use a double-set of ironic quotes for ""defense."" The Blackshirts gave up 430 yards to Minnesota, which at MInnesota's pace is a helluva lot of yards. Up until this point it's been the Cornhusker secondary that has been the primary culprit for the terribleitude, but in this one it was the front seven that gave up 271 yards rushing at 5.0 YPC (and that was without Tebow clone Mitch Leidner getting into the act). Of course, Philip Nelson did average over 10 yards per pass, because that secondary does remain abysmal. 
It goes without saying that this is a huge assist in the Legends division. I don't think anyone saw Nebraska as the frontrunner before this weekend, but a loss in the division (to who we assumed was the worst team in the division coming into the weekend) is big in a bunch of ways.
This team is as frightening as: Final Destination 5. It was probably never really that scary, and it's kinda hard to watch, but mostly you just feel a little bad for the participants.  Fear Level = 5.5
Michigan should worry about: Maybe Taylor Martinez wasn't really healthy, and he'll return to form in stunning fashion in the Big House in a couple of weeks.
Michigan can sleep soundly about: Minnesota 34, Nebraska 23
When they play Michigan: NO ONE IS LOOKING AHEAD TO NEXT WEEK.
Next game: vs. Northwestern
Northwestern (4-4, 0-4 B1G)
Last game: Iowa 17, Northwestern 10 (OT) (L)
Recap: Northwestern was one play from beating Ohio State and moving to 5-0. They've been looking for that play ever since. The Wildcats dropped to 0-4 in conference, which is beyond any fathoming. Sure, their crossover games were brutal (Ohio State and Wisconsin), but when you lose to Minnesota and Iowa, you lose the right to blame the schedule. Kain Colter played almost the entire game (except for when he went out with his weekly ankle sprain), and played decently, but the Northwestern offense was just out of whack the entire game. Either Venric Mark injury is THAT important to this offense, or the Ohio State loss just broke something.
At 4-4, the Wildcats are now solidly on the outside of the bowl picture looking in, needing to beat two of Nebraska, Michigan, Michigan State, and Illinois to make a bowl game. They do, however, become your new favorite team, as a win over either Michigan State or Nebraska would really do Michigan a solid.
This team is as frightening as: Any M. Night Shyamalan movie. There's a SHOCKING TWIST, which turns out to be, "wow, this sucks way more than I expected." Fear level = 4
Michigan should worry about: What if existence isn't real? Like, what if this is all just a dream?
Michigan can sleep soundly about: This weekend's game is win-win for Michigan. If Northwestern wins, all of Michigan's rivals in the Legends other than Michigan State will have two conference losses. If they lose, it's really tough seeing them turning things around by the time Michigan comes to town in two weeks. 
When they play Michigan: Avoid turnovers. Northwestern's offense not currently capable of engaging in a shootout, and its defense will give up points. The only question is whether Michigan will leave enough points on the field and/or hand enough points to Northwestern to make it tight.
Next game: @ Nebraska
Iowa (4-3, 1-2 B1G)
Last game: Iowa 17, Northwestern 10 (L)
Recap: Make no mistake, this was a bad game. There may have been a time in which a 10-10 tie might lead to declarations of "OMG Game of the Century,"  but in THIS century finishing regulation at 10-10 means that you have done a boring, boring thing. And while three weeks ago beating Northwestern might have seemed like a nice win, notsomuch these days. Iowa built a 10-0 halftime lead by running the ball directly into the gums of Northwestern's defense, but stagnated in the second half before deciding it needed some points in overtime.
Jake Rudock continued his competent-but-not-excellent-but-very-Iowa play, finishing 19/27 for 169 yards, and TD, and a pick. Remarkably, a wide receiver (Kevonte Martin-Manley) was his leading target, instead of a TE or a back or the sideline.
This team is as frightening as: Nightmare on Elm Street. The hardest part is staying awake. Also, Se7en, because there's a pasta scene.
Fear Level = 5
Michigan should worry about: I hate Kinnick so freeking much.
Michigan can sleep soundly about: Didn't you read the "This team is as frightening as" part? DON'T FALL ASLEEP.
When they play Michigan: Iowa will run the same offense as Michigan State, but way more competently.
Next game: vs. Wisconsin
Ohio State Reminders To Michigan State That They Are Not In Fact Our Biggest Rival (8-0, 4-0 B1G)
Picture is unrelated. I… I just needed this, okay?
Last game: [404 - Score not found]
Recap: Ohio State squeeked by Penn State in what I'm assuming was a well-played and competitive game. I can't seem to find a box score or anything online, but the last I saw it was 7-0 Ohio State. So we'll go with that.
This team is as frightening as: The Shining. It will be cold, and Scatman Crothers Lou Gossett Jr. [ED: I am ashamed. May I be locked in a food pantry] is going to drive a long way just to get busted up with an axe. Fear Level = 9.5
Michigan should worry about: That hedge maze in the back yard looks troublesome.
Michigan can sleep soundly about: The guy in the bear suit looks comforting.
When they play Michigan: Sigh.
Next game: @ Purdue
Objects in the Rearview Mirror:
Central Michigan (3-5 overall, 2-2 MAC)
Last game: BYE
Next game: @ Ball State
Notre Dame (6-2 overall)
Last game: Notre Dame 45, Air Force 10 (W)
Recap: Tommy Rees threw for 284 yards and 5 TDs to lead a whomping of Air Force. This was a tough match-up for Air Force, as they had no choice to run into the heart of ND's defense. Even without Louis Nix, this wasn't a promising propositin. As usual, Air Force was pretty solid on the ground rushing for 290 yards on 4.5 YPC, but threw for only 49 yards.
Personally, I think the service academies should have to run an offense that matches their branch of the service. Army should run a triple-option ground attack, Air Force should be throwing 4-verts all day, and Navy should… uh… play a lot of games in the rain. Or go full Mark Hollis and play on the deck of an aircraft carrier.
Next game: vs. Navy
Akron (2-7, 1-4 MAC)
Last game: Ball State 42, Akron 24 (L)
Recap: Oh well. It was fun while it lasted. Akron's one-game winning streak is no more.
Next game: vs. Kent State
UConn (0-7, 0-3 AAC)
Last game: UCF 62, UConn 17 (L)
Recap:
Next game: Does it matter?
Minnesota (6-2, 2-2 B1G)
Last game: Minnesota 34, Nebraska 23
Recap: Ladies and gentlemen, presenting your bowl-eligible Minnesota Golden Gophers. Enjoy the rest of your October.
This was easily the biggest win of the Jerry Kill Era, even if Kill has been relegated to the role of motivational speaker in light of his recent health problems. Beating Northwestern and Nebraska in back-to-back weeks is pretty impressive, even if neither looks like a world-beater right now. Now they take on Indiana in what Seth has wisely dubbed the Tempo Bowl.
Next game: @ Indiana
Penn State (4-3, 1-2 B1G)
Last game: @ Ohio State
Recap: See: the UConn recap. 
Next game: vs. Illinois