Opponent Watch: Week 9

About Last Saturday:
Purdue 14, Michigan 36
Caption contest. Go.
The Road Ahead:
Iowa (5-3, 2-2 B1G)
Last game: Iowa 21, Minnesota 22 (L)
Recap: The only thing worse than questing for title of "Worst Big Ten Team EVER" is losing to that team, which Iowa did on Saturday. Flags in Iowa City flew at half mast to honor the death of Gopherquest -- and themselves, in the eyes of Brian Cook.
Two deaths and a funeral indeed.
Let's take a look at the autopsy report: Thanks to a couple missed field goals, the game was close through the third quarter until Iowa scored to go ahead 21-10 early in the fourth, seemingly poised to finally wrest it out of Minnesota's reach.
After a Hawkeyes fumble and Gophers field goal, however, Minnesota converted a fourth and one from their own 42 and scored a touchdown a couple plays later.
The Gophers onside kicked, catching Iowa by surprise. Minnesota recovered and miraculously scored again on a fourth-down conversion at the Iowa three.
Flailing, the Hawkeyes went four-and-out and were then helpless to stop the Gophers from running out the clock.
Remarkably, Iowa RB Marcus Coker carried the ball 32 times for 252 yards and 2 touchdowns in an outstanding effort no Iowa fan will ever remember. Imagine if Pheidippides had made it all the way to Athens only to collapse before delivering his message. Instead of inspiring an entire culture of running a couple millenia later, now he's just a clammy dead guy.
Right now they are as frightening as: A watered down version of 2007 Michigan immediately post-Horror -- not as good, therefore not as embarrassed. Still hiding under a blanky though. 5.
Michigan should worry about: The first real manball team on the schedule not playing in a trash tornado. Also the last.
Michigan can sleep soundly about: Iowa had the rhabdomyolysis problem in the offseason, which seems to have scared the CARA out of the strength staff. (Do you see what I did there?)
As a result, Iowa's defense looks like it's been playing Wii Fit in lieu of real conditioning. They made Iowa State QB Steele Jantz look like Andrew Luck, allowed Penn State to go Look-Ma-No-QB, and couldn't stop Marqueis Gray when it mattered -- incidentally, all of these things happened in the fourth quarter.
When Michigan plays them: 2011 Iowa is undefeated at home. 2011 Michigan is undefeated in November. Immovable object meet unstoppable force? Hah.
For realsies now: Iowa's best win was against Pitt. This was the game where Vandenberg led the epic comeback against a Tony Gibson coached secondary, earning him the Vandenhenneberg moniker. The joke is getting stale, but if you were still wondering, that along with BGHP's gushing comparison at the beginning of the season is where it comes from. Their next best win was against Northwestern, and you know all about Northwestern's secondary. And then if you keep looking you fall off a cliff right before the Indianas and Lousiana-Monroes of the world, where concerns about the secondary are, well … secondary.
Sorry, I had to do that.
The Wolverines secondary is much better these days, having survived Alex Carder, Michael Floyd, Dan Persa, and B.J. Cunningham (electing to fall prey to Keshawn Martin instead). Teams succeeded against VandenMcHenneNutt by preventing deep routes. Michigan's inside-and-in-front philosophy should be able to do at least that.
And then there's the issue of the Hawkeyes defense. Their major breakdowns tend to happen late in the game due to the aforementioned stamina problems. Aside from targeting specific weakness (see Ace's FFFF), offensive playcalling that spreads and stretches the field laterally to wear down Iowa defenders would be a smart approach, especially early in the game.
(more after the jump)
Illinois (6-3, 2-3 B1G)
Last game: Illinois 7, No. 19 Penn State 10 (L)
Recap: I don't feel like recapping a game that looks like this:
But I have no problem making Illinois a meme.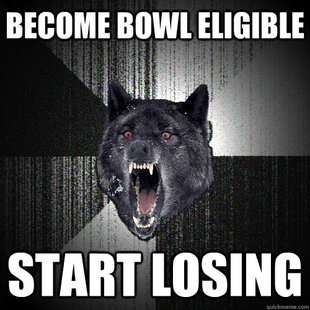 The Illini had an opportunity to tie the game with a 42-yard field goal, but PK Derek Dimke doinked it off the goal post as time expired.
Right now they are as frightening as:
 5.
Michigan should worry about: Illinois has a bye week.
Michigan can sleep soundly about: They would be better off using the time to uncoach themselves.
When Michigan plays them: Illinois is a team that still has the potential to upset Michigan, especially since the game is in Champaign. Whether they play up to that potential is the big question. Their defensive line remains their best unit, which will be trouble for the Wolverines' increasingly infirm offensive line. If Michigan wins it will be up to the defense to keep the Illini offense in check and Denard to keep the turnovers at a minimum until Borges finds a way to get a ground game going in the second half.
Next game: Bye
No. 14 Nebraska (7-1, 3-1 B1G)
Last game: No. 11 Michigan State 3, No. 14 Nebraska 24 (W)
Recap: Nebraska held Michigan State to 187 total yards in a rout no one saw coming because it was getting too weary waiting for the Spartans to lose. That's the thing with little brothers, though. They go back to being mediocre when they forget they have anything to prove.
Of course now they're going to win out and clinch the division. Me and my big mouth.
The Huskers took a page (of which there are just two) from Ohio State's playbook, running RB Rex Burkhead 35 times for 130 yards to just 13 passing attempts. QB Taylor Martinez (7/13, 80 yards, 1 TD, 1 INT) also had 12 carries of his own but was limited to 23 net yards on the ground. Regardless, the general runniness of the offense allowed him to shotput a 27-yard touchdown pass to Burkhead at the end of the third quarter to put the game out of reach.
Nebraska's run-run-run strategy would have been less tenable had Michigan State been able to score a touchdown or two, but the Spartans offense was simply awful. QB Kirk Cousins was 11/27 for 86 yards and an INT.
Who's not-a-real-quarterback now.
Right now they are as frightening as: Charlie Sheen, once again. I never explained this comparison because I never really thought it through to begin with. But here we are in week nine and somehow it still feels right. 7.
Michigan should worry about: This is the part of a season where Michigan has waded out way beyond the buoys and the sudden drop-off in depth is bound to happen at any moment. Michigan needs to survive Iowa and Illinois without any additional hits to the offensive line or defensive line.
Michigan can sleep soundly about: Nebraska did lay a big ol' egg in their one competitive B1G road game.
When Michigan plays them: Momentum will be a huge factor in this game because Nebraska's brittle emotional constitution can take them from Most Deadly one minute to Lemming Award the next. Turnover margin will determine the outcome of this game.
The key underlying matchup, as mentioned above, is Michigan players vs. the frailty of the human condition.
Next game: Northwestern
Ohio State (5-3, 2-2 B1G)
Last game: No. 15 Wisconsin 29, Ohio State 33 (W)
Recap: Yeah, Ohio State beat Wisconsin on a 40-yard scramble bomb, but the overlooked fact is that the Buckeyes were able to keep pace (they actually led most of the second half) with the Badgers to be able to put themselves in that position.
Ohio State got there by winning on third down the entire game.
The defense held the B1G's best quarterback and the B1G's best running back with the B1G's best offensive line to just 6 of 15 third-down conversions. QB Russell Wilson kept missing his throws and RB Montee Ball kept getting stuffed when it mattered.
The Buckeyes offense converted 11 of 20 of their own third downs. QB Braxton Miller (7/12, 81 yards, 1 TD) didn't throw a whole lot, but on third down he was able to keep plays alive with his feet long enough to find the open receiver for short but sufficient gains. QB draw plays were also effective because nobody on Wisconsin's defense seemed to be able to tackle him behind the first down marker.
Though he was efficient on third down and his last play ultimately won the game, Miller was nothing spectacular. He didn't "come of age," unless coming of age means that he was able to execute page one of Jim Bollman's two-page playbook. What actually happened was the rest of the team finally stepped up in a big game to the level they were at last year. By the time they roll into Ann Arbor, they will be last year's team minus Terrelle Pryor.
I guess that alone, from the Michigan standpoint, is scary enough.
Right now they are as frightening as: They were supposed to be. 7.
Michigan should worry about: Their defensive front. That's more or less the heuristic I'm using for whether Michigan's offense will do well against a certain team. We saw what happened against Notre Dame and Michigan State. Ohio State will approximate those games.
Michigan can sleep soundly about: Less and less.
When Michigan plays them: Ain't sayin' nuffin'. 
Next game: Indiana
Objects in Mirror:
Western Michigan (5-4, 3-2 MAC)
Last game: Ball State 35, Western Michigan 45 (W)
Recap: I don't think anyone cares.
Next game: at Toledo
Notre Dame (5-3)
Last game: Navy 14, Notre Dame 56 (W)
Recap: Amid another Brian Kelly controversy wherein he said something inflammatory about Charlie Weis's players, Notre Dame flattened a now 2-6 Navy team.
Is Notre Dame good yet?
Next game: at Wake Forest
Eastern Michigan (5-3, 3-1 MAC)
Last game: Bye
Next game: Ball State
San Diego State (4-3, 1-2 MWC)
Last game: Wyoming 30, San Diego State 27 (L)
Recap: San Diego State RB Ronnie Hillman (25 carries, 224 yards, 2 TDs) finished a close second to Marcus Coker's Most Impressive Performance By A Loser. Like Iowa, the Aztecs missed a pair of field goals that ultimately cost them the game.
Next game: New Mexico
Minnesota (2-6, 1-3 B1G)
Last game: Iowa 21, Minnesota 22 (W)
Recap: RIP GopherQuest.
Next game: at No. 17 Michigan State
Northwestern (3-5, 1-4 B1G)
Last game: Northwestern 59, Indiana 38 (W)
Recap: Northwestern had the obligatory shootout with Indiana consistent with the whole Northwestern-is-RichRod-era-Michigan thing. The two teams combined for 58 first downs and a kilometer of offense.
Wildcats QB/WR Kain Colter and TE Drake Dunsmore each had 100+ yards receiving.
Next game: at No. 9 Nebraska
No. 11 Michigan State (6-2, 3-1 B1G)
Last game: No. 11 Michigan State 3, No. 14 Nebraska 24 (L)
Recap: You know what's overrated? Michigan State. Strikethroughs.
Next game: Minnesota