Opponent Watch: Week 7
About Last Weekend:
Illinois 0, Michigan 45
Poetry.
-------------------------
Michigan State (4-3 overall, 1-2 B1G)
Last game: Iowa 19, Michigan State 16 2OT (L)
Recap: That this game went into double overtime should have been an NCAA violation. If not the NCAA, then at least the FCC, because gratuitous ugliness is just as indecent as sex and four-letter words.
Ace has the breakdown in his weekly FFFF. If you haven't read it yet, here's a visual summary:
Sometimes humor is controversial. Thankfully, dinosaurs are not.
The highlight of the game was the botched call at the end of the first half where half the team is running off the field, then running back on, then the offensive line shuffles (because that's helpful), and then a guy who isn't even the quarterback attempts to spike the ball as time expires. 
The best part of the sequence is that Iowa's defense is all like, LOL, and celebrates like they're not down 10-3 with 20 yards of total offense or anything.
Your Quarterback Throws Like Denard*: Andrew Maxwell -- 12/31, 179 yards, 5.8 ypa, 1 INT.
BONUS Your Quarterback Throws Worse Than The Quarterback Who Throws Like Denard: James Vandenberg -- 19/36, 134 yards, 3.7 ypa, 1 INT.
This team is as frightening as: A large rock.
Fear level = 5.
Michigan should worry about: Right now, with Michigan State's playcalling as imaginative as a law school textbook and with how well Michigan is playing on defense, it's hard to see the Spartans moving the ball much at all. Although Le'Veon Bell will probably convert a couple short third downs here and there and Maxwell will maybe complete a bomb or two to Keith Mumphery or Aaron Burbridge, the maddening 80-yard, 13-play drives probably won't happen.
BUT.
The Wolverines defense has been so good despite not having super duper talent is partially due to their preparation. Like any smart coordinator, Greg Mattison coaches to tendencies. The problem with rivalry games is teams often break tendency (see 2011 Ohio State), especially if what they've been doing previously hasn't been working (see 2011 Ohio State).
I wouldn't be shocked if Michigan State comes out pretending to be Northwestern. If they're smart about it, they should.
Michigan can sleep soundly about: Northwestern scored 21 points against Minnesota by pretending to be Michigan State.
When they play Michigan: If I were Michigan State, this is what I would do (on offense, because defensively they'll be just fine):
Stop sucking.
Use a lot of four-wide, one-back sets and throw screens and quick passes. Pass on first down when Michigan is keying on the run. If anything, this mitigates Michigan State's offensive line problems. "But Michigan defended the dink and dunk offense so well against Purdue!" That's because Purdue never had a run game to threaten the middle of the defense. The Spartans, on the other hand, have …
Le'Veon Bell. Get him going with counters and halfback draws. Illinois early success running against Michigan appeared to result from their offensive line screwing with the Wolverines' keys. One of their biggest gainers on the ground was a halfback draw when the offensive line showed pass and fooled the linebackers into dropping into coverage. 
Throw deep to Burbridge when he's one-on-one with Raymon Taylor. I fear this will be a frustrating matchup for Michigan.
Quarterback draw with Andrew Maxwell. It would be the most epic trolling of all time.
Next game: @ No. 24 Big Brother
*There was an MSU College Gameday sign a couple weeks ago that read: "Braxton Throws Like Denard." This was supposed to be some sort of insult.
-------------------------
Nebraska (4-2 overall, 1-1 B1G)
Last game: BYE
Next game: @ Northwestern
-------------------------
Minnesota (4-2 overall, 0-2 B1G)
Last game: Minnesota 13, Northwestern 21 (L)
Recap: There's not a whole lot of relevant information about Minnesota from this game. There was no way they were going to win this game without QB MarQueis Gray at 100% (he ended up getting injured again in the third quarter), and the score doesn't really do justice to show how unclose this game was.
To no one's surprise, the Gophers couldn't figure out how to defend Venric Mark (20 carries, 182 yards, 2 TD), who won the game by himself, basically. Northwestern's version of Dennis Norfleet accounted for 2/3 of the Wildcats offense; he's not even a quarterback. QB Kain Colter was perfect through the air (10/10, 63 yards), but the passing game was not much more than an afterthought.
Miinnesota was able to get some yards (327 total, 169 passing, 158 rushing) against the perennially suspect Northwestern defense, but three turnovers proved costly. Because obviously.
After the game Gophers head coach Jerry Kill suffered a seizure and had to be hospitalized. Thankfully it wasn't serious, and it sounds like he's doing fine these days.
This team is as frightening as: The soft rain pitter-pattering against the windowpane. 2.
Michigan should worry about: Did I leave the stove on … Did I leave the stove on … Hmm. No. I don't think so.
Michigan can sleep soundly about: A big comfy couch, wool blankets, fluffy pillows, and a piping hot mug of hot chocolate spiked with peppermint schnapps. Mmm.  
When I look into your eyes: I can see a love restrained.
Next game: @ Wisconsin
-------------------------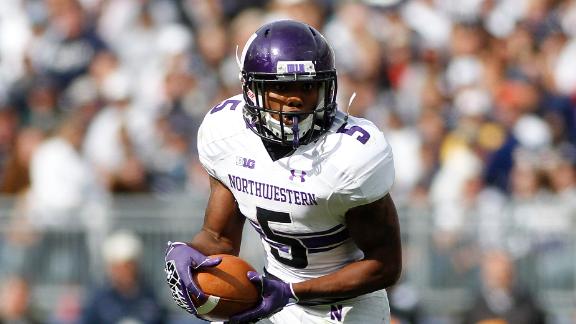 Northwestern (6-1, 2-1 B1G)
Last game: Minnesota 13, Northwestern 21 (W)
Recap: Northwestern is the only team is the B1G that's bowl eligible right now. Although, why anyone in the B1G is in a hurry to play in the postseason is beyond me. All this really means is that the Wildcats will have another great opportunity to overachieve once again in another heartbreaking loss to a better team.
Northwestern came into this game being all like, we're going to win with Running the Football and Play Defense (What is Defense?). They ran 51 plays the entire game. It was bizarre.
RB Venric Mark did his thing (20 carries, 182 yards, 2 TD), and it was the only thing. QB Kain Colter threw 10 passes and completed all of them. Meanwhile other QB Trevor Siemian went 1/7 for 4 yards -- his only completion was to Colter -- but Northwestern was like so whatever about it.
WR Kyle Prater caught zero passes, continuing to make me the saddest panda in the world.
This team is as frightening as: Michigan Lite. Diet Wolverines. iDenard nano. Fear level = 5.
Michigan should worry about: Starts with V. Rhymes with Henrik Snark.
Michigan can sleep soundly about: Starts with Norf. Ends with 1337.
When they play Michigan: Battle of the greased up midgets.
Next game: vs. Nebraska
-------------------------
Ahahahah! How droll.
Iowa (4-2, 2-0 B1G)
Last game: Iowa 19, Michigan State 16 (W)
Recap: This is just awesome. Ahem:
Through six games, quarterback A has completed 66.4% of his passes for 1273 yards, 12 touchdowns, and 4 interceptions. He has a passer rating of 161.3 and is averaging 8.7 yards per attempt.
Meanwhile, quarterback B has completed 57.4% of his passes for 1134 yards, 2 touchdowns, and 3 interceptions. His passer rating is 106.6, and he is averaging 5.8 yards per attempt because his offensive coordinator is deathly afraid of calling pass plays farther than three yards beyond the line of scrimmage.
One of these quarterbacks carried the title of "best passer in the league" and has been compared to NFL-caliber players such as Chad Henne. The other is Taylor Martinez. Which is which?
AIRBHG Update: The title of walk-on fullback was successful in concealing Mark Weisman's true identity for a few weeks, but the secret was compromised by an informant to AIRBHG, who smote him late in the game with a leg injury. After several days of doubtful status, Weisman has been cleared for Saturday, but is continuing to play really a good idea?
This team is as frightening as: A leper colony. Try not to touch them. Fear level = 3.
Michigan should worry about: They can be cured if they get a hand on Denard's jersey.
Michigan can sleep soundly about: What hand.
When they play Michigan: Body parts. Everywhere.
Next game: vs. Penn State
-------------------------
Spelling is importint.
No. 1 Ohio State (7-0)
Last game: vs. Illiteracy (W. Barely. Indiana, why you gotta tease us like that.)
Recap: TO IS OR NOT TO IS THAT ARE THE QUESTION.
Next game: vs. Torn ACLs.
-------------------------
Objects in Mirror:
No. 1 Alabama (6-0 overall, 3-0 SEC)
Last game: Alabama 42, Missouri 10 (W)
Recap: Barrett Jones plays the violin while opposing teams weep.
Next game: @ Tennessee
-------------------------
Air Force (3-3 overall, 2-1 MWC)
Last game: Air Force 28, Wyoming 27 (W)
Recap: There was some squabbling between the coaches over a non-timeout when QB Connor Dietz took his sweet time getting off the field after his helmet came off in the fourth quarter. Wyoming's coach claims the extended jaunt allowed the Falcons to plan their next play without taking a real timeout. Air Force's backup QB scored the next play for the win.
"That's a damn shame." - nobody. 
Next game: vs. New Mexico
-------------------------
UMass (turrible)
Last game: BYE.
Next game: vs. Bowling Green
-------------------------
No. 5 Notre Dame (6-0)
Last game: Stanford 13, Notre Dame 20 (W)
Recap: "God loves Notre Dame."
Next game: vs. Brigham Young
-------------------------
Purdue (3-3 overall, 0-2 B1G)
Last game: Wisconsin 38, Purdue 14 (L)
Recap: Doing good things for Michigan's SOS here.
Next game: @ No. 1 Ohio State