Opponent Watch: Week 12
(Wait. Which one is Michigan playing again?)
About Last Weekend:
No. 16 Nebraska 17, No. 18 Michigan 45 (W)
"Guess why I smile a lot."
"Why?"
"Uh, 'cause it's worth it."
The Road Ahead:
Ohio State (6-5, 3-4 B1G)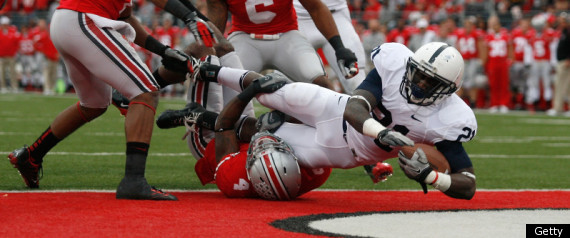 Getty / via the Huffington Post
Previously:
Akron, 42-0 (W)
Toledo, 27-22 (W)
@ Miami, 24-6 (L)
Colorado, 37-17 (W)
Michigan State, 10-7 (L)
@ No. 14 Nebraska, 34-27 (L)
@ No. 16 Illinois, 17-7 (W)
No. 15 Wisconsin, 33-29 (W)
Indiana, 34-20
@ Purdue 26-23 OT (LOL)
Last game: No. 21 Penn State 20, Ohio State 14 (L)
Recap: Recap. Have to do a recap. Last recap. Gotta finish by the end of Tuesday. Tuesday's over. Damn. Gotta finish by Wednesday. One-day-late Championship recap. Okay.
... Ohio State fell into a hole early. Penn State RB Stephfon Green took a run up the middle, evaded some tackles, and sprinted 39 yards for a touchdown. 7-0 Nittany Lions.
The ensuing Buckeyes drive stalled because Ohio State C Mike Brewster snapped the ball into his ass while QB Braxton Miller was in shotgun formation. (I think this is when this particular bad snap happened. Bad snaps happened many times throughout this game. I think Brewster ended up blaming it on his gloves.)
Penn State drove and got a field goal, miring the Buckeyes in their third 10-0 deficit in as many weeks.
Ohio State wasn't dead, though. Not yet. Miller ran the option to good effect and scored on a 24-yard keeper; most of the Buckeyes' large chunks on the ground came from his option keepers, which is to say he kept the ball every time. He and Denard are both members of the "never pitch" movement.
That's not anything relevant, but I google imaged "option keeper" and it's what I got.
Also, WR DeVier Posey returned from suspension. He didn't make a huge impact (4 catches, 66 yards), but he was pretty much the entire passing offense, and he did do this.
All of this game's points were scored in the first half before the allure of B1G football got the better of both teams. Penn State scored another touchdown and field goal in the first half but failed to convert on a redzone opportunity in the second half when Ohio State turned the ball over on a fumble.
On that possession, the Buckeyes defense mounted an impressive goal-line stand to keep the Nittany Lions out of the end zone.
The second Buckeye touchdown came in the second quarter when Braxton Miller found TE Jake Stoneburner on a deep crossing route in the end zone. It was an impressive throw. Something tells me that he might eventually be pretty good when he's given a real offense to work with.
You probably know the rest. Ohio State drove ferociously for a Hail Mary opportunity in the final minutes, but the first fourth-down conversion fell short when a Miller scramble, set back by a false-start penalty, fell short of the first down marker. The second attempt after a quick Penn State three-and-out fell incomplete because Penn State actually knows how to cover receivers. Unlike you, Wisconsin. For shame.
Right now they are as frightening as: Voldemort down to his last Horcrux.
Michigan should worry about: When you look at Miller's highlight reel, the thing that stands out is that he scrambles effectively to buy time for his receivers to get open. He keeps his eyes downfield, and his instincts are usually good when it comes to finally tucking and running. A lot of his game-winning or almost-game-winning touchdowns came when he danced around in the backfield for some length before finding his target.
To get to him, Michigan's secondary will need to stay on receivers for a lot longer than they're used to, and D-line discpline will be essential. If he's able to break through the containment, Miller will make plays.
Michigan can sleep soundly about: The Nittany Lions rushed for 239 yards on not that many carries. Their running backs consistently found enormous holes in the Buckeyes defensive line and frequently had to be tracked down from behind by linebackers. It looked like Ohio State's defensive line was caught in pass rush mode at the wrong times -- the ends were way overcommitted, allowing the backs to run right by them.
Next game: No. 15 That School Up North 
(more after the jump)
Objects in Mirror:
Western Michigan (6-5, 4-3 MAC)
Last game: Western Michigan 24, Miami (NTM) 21 (W)
Recap: Western Michigan QB Alex Carder (36/57, 429 yards, 3 TDs, 1 INT) accounted for 91% of the entire team's yardage.
Next game: Akron
No. 24 Notre Dame (8-3)
Last game: Boston College 14, Notre Dame 16 (W)
Recap: Notre Dame had another ugly game, but fortunately for them they survived this one without losing. The problem was that they kept driving up and down the field, frequently starting from within their own 10-yard line, only to fall short of the red zone. Their defense kept Boston College from scoring but had a momentary lapse in the fourth quarter, allowing BC to pull within two points. Lucky for the Irish, the onside kick failed.
Next game: at No. 6 Stanford
Eastern Michigan (6-5, 4-3 MAC)
Last game: Eastern Michigan 22, Kent State 28 (L)
Recap: Eastern Michigan committed four turnovers in a loss to Kent State, one of them a game-killing interception at the goal line late in the fourth quarter.
Next game: at Northern Illinois
San Diego State (6-4, 3-3 MWC)
Last game: No. 10 Boise State 52, San Diego State 35 (L)
Recap: San Diego State got Boise'd, but at least they forced the Broncos into playing a sloppy game. The two teams combined for five turnovers and 13 penalties. Each quarterback threw an interception.
The Aztecs were affected by the absence of RB Ronnie Hillman, who sustained a high ankle injury last week during the win against Colorado State.
Next game: at UNLV
Minnesota (2-9, 1-6 B1G)
Last game: Minnesota 13, Northwestern 28 (L)
Recap: Despite losing, Minnesota didn't have a bad statistical showing. Both QB MarQueis Gray and RB Duane Bennett had 100+ rushing performances, the Gophers converted almost half of their third downs, and they actually ended up outgaining Northwestern in total offense. Gray's passing was an issue, however, as he completed just 9 of 21 attempts for 124 yards and 1 INT.
Next game: Illinois
Northwestern (6-5, 3-4 B1G)
Last game: Minnesota 13, Northwestern 28 (W)
Recap: Northwestern is bowl eligible.
Next game: No. 14 Michigan State
No. 15 Michigan State (9-2, 6-1 B1G)
Last game: Indiana 3, Michigan State 55 (W)
Recap: Judging by their performance at Ohio State, I thought Indiana was going to put up more fight in East Lansing. But I forgot it was Indiana, and I forgot Michigan State was celebrating Senior Day.
Next game: at Northwestern
Purdue (5-6, 3-4 B1G)
Last game: Iowa 31, Purdue 21 (L)
Recap: Purdue played horribly but still managed to put up 21 points thanks to two Iowa turnovers. The Boilermakers lost because they committed four turnovers of their own and struggled in the passing game. QB Robert Marve completed just 7 of 18 passes and threw two interceptions.
Next game: at Indiana
Iowa (7-4, 4-3 B1G)
Last game: Iowa 31, Purdue 21 (W)
Recap: Kirk Ferentz decided again to go for it on fourth down; Iowa converted. This is a terrifying trend.
Next game: at No. 21 Nebraska
Illinois (6-5, 2-5 B1G)
Last game: No. 17 Wisconsin 28, Illinois 17 (L)
Recap: Illinois led 17-7 at the half, but then saw Wisconsin score 21 unanswered points in the second half.
It wasn't really Ron Zook or anyone else's fault. Montee Ball is just really, really good.
Next game: at Minnesota
Happy Thanksgiving everybody. There will be a wrap-up post next week.