Opponent Watch 2017: Week 9
About Last Month:
As you may have noticed, I have been absent. I apologize. I blame no one but myself. And my boss. And my immune system. And you, dear reader, if we're being really honest. But the blame largely rests with me. The opponents were unwatched, and that is not acceptable. As a peace offering, I bring you this otter of regret.
The Road Ahead:
Minnesota (4-4, 1-4 B1G)
Last month: Lost to Purdue, 31-17
Lost to Michigan State, 30-27
Beat Illinois 24-17
Lost to Iowa, 17-10
Recap: I don't think we ever believed Minnesota was going to be good this year. Which is good. Because they aren't good.
Hopes briefly perked up after back-to-back routings of Oregon State and MTSU, but even those look like fool's gold in hindsight, as the two have combined to go 4-12. Since that MTSU win, Minnesota's best performance was a seven-point win over an Illinois team that, in analytical terms, suckyity-suck suuuuuuuuuuuuuuuucks.
Minnesota's defense has been okay, but the offense has been a clown rodeo. They haven't cracked 350 yards of offense since week 2, and their passing S&P+ ranking is #121 in the country. They only have one real receiving option; Tyler Johnson has been targeted 57 times, which is 42 times more than anyone else on the team. They don't have another wide receiver with double-digit targets who is averaging more than 5.5 yards per target. And as Seth will likely point out shortly with the FFFF, Demry Croft is... not... good.
Fortunately, none of this bothers PJ Fleck. Because this year doesn't count.
PJ Fleck on the B1G call: "This is my second year zero ... you don't really have a ton of expectations ... you take results and respond."

— Nick Baumgardner (@nickbaumgardner) October 31, 2017
I want you to try to imagine the reaction if Harbaugh said this. Go ahead. Picture it. Glorious, right?
This team is as frightening as: Some years the rock doesn't come through. This year… this Rock team might be the Most Rock Team ever.
Fear Level = 4
Michigan should worry about: This is embarrassing, but… I don't know. I've watched plenty of Minnesota football this year. I've combed the counting stats. I've combed the fancy stats. And nothing jumps out at me. They're Generic Football Team. I mean, they're #5 in the country in linebacker Havoc rate, and Carter Coughlin has 4.5 sacks and 8.5 TFLs? Maybe it's him?
Michigan can sleep soundly about: Minnesota doesn't do anything fancy, and doesn't do any of their non-fancy stuff very well.
When they play Michigan: I wonder who is going to start under center for Michigan.
Next game: at Michigan, 7:30 p.m., FOX (Minnesota +15)
Maryland (4-4, 2-3 B1G)
Last month: Lost at Ohio State, 62-14
Lost to Northwestern, 37-21
Lost at Wisconsin, 38-13
Beat Indiana, 42-39
Recap: When last we left Maryland, the goal was a bowl game. That goal may have drifted a little farther out of reach with the loss to Northwestern, but it isn't gone entirely thanks to a weird win over Indiana. The Hoosiers ran 43 more plays than Maryland, but the Terps took advantage of a blocked punt for a touchdown and two very short fields off of turnovers. They now need to beat Rutgers (which S&P+ has as a toss-up), and steal one game from Michigan, Michigan State, or Penn State.
One thing that has vanished is Ty Johnson's time as one of the best backs in the country. Johnson broke 120 yards three of the first four weeks and led the nation in yards per carry, but hasn't cracked 100 yards in the last four games. He's averaging 63 yards per game at 4.9 yards per carry. Likewise, Lorenzo Harrison is averaging 3.8 yards per carry over the last four games.
Max Bortenschlager continues to exist, which is important for Maryland's preferred offensive scheme of "start a quarterback at quarterback."
This team is as frightening as: Squirtle.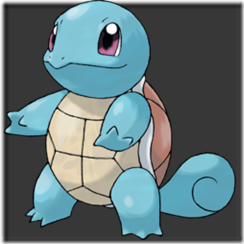 Attack? Weak. Defense? Weak. Weakness? Grass. Fear Level = 3
Michigan should worry about: Between DJ Moore and Ty Johnson, Maryland still has a big-play capability that could give Michigan trouble. And with Johnson reportedly being Maryland's emergency quarterback, there is a good chance Maryland has some Wild Turtle plays in the playbook.
WildTerp? TurtleCat? QB-in-a-Half-Shell (one play of which is presumably labeled "Turtle Power")?
Michigan can sleep soundly about: Maryland has allowed at least 37 points to all but one FBS opponent (they held Minnesota to 24 points in a 10-possession game), and at least 4.98 yards per play to every single FBS opponent. They also are currently Michigan's second-lowest ranked opponent in S&P plus at #92, ahead of only Cincinnati. They're even behind Rutgers (#89) and Florida (#90).
When they play Michigan: Don't get Bortenschlager'd. That might legitimately be worse than getting Gary Nova'd.
Next game: at Rutgers, 3:30 p.m., BTN (MD -3)
[AFTER THE BREAK: Things that are less fun than Squirtle]
Wisconsin (8-0, 5-0 B1G)
Last month: Beat Nebraska, 38-17
Beat Purdue 17-9
Beat Maryland, 38-13
Beat Illinois, 24-10
Recap: In October, Wisconsin moved from 4-0 to 8-0, and answered exactly zero questions about how good they are. They have yet to be seriously challenged, but they have a 9-point home win over Northwestern, an 8-point home win over Purdue, and a 14-point win at Illinois that was competitive for about 3.5 quarters. And while every team has a couple of close scrapes against mediocre teams, Wisconsin hasn't played a single team with a single vote in the AP Top 25; their best win according to S&P+ is FAU, followed by Purdue. In fact, #26 Michigan is the best team on Wisconsin's regular season slate.
Ultimately, that probably doesn't matter. If they win out, Wisconsin presumably gets Ohio State in the Big Ten Championship game, and 13-0 Big Ten teams make the playoff regardless of how crappy their schedules are. Right?
This team is as frightening as: Having an large quantity of leftover Halloween candy. At first you're like "this doesn't seem like a huge problem" and then several hours later your innards hurt and you're regretting a lot of decisions. Fear Level = 8
Michigan should worry about: Michigan hasn't won in Madison since 2001. In other words, Michigan is currently recruiting kids who were not alive the last time Michigan won in Madison.
Michigan can sleep soundly about: The injury bug is biting Wisconsin on offense. Jazz Peacy has missed most of the last four games with a leg injury, and is out again for Indiana. Star freshman running back Jonathan Taylor left the Illinois game with an injury, and is questionable this week. Wide receiver Quintez Cephus left the Illinois game after a brutal targeting shot, and his prognosis is unknown.
When they play Michigan: Hey would you fellas like some cheese and beer and beer cheese because we have some extra beer and cheese and beer cheese.
Next game: at Poor Damn Indiana, noon, ABC (UW -12.5)
Ohio State (7-1, 5-0 B1G)
Last month: Beat Maryland, 62-14
Beat Nebraska 56-14
Beat Penn State, 39-38
Recap: Well that sucks.
When trying to think about how JT Barrett has turned things around, the name that came to mind was Derrick Walton. Promising freshman year, a disappointing career arc that led us to believe he was Just A Guy coming into (and partway through) his senior season, and then LIGHTNING BOLTS. FIREWORKS. PRAISE HANDS EMOJIS.
Barrett has thrown for more than 8.2 yards per pass in all but one game this year, after doing so only three times total last year (against Maryland, Rutgers, and Bowling Green) and three times in 2015 (against Maryland, Rutgers, and on one pass attempt against Virginia Tech). He is also averaging 6.9 yards per carry (sack-adjusted). At this pace, we may well see him in New York for the Heisman ceremony; he's 3rd in the country in passer rating, and has thrown 25 TDs against 1 INT.
Barrett was the primary reason Ohio State came back to beat Penn State this week, though it is worth noting that the game was not statistically as close as the score would indicate. Ohio State outgained the Nittany Lions by 230 yards and by nearly 2 yards per play.
This team is as frightening as: Ugh. Fear Level = 9
Michigan should worry about: Remember what happened last year, and the year before that, and the year before that, and the year before that, and the year before that, BUT NOT THE YEAR BEFORE THAT, but the year before that and the year before that and the year before that and the year before that and the year before that and the year before that and the year before that? Yeah. That.
Michigan can sleep soundly about: Their kick coverage has been legitimately awful. They gave up two massive returns against Penn State (including a touchdown to Saquon Barkley and a near-touchdown to linebacker Koa Farmer), and their Kickoff Success Rate is currently #122 in the country.
When they play Michigan: Look let's just get past Minnesota and Maryland before we start thinking about this okay.
Next game: at Iowa, 3:30 p.m., ESPN (OSU -17.5)
Objects in the Rearview Mirror
Florida (3-4, 3-3 SEC)
Last month: Lost to LSU, 17-16
Lost to Texas A&M, 19-17
Lost to Georgia, 42-7
Lost my job by *this* much
Recap: There is an ancient Mesopotamian saying that seems applicable in this situation: "Always remember: some days you're the large naked guy, and some days you're the shark."
The LSU loss seemed bad at the time, given that LSU was coming off a loss to Troy. The A&M loss… I genuinely don't know how Florida managed that one. S&P+ had the Gators at a 95% win expectance AFTER the game. They held the Aggies to 224 total yards, and outgained the them by nearly 2.0 yards per play. Florida outgained them on the ground 7 YPC to 3.3 YPC (sack-adjusted). Texas A&M is bad.
But that Georgia loss has me at a loss for words. Georgia threw seven passes in the whole dang game. SEVEN. Feleipe Franks completed 7 of 19 passes for 30 yards, and was sacked five times. That works out to -0.67 yards per dropback. Spiking the ball on every passing play would have been a statistical improvement.
At this point I will note that this guy won two SEC East titles. #ItJustMeansMore
There is a non-zero chance that Florida and Florida State will be playing for bowl-eligibility on November 25. Hell, there is a non-zero chance that Florida and Florida State will be playing on November 25 with NEITHER team being in the hunt for bowl eligibility.
Next game: at Missouri, noon, ESPN2 (UF +3.5)
Cincinnati (2-6, 0-4 AAC)
Last month: Lost to UCF, 51-23
Lost to USF, 33-3
Lost to SMU, 31-28 (OT)
Recap: I'm not sure how we summarize Cincinnati's entire month of October.
Cincinnati lost to SMU in overtime after allowing a 4th & 26 conversion and then doing this: https://t.co/tVnIw8GkqV pic.twitter.com/miG0gHIJDM

— Dr. Saturday (@YahooDrSaturday) October 22, 2017
Never mind. I think we can move on now.
Next game: at Tulane, 4:00 p.m., ESPN3 (UC +5.5)
Air Force (4-4, 3-2 MWC)
Last month: Lost to Navy, 48-45
Beat UNLV, 34-30
Beat Nevada, 45-42
Beat Colorado State, 45-28
Recap: Air Force's season has officially gone off the rails. Not in the bad way, necessarily. Just in the bizarre way.
They trailed Navy by 21 points, rallied to take the lead with under two minutes left, and then somehow gave up an 11 play, 75-yard touchdown drive – to NAVY – in 98 seconds. The next week, they went down 27-0 to UNLV, before outscoring the Rebels 34-3 in the last 31 minutes to win. Then they went punch-for-punch with punchless Nevada, winning on a last-second field goal. Then they went to Fort Collins and beat a 6-2 (and 4-0 in conference) Colorado State.
The good news for Air Force is that they seem to have their offensive woes largely figured out. After averaging fewer than 300 yards per game at 4.3 YPP in their first three FCS games, the Falcons have averaged over 540 yards at 6.5 YPP in the last four weeks.
Next game: vs. Army, 3:30 p.m., CBSSN (AFA -6.5)
Purdue (3-5, 1-4 B1G)
Last month: Beat Minnesota, 31-17
Lost at Wisconsin, 17-9
Lost at Rutgers, 14-12
Lost to Nebraska, 25-24
Recap: Things were looking so promising. A new coaching staff had given Purdue wings, and they had taken them out for some short but glorious test-flights. But alas, the Boilermakers flew too close to the sun, and the outer Brohm coating melted, exposing the bare Purdue underneath. And when exposed to the elements, untreated Purdue is prone to a chemical reaction known as "decompositional rust-splosion." As a result, sumbitch plummeted into the stands in Ross-Ade Stadium, injuring several of the dozens of fans in attendance. The injured were quickly taken by yak-drawn square-wheeled cart to the nearest apothecary, where their humors were balanced with leaches and mercury tonic.
The Boilers got outgained more than 2- to-1 in yards and almost 2-to-1 in yards per play in a loss to Wisconsin. Then they outgained Rutgers by similar levels, but managed to lose. To – and I cannot emphasize this enough – Rutgers. Then they gave up 431 passing yards to Tanner Lee while blowing a 12-point lead to Mike Riley and the Super Nice Guy Band.
All in all, though, Purdue has been better than expected. And heck, if they beat Illinois and take two of three from Northwestern, Iowa, and Indiana (all of which S&P+ has as being between a 40% and 60% win probability), they're going bowling.
Next game: vs. Illinois, noon, BTN (Purdue -14)
Michigan State (6-2, 4-1 B1G)
Last month: Beat Michigan 14-10
Beat Minnesota, 30-27
Beat Indiana, 17-9
Lost to Northwestern, 39-31 (3OT)
Recap: Sparty spun the Wheel of Random Bullshit four weeks in a row, and finally it landed on "not you."
After the Throw The Ball In Hurricane Katrina game against Michigan, Michigan State won another monsoon game against Minnesota, and then a came back from a fourth quarter deficit against Poor Damn Indiana. So when they scored a two-minute-drill touchdown to tie the game against Northwestern with under 30 seconds left, it seemed clear that MSU was going to Random Whatthefuck Generator their way to another one. And when Lewerke managed to pick up his own fumble on a strip-sack, roll out, and lob a pass in the end zone, everyone assumed "yep, this is how it happens."
And then…
State has back-to-back games against Penn State and Ohio State, and then closes with Maryland and Rutgers. So, barring an unlikely outcome, Michigan State is looking at an 8-4 year. Not great, but also not the comical implosion we were all kiiiiiinda hoping for.
Next game: vs. Penn State, noon, FOX (MSU +8.5)
Indiana (3-5, 0-5 B1G)
Last month: Beat Charleston Southern, 27-0
Lost to Michigan, 27-20 (OT)
Lost at Michigan State, 17-9
Lost to Maryland, 42-39
Recap: I met a traveler from an antique land
Who said: Two vast and trunkless legs of stone
Stand in the cornfield... near them, on the land,
Half sunk, a tattered playbook lies, whose sheets,
And wrinkled cover, and promise of tempo and zone,
Tell that its coordinator well those schemes read
Which yet survive, stamped on these lifeless pages,
The hand that facepalmed and the fans who wept:
And on the pedestal these words appear:
"My name is Hoosiermandias, king of #CHAOS:
Look on my works, ye Big Ten, and despair!"
Nothing beside remains. Round the decay
Of that colossal wreck, winless and bare
The lone and level highways stretch far away
Next game: vs. Wisconsin, noon, ABC (IU +12.5 but they'll lose by 2 on a last second Wisconsin field goal that hits the upright and then the crossbar twice because Poor Damn Indiana)
Penn State (7-1, 4-1 B1G)
Last month: Beat Northwestern 31-7
Beat Michigan by (score unavailable as of press time)
Lost to Ohio State, 39-38
Recap: Looks like Penn State won't be in the Playoff.
…
…
Pity.
Next game: at Michigan State, noon, FOX (PSU -8.5)
Rutgers (3-5, 2-3 B1G)
Last month: Beat Illinois, 35-24
Beat Purdue, 14-12
Lost to Michigan, 35-14
Recap: They have as many conference wins as Purdue, Minnesota, Illinois, and Indiana combined. They are tied for 8th in the conference at 2-3.
Sure, they're in dead last in the conference in yards per play and second-to-last in yards per play allowed. But, like, they have won two games. CONGRATULATIONS GUYS! You're not the most embarrassing team in the conference.
/glances at Illinois
Next game: vs. Maryland, 3:30 p.m., BTN (Rutgers +3)