Opponent Watch 2016: Week 11
Sorry we missed last week. Several of you blamed the lack of an Opponent Watch for the outcome of the Iowa game. Others blamed my Punt/Counterpunt prediction. The consensus was that it was my fault. And I agree. Forgive me. We return to our regularly scheduled snark. For the good of the program.
About Last Week:
Upchurch
We lost to this guy.
Sporps.
The Road Ahead:
Indiana (5-5, 3-4 B1G)
Last week: Won at Rutgers 33-27; Lost to Penn State, 45-31
Recap: Some may have worried that the chaos was gone.
Fear not. In the last two weeks, Indiana trailed Rutgers by 11 points midway through the 3rd quarter (in a game they won) and led Penn State by 10 points late in the 3rd quarter (in a game they lost).
The Rutgers game was particularly chaos-y. Indiana outgained Rutgers 567 to 351, but turned the ball over four times, including a 75-yard Rutgers fumble return for a touchdown. Richard Lagow threw for 394 yards on 40 attempts with three touchdowns and two picks.
Indiana also managed to outgain Penn State, both in total yards and on a per-play basis. The game looked like a new-fangled "Defensive CHAOSTEAM" game that Indiana has tried to make a thing (it's not going to be a thing), and the score was 17-14 Indiana with under 19 minutes left in the game. Those last 19 minutes saw a combined 45 points scored, including 31 by Penn State. In a seven minute span, the teams traded touchdown drives of 74, 70, 74, and 75 yards.
This team is as frightening as: A team that abandonded Gritty Reboot Indiana and returned to a more true-to-the-source-material Chaos Man. Fear Level = Who the hell knows and that's somehow comforting.
Michigan should worry about: Indiana is #2 in the conference in yards per pass.
Michigan can sleep soundly about: Indiana has thrown 13 interceptions, worst of any Big Ten team that doesn't play its home games in West Lafayette.
When they play Michigan: Your guess is as good as mine.
This week: at Michigan, 3:30 p.m., ESPN (Michigan -24)
[Hit THE JUMP for those guys]
Ohio State (9-1, 6-1 B1G)
Last week: Beat Nebraska, 62-3; Won at Maryland, 62-3
Recap: We could spend this time about how Ohio State has hit its stride as the hellraising Death Star we've come to expect. After all, back-to-back 62-3 wins are a pretty strong indicator, especially when they've scored those 124 points in only 24 drives; averaging 5.17 points per drive is pretty good. However, we know that The Game is never predictable, football is never predictable, and both Michigan and Ohio State have looked mortal at times and DEEEEEEEAAAAAAAAATTTTTTHHHHHH at times. So who the hell knows.
Instead, though, we're going to evaluate and discuss the Ohio State fan's insistence that they don't give a damn for the whole state of Michigan. And for my money, the following would make for a pretty good test for whether one gives a damn for the state of Michigan:
Suppose there was a situation in which Michigan winning two games would mean that Ohio State would control its fate to reach the Big Ten championship game (and likely the college football playoff). If Michigan LOST one of those two games, it would STILL control its own fate, but Ohio State would no longer control its own destiny, and would be significantly less likely to make the Big Ten title game and marginally less likely to reach the playoff. If you're an Ohio State fan, do you cheer for:
The outcome that Michigan fans enjoy, and that also keeps Ohio State in control of its own destiny, or
The outcome that Michigan fans don't enjoy, but which leaves Michigan in control of its own destiny, and which makes Ohio State reliant on a Penn State loss to ***Rutgers or Michigan State*** for a chance at a conference title.
Now, scroll back through your Twitter feed from Saturday night (or, if you don't have a Twitter feed, borrow one from a friend). Did Ohio State fans seem happy or sad with the outcome?
It's as if they DO give a damn for at least some parts of the state of Michigan.
This team is as frightening as:
Michigan should worry about:
Michigan can sleep soundly about: Vents and womprats and whatnot.
When they play Michigan: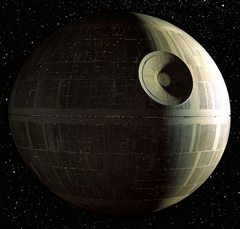 This week: at Michigan State, noon, ESPN (Ohio State -22.5)
Objects in the Rearview Mirror
Hawaii (4-7, 3-4 MWC)
Last week: Lost at San Diego State, 55-0; Lost to Boise State, 52-16
Recap: The state of Hawaii consists of eight main islands: Niihau, Kauai, Oahu, Maui, Molokai, Lanai, Kahoolawe and the Big Island of Hawaii. Hawaii is the only state that grows coffee. More than one-third of the world's commercial supply of pineapples comes from Hawaii. From east to west Hawaii is the widest state in the United States. Because of volcanic eruptions, Hawaii is the only state whose land area is expanding.
This concludes our discussion of Hawaii
This week: at Fresno State, 7:00 p.m. (Hawaii -2.5)
UCF (6-4, 4-2 AAC)
Last week: Beat Tulane, 37-6; Beat Cincinnati, 24-3
Recap: Neither Tulane not Cincinnati were very good this year, and UCF hasn't beaten a team in the top 85 of the current S&P+ rankings. Still, bowl eligibility in Scott Frost's first year is pretty dang impressive. And strangely, given Scott Frost's background, the turnaround on the defensive side of the ball has been particularly impressive; UCF went from the #112 S&P+ defense last year to the #18 defense this year. Last year they surrendered 6.54 yards per play, which was #115 in the country. This year they're giving up 4.57 yards per play, #8 in the country. And they're hittin'. Oh, yes. They're hittin'.
This week: vs. Tulsa, 8:00 p.m., ESPNNEWS (Tulsa -2)
Colorado (8-2, 6-1 Pac-12)
Last week: Beat UCLA, 20-10; Won at Arizona. 49-24
Recap: The UCLA win was ugly, and the Arizona win was the west coast equivalent of beating Rutgers. Still, the unstoppable stampede remains the same as it ever was.
Statistically favored to happen.
The real question is: how does Colorado make the playoff?
Right now, Colorado is sitting at #10. My math skills tell me they therefore need to pass approximately 5.7 teams ahead of them to make the top four. We'll round that to six teams. Here's how they do it.
Colorado wins out, with home wins over Washington State and Utah and a neutral win over either Washington or Wazoo. This puts them at 11-2 with a conference title, and puts them ahead of Washington (1)
Michigan wins out, giving Wisconsin (2) a third loss and leaving Ohio State (3) and Penn State (4) with two losses and no conference title.*
Oklahoma (5) loses to either WVU or Oklahoma State. Preferably WVU, because OSU is one spot behind Colorado in the standings, and the committee might remember that Oklahoma State's loss to CMU was kiiiiinda shady and give them a boost. True, WVU is already 8-1… but no one cares.
Between Louisville (6a) and Clemson (6b), someone yaks something up. Louisville losing at Houston or either team losing the ACC title game would probably do it.
That leaves you with Bama, Michigan, an ACC team, and Colorado. I'm not sayin'. I'm just sayin'.
*it seems almost guaranteed that at least one B1G team will end up ahead of the Buffs, and this is the scenario that is most likely to limit that number to one. There are other scenarios (such as Ohio State winning out and Penn State dropping a game to Michigan State, but they get pretty farfetched pretty quickly.
This week: vs. Washington State, 3:30 p.m. (Colorado -4.5)
Penn State (8-2, 6-1 B1G)
Last week: Beat Iowa, 41-14; Won at Indiana, 45-31
Recap: Penn State has somehow, by some crazy James Franklin reverse magic, found themselves as being in possibly the best position of any team in the Big Ten East to make the conference title game. They have remaining games against Rutgers and Michigan State. Assuming they win those (which, way to go out on a limb there, Risky McCrazyMan), they just need either Indiana or Ohio State to beat Michigan, and they're in. And Michigan, as you may have heard, just lost their starting quarterback for both of those games. As a Michigan fan, I like Michigan's position. As a Penn State fan, would you rather rely on Urban Meyer or James Franklin to get you somewhere?
This is like a bizarre mashup between The Producers, Brewster's Millions, and Little Giants.

James Franklin pondering a timeout
I feel compelled to remind you that no team has ever won the Big Ten after being literally being sautéed with onions and garlic, stuffed into a yellow bell pepper, topped with marinara sauce and mozzarella, and baked at 375 for 40 minutes by a division rival. So this would be a first.
This week: at Rutgers, 8:00 p.m., BTN (Penn State -28)
Wisconsin (8-2, 5-2 B1G)
Last week: Won at Northwestern, 21-7; Beat Illinois, 48-3
Recap: Wisconsin survived its most brutal schedule in recent memory, and did so in prime position to win the West. They pulled the fuzz off the coconut against Michigan State, cracked through the hard outer shell with consecutive games against Michigan, Ohio State, Iowa, Nebraska, and Northwestern, and now they are into the succulent, watery center that is a closing stretch against Illinois, Purdue, and Minnesota. Win out, and they're heading to Indianapolis.
What's even better for Wisconsin is that based on the way last weekend went, there's a pretty good chance that they make the playoff. To face Alabama.
Oh. Oh no. Oh God no. Don't let that happen. For the sake of the children.
This week: at Purdue, noon, ABC (Wisconsin -28)
Rutgers (2-8, 0-7 B1G)
Last week: Lost to Indiana, 33-27; Lost at Michigan State 49-0
Recap: Damn, son. Get your shit together. Getting blown the hell out by the worst Michigan State team since the invention of fire and its subsequent introduction to couches… that's embarrassing even by your own hilarious broken-axis-to-display-the-outlier-on-the-same-chart-with-the-real-teams standards.
This week: vs. Penn State, 8:00 p.m., BTN (Penn State -27.5)
Illinois (3-7, 2-5 B1G)
Last week: Beat Michigan State, 31-27; Lost at Wisconsin, 48-3
Recap: You're lucky Rutgers and Michigan State are in this class to anchor the back end of the curve, Lovie.
This week: vs. Iowa, Noon, BTN (Iowa -10)
Michigan State (3-7, 1-6 B1G)
Last week: Lost at Illinois, 31-27; Beat Rutgers, 49-0.
Recap:
Spartans will speak of this day for ages. It's basically a modern re-enactment of the Hannukah miracle; the Spartans feared they only had enough Axe body spray to last for two wins on the season, but lo, the cannister lasted for three wins. Centuries from now, Spartans will gather 'round and light the traditional e-cig and speak of the time they defended the Situation Trophy from the invading Knights.
Oh, the heroics.
Michigan State vs Rutgers is already everything I didn't know I needed: https://t.co/nFwRlf3oce

— Alejandro Zúñiga (@ByAZuniga) November 12, 2016
Rutgers football, summarized in one vine

(via @barstoolsports)https://t.co/WSIFcTa1a3

— Someone's An Idiot (@SomeonesAnIdiot) November 12, 2016
Bravo, gentlement. Bravo.
This week: vs. Ohio State, noon, ESPN (Ohio State -22.5)
Maryland (5-5, 2-5 B1G)
Last week: Lost at Michigan, 59-3; Lost to Ohio State, 62-3
Recap: Harshest landing for a DJ since the Fresh Prince.
After a 4-0 start, Maryland has gone 1-5, and has been outscored 249-94 (an average deficit of almost 26 ppg). Their only win came against Michigan State, which… yeah. They've given up more than six and a quarter yards per play in all but one of those six games. They've given up almost 6.2 yards per carry in that span.
The future was looking up for Maryland. Now the future is looking pretty Maryland for Maryland.
This week: at Nebraska, noon, ESPNNEWS (Nebraska -15)