Opponent Watch 2016: Preview, Part 2
Welcome back. After spending most of last week riding the struggle bus through blunder country, we return this week to examine the meat of Michigan's schedule. The opponents in the back half of the season are of a much higher quality and level of consistency. Let's take a look.
Illinois
Wait… but you JUST said…
Hey, I know how this looks but IT WILL GET BETTER.
Yeah that's what you said last week and now you're leading with Illinois and we're supposed to OOOH and AHHH like you just made the six of spades jump out of a rabbit's ass and juggle flaming chainsaws
Look, I don't make the schedule. Now do you want to hear about Illinois or not.
Does anyone ever want to hear about Illinois?
What if we throw in some suddenly-relevant Tim Beckman memories?
Such as?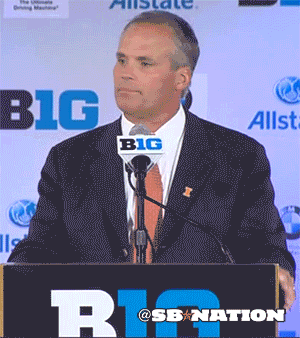 As you were.
Last year: 5-7 (2-6 B1G)
Recap: We won't talk much about the football, because I promised Bolded Alter-Ego above that we wouldn't dwell on this stuff. Sufficed to say that it was bad.
On an institutional level, Illinois exhibited some Lochte-esque decision-making in 2015. They fired Tim Beckman on August 28 (which the Gregorian Calendar experts in the audience will recognize as being is like a week before the season began) for being
bad at medicine
. Some would argue he probably should have been fired earlier for being bad at coaching football, but that is water under the bridge. So they named Offensive Coordinator Bill Cubit as interim head coach. And because they got such a head start on hiring a permanent replacement, they were able to land… Bill Cubit. Cubit's term as permanent head coach lasted a week longer than his term as interim head coach, and he was fired by Illinois' new AD on said AD's
first day on the job
.
The Illini managed to make a competent-adjacent hire when by bringing in Lovie Smith. Smith isn't quite the exciting new name, but he is an alum [EDIT - apprently he is not an alum. I just made that up] who might ignite a sense of "care somewhat" among the Illini fanbase. I have doubts about his ability to translate his game to the college level, but he's a solid, reliable coach, and honestly, how much worse can it get?
When last we saw them: Michigan beat Illinois 45-0 in 2012, which still didn't fully wash the taste of RichRod's defenses surrendering 45, 38, and 65 points to the Illini in three consecutive years. Still, even with that, Michigan has won 41 of 47 against Illinois dating back to the beginning of the Bump Era.
Crootin': Somewhat unsurprisingly, the situation recounted above was not conducive to an elite recruiting class. Illinois landed 25 commits, but only two were composite top-1000 (yes, that is the correct number of zeros), and none were in the top 700. Arguably their best recruit was Dele Harding, who you may remember as the guy who committed to Michigan because Dave Brandon got fired. 2016 rank: #71; 5-year ranking: #60
This team is as frightening as: A guy named "Lovie." Fear Level = 3.5
Michigan should worry about: Dawuane Smoot continues the Illinois tradition of the Outstanding Defensive Players On Bad Illini Defenses, picking up the torch from the likes of Whitney Mercilus and Corey Liuget. Smoot is a natural pass-rusher, and possibly the best defensive end in the conference. Michigan's left tackle situation is in flux. This could be problematic.
Michigan can sleep soundly about: Poor Damn Mikey Dudek tore another ACL. Keep that man away from fork lifts. Also the defense loses everyone and probably will be bad. And Michigan gets a bye week leading into this game.
When they play Michigan: Illinois has a defensive tackle named "Chunky Clements." I just thought you should know that.
Promised Beckman Memories:
First game: vs. Murray State, 3:30 p.m., BTN.
[AFTER THE JUMP. No I'm cereal this time, we're getting to the good teams]
Michigan State
Last year: 12-2 (7-1)
Recap: Weird, weird year for Michigan State. One could argue that they were somewhat fortunate, in that they got Oregon when Vernon Adams had a broken index finger on his throwing hand, and were still one overthrown wide open receiver from a home loss. We know what happened against Michigan, where some could contend that Michigan State was somewhat fortunate. As is winning a game when your opponent spikes the ball on fourth down (although when that opponent is Rutgers, that's arguably par for the course). Or when your best opponent simply forgets how downfield passing works. But we would not do such things. Because that would not be respeckful.
So, despite feeling like an inferior version of the last couple of Spartan squads, the 2015 edition arguably achieved the most of any in recent memory: a Big Ten title and a berth in the College Football Playoff, which they… uh… attended with vigor.
All snark aside, Mark Dantonio did a damn fine job with last year's team. His mountain will be even higher this year, as the Spartans lose a three-year starter quarterback, their two best receivers, two All Conference offensive linemen (one of whom was a first round draft pick), and most of their defensive line. According to Bill Connelly's returning starter numbers, MSU returns less production than all but six teams in the country.
When last we saw them: That was a really good football game except for the thing.
Crootin': The good news for Michigan State is that they did very well on the defensive line and at wide receiver. The receiver position is particularly relevant as Sparty loses 74% of their catches, 76% of their receiving yards, and 78% of their touchdowns from the receiver position to graduation. Donnie Corley, Cameron Chambers, Justin Layne, and Trishton Jackson are all four-star recruits, and all but Jackson had major offer sheets. At least a couple of them will see significant snaps this year. Michigan State also landed Josh King at DE and and Naquan Jones and Mike Panasiuk on the interior.
On the other hand, Michigan State's class didn't exactly close with a bang. They failed to flip Mike Onwenu, missed out on Lavert Hill and defensive end Prince Sammons (Auburn) on signing day. They almost lost blue chip defensive end Auston Robertson to shenanigans (the Farva type, not the cheeky/fun type), but… life found a way. 2016 rank: #17; 5-year ranking: #21
This team is as frightening as: Don't quote me boy cuz I ain't sayin' shit. Fear Level = A Respektful 9 Until Proven Otherwise
Michigan should worry about: Malik McDowell is a terrifying human.
Michigan can sleep soundly about: Michigan's defensive line will feature a larger quantity of terrifying humans.
When they play Michigan: Both teams played hard.
First game: vs. Furman (YTF), 7:00 p.m. Friday, BTN
Maryland
Sigh. What do you want from me, man?
Last year: 3-9 (1-7 B1G)
Recap: The interceptions. My god, the interceptions. Caleb Rowe threw 15 interceptions, which was second in the conference. Perry Hills threw 13 picks… which was third in the conference. Combined, Hills and Rowe completed 166 passes to their teammates and 28 passes to their opponents. 14.4% of Maryland passes that were caught were caught by the other team. That ratio would be like Jake Rudock throwing 36 interceptions.
D.J. Durkin has his work cut out for him.
When last we saw them: Michigan beat Maryland 28-0 last year, but that was not the end of things. Oh no. No, sir. This did not extinguish Maryland's fire. No, they kept that hate tempered at "white hot." And it boiled over this week. Michigan football posted a schedule graphic featuring all twelve of Michigan's opponents.
Coming soon. #GoBlue pic.twitter.com/V18zMKMoX3

— Michigan Football (@UMichFootball) August 21, 2016
You would think Maryland would be happy with the attention Michigan paid to the Maryland section, given that they got the crazy Maryland flag background, especially compared to the all-white UCF background (signifying that we know nothing else about you and literally aren't 100% sure what UCF stands for) and the all-white Wisconsin background (signifying "y'all are really damn white"). But no. This insult was too much, and something had to be said:
Is the rest of our logo coming soon? #RespectTheFlagBar https://t.co/M5ZoE4PUSn

— Maryland Terrapins (@umterps) August 22, 2016
Apparently Michigan was supposed to put another crazy Maryland flag as an underline thingy to the M, even though it would be on top of the existing Maryland flag. Because #RespectTheFlagBar. Game on, gentlemen. Game on.
2016 Crootin': Maryland landed Terrance Davis, the offensive guard out of the state of Maryland that Michigan really wanted. Beyond that, there wasn't anyone Michigan fans would recognize. Fun fact, four of their top five recruits came from the same school: powerhouse DeMatha Catholic in Hyattsville, Maryland. 2016 rank: #42; 5-year ranking: #41
This team is as frightening as: The Turtle. Is that scary? I dunno, it depends on the size of the turtle. Fear Level = 4.5
Michigan should worry about: Don't punt the ball to Will Likely
Michigan can sleep soundly about: Punting probably won't be a significant concern
When they play Michigan: No seriously no punting to Will Likely.
First game: vs. Howard, noon, BTN
Iowa
Last year: 12-2 (8-0 B1G)
Recap: HEY, GUYS, SOME IOWA STATE FANS JUST SPOKE ILL OF OUR AGRICULTURAL PRACTICES. LET'S GO GET 'EM. WE'LL BE RIGHT BEHIND YOU.
…
Okay, we've got about 90 seconds before they figured out I was lying. Read fast.
Iowa wasn't that good. I mean, they obviously weren't bad. You can't be bad and start 12-0. But they weren't GOOD, ya know?
Iowa went undefeated in the regular season on the strength of a 3-point home win over Pitt, a narrow win over Iowa State in El Assico that was closer than the final score, a four-point win over Wisconsin (in a game S&P says they lose 75% of the time based on their performance), and a five-point win over Minnesota (in a game S&P says they lose 78% of the time). Their only even moderately impressive win was a 40-10 housing of Northwestern. Then they lost to Michigan State. Then Stanford mangled their dangly business in an unseemly way in the Rose Bowl. Add it all up, and the nation's 47th best team in S&P+ was one 22-play drive from the CFP. Sports are dumb.
So, Iowa was fine. And they will be fine in 2016. However, while it probably isn't possible, Iowa fans are trying hard to wrest the DISRESPEKT belt away from Sparty. They can't understand why we won't assume team that has finished in the top 30 of the S&P+ rankings once in the last 5 seasons (#29 three years ago) and who is coming off a remarkably non-reproducible 12-2 season will somehow be super-fantastic.
When last we saw them: Michigan lost a stupid, stupid game to Jake Rudock's Iowa team in 2013. The Wolverines were up 21-7 at halftime, but then Borges Borges'd some stuff, and wheeeeeeeeeeekaboom. On the bright side, Michigan won the 1902 matchup by a score of 107-0.
Crootin': Iowa's recruiting class was, as is usually the case, meh. Middling ranking. Zero composite four stars. No composite team rankings higher than #40 in the last five years. They held onto Alaric Jackson, when Michigan made a run at him, but that's about it. 2016 rank: #49; 5-year ranking: #51
This team is as frightening as:
  (h/t Smoothitron, with an angry-eye assist from Ace)  
       Fear Level = 7.5
Michigan should worry about: There is an entire horror franchise about messing with young people in or around corn.
Michigan can sleep soundly about: crap the iowa fans are back MICHIGAN SHOULD FEAR ALL THINGS IOWA. SLEEP IS IMPOSSIBLE.
When they play Michigan: This game will matter a great deal.
First game: Miami (NTM), 3:30, ESPNU
Indiana
Last year: 6-7 (2-6 B1G)
Recap:
Indiana put themselves in pretty good position quite often last year.
Indiana had a 1st and goal from the Ohio State 6 yard line with under one minute left, down by seven points.
Indiana had a 25-point lead at home against Rutgers.
Indiana had the ball down 5 points in the 4th quarter against Michigan State.
Indiana was within one score in the last three minutes against Iowa, when their onside kick landed here:
Indiana was up seven on Michigan with under ten seconds left.
Indiana was up seven on Duke in the Pinstripe Bowl with under a minute left, and had a 38-yard field goal (from possibly their best kicker ever) to send the game to double-OT.
You would think they would have won at least one of those games.
On the other hand…
Southern Illinois dropped a two-point conversion to beat Indiana.
Western Kentucky lost to Indiana by three points.
Wake Forest got down to the Indiana 32 yard line late in the 4th quarter when down by only a touchdown.
The #CHAOSTEAM remains strong with this one.
When last we saw them: I attended that game. The fans were in an good mood, and maintained a level of gallows humor until well into the second half. But then they started to believe they could win. Then they started to think that they would win. Then they started to think that they HAD won. Those poor bastards. This is actual video of Delano Hill breaking up that pass to Mitchell Paige in double OT:
Crootin': Two recruits of note. The Hoosiers landed Kiante Enis, who was a Michigan commit until late in the 2016 cycle. The other is Richard Lagow a junior college transfer who will probably start at QB for Indiana this year. 2016 rank: #55; 5-year ranking: #55
This team is as frightening as: CHAOOOOOOOOOOOOOOOOOOOOOOOOOOS. Fear Level = 2 and/or 9.
Michigan should worry about: The offense.
Michigan can sleep soundly about: The defense.
When they play Michigan: Please bring a healthy defensive tackle or two this time thank you very much.
First game: at FIU (yes, "at"), 7:30 p.m. Thursday (what is this game even), ESPNU
Ohio State
Last year: 12-1 (7-1 B1G)
Recap: Urban Meyer is a fantastic football coach. No one can deny this. But if you are a fantastic football coach, and you see this play:
(If it doesn't jump to the right spot, watch at 1:06:34)
...and you literally don't throw the football down the field again in the remaining 31 minutes of game time? Boy, I don't know.
That decision, and Ohio State's gameplan in general (a speed option on 3rd and 9? Against Michigan State?), was the difference between playing for a national title and experiencing "the least fun one-loss season in the history of sports."
/auto-gratifying hand motion dot gif
Ohio State was forced to endure this hardship, and then their entire damn team got drafted in the first round of the 2016 NFL Draft. Life is hard.
When last we saw them: By all means go ahead and leave that safety 15 yards off the ball and a linebacker 8 feet off the nose tackle's ass. That's fine. This is fine.
Crootin': Ohio State's class is pretty dang good. Leading the group is a terrifying pair of defensive ends in Nick Bosa (YTB) and Jonathan Cooper. They closed out the cycle strong, flipping four-star quarterback Dwayne Haskins from Maryland and beating out Michigan for Jordan Fuller. On the bright side for Michigan fans, the 2016 class is a bit of a downer compared to the 2017 class. So HAHA silly Buckeyes. Joke's on you. 2016 rank: #4; 5-year ranking: #4
This team is as frightening as:
       Fear Level = not that great for now, maybe a 7.5 or 8… but oh god in a few months…
Michigan can sleep soundly about: Per the Bill C. numbers above, Ohio State returns the second-least production of any team in the country.
Michigan should worry about: The guys replacing them are made of some of that liquid metal shit from Terminator 2 and will have eleven games of experience under their belts before they play Michigan.
When they play Michigan: Buckle the hell up.
First game: vs. Bowling Green, noon, BTN