Opponent Recap: Purdue
Purdue
Purdue or Purdon't … There is no try.
Schedule:
Middle Tennessee, 27-24 (W)
@ Rice, 22-24 (L)
Southeast Missouri State, 59-0 (W)
Notre Dame, 10-38 (L)
Minnesota, 45-17 (W)
@ Penn State, 18-23 (L)
No. 23 Illinois, 21-14 (W)
@ No. 18 Michigan, 14-36 (L)
@ No. 20 Wisconsin, 17-62 (L)
Ohio State, 26-23 OT (W)
Iowa, 21-31 (L)
@ Indiana, 33-25 (W)
Western Michigan, 37-32 (W) Motor City Bowl
Record: 7-6 overall, 4-4 B1G, 3rd place Woody Division.
Stats:
 
Offense
Defense
Rush:
181.6 ypg, 33rd
174.9 ypg, 82nd
Pass:
195.2 ypg, 83rd
221.0 ypg, 53rd
Total:
376.8 ypg, 71st
395.9 ypg, 73rd
Scoring:
26.9 ppg, 60th
26.8 ppg, 62nd
T/O Margin:
+1, 52nd
Recap: Purdue had all sorts of issues this season yet somehow scraped together a 7-6 record plus a bowl game, which makes it their best record since 2007 when former coach Joe Tiller's 8-5 squad also finished with a Motor City Bowl win.
The Boilermakers needed stability at the quarterback position after last year's debacle of a finish. They didn't get it because bona fide starting QB Rob Henry tore his ACL in fall camp. Apparently this kind of thing is tradition in West Lafayette.
Purdue gave backup Caleb Terbush the job because the other backup guy Robert Marve was recovering from his own ACL tear from less than a year earlier. TerBush was fine. Though he quarterbacked the loss to Rice, he was decently accurate throughout the season. Even when Marve eventually got healthy enough to split time with him, which was critical for the win over Ohio State, TerBush played the majority of snaps. He was a junior in 2011, so Michigan can look forward to seeing him again next season.
Purdue's defense posted mediocre numbers this season mainly due to three horrible performances against Notre Dame (551 yards), Michigan (535 yards), and Wisconsin (605 yards). When the Boilermakers weren't completely outclassed, they did a decent job on that side of the ball, and this was without their usual number of playmakers whose names start with R and end with -yan Kerrigan. The highlight of their season came against Ohio State -- their defense forced six three-and-outs over the course of the game and made a clutch stop in OT to hold the Buckeyes to a field goal.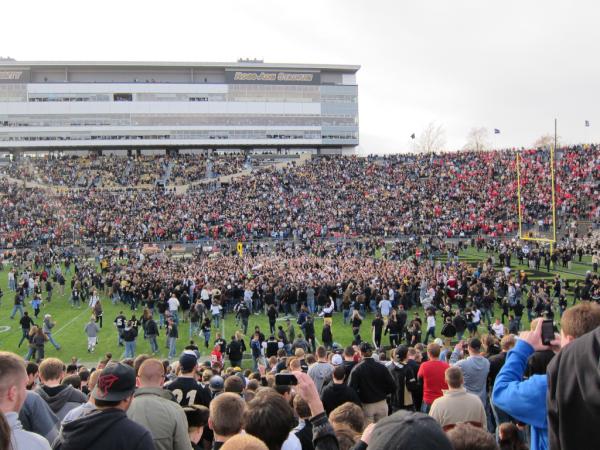 Just rushing the field and minding their own business / via Purdueexponent.org
Michigan and Purdue play again in 2012 before taking a hiatus from each other until at least 2015. Next season the Boilermakers may be better but not by much. They lose some of the glue-type players on the offensive line, but they return a majority of their contributing skill players such as WR Raheem Mostert, WR Antavian Edison, RB Ralph Bolden, and of course TerBush. Defensively they take a couple hits by losing S Albert Evans and LB Joe Holland, but they return CB Ricardo Allen and DT Kawann Short, who is reportedly up to 330 pounds these days and carrying it well.
Purdue is unlikely to get much help from their most recent recruiting class, which ranked near the bottom of the B1G.
Best win: Ohio State.
Worst loss: @ Rice. The Owls finished their season 4-8 overall; every other team Purdue lost to had at least a winning record. Notre Dame is probably a close second due to the instate rivalry thing.
At the time we thought they were as frightening as: I gave them a fear level of 4 but didn't come up with an analogy that week. Instead I lamented how bad the B1G was when a team that lost to Rice and nearly lost to Middle Tennessee could play competitively against Penn State and then beat an Illinois team that was 6-1 at the time.
But now we know they are as frightening as: Still a 4.
What the win meant for Michigan: I remember being annoyed after this game when nearly everyone in the media tried to cite the win as evidence for why Michigan wouldn't have a "second half collapse." I felt a great deal of sympathy watching the players deal with the presser questions the previous week ("Is this like last year?") and then the following week ("This isn't like last year!?"), but I also felt an equal if not greater amount of sympathy for the reporters asking them. I'm so happy I don't have to deal with angles.
Beating Purdue was great, but it wasn't a sign that the Wolverines had shaken the second-half collapse monkey despite what every headline wanted you to believe. I'm not saying good things didn't happen: the defense was solid after giving up their first free touchdown of the season, and I think that may have been partially due to Kovacs not playing after sustaining an MCL sprain during a bye week practice. Mike Martin finally went into Beast Mode by notching two sacks, one of them for a safety. Jake Ryan made a highlight reel arm-tackle at the goal line late in the game.
Offensively Toussaint went for 170 yards on 20 carries, finally establishing himself as Michigan's No. 1 option at running back.
Lots of horse-collaring in this game / via the Toledo Blade
For me, the reason why beating Purdue wasn't a great case for "this isn't last year" is because the Wolverines did beat them last year. I don't know why everyone suddenly forgot. [Ed-S: Because who would want to remember that miserable game?]
Up to this point in the 2011 season Michigan still hadn't beaten anyone they lost to last year. Who did they lose to last year? Michigan State, Iowa, Penn State, Wisconsin, and Ohio State. Penn State and Wisconsin weren't on the schedule, though you could argue that Nebraska could stand in for the Nittany Lions. So the Wolverines had three more opportunities to prove the 2011 != 2010 hypothesis; Purdue was not one of them.
And it was totally as awesome as: A cool glass of milk in between a jalapeno eating contest and a habanero eating contest.