Opponent Recap: Ohio State
Previously (as in a long long time ago): Western Michigan, Notre Dame, Eastern Michigan, San Diego State, Minnesota, Northwestern, Michigan State, Purdue, Iowa, Illinois, Nebraska
Far away province of O-hee-o.
Schedule:
Akron, 42-0 (W)
Toledo, 27-22 (W)
@ Miami, FL, 6-24 (L)
Colorado, 37-17 (W)
Michigan State, 7-10 (L)
@ No. 14 Nebraska, 27-34 (L)
@ No. 16 Illinois, 17-7 (W)
No. 15 Wisconsin, 33-29 (W)
Indiana, 34-20 (W)
@ Purdue, 23-26 OT (L)
No. 21 Penn State, 14-20 (L)
@ No. 15 Michigan, 34-40 (L)
Florida, 17-24 (L) Gator Bowl
Record: 6-7 overall, 3-5 B1G, 4th place Woody Division
Stats:
| | | |
| --- | --- | --- |
|   | Offense: | Defense |
| Rush: | 191.2 ypg, 27th | 141.5 ypg, 51st |
| Pass: | 127.0 ypg, 115th | 182.0 ypg, 14th |
| Total: | 318.2 ypg, 107th | 323.5 ypg, 19th |
| Scoring: | 24.5 ppg, 79th | 21.0 ppg, 27th |
| Turnovers: | -15 | +20 |
Recap:
While the NCAA is doing its best to wipe Ohio State's 2010 season from the record, Buckeye fans are doing their best to wipe the 2011 season from their memories. I'm going to write about it and post it on the internet so that it's there forever. Hahahahaha.
Note: Wisconsin fans, this is going to suck for you, too.
TATGATE
I have mastered the rhyming Haiku. See?
Tressel got fired,
Because he was a liar.
Boom! Terrell Pryor'd.
There was a moment in the beginning of 2011, despite Michigan having sunk to the lowest of lows and Ohio State having just won the Sugar Bowl, when I knew everything was going to be okay.
Jim Tressel lost his job essentially because of that guy. 'Ah!
-----
TATGATE CAUSED THEIR ROSTER BEING NOT VERY GOOD
The Buckeyes' roster lost a handful of key starters for the first five games as a result of Tatgate (all stats from 2010):
LT Mike Adams - 2010 1st team All Big Ten
DE Solomon Thomas - Um… not a whole lot because he split time with Nathan Williams. Made the game-saving interception in the Sugar Bowl, I guess?
RB Dan Herron - 1155 yards, 5.3 ypc, 16 TDs
WR DeVier Posey - 848 yards, 16.0 ypc, 7 TDs
QB Terrelle Pryor - Heisman winner, future No. 1 draft pick, NCAA record setting quarterback … just dominate.*
Herron and Posey eventually got caught taking too much money for a summer job (employee-of-the-month bonus I'm sure), which resulted in Herron being suspended an extra game (Nebraska) and Posey missing an additional five, leaving him with just Penn State and Michigan.
As the damning evidence piled up against Pryor, Ohio State gave him the Samwell Tarly treatment. His options were GTFO (...before he can be forced to testify against them) or GTFO (now). Naturally, he opted to GTFO and enter the supplemental draft, where he was taken by the Oakland Raiders in the third round. His most significant contribution to date has been a false start on a QB sneak. Bravo.
So what did that leave Ohio State with for the first half of the season? Not a whole lot. If my calculations are correct, minus the Tat Five they returned five starters on offense and three on defense. Those numbers would be eight and four with everyone back from suspension. Either way, that's almost as bad as 2008 Michigan when Rich Rod had three on offense and seven on defense to work with.
Unlike their 2008 Wolverine counterparts, the 2011 Buckeyes weren't an empty cupboard. Their past few recruiting classes (according to Rivals.com: No. 11 in 2011, No. 25 in 2010, No. 3 in 2009) had been terrific, and players weren't clamoring for the nearest lifeboat like it was the Titanic (now in 3D!). If Tressel had been allowed to stay in Columbus, they would have simply called it a rebuilding year. They probably would have gone a modest 8-5 before licking their wounds and eating a lot of spinach over the offseason.
*In Pryor's alternate universe.
-----
LET'S POINT AND LAUGH AT SOME THINGS WHILE WE STILL CAN
Things that the Buckeyes sucked at in 2011:
Throwing the ball - 245 total attempts, 51.0% completions, 6.7 ypa
Scoring points - 24.5 ppg
Defending the run (relatively speaking) - I mean, did you really think teams like Miami, Nebraska, Purdue, Penn State, and Florida beat them with their fearsome passing offenses? Psh. Michigan had TWO 100+ yard rushers against them.
That whole throwing thing -- QB Joe Bauserman was to Ohio State what Threetsheridammit was to Michigan, except he didn't quite make it past the nonconference schedule. QB Braxton Miller wasn't that big of a step up until much later in the season, but he was elusive enough of a runner that he didn't really need to throw all that much. Remember when the Buckeyes beat Illinois? Miller completed one pass. It was a touchdown! #Winning.
via @elevenwarriors
I don't understand why it took so long to transition to Miller. At least, I don't remember. Right now the best explanation I can manage is that, as a true freshman, Miller didn't understand the playbook very well.
I know, I know. How hard is it to learn Jim Bollman's playbook? It's only four pages, right? And pages one and four were left blank for printing purposes.
via Ramzy from elevenwarriors.com
Miller eventually secured the job after an undeniably epic effort against Nebraska before getting hurt. He wasn't a huge upgrade for the Buckeyes passing game, but more on him in a sec.
Offensively in general, the Buckeyes had problems getting into the endzone, and this can be attributed to … Wait. There's nothing to be gained from analyzing Jim Bollman's offense and its inability to score points in 2011. Moving on.
That defense. Right. TheBuckeyeBattleCry.com previewed the defense prior to the season and came away with saying that the defense would be "on their way to another season of defensive domination." Understandably, this came after they scouted the defensive line, crossed their arms smugly, and said, "Look at all the great players we have!" Yeah, there was DT Jonathan Hankins (poor man's Vince Wilfork), and DE John Simon (um… white man's Brandon Graham? I have no idea. I'm really bad at this), and maybe some quality senior rotational players.
On a side note, the writer [Ed-H: actually it was this guy. I got my tabs all mixed up sorry.] had to go ahead and say something along the lines of "Our backups would start on any other team in the Big Ten!" which is just so OSU. Why do they keep doing this? Are they basing this on star ratings? Marvin Robinson could start on any other team in the Big Ten, too, ya know.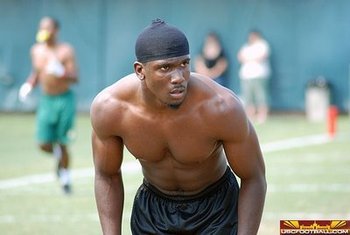 He even looks like a four-star
Anyway, even if the defensive line was going to be good, by the middle of the season it would be apparent that it was probably the only thing they had going for them. The linebacking corps was a confused jumble of athleticism, and the defensive backs seemed like a bunch of JAGs, though to be fair they were hardly ever tested by all those … scary gunslinging QBs of the B1G. I am trying very, very hard to keep a straight face right now.
via 247Sports.com
Damn. I failed.
-----
PLAYERS TO KEEP A LEERY EYE ON
Braxton Miller, obvi. His coming out party in Lincoln was unfortunately spoiled by a bunch of Bauserbombs and a defensive meltdown, but teams like Wisconsin and Michigan would discover that it wasn't a fluke. The guy is a slippery runner and has a way of evading pressure and threatening the run long enough for his wide receivers to get open, often in the end zone:
vs. Wisconsin ...
and vs. Michigan ...
While he doesn't have the most accurate arm in the world, he won't need one in Urban Meyer's offense in 2012. Really, he just needs to not get injured.
Then there's Ryan Shazier, aka pain in the ass linebacker. He was mostly responsible for creating the jumbled mess of athleticism at the position, but that's to be expected when a guy starts playing as a true freshman. He plays with really good instincts when he's not completely out of position, however, and is a lightning fast tackling machine. Accounted for 15 tackles against Penn State:
There you have it. Two dudes who will likely do some terrible things to Michigan over the next couple years, and we just have to hope Michigan does more terrible things in return. I'm not sold on their other "playmakers" who have been getting a lot of hype out of spring practice like Jordan Hall and Michael Thomas just yet. 
Oh I forgot one more: Zach Boren, younger kinsman of the infamous Justin Boren. He got all salty after The Game because of Michigan's grenade celebration, taking to twitter to express his indignity:
@ZBoren44: I lost so much respect for michigan after they won n threw the ball in the air acting like it was a grenade. This is a great rivalry and to take it to that level of disrespect is just so uncalled for. Act like you have before n treat htis rivalry like it should be treated.
Boohoo.
Why keep an eye on him? He's a fullback, so if you blink next year, you might miss the one snap he plays per game.
-----
THERE IS NO ORGANIZATION TO THIS RECAP IS THERE
The very late nature of this post means that most things about Ohio State's 2011 season have already been beaten to death. Also, I refuse to have an italicized alter ego. Go away.
Best win: Wisconsin. I'm really mad at Wisconsin for this one. And for Michigan state Part I. WTF, Wisconsin.
Worst loss: Purdue.
What this win meant for Michigan: Everything, basically. It also merits rewatching. Popcorn, anyone?
And it totally felt as awesome as: Finally finishing this post about five months after the fact. TIMES A  ZILLION. 
Cue the Muppets one more time:
And you can't have one without the other...