Previously: Western Michigan, Notre Dame, Eastern Michigan, San Diego State, Minnesota, Northwestern, Michigan State, Purdue, Iowa
Illinois
Schedule:
Arkansas State, 33-15 (W)
South Dakota State, 56-3 (W)
No. 22 Arizona State, 17-14 (W)
Western Michigan, 23-20 (W)
Northwestern, 38-35 (W)
@ Indiana, 41-20 (W)
Ohio State, 7-17 (L)
@ Purdue, 14-21 (L)
@ No. 19 Penn State, 7-10 (L)
No. 24 Michigan, 14-31 (L)
No. 17 Wisconsin, 17-28 (L)
@ Minnesota, 7-27 (L)
UCLA, 20-14 (W), Emerald Bowl
Record: 7-6 overall, 2-6 B1G, 5th place Woody Division
Stats:
 
Offense
Defense
Rush:
171.7 ypg, 41st
123.8 ypg, 25th
Pass:
184.0 ypg, 91st
162.3 ypg, 3rd
Total:
355.7 ypg, 85th
286.2 ypg, 7th
Scoring:
22.6 ppg, 91st
19.6 ppg, 15th
T/O Margin:
 -6, 95th
Recap: Ron Zook's last season at Illinois was the mirror image of Rich Rod's last season at Michigan. Instead of a stellar offense trying to keep pace with a defense that kept giving up free touchdowns, it was a stellar defense trying to hold up long enough for the offense to maybe fall forward into field goal range.
The offense wasn't that horrible at the beginning of the season. At least, it wasn't supposed to be. The Illini returned QB Nathan Scheelhaase, who had a breakout freshman season of sorts in 2010. They lost RB Mikel Leshoure to the Lions, for whom he couldn't play because he tore his Achilles tendon (but hey, who's bitter about that), but they had seemingly quality options behind him in Jason Ford and Troy Pollard. At receiver they had a quality deep threat in A.J. Jenkins, who finished 6th in the Big Ten in yardage the previous season.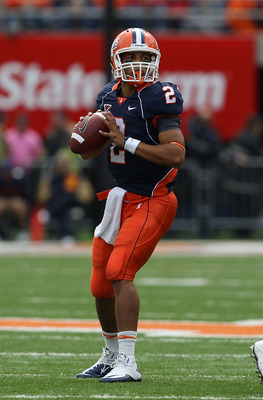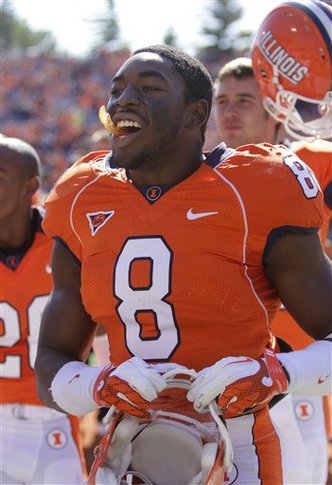 Scheelhaase, Ford, Jenkins
(more after the jump)
So that was dandy. Illinois' offense was fine for their first several games. They averaged around 200 ypg rushing and almost started a Heisman campaign for Jenkins. The only warning signs came against Western Michigan, whom they struggled to beat, but at the time most people chalked it up to an Arizona State hangover. By the time they started their Big Ten schedule, they seemed to have found their rhythm and built a good deal of momentum after coming from behind to beat Northwestern and going nuts against Indiana the following week.
Then something horrible happened. A flailing Ohio State squad came to town, completed one pass the entire day, and left with an improbable victory. It wasn't that the Illini defense was bad -- both Buckeyes touchdowns came from offensive turnovers. Illinois was so inept on offense they didn't even get close to scoring until late in the fourth quarter when Scheelhaase connected with TE Evan Wilson in the end zone. But with a clock managing mastermind like Ron Zook, they might as well have not scored at all.
The loss to Ohio State set up a paradigm for the rest of Illinois' losses. In five of their last seven games, they would fail to score for an entire half before managing a touchdown or two somewhere in the fourth quarter -- but too little too late.
Most of the blame has been directed to their offensive line, which gave up 36 sacks and 89 tackles for loss. I'm not sure why they were so bad, though. Including walk-ons, the Illini had 18 offensive linemen on their roster in 2011 (to compare, Michigan had 14), so depth wasn't an obvious problem. Talent, chemistry, coaching -- those things I can't analyze with much authority, but when Michigan played them, this happened:
Defensive Line
Player
+
-
T
Notes
Van Bergen
14.5
2
12.5
To be fair, two points in garbage time. HAHAHAHA
Martin
19
3
16
HAHAHAHAHAHA
Roh
9
-
9
Oh… oh wow.
Heininger
5
2
3
Didn't get in on the sack explosion largely because he's lifted in the nickel.
Clark
3
3
0
Zone read WTF was kind of magnificent. More later.
Black
1
3.5
-2.5
Other guy to WTF a zone read.
Campbell
4
-
4
Time to get excited about him again until next week.
TOTAL
55.5
13.5
42
That is nuts.
HAHAHAHAHA. 
After Zook got fired, DC Vic Koenning was offered the head coaching position. I imagine he recalled six games' worth of bitter thoughts towards the offense before politely declining.
Best win: Northwestern.
Worst loss: Minnesota, because Minnesota is automatically the worst loss on anyone's schedule.
At the time we thought they were as frightening as: A large rock (see above). Fear level = 6.
But now we know they are as frightening as: A large rock that has spent the last two decades with Andy Dufresne and a rock hammer. 3.
What the win meant for Michigan: It meant that Michigan got their second win on the road and their first in November, and they did so by playing so well on defense it made Greg Mattison teary-eyed.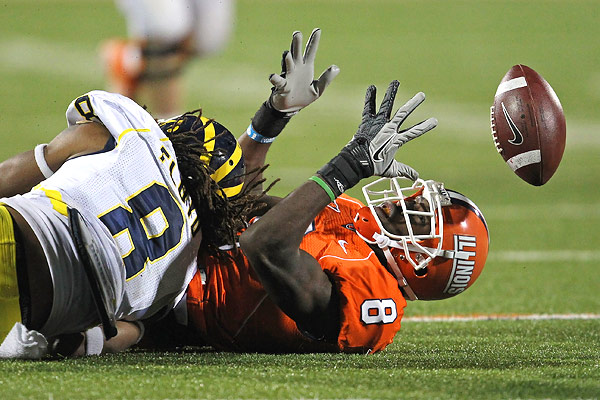 via ESPN.com
The offense was still a little shaky. When Fitz wasn't slicing through Koenning's defense for massive gains, the offense was moving backwards. Denard struggled after the early 14-point lead. He eventually exited the game when he bashed his hand against some guy's helmet.
Regardless, the Wolverines ground out a win in a fashion that hasn't been seen since Lloyd Carr was head coach. By the second half of the game, it was apparent that Michigan was never going to be in danger of losing -- they just had to find a way to ice the game with another score and just bleed the clock, which they did. Of course, having Zook help out with the latter was a nice bonus.
And it totally felt as awesome as: How John Henry would have felt if he hadn't been so rushed.