One Frame At A Time: Minnesota
Glenn Robinson III, quite casually, threw down a 360 dunk against Minnesota. I have no memory of a Michigan player ever doing the same, let alone with such ease. So, yeah, the full gif treatment is in order. Above is a little photoshop job, because something about that play didn't quite feel real. Below, every damn replay angle imaginable [click each thumbnail for the gif]:
Salute.
[For the rest of the Minnesota gifs, featuring several more dunks and John Beilein's strange facial tic, hit THE JUMP.]
The pink gorilla is for diversity, I guess.
This is John Beilein's face when Trey Burke had to leave the game after his jersey tore. Looks normal, right? Click through for his totally unnerving facial tic:
Yeah, let's get back to the dunks. Mitch McGary steal and slam:
Burke-to-Hardaway, Part One: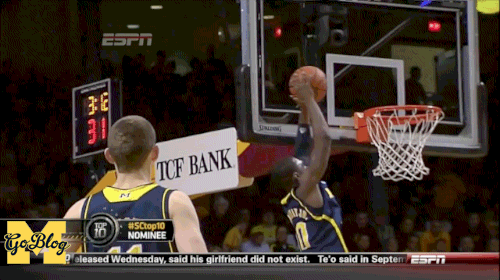 Burke-to-Hardaway, Part Two:
Gorgeous, gorgeous basketball, capped by a GRIII slam:
Game... blouses:
Caris LeVert's reaction to Stauskas's dunk is wonderful:
The Barn's raised court lends itself quite well to bench reaction shots, as does Mitch McGary's entire existence:
Trevor Mbakwe, not particuarly pleased with the call on his fourth foul:
While Hardaway eventually got tied up on the sideline, Austin Hollins (#20) is still not going to enjoy the film room after allowing him to get a 1-on-4 offensive rebound:
Box out, man.