Ohio State 62, Michigan 39
There's a door just off the eating area in Ohio State's press box, the frame of which is plastered with small pieces of red "evidence" tape on its left side. I did not understand this at halftime. I get it now: Ohio Stadium is a crime scene.
An inauspicious three-play, one-yard drive to open the contest was the harbinger of things to come in a game so nightmarish the only thing recognizable as belonging to this 2018 Michigan team were white uniforms and winged helmets. And that was with the fourth quarter left to play.
The nation's best defense was shredded time and again by crossing routes and could generate no pressure; the passing game saw Michigan's surehanded tight ends suddenly dropping passes while predictable passing situations allowed Ohio State to get pressure on Shea Patterson much of the afternoon; and even special teams played a part with a blocked punt that seemed to hang in the air for eternity before dropping into the waiting arms of Sevyn Banks, who jogged 33 yards into the end zone. You play the game to keep your goals in front of you and Michigan did that for 11 games. Then, in The Game with the most optimistic forecast in almost two decades, the wheels came off in spectacular fashion.
[After THE JUMP: words]
[Upchurch]
Michigan's man coverage could not handle Ohio State's crossers on their first drive of the game, ceding 16 and 11 yards on such routes before true freshman Chris Olave got a step on fifth-year senior Brandon Watson on a 3rd-and-4 crossing route and turned it into a 24-yard touchdown reception.
The offense responded with two third-down conversions but was unable to procure a third, as Donovan Peoples-Jones dove for a Patterson pass on an out but came up two yards short of the sticks. Freshman kicker Jake Moody grooved a 39-yard kick through the uprights to put Michigan's first points on the board in what was a continuation of last week's offensive pattern.
Moody recorded the game's next points as well after Michigan's defense forced Ohio State into a three-and-out; Michigan's offense subsequently went on one of their infini-drives, using up the last 5:32 of the first quarter and nine seconds of the second quarter, with Patterson putting a perfectly-placed ball in a basket for Zach Gentry only to have it ripped away by a defensive back on 3rd-and-6.
Michigan showed life after two drives on which the offense flat-lined and the defense's sore spots were stabbed repeatedly en route to two scores. Down 21-6, Patterson and the passing game took over. Patterson hit Sean McKeon, who had stayed in to block before leaking to the flat, then found Donovan Peoples-Jones twice. A defensive pass interference call converted a third down for Michigan, a 15-yard Patterson tuck-and-run moved Michigan to just outside the red zone, and a beautiful leaping back-shoulder grab by Nico Collins closed the gap to 21-13.
Demario McCall let the ball hit him on the following kickoff, and the fumble was recovered by Nate Schoenle at the 9-yard line. Patterson hit Chris Evans on a tiny wheel route, the two-point conversion was blown up, and Michigan somehow trailed by just two.
Ohio State received the ball with 41 seconds remaining in the half. Three Michigan penalties pushed them down the field before a sorta-goal-line stand ended with a field goal.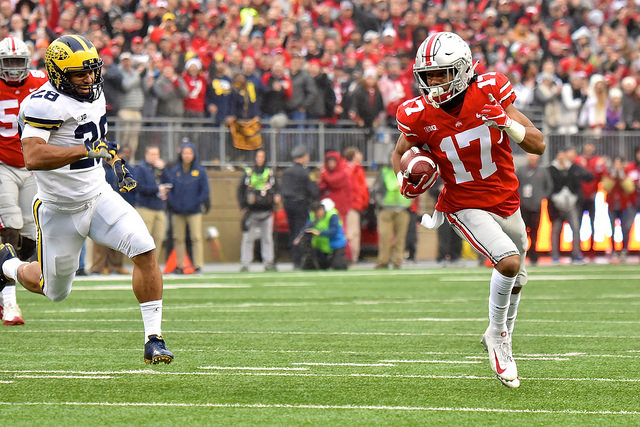 ​
[Bryan Fuller]
It was a tale of two halves for Michigan, only this tale is one that had yet to be told this season or under this coaching staff. Adjustments to the coverage worked on Ohio State's first drive; Michigan's offense followed with an incomplete pass, a one-yard run, and a short pass jarred loose after Karan Higdon got lit up in the flat.
Ohio State against got into a goal-to-go situation and again found themselves held out, a field goal their consolation on a run-centric drive that Michigan contained but for a 31-yard completion to Parris Campbell.
Michigan's next drive ended with the aforementioned blocked punt returned for a touchdown. Their following drive lasted three plays, a three-and-pick turned into seven points after another crossing route put Ohio State a yard out, an option pitch the finisher. The game was over after Ohio State's next drive, a one-play, 78-run from Parris Campbell on a jet sweep.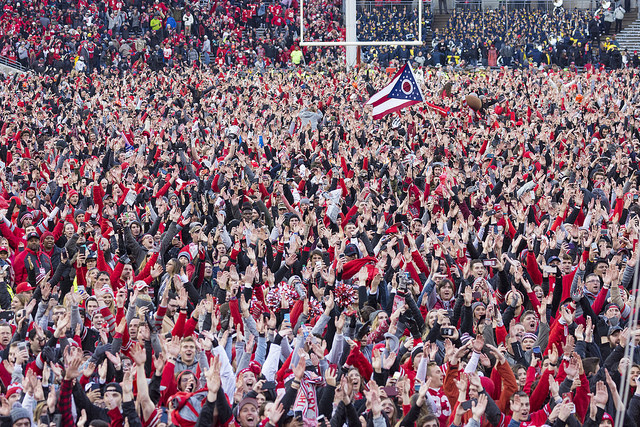 ​
[Patrick Barron]
At this point, Zach Gentry had left the game with a concussion, Devin Bush was carried off with a hip flexor issue, David Long was carted away with something similar. Everything that could go wrong did go wrong, and then some. Patterson got hurt. Brandon Peters came in. Ben Mason scored. Joe Milton went in. Everything else is a blur, save this: damn near the entirety of Ohio Stadium on the field, a roiling red wave rejoicing to one of stadium rock's most grating anthems, Neil Diamond's "Sweet Caroline."
I have no idea where Michigan goes from here. There's a bowl game to be played, the emotional letdown of which is similar to but an order of magnitude greater than 2016. The Revenge Tour flopped, replaced by Urban's Redemption Tour. That's bullshit. So was this game.