Obligatory Uniformz Post
Hey. Life rolls on. Thank you to those who have expressed condolences.
One of the running jokes on the podcast this year has been theorizing that the athletic department has someone specifically dedicated to trolling me. Evidence: "In The Big House" did not return until after the nonconference season had convinced me it was gone, and Michigan waited until the last possible moment to change Jordan Kovacs away from #32. Taken with the deployment of Denard and Devin against Ohio State, this is strong evidence indeed.
If they are deep enough inside that they knew what I was writing up this morning and chose that hour to release the latest in the ever-growing line of uniformz, I am terrified because the sleeper agent is probably me.
Anyway. We knew this was coming because Michigan's promise after they announced the Alabama uniformz was that they would not screw with the jerseys during the regular season. They are here. If you have not been on the internet, here they are: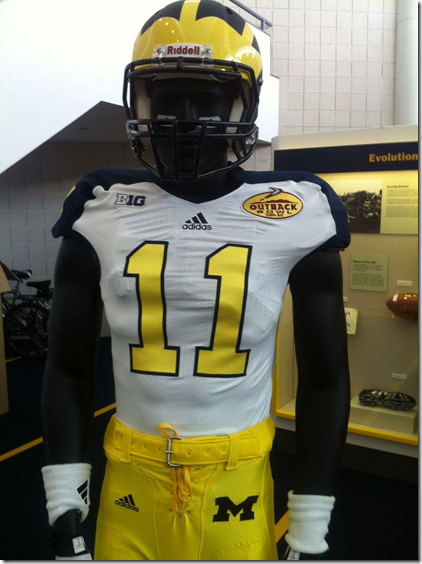 They finally screwed with the helmet. Also Ramzy pointed out that there seem to be four different shades of yellow on this thing.
Yes, yes, the kids love it, which is why Alabama and USC are struggling to recruit these days. It is possible the kids are not quite so stupid as that meme thinks they are and make decisions based on things other than wearing goofy alternates a couple of times a year. Your assertion as to what the kids love does not seem to have much bearing on where they go to school. Alabama did not need fancy duds to annihilate Michigan earlier this year.
What gets me is that many iconic uniforms are not being futzed with, including the aforementioned teams plus Texas, Florida State, Penn State, and Oklahoma*, but the people running those athletic departments must be wrong and the man who brought us pasta inside a bread bowl must be right. I do not agree that this is necessarily the case, Kids Love It Arguer Guy.
I mean, the brand-manic NFL has strict restrictions on third jerseys, with many of the teams deploying them once or twice… ever. NFL teams are prohibited from wearing alternates in the Super Bowl, and only the Chargers have ever deployed them in a playoff game, probably because the Chargers' alternates are themselves a great tradition revived from the 1960s.
It's no real loss if Michigan looks dumb playing in Tampa, but I'll be sad if Michigan plays a Rose Bowl in anything other than classic Schembechler blue. And if you wouldn't want to wear it at the Rose Bowl, why would you want to wear it anywhere?
I promise to write another version of this post in August when alternate uniforms for the ND game are announced, because it is tradition, and tradition is important. #thisguygetsit
*[All of those teams have largely if not entirely opted out. Oklahoma wore some all-whites that were roundly panned in 2009 and scrapped the concept, and Texas altered their helmets to honor Darrel K Royal this year but that's a whole different thing everyone should be okay with. IIRC Alabama did have some sort of subtle houndstooth thing in one game. In each case any uniform alterations were one-offs or close to it, not Michigan's parade.]