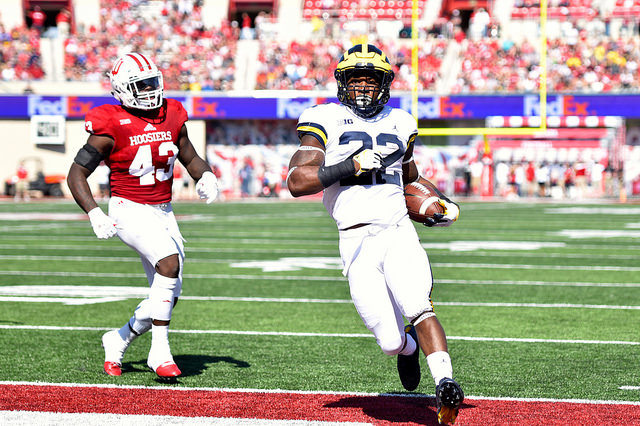 New Rules: No More Restricting Transfers And Redshirt Freedom
[lead image: Bryan Fuller]
Two fairly major NCAA rule changes just came down the pipe, and both are unambiguously good. #1 is an elimination of most transfer restrictions:
The Division I Council adopted a proposal this week that creates a new "notification-of-transfer" model. This new system allows a student to inform his or her current school of a desire to transfer, then requires that school to enter the student's name into a national transfer database within two business days. Once the student-athlete's name is in the database, other coaches are free to contact that individual.
The "most" in the previous sentence is because of this: "Conferences, however, still can make rules that are more restrictive than the national rule." Many conferences had extra restrictions against intra-conference transfers as of about a decade ago; as anyone who's followed the success talismans known as Beilein grad transfers knows, the Big Ten did away with theirs in 2012. I'm not sure if other conferences have followed suit. I kind of doubt the SEC has since bolting for juco for one year and then bouncing back to another conference school is a fairly common practice.
This hereby ends the irritating news cycle that goes:
Player Wants To Transfer
School Says Player Can't Go To Various Schools
Outrage!
"Sorry, Sorry, I'm Trying To Delete It" Says School
Player Goes To Iowa State Anyway
So it's got that going for us. Also a slight inch away from NCAA serfdom.
[After THE JUMP: suspense! what's the other rule change! crap i shouldn't have mentioned it in the title]
Rule #2 is a change to redshirt legislation that allows a freshman to play in up to four games while maintaining their bonus year of eligibility:
College athletes competing in Division I football can participate in up to four games in a season without using a season of competition, the Division I Council decided this week at its meeting in Indianapolis.
That was proposed earlier, but somewhat amazingly it got held up for a revision that prohibits this rule from being used by "midyear enrollees who participate in postseason football competition that occurs before or during the student-athlete's first term at a school." IE, early enrollees participating in bowl games. Football! It is sensible.
No word on whether this change is retroactive, which would buy Karan Higdon and Nico Collins and maybe some other guys an extra year. Not that Higdon is particularly likely to use his.
Opening up any game on the schedule for a freshman—and dropping the sore pinky charade that ensued afterwards—brings a whole new dimension to roster sorting and implementation. If you suck you can get a head start on the future four games early. Freshmen who haven't used their four games can show en masse during the bowl game. You can rotate through special teams players to preserve redshirts. Pretty much everyone who doesn't establish themselves an actual contributor in year one should be able to maintain a fifth year, should that be mutually agreeable when the time comes. As an Insane Redshirt Maintenance Zealot, this is personally gratifying.