Neck Sharpies: The Power Return
On Saturday Michigan put up six points on Northwestern on the opening kickoff, a lead the defense was so unlikely to relinquish you might as well say this game was decided by a footrace between Jehu Chesson and the Wildcats' kicker. As Harbaugh described it in the presser:
"106-yard return. The blocks were sharp and crisp. Timing was nearly perfect. 10 guys, 11 guys hustling and 10 of them blocking, blocking for Jehu and he got- he is the fastest player on the team. I know Jabrill said one of the fastest but he is the fastest, and he showed it today."
And our own Adam Schnepp got Butt on the record after yesterday's presser:
They hadn't really shown that on film where they were going to kick it there on the opening drive, but we knew they could potentially sky-kick it away from Jabrill and they did that to Jehu. We had the right return in anyway, so they kind of just gave us a counter. I had a kickout block and then we had like a wall built for Jehu. I mean, Jehu's a 10.3 100 guy. He just did the rest. You weren't catching him once he hit the open field.
I was still drawing it up when ebv posted an excellent writeup of the same. So at this point you might be sick of talking about it.
Nah.
I'll use some of his diagrams, and show you what happened.
Our Playcall: Return (our) Right
Here's how ebv made it look: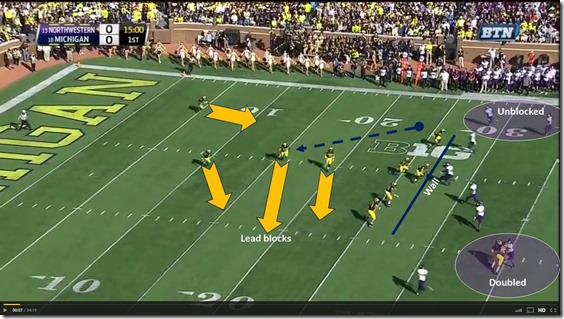 Butt (on the 20 yard line)'s block is a kickout, not a lead but that's an otherwise very accurate description. Here's my drawing:
(kickoff coverage positions noted as left or right from the kicker, so e.g. "L4" is the fourth guy to the kicker's left.)
Omigod it's POWER—like manball-flavored power running where you form a wall that caves in on their wall, kick out the EMLOS to make a gap, then throw bodies at the point of attack. I color-coded the goals of the blocks: left for seal the guy inside, green for kickout, and blue for the lead blockers.
Wilson, Kinnel, Gedeon and Houma are going to form the "wall"—they each identify a gunner and their jobs are to block down, and keep their guys sealed from the play. Bolden and Poggi double a guy who's basically the playside end. Butt comes across the formation to blow the contain open, and Chesson gets an escort into the hole from Mason and Peppers.
Northwestern's Playcall: Corner (their) Right
This is a fairly basic kickoff coverage that only messes a little with the typical man-to-man return strategy. The kicker purposely sent it to the side away from Peppers, and the gunners were tasked with closing down running lanes. Two members of the coverage team, L5 and the kicker, are back as quasi-safeties to fill any lane that may be created.
[after the jump: execution]
Here's the whole thing:
And that again fast-forwarded to the point of the catch.
You may want to click to make these big because it gets kinda confusing (especially the screengrab since a couple of guys are off screen). Let's go over how each of the 11 Northwestern players was accounted for. Plusses and minuses are not UFR+/- but guys accounted for/lost.
R4 and R5 (unblocked): The gunners at the top of the screen. R4 came down the numbers and tried to cut Chesson off at the 10. R5 smartly saw Butt "pulling" and changed his direction to cut Chesson off before he could get in the hole. Chesson(+2) is just too fast for both of these guys.
R3, R2, R1, L1, and L2 (blocked down): This is Braveheart collision at the 25 yard line. Wilson(+2) absorbed R3 with authority, escorted him to the 15, and shoved him to the ground, where he is now detritus that obstructs R1, the guy Gedeon(-1) lost. Gedeon also set up a few yards upfield of Kinnel (+1), who used the extra space to catch R2 and seal. Next to this is Houma(+1) who hunted L1 all the way down the field and textbook seals, then remains in contact long enough for the play to go by. The last guy is Wormley(+1) whacking a surprised L2 from midfield past the hash. That guy helped by fighting to the wrong side when Wormley almost overran him; then he's paste.
L3: Bolden(-0.5) and Poggi(-0.5) are tasked with sealing this guy, since it's his lane Michigan is running into. They lost him, which used up Peppers(+1)'s lead block.
From ebv's thing:
3) Cole latches on and Peppers is getting ready to hit Northwestern's safety who escaped the double (circled). Chesson arcs away from one unblocked player who picked his way across the field behind the wall...
L5: This guy was the left safety. He cut inside of the other guys and came down the middle of the field. His job is to get into any lane that forms. He wound up meeting the first lead blocker, Mason Cole(+1), who just knocks the poor kid down (and into the chasing Poggi, who pancakes).
K: The other safety who came down the (his) right hash then turned and gave chase. Bolden(-1) was in position to hamper that guy…
…and doesn't. That may be a bit rough since he did get some hand-fighting in. Anyway Chesson(+1) outruns him too. Diagrammed:
Summary
Remember blocking guys in space is hard. Poggi, Bolden, and Gedeon lost battles that were won back by a few heroes, specifically Wilson's backside block that was so badass it took out Gedeon's guy, and Chesson being really really really fast. Peppers, Cole, Kinnel, Houma, and Butt all got excellent blocks, and Wormley got one too thanks to a Northwestern guy's derf. Special thanks to the Big Ten refs for not blowing it—the Wilson block was clean but also the kind that attracts flags all too often.
The play design had a lot to do with those blocks since the Wildcats were getting hit from unexpected angles and sealed in places they didn't expect to be. Cole and Peppers both did very well with their lead blocks, even if the latter was cleaning up after Bolden and Poggi.
The good news is this was way more Michigan players being good than problems with Northwestern's coverage. The bad news is Michigan only gets to run one kickoff a game. For a 2015 definition of bad news that is.