The NCAA Hockey Tournament Could Be Better
[Ed-S: NastyIsland=David Nasternak=our hockey beat guy and general doer of things.]
(Patrick Barron) It might look decently filled in, but the entire upper ring is tarped off
Did you watch any of the NCAA Hockey Tournament last weekend?  Maybe.  Probably not.  Did you attend one of the Regionals?  Hahaha.  Did anyone? [see above picture] This seems…less than ideal. College hockey is fun!  Local arenas and atmospheres are intense and intimidating.  Couldn't this sport tap into this energy and utilize one of the main positives that differentiates collegiate athletics from professional sports?  I think so.
-------------------------------
WHO GOES? 16 NCAA hockey teams.
The number of teams should stay the same.  Does more than 25% of all of college hockey making the NCAA Tournament seem a little high?  Sure, but the numbers work well and one of the repeatedly mentioned goals is to increase the growth and visibility of the sport, in general. So, 16 it is.  Continue using the same selection method: Pairwise Rankings and Conference Tournament winners.  Avoid conference matchups in the First Round, obviously.
-------------------------------
WHY CHANGE? There are a few well-known issues with the current set-up:
Poor Attendance: A couple Regionals have better attendance than others.  Generally, those in the northeast tend to do better because the distance between schools and sites is not as far.  Sites with a participating host team also do a little better because there is a rooting interest.  However, the random Midwest Regional in an AHL/NHL arena is usually…sparse.  I have been to a few of these and it is not entertaining.
No Reward for Dominance: If a team has had a good season and managed to secure a #1 seed, there is no guarantee that their matchup or playoff site is to their advantage.  The committee will try to place higher seeds closer to home, but…sometimes, teams are sent to Minneapolis and get paired with Minnesota in the first/second round.  Or one of the schools from Boston.  That seems like punishment.  There have been countless debates about whether it's better to be in a certain location or be a certain seed.  This should never happen!  Being a higher seed should always mean receiving a reward!
[Hit THE JUMP for David's elegant solution to the worst postseason in sports]
NO MORE PLINK-O(buzzfeed.com) Hockey Table??: Building on the previous point, single elimination hockey for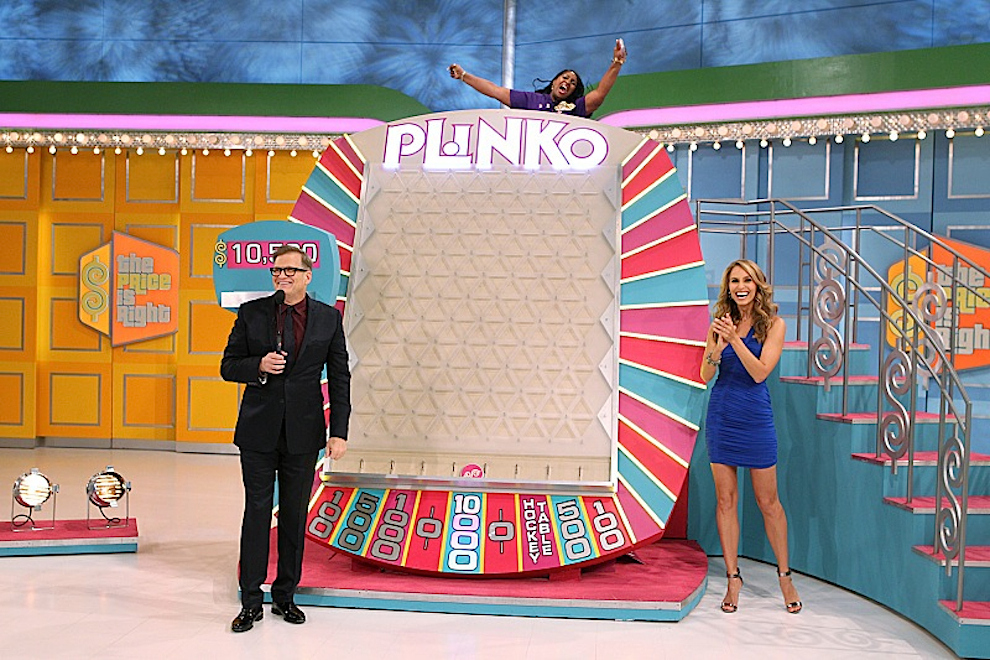 every round is ridiculous.  This is a major advantage to lower seeds.  I understand the desirable unpredictability factor, but it comes at the expense of not rewarding teams that have earned an advantage over the previous six months.
Replicate Basketball Craziness: Right now, there are 12 games over 3 days of single elimination hockey.  That's ok-ish for the crazy/excitement factor.  But what if there was a way to practically double the number of games while having some simultaneous NFL-esque finishes, a la the 'Two Best Days In Sports?'
-------------------------------
WHAT? The solution to the first two rounds is simple.
First Round: Eight separate Best-of-Three, Friday-Saturday-Sunday weekend series, featuring 1v16, 2v15, 3v14, 4v13, etc.  Following this weekend, eight teams would remain.
Second Round: Four separate Best-of-Three, Friday-Saturday-Sunday weekend series, featuring the highest remaining seed against the lowest remaining seed and so on.
Then there could be a couple of different options:
Frozen Four.  Essentially, everything about the current Frozen Four format would remain the same.  Four teams, two semifinals, single elimination, a Championship Game, and a National Champion.  That would be fine.  It is interesting, well-attended, traditional, 'Merican.
OR
Frozen Four Mini Tournament. Have a week-long (Sunday-Tuesday-Thursday-Saturday) Round Robin where each team plays the other three teams on the first three gamedays and the two best teams play in a National Championship Game on the fourth day.  Tie-breakers can be Head-to-Head, Goal Differential, Goals Scored a la most soccer competitions.
I would probably favor the original Frozen Four concept, but if the second option was used, I could get on board.  Going to an interesting destination (no spoiler alert) for a week could be fun.  A Third-Place Game on Friday could be an option if interest permitted.
-------------------------------
WHERE? Again, the opening rounds are straightforward.
        (Barron)
First and Second Rounds: Home Sites.  The higher seed hosts the lower seed all weekend.  (Alternating would be inefficient, extraneous, and too much of a hassle.)    Great atmospheres in college hockey would now be brought back into the equation for the most important stretch of the season.  No more empty AHL arenas or vacated home venues for a game of which the local scene has no interest.  The only games in town would be involving the team of whom locals had bought season tickets or followed all season.
*caveat* If the higher seed would prefer to move their series to a different location for attendance/availability purposes, it would be allowed, obviously. But they should be at least given the option of hosting at their home venue.
Frozen Four: Rotation among Six.  The Frozen Four has been rotated all over the country, mostly settling in the Midwest/Northeast.  Some of these sites have been great, others have been head-scratchers.  I think that there are five great sites: Denver, Minneapolis/St Paul, Detroit, Pittsburgh, and Boston.  All five are known as great hockey cities, and almost all of the current DI hockey programs are located near-ish to one of these five locations.  The sixth site can be random.  Grow the sport.  Go to Phoenix, Nashville, Anaheim, New York, or even Anchorage.   Just make sure the five strongest mini-regions get to host and then go on a whim for the sixth.
-------------------------------
WHEN? This could remain simple or become revolutionary.
Keep it the same.
-First Round during last weekend of March
-Second Round during the current Bye Week (and Final Four)
-Frozen Four (Round Robin Week) on the same current weekend, following the Final Four.
That's fine, I suppose.  There will be some viewership conflicts with the NCAA Basketball Tournament, but that's already happening.  Is there an overlap between the two fanbases?  Probably a little bit.  Enough to warrant a change?  Ehhhhh, I don't know.  If so, there is an Option #2.
Start the NCAA Hockey Tournament on the current weekend of the Frozen Four.  Wait until college basketball has completely ended and eliminate that portion of the competition.  For instance, in 2017:
-First Round would take place on weekend of April 7-9th
-Second Round would be April 14th-16th
-Frozen Four would be April 20th-22nd
Even if the Round Robin element was implemented, the Championship Game would be in late April. This would result in conflicts with MLB, NHL/NBA Playoffs, but whaddaya gonna do? There are always sports. If there are concerns about stretching out the season, add more games: non-conference series are fun. Or schedule more Bye Weeks. These are all viable options, so the April schedule shouldn't be a problem.
Being the college sports enthusiast that I am, I wouldn't mind seeing the latter implemented.  Give hockey its own month with no inherent basketball competition.  March Madness followed by April Absurdity.
(calendarpedia.com) A month to ourselves
-------------------------------
HOW? Let's get creative.
First Round: There are eight series.  Call it Friday Night Frenzy.
-Start games on the half-hour: 6pm, 6:30pm, 7pm, 7:30pm, 8pm, 8:30pm, 9pm, 9:30pm.  Games sometimes start around 6/6:30pm, anyway.  ESPN, NBC, Fox, etc. can televise 1 or 2 early and late games, and stream the rest on-line.  The carrier can also have a RedZone-esque channel/stream that focuses on close games/late games/powerplays, etc. Can you imagine Buccigross and Melrose doing a RedZone??  All of the games can be staggered, so there should always be action happening from 6pm-12am+.  Starting times can be determined by geographic location, allowing each fan locale enough time to get to their arena.  This would be AWESOME.  It would be like the first couple days of the NCAA Basketball Tournament…and you wouldn't need to take off work!
(grantland.com) OCTO-BOX
-Saturday and Sunday games could follow a similar path or could break into multiple windows, such as 3pm, 6pm, and 9pm.  All games could still be channeled or streamed, and a RedZone could easily be implemented.  Weekends provide more options for more eyeballs.  If there is a concern about eight camera crews/announcing tandems, let local stations cover games and allow the national entity to tap-in.  Or…let them send their own crew.  Are there legal hiccups?  Maybe, but this has been done repeatedly before, so it shouldn't be a Shut-Down Obstacle.
Second Round: There are now four series.  This could be similarly scheduled or spread out -depending on the teams involved and times played.
-Friday could be 6pm, 7pm, 8pm, and 9pm - or 7pm, 7:30pm, 9:30pm, and 10pm.  Channel and/or stream them, and have a RedZone if necessary. This would probably be lot better hockey, and there would hopefully not be as many blowouts as the first round could have.
-Saturday and Sunday could be similar.  By the time the tournament reaches this point, each game will be worth focusing on, instead of the spectacle of mass hysteria.
Frozen Four: This can still be Thursday/Saturday under the traditional model. If Round Robin is the choice, have 4/8pm doubleheaders -or 7/10pm if the location serves.  These minor tweaks can be worked out as necessary.
-------------------------------
What Would Have Happened in 2017:
Final Pairwise and Conference Winners Making a Top 16:
1 Denver
2 Minnesota-Duluth
3 Harvard
4 Minnesota
5 Massachusetts-Lowell
6 Western Michigan
7 Boston University
8 Union
9 Penn State
10 North Dakota
11 Cornell
12 Air Force
13 Notre Dame
14 Providence
15 Ohio State
16 Michigan Tech
First Round Matchups with Timeslots on Friday Night Frenzy:
6:00pm: (14) Providence AT (3) Harvard ESPN2
6:30pm: (10) North Dakota AT (7) Boston University ESPN
7:00pm: (9) Penn State AT (8) Union ESPNU
7:30pm: (12) Air Force AT (5) Mass-Lowell ESPN3
8:00pm: (11) Cornell AT (6) Western Michigan ESPN3
8:30pm: (15) Ohio State AT (2) Minnesota-Duluth ESPN2
9:00pm: (13) Notre Dame AT (4) Minnesota ESPN
9:30pm:(16) Michigan Tech AT (1) Denver ESPNU
Just sayin'.