The Navarre Zone
9/9/2017 – Michigan 36, Cincinnati 14 – 2-0
furk [Eric Upchurch]
There is always a tipping point when something that probably won't happen becomes something that probably will happen. Sometimes this is nice, like when the entire NFL swears up and down that Jim Harbaugh wouldn't go back to Ann Arbor for love or money. Sometimes it is not nice.
If we aren't already at the tipping point where "Wilton Speight makes a lot of critical mistakes" is a reasonable, seemingly immutable theory, surely we are approaching it.
The weird thing is the way these critical mistakes are loosed into the world. Anybody can throw several passes into defenders' facemasks. Killing your team with a blizzard of boggling interceptions is almost common in college football, where injuries and the vagaries of rostering regularly see peach-fuzzed high schoolers thrown into a tank of piranhas. Sometimes people transfer from Tulane and are expected to stop throwing interceptions, for reasons unknown.  Also apparently the NFL has this issue. Twitter informs me Scott Tolzien—yes, that guy—started a game this weekend. Twitter hastens to note that things did not go well. The hopelessly overmatched panic machine quarterback is so common it's a football trope.
Speight, on the other hand, has an air of cool control up until the moment he wings a pass so high that Donovan Peoples-Jones correctly decides his best bet is to spike it, or he turns around to hand air to his running back, or he does that again for the second time in one dang game. He does not seem overwhelmed. He hasn't thrown into coverage except on rare, understandable occasions*. He's yelling at his peach-fuzzed skill player crew about where to line up regularly. He makes a bunch of checks at the line. He is a man in command.
And then.
The very bad events are adding up. Everyone misses guys or makes bad reads or eats a sack on occasion. Speight's bad has been explosively bad, and maximally punished. Thus this column, which is lot like 2015's Jake Rudock is going to kill us column.
Rudock, of course, did not kill Michigan. He turned into a fine college player and Matt Stafford caddy, and even now it's not too hard to see Speight getting it together. His issues are fairly simple to correct; they jumped out at me, a layman, on a re-watch and Speight confirmed it in the postgame press conference:
"What it comes down to is, when there's something going on in my face – when I avoid the pressure – I've got to keep my base. Coach Pep is big on keeping my base. Staying loaded. And sometimes when I move around in the pocket, I get a little sloppy with my feet and it causes the ball to sail or go a little low."
Speight was leaning back a bunch in this game and the resulting throws were high. Nick Baumgardner with a preview of what UFR is going to say:
And feet here ... pic.twitter.com/Amw0zns1nE

— Nick Baumgardner (@nickbaumgardner) September 10, 2017
Also he's dorfing handoffs because he's not listening to Harbaugh. Two seemingly simple fixes yet to make it to the field in year four. This cuts both ways: if Speight can fix his lingering issues Michigan has that commanding guy when he throws straight and does not fumble exchanges, and that seems pretty good.
deep shot hit rate: muchly [Bryan Fuller]
There are very good reasons that Speight is keeping his competition stapled to the bench, and it's that upside. Nobody else on the roster is going to walk on the field and know where everyone else has to be, a critical skill given the average age of Michigan's offense. Nobody else is going to have all the checks in his head, or the pocket presence.
The things Wilton Speight needs to fix are fixable in a timespan of weeks. John O'Korn and Brandon Peters do not have flaws (presence and youth, respectively) nearly as tractable, and so Michigan is going to ride with Speight and hope like hell these blips are just that, and not a pattern that will clobber a promising season like it did in Iowa City last year.
Until further notice, all dropbacks will be evaluated with a jaundiced eye and glance towards Columbus. Welcome to the John Navarre zone.
*[In this game he tried a deep shot to a bracketed Peoples-Jones because there were only two guys in the route and both were covered and what else was he going to do, which is fine.]
HIGHLIGHTS
Inside Michigan Football:
AWARDS
mobile man mauls Mouhon [Fuller]
Known Friends And Trusted Agents Of The Week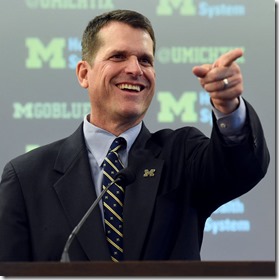 you're the man now, dog
#1 Mason Cole. This is a bit of a guess but OL never get the proper amount of respect in this section because I haven't gone over things with a fine-toothed comb yet. Cole helped Michigan bust a lot of crack sweeps, and while Isaac got the yardage on the long one it was Cole's ability to ID the force defender, declare him harmless, and go wreck a safety that sprung the play. He gave up nothing in pass protection, as well.
#2(t) Khaleke Hudson, Devin Bush, and Tyree Kinnel. Michigan's bushel of short fast dudes on defense terrorized the Cincinnati backfield, collecting all of Michigan's sacks on the day. Each also had their moments in the ground game as well; Kinnel in particular had a couple of critical tackles. Oh, and a pick six. (That was a bit of a gift, yes.) I'm rounding up and giving each gent a point. The points are made up and don't matter, people!
#3 Ty Isaac. Isaac was Michigan's best back again, slaloming through waves of opponent players. He alternated bounces with interior runs that kept UC off guard and used his size and speed combination to excellent effect.
Honorable mention: Winovich, Hurst, and Gary were all effective in bursts. Brandon Watson was in the back pocket of many a wide receiver. Grant Perry was efficient, explosive, and dangit that third down was a catch. Zach Gentry had a couple of key receptions.
Honorary Honorable mention: Baker Mayfield.
KFaTAotW Standings.
4: Devin Bush (#1, Florida, T2 Cincinnati)
3: Mason Cole (#1, Cincinnati), Ty Isaac (#2, Florida, #3 Cincinnati)    
1: Quinn Nordin (#3, Florida), Khaleke Hudson (T2 Cincinnati), Tyree Kinnel (T2 Cincinnati).
Who's Got It Better Than Us Of The Week
Grant Perry's third-quarter grab and go both further established him as a bonafide top-flight, experienced receiver but staked Michigan to a two score lead that allowed most to exhale.
Grant Perry with the breakaway speed, scoring a big TD for Michigan. pic.twitter.com/xgJpJYTYqN

— Brad Galli (@BradGalli) September 9, 2017
Honorable mention: This week the good section gets to talk about Pick Six #1 and Pick Six #2. You will like them better here, I imagine. Also: Ty Isaac rips a long one off down the sideline, Speight hits Kekoa Crawford with a bomb; Rashan Gary hulks up after nearly getting ejected and gets the crowd hyped.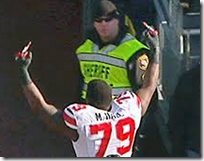 MARCUS HALL EPIC DOUBLE BIRD OF THE WEEK.
Speight's second dorfed exchange ends a promising drive for Michigan and causes even the aggressively reasonable to think this guy has a long term issue.
Honorable mention: Cincinnati rips off a long touchdown drive to start the third quarter and create a period of squeaky bum time; Donovan Peoples-Jones turns out to be Not Jabrill Peppers on punt returns; various Speight overthrows; that one play where both guards pulled in opposite directions.
[After THE JUMP: oh also a defense]
OFFENSE
Speight. As above. I've obviously downgraded my expectations for him since the rollercoaster is clearly still in effect. I'm still not anywhere near the complaining wing of the fanbase that fills my mentions with bitches about how I was wrong about something in the season preview. He's the guy, clearly, and if he resolves half of his issues he's a guy Michigan can win many things with opposite this defense.
Insufficient receivers. One mitigating factor for Speight: Michigan is running a ton of max protect, and too often the two or three guys in routes are blanketed. I understand why Michigan's doing it—the right side of the line—but it feels extreme to me when it's goal to go from the ten and Zach Gentry is staying in.
[Fuller]
Grant Perry remains good. Having an utterly reliable slot receiver is a nice thing. Having one who can take a slight horizontal edge and burst for a 33-yard touchdown is a very nice thing. Perry is delivering on all of his recruiting takes and then some; he is a better athlete than those takes gave him credit for. Anyone lacking as sufficient appreciation for his game should just check out the Ohio State wide receivers after two games. Those guys wear defensive backs like parkas, man.
Also Perry did not spin the ball. Not like he was going to. Post-Florida takes about how Perry had some serious growing up to do—or whatever fusty old man stuff was on offer—were ridiculous. He had a bad habit and didn't immediately break it. That habit was not challenged during fall camp, because obviously, and given a week they successfully went back to the hand-the-ball-to-the-ref thing.
Meanwhile Perry's emergence as a 50-catch-plus guy (he's on pace for 52 after two games with not a lot of throwing) takes a lot of pressure off of the freshmen, especially because he can be the chain-mover while they try to grab deeper shots.
jumbo jumbo wide receiver [Fuller]
Each week a new tight end. Heavy rotation at the tight end spot once again and Zach Gentry finally got to display his chops on a couple of downfield catches from five-wide. He looked real good on 'em, and if Speight is going to continually overthrow guys I recommend that he target Gentry a bunch more because he's hard to overthrow.
Wheatley and McKeon also got in on the passing game; Wheatley also had at least one play where he caved in one side of the Cincinnati defense. Ian Bunting's continued sort-of absence is about to be real bad for him since he doesn't seem hurt. He's lost in the shuffle right now.
Very five wide. Michigan's passing spread tendencies were further confirmed in this one, when Michigan seemed to go five wide empty on most passing downs that weren't super long, and several others beside. Michigan did good work from this formation. I wonder when and if we're going to see the rumored tailback participation; through two games Michigan hasn't thrown a single pass to their running backs.
frippery frip [Upchurch]
Well, dangit. The above shot is from Michigan's most frippery-laden play on the day, a couple of fake handoffs followed by a fullback wheel route that Cincinnati covered just fine. You may remember this play from the MSU game a couple of years ago, and that Michigan stole it. I'm impressed that the Cinci guy didn't lose Hill, because who covers a fullback wheel route two weeks into a new coaching regime? This guy, I guess.
Speight had a small window that he missed, and if all of his misses were like the one above we're feeling much better about him this morning. That's off by a little bit; too many of his misses were off  by a mile.
[Fuller]
Inevitable; hopefully fixable. Onwenu had a couple of bad pass protection moments. On one he was straight-up beat by his man and gave up a sack; a second pressure ceded came when he and Ulizio failed to ID and address a stunt between the DE and DT. Later in the game Cincinnati returned to that stunt and the right side of the line handled it, so they are making some progress.
Ulizio was probably fine? Nothing he did jumped out as a huge problem on a surface-level rewatch. I don't recall any pass protection issues, and that's good. Now his level of competence is "less than Florida but greater than Cincinnati." We'll see if that holds up on a detailed rewatch.
Of interest only to obsessives. Second team OL in warmups from left to right: Filiaga, Ruiz, Vastardis, Runyan, JBB. Ruiz wore 96 and got in as a sixth OL a little bit, FWIW. There are a couple of inferences to make there. One: Vastardis is on that line ahead of Spanellis*, a guy who drew a fair bit of "he'll be good down the road" praise this fall. He continues to track as a bonus OL. Two: as soon as they decided on Ulizio they moved Runyan back to guard. Three: no Stueber despite the fact he's seen the field. Back tweak incoming.
*[I know Spanellis is a guard but it would be very easy to have Ruiz or Runyan at C and have Spanellis on the second team line.]
On the one hand; on the other. Nate Schoenle got a fair amount of time, so that offseason hype was also for real. Unfortunately his main contribution was a screamingly obvious holding call that brought back a long crack sweep.
DEFENSE
veeeeeeeeeeeroooom [Fuller]
Even more excellent than statistics suggest. Michigan held Cincinnati to 233  yards of offense—official stats subtracted 33 on the yakety snap on the punt—and while this is very very good it fails to capture the whole picture. Because of the various turnovers in this game, Michigan faced a ton of drives: 16 in total, 15 in the competitive portions of the game.
Of those 15 drives only three lasted more than four plays: the short-field TD drive after the punt muff, the end-of-half drive that Michigan would have had a stop on if not for end of half things, and the 75-yard TD drive to kick off the third quarter. The outing did not feel as dominant as the Florida one because Michigan got hit on some things that all relatively competent spread offenses are going to hit you with occasionally; it was still very, very dominant. Not that I need to tell you that after the defense gave up zero net points.
If this game moves the needle for anyone it's probably Florida; a few twitterers suggested that Cincinnati's offense looked better than the Gators', and they might not be wrong.
this still doesn't go so well [Upchurch]
Familiar bugaboos. When Cincinnati did pick up yards it was almost always in one of two ways: tunnel screens and exploiting Mike McCray in space. Both of those issues cropped up a year ago. Maryland racked up almost 100 yards on tunnel screens in 2016, and McCray's tendency to get lost or outrun when he was forced to leave the box was a major theme during the second half of the season.
McCray's issues in space have waxed and waned sort of like Speight's accuracy. This was not a good day for them. He got beat on a wheel route that wasn't as much of a pick as I thought it was going to be; he got juked badly on a flare to the running back; he more or less tackled the same guy on the holding call at the end of the first half; his zone drops were insufficiently deep on a few intermediate shots.
Michigan's willingness to expose McCray to situations like this is about my only Don Brown complaint. (Let me be clear: this the mildest, most breathtakingly gentle of complaints.) The situation that induced the holding call was inexplicable to me: it's fourth and eleven; Michigan lines McCray up in man in the slot while leaving Khaleke Hudson in the box to blitz. Invert that and things are sure to go better.
There's some level of edge exposure it's impossible to protect McCray from. Michigan should be doing what they can to erase the rest of it. Put anyone else in the slot.
The Don Brown hat trick. I have invented this. A Don Brown hat trick is three sacks from defensive backs. (Viper counts; a natural Don Brown hat trick is three different DBs getting sacks.) Michigan had a Don Brown hat trick in this game with one sack from Kinnel and two from Hudson. Two of those—one each—were Brown blitzes generating free runs at the quarterback. The third was an outstanding play from Hudson to beat the right tackle, get held, and get to the quarterback anyway.
GARY ANGRY. Rashan Gary almost got ejected on a terrible targeting call.
[Upchurch]
Let's try to have that happen in the first quarter of all games going forward.
Escape from slant-corner. Michigan's safety coverage has been good to excellent so far with two major exceptions, both in the second half of this game. Metellus and Hudson both got beat badly on corner routes that could have ceded touchdowns. Hudson saw his man drop a ball in his breadbasket; Metellus's man was overthrown.
Cincinnati did a good job of setting that up by running a ton of slants early in the second half. After the first one Michigan was covering those excellently. Then Cincinnati switched to double moves on those and both safeties got burnt. Something to work on.
[Upchurch]
Already par for the course. Devin Bush got a free run in this game, and this was a sack. So far his ability to come in super hot but still maintain enough control to take a good angle to the quarterback is remarkable. I've seen guys close like Bush did on his sack, and it seems like most of the time the QB steps up and the guy goes flying by.
Beast Mone. Bryan Mone got much more run in this game than he did against Florida. He didn't do anything flashy, but did contribute to a Bearcat interior ground game that was all but hopeless. He again proved he's a useful bull in a china shop on a second-half third and one on which he didn't just stand up to a double but deposited it two yards in the backfield. A nigh-singlehanded third and one stop is a big win.
[Fuller]
From the "happy to be wrong" department. Brandon Watson looked dang good for the second straight game. He had another Mutumbo incident on the sideline, for one. This one wasn't as good as last week's—he'd lost a step and there was a window—but his awareness and ability to track the ball allowed him to break up a decent throw. Two other times he was tested he was there to break it up. He's exceeding expectations.
The cornerbacks are doing so as a group. When guys popped open in this game it was against safeties or in zone pockets. Hill, Long, and Watson have been in tight coverage for the duration.
SPECIAL TEAMS
Goodbye, certainty. If special teams weren't an outright disaster in this game they were close to it. A punt bonked off one of Michigan's blockers for a turnover that led to Cincinnati's first touchdown; Will Hart shanked two second-half punts that set Cincinnati up with excellent field position. Boy, never having to worry about anything on special teams except for that one weird Wisconsin game was great. And now it's less great.
Punt field follies. I thought the first two dodgy punt incidents were more on the blockers not getting out of the way than anything else. I still kind of think that—it looks like DPJ is shouting and pointing on the second one at least—but the insertion of Perry as a punt returner rather argues otherwise. DPJ got yanked after he allowed a very fieldable punt to bounce and then somehow got himself in a situation where he felt compelled to grab it while surrounded by six Bearcats.
The downgrade from Peppers was suddenly apparent. DPJ didn't have to make these decisions against Florida and their cyborg punter. He could just field a 55 yard punt without worry about anyone else, and then go get some yards. When presented with 35-yard wounded ducks he fell apart.
Perry didn't do anything but fair catch balls that should have been fair caught, but that was an upgrade on DPJ. Ask again later.
At least the kickers were good. Nordin hit a couple chip shots and Foug got touchbacks on 6 of 7 kickoffs. #collegekickers can happen to anyone at anytime—Arkansas missed FGs of 19 and 23 yards on Saturday—so I'm not going to dismiss even chippies just yet. Ten more FGAs and then I'll start taking Nordin for granted.
MISCELLANEOUS
I'm tellin' all y'all. Michigan players arriving for the game or Beastie Boys cosplayers?
mock rock plans: revealed [Eric Upchurch]
That's Jared Wangler as Cochese and Henry Poggi as "The Chief," FWIW. Good to see that Poggi's sane-looking-person phase was brief.
Redshirt status, part two. A few freshmen who didn't get during the Florida game hit the field Saturday. Your current redshirt statuses, with new entries in bold:
DUH: Donovan Peoples-Jones, Tarik Black, Aubrey Solomon
SENSIBLE: Ben Mason, Cesar Ruiz, Kwity Paye, Ambry Thomas, J'Marick Woods, Jaylen Kelly-Powell.
MIGHT GET INJURED BEFORE THEY PLAY IN GAME 5: Andrew Stueber, Benjamin St Juste, O'Maury Samuels, Josh Ross, Brad Hawkins.
And the still pristine:
Chuck Filiaga, Luiji Vilain, Drew Singleton, Jordan Anthony, Dylan McCaffrey, Nico Collins, Oliver Martin, James Hudson, Deron-Irving Bey, Donovan Jeter, JaRaymond Hall, Joel Honigford, Phil Paea, Kurt Taylor, Brad Robbins.
I saw Vilain (and Kareem Walker) in street clothes; Martin and Jeter were also not on the dress list. Those three are candidates to play whenever they get back from their injuries. I'd imagine the rest of the guys who haven't played yet are locked into redshirts. I have few complaints if that's how it works out this year. Only Stueber jumps out as redshirt you'd really like to get amongst the third category above.
yea their punishments are swift and hilarious [Bryan Fuller]
Fourth downs. Two bizarre fourth down decisions in this one:
Late in the first half Michigan found itself with fourth and a half-yard at their own 40 after Tarik Black's would-be first down reception was correctly deemed short on review. Despite having Mike Onwenu and Khalid Hill, a combination that barreled forward for four seeming unstoppable yards against Florida, Michigan punted. We've seen Harbaugh cowboy up for fourth and short in that area before, and it's difficult to envision Cincinnati standing up to Michigan's beef machines. Dios mio, man. However, not to be outdone...
Luke Fickell decided to punt on fourth and two, down 13 points, with seven minutes left in the game. This cowardly act was punished with a swiftness. Fickell compounded his error by dithering; by the time he sent the punt team out they had to rush if they weren't going to burn a precious time out; the ensuing snap zinged by a punter who was looking at his feet, preparing his footwork.
In our as-of-yet imaginary list of chickenshit opponent coaching decisions in the Harbaugh era, Fickell's punt slides in just under James Franklin's sad field goal in last year's Penn State game.
giddyup, pardner [Upchurch]
Hat. Chase Winovich borrowed Eric's. That is all.
Time management what? I've seen many complaints online about Michigan's clock management at the end of the first half, none of which I get. Cincinnati starts their final drive of the half with 2:23 on the clock and ends up with third and six two plays later. They call timeout after running the playclock down to 1:03. Michigan could have saved 40 seconds there, but it's hardly egregious to let that run and see what happens on third down. You've still got a one minute drill in good position if you get a stop.
Michigan does not get a stop. A few plays later Cincinnati has fourth and 11 on the Michigan 39 with about 20 seconds on the clock. Michigan calls timeout here to prevent UC from getting a free Hail Mary. ("Don't allow free Hail Marys" has stuck in my mind because of that Penn State game where Brady Hoke called the free Hail Mary timeout for Penn State because he thought he might get a shot at blocking a punt.) This is good clock management.
Fickell then decides to go for it, which seems like a bad idea but doesn't have a ton of downside, and Michigan does the weird thing where McCray is in coverage on their back instead of Hudson. They miss a long field goal attempt at the end of the half.
And... like, so? I'm prone to yell about how everyone should have a Madden 14 year old on the sideline and none of this moves the needle for me. Almost all of this is in the gray area where if someone is wrong it's not by much and isn't likely to impact the winner, or even the score. I'm baffled people are even talking about it.
[Upchurch]
Now with leash. Eric caught a slight tweak to Habaugh's gameday apparel: his playsheet is now lashed to him, so that when he hurls it in disgust it doesn't flit onto the field or end up in the cord guy's neck or whatever. Always thinking ahead to the next rage, that Harbaugh.
[Fuller]
Woof, and woof, and woof. This game was littered with bad calls:
Michigan got hit with a dubious pass interference on Cincinnati's first touchdown drive, which okay Lavert Hill did get in some jersey yanking. But later in the game Tarik Black was yanked backwards when he tried to hitch up with no call. Your author's flashback to last year's Ohio State game was brief and fictionally murderous.
Grant Perry's diving catch was reviewed and still incorrectly called an incompletion, because 80 or 90% certainty isn't enough, I guess.
The aforementioned Gary targeting incident. Only the ejection was overturned; a bogus 15 yard roughing the passer call stood.
Cincinnati's successful passes were about 50% egregious pick plays. Their second touchdown was particularly bad.
A couple of near-tackles didn't get called holding. One was the Hudson sack so maybe that gets thrown if Hudson doesn't get through it.
Cincinnati got called for a terrible celebration penalty when one of their players drew a line under the "Cincinnati" on his chest.
Every college football season has that moment when you remember "oh, right, these guys again." Michigan's came early against UF, and continued here.
HERE
Best: The Defense, Again

I feel like these columns always focus on the offense, and it's not intentional. I really, truly enjoy watching a great defensive effort; few things are more exciting as a fan than a pick-six or a defensive end depositing the soul of a QB about 20 rows into the stands. But while the offense had its ups and downs, its tense moments and discussion points, the defense did basically what its done the past 2 years; strangle an offense and grind it into a fine powder. As I noted above, the Bearcats had 3 legitimate scoring drives (the 2 TDs and the missed FG), and nothing else. And honestly, that first TD was a gift of a short field after a bad punt return. As for the other TD, I don't think it was an illegal offensive PI (as a corner you have to be careful about initiating and maintaining contact with a receiver when they've been using that against you earlier in the game), but the refs definitely allowed more physicality by the Bearcats on offense than you'd expect.
Ecky Pting has a breakdown of win expectations based on fancy stats. Michigan's status before week two:
We'll see how much the Purdue and Indiana wins move the needle for them.
AJDrain reviews some tape; you can take the Fan Satisfaction Index survey. Ace will grapple with EGD's look at Air Force later in the week.
ELSEWHERE
Baumgardner is all up in his mentions, and mine:
It's tough to pinpoint the exact moment when it happened.

But somewhere between a near lost fumble at the goal line and two incompletions in the red zone, the portion of Michigan's fan base who had been on the fence about Jim Harbaugh's quarterback situation for more than eight months invaded my Twitter mentions.

With full force and no time for reason, many of them had seen enough. Harbaugh's not playing his best quarterback, they insisted. Brandon Peters, a redshirt with zero college snaps and third on the depth chart, has to be better than this, they wrote. Has to be.Wilton Speight's just not going to cut it, they typed.

Welcome to Week 2.
Also he tackles the Speight issues:
Peoples-Jones is open with plenty of space pretty quickly here. If those feet get set, as we saw earlier, and he puts the ball on his hands on time then the speedy freshman has a chance to catch the ball, cut up field and make something happen. But he waits a beat, then his feet get flat and everything goes haywire.

His back leg is stiff. He's not stepping into the throw. The ball comes out late and way too high and what had the makings of a nice play goes in the books as an incomplete pass.
Sap's Decals gets literal:
UNIFORM CHAMPION – I can't tell you how cool it was to (once again) see the wolverine decals on the Michigan helmets! As I said last week, as long as Jim Harbaugh is the Michigan football coach, there will be helmet stickers on the Wolverine headgear. Now, from what I can tell, it does indeed appear that the blue outline has been removed and it also seems as though the stickers may be that much smaller in size. Probably a wise move, as making them smaller will allow for more to be placed on the Michigan helmets. I'll see if I can track down one and provide a more detailed analysis later in the season.

I also noticed that the warning label has been moved from the side of the helmet to the back and bottom of the helmet. Why do I call this out?  Well, this frees up more space on the helmet for at least one more helmet sticker, but more importantly, this allows for a more symmetrical placement of the stickers on each side of the helmet.
HSR:
Sports are not necessarily a form of art, but they inspire passion and evoke emotions in people.  This builds communities of fans and followers.  Nick Hornby explored this ground in a number of his early works, after all.  This game was a mediocre album, maybe one or two solid singles, but lacking the depth to make it a classic.  Let's hope next week is a return to form.
Memories of first home games. People showed up.
Maize and Blue Nation. Maize and Blue News. Maize and Brew caught the fun bit of the halftime show:
Don Brown's second team defense warming up on the sideline pic.twitter.com/fgRrkLaU1D

— Maize n Brew (@MaizenBrew) September 9, 2017
As they filed back out afterward there were some kids lining the tunnel who punched every dinosaur in the head, to general hilarity.
Zack Shaw; Harbaugh punt return explanations.