My Heart Is Full Of Nick Ward's Ankles
1/13/2018 – Michigan 82, Michigan State 72 – 15-4, 4-2 Big Ten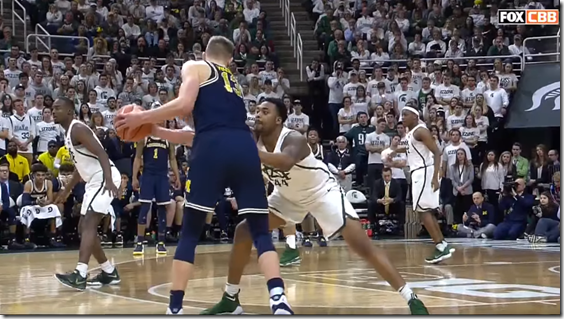 You may be aware that many college athletes with the option leave early for the pros.
I, too, am aware of this phenomenon because it has impacted me repeatedly. I am at peace with some of these departures. Win a big thing, do a business, and/or scrape the ceiling of your potential and I'm cool with it. Charles Woodson, Trey Burke, Nik Stauskas, Jack Johnson: go on, get out of here.
Other guys absolutely should not and do not have to listen to my feelingsball about their careers, but their departures sting because they're on the verge of an all-conquering season that we never get to see. They leave Michigan without an indelible moment, or cathartically satisfying victory, or without setting several college towns across the Midwest ablaze with their mind.
That's mostly fine; I'm not going to tell anyone to not get paid if they can get paid. But their careers at Michigan will perpetually feel a little incomplete. Guys in this bucket: DJ Wilson, Max Pacioretty, Mitch McGary, and yeah probably even Jabrill Peppers. The first thing I think about when any of those guys gets brought up is what could have been and was not. Nobody's fault. Just a thing. If "oh God what if DJ Wilson was on this team" didn't flash across your mind at some point during this week, you're a more serene man that I.
Anyway, Moe Wagner can go now.
Ankle. Breaker. pic.twitter.com/4eqzP6GfsI

— Sports Illustrated (@SInow) January 13, 2018
Moe Wagner could announce he's leaving the team this afternoon and I'd be fine with it*. Moe Wagner induced the most beautiful and futile Michigan State floor-slap of all time from Nick Ward's face. My heart is as full of Moe Wagner as it needs to be, for all time.
*[Note to Moe Wagner: please do not call this bluff.]
------------------------------------------
That there is a rest of the season after the events of this week is promising and also somewhat alarming. If Michigan could pull a Costanza here and immediately leave the meeting I would counsel them to do so, but there are games scheduled and so we press on. Suddenly every single one of those games except @ Purdue and maybe home against OSU is a game we're going to be real upset about losing, because the Big Ten is bad and Michigan is... very good?
Yes. Poke a rating system and it will tell you this. Kenpom flung Michigan up to 17th after the MSU game; Bart Torvik's system has them 14th. At some point we're probably going to start futzing with the stuff on Torvik's site that allows you to rank teams over an arbitrary period of time, like we did last year. Last year's post-Maverick team was a top ten outfit, period. This one might get there.
If it does, Michigan's ability to play unprecedented Beilein-era defense while simultaneously running a vicious five-out offense will be the reason. The play of the game wasn't actually Wagner turning Nick Ward's ankles into slurry (yes it was –ed) but rather his first pick-and-pop three just a couple minutes into the game. He canned that, and his next one, and aside from that one terrifying period midway through the first half when Jaren Jackson was Dikembe Mutumbo, Wagner's ability to haul his man out to the three point line created driving lanes.
These were less lanes and more caverns against Cassius Winston. Zavier Simpson missed three fast-break bunnies in the first minute, possibly because Jackson was swinging his crazy Gumby arms at them. After that he had 12 points on seven shot equivalents from inside the arc, five assists, and no turnovers. Simpson is coming into his own here, but if you took bets about who was going to be Michigan's most efficient scorer against a team of Ents that's blocking 20% of opponent shot attempts... well, Simpson's odds would have looked a lot like the Vikings'.
Meanwhile on the other end, Winston hit a couple shots but turned it over four times and finished with a game ORTG of 90. Simpson took that dude to the cleaners to the point where Izzo called his point guard out in the post-game press conference. (Izzo would like to make it clear that it's all his fault and he's taking 100% responsibility and also his point guard sucks and he hates him.)
Anyone who tells you they saw that coming short of Zavier Simpson's mom is lying... probably. Maybe there is a cadre of the aggressively reasonable out there, folks who can squint through whatever struggles that freshman or sophomore is having in John Beilein's offense and can see through to the finished product. If there are Michigan versions of these people they are sages indeed. Hypothetical MSU versions just have to look at the court, because whatever Miles Bridges is today he'll be until he escapes Tom Izzo's sweaty, increasingly unhinged paws.
Moe Wagner is one of the country's 40 best defensive rebounders, incidentally. He's a human vacuum now, which is convenient. We have to get the exploded remnants of Nick Ward's lower body off the court before resuming. That's tough, but I've got just the guy for the job.
BULLETS
Obligatory ref rogering section. Michigan State was in the bonus with five minutes gone in each half. This happens every time Michigan plays at Breslin despite Michigan's annual status as one of the nation's most foul-averse teams. (They're less so this year, 93rd instead of top ten, FWIW.)
The only surprising thing was that it took three minutes for TV Teddy to put a garbage foul on Mo Wagner, who watched Nick Ward fall over—inner ear issues for that dude—of his own volition and got hit with a potentially critical foul that took Michigan's leading scorer out of the lineup. His second foul was similarly phantom. It continued much in that vein:
THAT'S A FOUL AT BRESLIN.

AND BRESLIN ONLY. pic.twitter.com/9E7sV5pJ0N

— Due# (@JDue51) January 13, 2018
Michigan had 16 free throws during Tom Izzo Eats His Liver Time; before that they had 19 to MSU's 33. This was not an effect of three point shooting. Michigan had just 15 threes; MSU had 12. Michigan had 14 bonus possessions (+3 OREB and -11 turnovers) and continued attacking inside. Michigan got called for nonsense, and MSU didn't.
〽️This was a "foul" just called on Rahk in the pink shoes. Getting rubbed off a screen.

F$&k you, @bigten . F$&k you. pic.twitter.com/M2nsqbAnKn

— FnA Wolverines (@FnA_Wolverines) January 13, 2018
This annually makes me furious. It's never going to get any better. But after Michigan was good enough to pull away and force TIEHLT with two minutes left, it's all the more reason to savor the performance. It would have been very, very easy to lose composure. Equivalent performances on a neutral court and Michigan blows the doors off by 20.
How about those free throws, though. Michigan was 18/19 from the line before those four terrifying Simpson misses. If they hit their season average... it does not bear thinking about. One dollar to whoever came up with the inbounds play where Simpson and MAAR swapped roles after the whistle blew. That got a 91% shooter to the line instead of a 52% shooter.
Simpson's performance at the line is increasingly inexplicable with every three he cans. He's verging on having a better 3PT% (47%) than FT% (52%). He was at 71% last year on 31 attempts, and he's a much better shooter this year. I don't get it. Hopefully it's salvageable. Having two non-big 50% FT shooters on the floor is rough.
D up. I caught a couple more Jordan-Poole-gets-caught backcuts on the replay; those stood out as almost the only easy buckets MSU got all game. Remember MSU running off of makes for 6-10 points for the last five years? Yeah, that's gone. MSU had almost literally zero transition offense.
This is a trend. Ace mentioned this on the podcast: Michigan's transition D is absurd.
a fun, related synergy stat that we touched on during the podcast today: Michigan leads the country in transition defense PPP (0.744). opponents have eFG% below 40 and an 18% turnover rate. https://t.co/Ix06LCGisW

— Ace Anbender (@AceAnbender) January 14, 2018
Now that the rest of the D is actually pretty good that's paying off more and more.
Duncan was okay, and this is a big W. Michigan largely got away with Duncan Robinson versus Jaren Jackson. Jackson got a couple buckets on him, but Robinson was able to push Jackson out almost to the three point line repeatedly. MSU was trying to force the ball down Robinson's throat to the detriment of their offensive flow, and several possessions featured MSU wasting half the shot clock trying to exploit that matchup.
With Livers in foul trouble for a chunk of the game Michigan's ability to cope with Duncan Robinson on a top 5 NBA draft pick was a huge factor in the W.
Rebounding: real. I'm calling it: Michigan is a legitimately excellent defensive rebounding team. They just played the two burliest teams in the league and outrebounded both. They've also played Iowa, which is the top OREB team in league play, and fought them to a standstill.
I enjoy Jon Teske. Teske had 3 OREBs in just 8 minutes here and put up 4 points on 3 shot equivalents; he committed three fouls, but see above about the impossibility of a Michigan shot-challenger staying on the court at Breslin.
As a bonus Austin Davis didn't look overwhelmed during his two minutes, grabbing a board and playing a couple of defensive possessions well. Never write off a big.