Morgan Trent Is Not All In
Another week, another riot. We are all Greek. The cause of this one:
At the end of the book, Deren describes the scene with Lloyd Carr, the former Michigan head coach that recruited Trent to Ann Arbor, breaking the news to Trent that current head coach Rich Rodriguez did him no favors.

"Rodriguez had bad-mouthed him to every NFL scout he could," Deren writes. "Rodriguez claimed that Morgan was lazy, he had an attitude problem and he was a big reason the Wolverines finished with a 3-9 record…"

Trent admits the words were "jarring," and they were hard to understand given that he was so serious about his career that he actually moved in with his brother and sister-in-law and their two small children while going to Michigan. [ed: "Morgan Trent was so serious about football he decided to save on rent."]

But Trent was also worried about what Carr thought about his words showing up in the book. He talks to him, not Rodriguez. "I really like Coach Carr. He's been very good to me," Morgan says. "I think at first he was wondering, but I let him know it didn't put him in a bad light. I would never do something like that to Lloyd. He's great." …

"I guess it was motivation," Morgan says of the words that Deren estimates may have cost him $1 million. "(I) want to show people it was all false."

Consider it done.
Here we go again, after one hell of a game of telephone from Rodriguez to NFL scout—at this point the story can get passed to and fro ad nauseum—to Carr to Trent to book author Deren. Rodriguez issued a denial…
"The comments attributed to me are inaccurate and absolutely ridiculous," Rodriguez said in a statement. "I said just the opposite about Morgan Trent to NFL scouts and wish him well with the Bengals."
…but even so, don't you kind of believe it anyway? Don't you sort of want to believe it? I believe Rodriguez told NFL scouts some version of what Deren says. I also believe that Trent was a lazy player with an attitude problem who was one of the main reasons Rodriguez's first team was a jumbled sack of cats attempting to claw in 20 different directions. Even if he didn't say it, I believe the words attributed to Rodriguez are accurate.
Trent's personal animosity towards Rodriguez has been made plain. We've previously established around here that football players are not compliance experts and the distinction between countable and non-countable hours befuddles even said experts. A former player's opinion on Michigan's we're-talking-about-stretching violations says more about his relationship with Rodriguez than anything about the violations. It's a Rorshach test. What Morgan Trent sees*:
"I'm not surprised because I know what happened, and I know what kind of rules were broken. I couldn't see how they were going to get out of that."

"Whatever steps need to be taken (to restore Michigan's winning tradition), I'm all for it. What is happening right now obviously is not working. I don't know how long they're going to let this last until changes are made."
"Coach Rod's a good coach, and people are just trying to get him in trouble to me," Graham said.
So Morgan Trent is not disposed to give Rodriguez the benefit of the doubt when Lloyd Carr convenes a special meeting of the Anti-Rodriguez illuminati with the express purpose of revealing the dastardly secret carried about by Rich Rodriguez…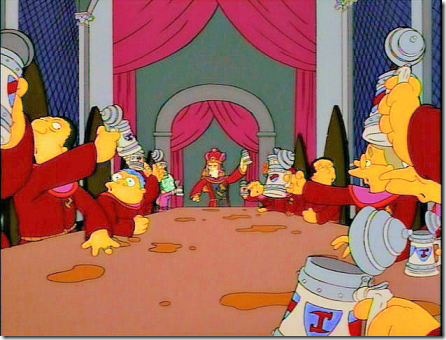 who controls the practice logs?
who puts Michigan Stadium in a bog?
weeeeee dooooooo… we do!
…that any Michigan fan could already have told you.
Here is the reason Morgan Trent went in the sixth round:
this happened like eight times in that game
He was not particularly good at football. He badly regressed after a promising junior season. Then when he went to the Shrine Bowl he "struggled," reinforcing the opinion of scouts "already down on him." The reason for this is now obvious: he hated the transition to Rodriguez, probably hated the coach himself, and spent a year half-assing it. The responsibility for this lies with Morgan Trent, even if he was so serious about football he lived with relatives(!). Attempts to deflect it only reinforce the very criticism (possibly) leveled by Rodriguez. It had nothing to do with the quality of the team, as Trent claims elsewhere in the article. A guy from Hillsdale went in the third round this year. The Bengals hadn't even talked to Rodriguez and still waited and waited and waited to take him.
During the very moments when Trent was doing whatever it was that made him a team cancer, Brandon Graham was turning himself into a first-round pick. We have not had any reports on what Rodriguez told NFL scouts about Brandon Graham, but dollars to donuts they were along the lines of "draft this man first overall and ask if he will adopt your kids." The reason Rich Rodriguez would say this is because of the things Brandon Graham did. You see, Rudy?
Now, there are a disturbing number of people who look at the Rich Rodriguez inkblot and see big pointy teeth. One major reason for this is that Rodriguez appears to be much harder on his players than Lloyd Carr. It's the very tippy top of the peak of hypocrisy for any Bo-venerating Michigan fan to look down on Rodriguez for this (his failure to resemble Bo in the win column is another matter). Part of that veneration is accepting the idea that being a coach often involves being very harsh to people who aren't living up to your expectations.
I wish that Rodriguez had managed to enter more smoothly but don't really blame him for the massive culture clash no one from fans to players to athletic director anticipated. He has a track record.
To be perfectly blunt and enraging to the denizens of the comments who get enraged when people pop on here and say dumb MLive-type things about departed players, I do blame Trent. Michigan is not going to be in good shape if Rich Rodriguez leaves after this year, and Trent would clearly like to see that happen and is operating either without a care as to how his inability to suck it up affects the program or with the express intent of getting rid of Rodriguez. Loyalty to the institution does not occur to him. It appears that correcting the record is so important to him that he's willing to sell out his alma mater to refute allegations that may not have actually happened and no one knew about. In doing so he's convinced me that the potentially fictional and definitely obscure allegations are true.
So… congratulations Morgan. You've invented a variant on the Streisand Effect.
As for Carr, he gave explicit permission to Trent to sell Rodriguez out in this book:
But Trent was also worried about what Carr thought about his words showing up in the book. He talks to him, not Rodriguez. "I really like Coach Carr. He's been very good to me," Morgan says. "I think at first he was wondering, but I let him know it didn't put him in a bad light. I would never do something like that to Lloyd. He's great."
No, just Rodriguez. Any question as so whether or not there is a major rift between the two coaches is now gone. If there wasn't, Carr would have talked to Rodriguez about it. He would have gotten some clarification or a denial or something, and he wouldn't have presented it to Trent in the fashion he did. If he didn't do that, he would have told Trent to shut up when given the opportunity.
If there is really a New Era of Accountability in the athletic department, Carr and David Brandon should have a come-to-Jesus meeting in which Brandon does a lot of screaming. Trent is a pissed-off kid who was working for a scholarship. Carr is supposedly a program icon and an athletic department employee. Michigan shouldn't be paying someone who is actively working against the interests of the athletic department. It's obvious that Carr could have helped smooth things over with any number of players but chose not to, chose to exacerbate things in certain situations. He could have been of help during the transition; he was the opposite.
Through it all, Rodriguez just grits his teeth and asks if you've heard his Lion King joke. I shudder at the tell-all book that will inevitably follow a Rodriguez canning.
*(meta: I had to link to a mgoboard message board post instead of the News because the News shoved their story behind a paywall a month after they posted it. No one is ever going to pay for that article. Go newspapers.)