More Or Less Making Sense Most Of The Time
11/21/2015 – Michigan 28, Penn State 16 – 9-2, 6-1 Big Ten
[Eric Upchurch]
I have seen things when Michigan plays Penn State. I have seen boggling things. Things I should not repeat but am about to anyway.
I have seen a free Hail Mary handed the opposition. I have seen a timeout just before an intentional safety. I have seen 27 runs for 27 yards. I have seen Michigan's slot receiver left alone, all alone. I have seen a slot receiver wonder if any of these 100,000 people can see him, especially the offensive coordinator. I have seen a slot receiver's constituent atoms disperse as he convinces himself he must not exist after all. Then I saw some more runs for one yard. Somewhere in there Dennis Norfleet dances in a loop for all time, because sure that makes as much sense as anything.
I have been baffled. I have been enraged. I have been morbidly entertained. I have been stupefied, watching Michigan play Penn State.
---------------------------------------------
Things have been a bit frustrating the past few weeks, what with an avalanche of procedure penalties, offsides calls, and special teams mishaps. But when presented with a situation where they did not expect to and could not run the ball much, Michigan did not repeatedly bang their collective head into a brick wall.
Michigan's final drive featured five De'Veon Smith runs and one kneel-down. Five Jake Rudock attempts were sacks or scrambles. Once those are put in the appropriate bins, Michigan ran just 19 times to 43 passes.
Two years ago in that very stadium a complete wreck of an offensive line took on an equally stout Penn State defense. They didn't throw one wide receiver screen. Fitzgerald Toussaint ran 27 times for 27 yards. This year before garbage time time, De'Veon Smith had 8 carries; 6 went to Chesson and Peppers.
Michigan's going to be a good rushing offense. Probably great. But even though that's what Harbaugh wants to do, he adapted to the situation he was presented with. That's terrific.
Coaching can be divided into a few different categories. Development, recruiting, and tactics seem to cover the bases. While Michigan is still struggling with the near-total lack of the former under the previous regime, the latter was totally on point here. Can't say that about two years ago. Or a year ago. While Michigan remains a bit wobbly, a bit rickety, the things they are doing make sense.
Michigan played Penn State on the road and the only stupefying things that happened came from reliable sources like Big Ten referees and James Franklin trying to manage a game. Meanwhile Ohio State played Michigan State in the most stupefying game of the year. Now is the time to sit back and appreciate the fact that things more or less make sense.
It ain't perfect and it'll never be, but Michigan tries a bunch of things and takes what the opposition gives and if something isn't going great they stop doing it. The only time I've gotten really twitchy about tactics was against Indiana when Michigan ran play action on second and twenty that led to an interception. (I was mildly twitchy about Michigan's passivity on Indiana's go-ahead touchdown drive.)
In a world where Ohio State throws 16 times against Michigan State, where Tim Beckman is seen as a viable hire for a position more involved than vending machine*, where every coach in America seems to need a 14-year-old kid who plays Madden nonstop on the sideline, "more or less makes sense most of the time" is gold. Michigan's coaching staff has not punched itself in the face for four hours on any given Saturday, and in the cold light of dawn two days after a stupefying weekend of college football that warms the ol' cockles right up.
*[Not "vending machine technician." Vending machine.]
HIGHLIGHTS
Parking God:
Wolverine Devotee:
Also a Butt TD solo clip.
AWARDS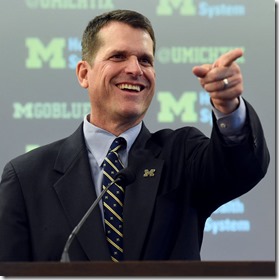 Known Friends And Trusted Agents Of The Week
you're the man now, dog
#1 Amara Darboh changed the complexion of the game with an outstanding tip-toe catch along the sidelines at the end of the first half. He had six other catches and blocked for a bunch of wide receiver screens, as well.
#2 Chris Wormley was the most consistent and dangerous of Michigan's defensive linemen, racking up 1.5 sacks and another half TFL. Wormley and the rest of the DL gave up one big Saquon Barkley run (mostly on Willie Henry and the linebackers) and shut everything else down, leaving PSU relying on the tempestuous Christian Hackenberg to move the ball.
#3 Jake Rudock threw one ugly interception. When not doing that he completed two-thirds of his passes for 256 yards. 6.7 yards an attempt isn't electric but since a half-dozen or more of those were wide receiver screens that Michigan used in place of a running game that may understate things. Also, Penn State has had one of the best pass defenses in the country to date.
Honorable mention: Jake Butt and Jehu Chesson had 66 and 69 receiving yards, respectively, and along with Darboh have established Michigan's receiving corps as a very good one. Henry, Hurst, and Taco Charlton helped out immensely, minus the Henry cut. Jourdan Lewis remains Jourdan Lewis; his KO return also helped seal the game.
KFaTAotW Standings.
9: Jourdan Lewis (#1 UNLV, #1 Northwestern, #1 MSU), Jabrill Peppers(#2 BYU, #2 Northwestern, #2 MSU, #1 Minnesota)
8: Jake Rudock (#3 Northwestern, #1 Rutgers, #1 Indiana, #3 Penn State), Chris Wormley(#2 Utah, #1 Oregon State, #3 Rutgers, #2 Penn State)
5: Jake Butt(#1 Utah, #2 Rutgers)
4: Maurice Hurst (#2 Maryland, #2 Minnesota),
3: De'Veon Smith(#2 Oregon State, #3 BYU), Ryan Glasgow (#1 BYU), Desmond Morgan (#1 Maryland), Amara Darboh(#1 PSU)
2: Ty Isaac(#2 UNLV), Willie Henry(#3 Utah, #3 MSU), Jehu Chesson(#2 Indiana)
1: AJ Williams (#3 Oregon State), Channing Stribling(#3 UNLV), Blake O'Neill(#3 Maryland), Drake Johnson(#3 Minnesota), Delano Hill(#3 Indiana).
Who's Got It Better Than Us Of The Week
This week's best thing ever.
Jourdan Lewis rips off a 60-yard kickoff return after Penn State draws within five, setting up a short field that Michigan drives for a game-sealing TD. Better is that he called his shot with Harbaugh beforehand.
Honorable mention: Darboh's tip-toe catch. #Buttdown. Harbaugh strippin' rage. Any number of sacks and TFLs.
WGIBTUs Past.
Utah: Crazy #buttdown.
Oregon State: #tacopunts.
UNLV: Ty Isaac's 76 yard touchdown.
BYU: De'Veon Smith's illicit teleporter run.
Maryland: Jehu Chesson jet sweeps past you.
Northwestern: Chesson opening KO TD.
MSU: the bit where they won until they didn't.
Minnesota: form a f-ing wall.
Rutgers: Peppers as Denard.
Indiana: Delano Hill seals it with a PBU.
PSU: Jourdan Lewis breaks their back on a kickoff.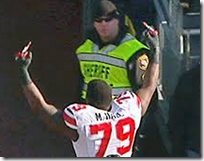 MARCUS HALL EPIC DOUBLE BIRD OF THE WEEK.
This week's worst thing ever.
Ohio State tests Michigan State's secondary twice. In a game of football. Against Michigan State. What are you even doing?
Honorable mention: Punt blocked. Any number of offsides or false start penalties. The touchdown Peppers allowed. Any number of infuriatingly bad calls. That fourth and ten conversion against great Lewis coverage.
PREVIOUS EDBs
Utah: circle route pick six.
Oregon State: Rudock fumbles after blitz bust.
UNLV: Rudock matches 2014 INT total in game 3.
BYU: BYU manages to get to triple digit yards in the last minutes of the game.
Maryland: Slog extended by deflected interception at Houma.
Northwestern: KLINSMANN OUT
MSU: Obvious.
Minnesota: The bit where the lost it until they didn't.
Rutgers: KO return given up.
Indiana: run run run run run run run run run run run run.
PSU: OSU's WHAT ARE THOOOOOOSE gameplan against MSU.
[After THE JUMP: defense back, Rudock maintaining.]
OFFENSE
SLIGHTLY IRRITATED FOLLOW-UP TO THE THING ABOUT COACHING. WHAT ARE YOU DOING THROWING 16 PASSES AGAINST MICHIGAN STATE'S SECONDARY, TIM BECK?
[Upchurch]
Wide receiver corps is… dang good? There were a bunch of questions before the season that seemed to be borne out by early-season mishaps, but now that it seems like Rudock and his wideouts are on the proverbial same page, I really like Michigan's combination of skills.
Chesson can take the top off a defense and demands safety attention. Darboh can make leaping circus catches and power through DBs for a critical yard or two on third down. (The latter ability was brought into sharp relief on a third and medium on which Rudock hit Damario Jones a couple yards short of the sticks. Jones attempted and failed to grind out the last two yards.) Butt is a wide receiver who is 6'6" and often draws linebacker or safety coverage. The post-corner he ran for Michigan's first touchdown saw a safety get wrecked by his inside move, and then when you throw at your margin for error is huge.
None of these guys is Braylon or Manningham—Butt has that much talent but as a TE he is in a different category when it comes to overall impact in the pass game—but as far as top troikas in recent memory the only set that's clearly superior is Braylon/Avant/Breaston.
Perry coming along a little. Grant Perry has re-emerged as the season's gone along here. In this game he caught a screen and also had a few nice blocks when Darboh was targeted.
Smith against a DB often ends like this [Upchurch]
Smith is the anti-Poor Damn Toussaint. I've given Smith a bunch of stick for missed cuts and being slow. That's not his whole game, though. Smith has been outright terrific in pass protection all year, and after Devin Gardner got ruined by a lack of same that's something we should take a moment to appreciate.
Smith's actually an interesting third down back now. He's great in pass protection. If the opponent runs zone, dumpoffs to him feature the DB-vs-Smithzilla matchup that never, ever goes well for opposing defensive backs. A few times in this game he got a dumpoff that didn't look particularly likely to succeed; he blasted through DBs for solid gains on all of them.
I kind of want Smith to become a Harbaugh version of BJ Askew. Askew bounced between RB and FB for the duration of his career and was also the third down back. With FB open next year, Smith's blocking ability (he sprung Chesson on his jet sweep with a terrific cut block), the frequency of FB runs in this offense, and the third down stuff I think that's a terrific way to get him ten or so touches a game and take advantage of the good things he does.
Peppers the tailback. Peppers got five carries in this game, many of them inside zone runs from the shotgun with Michigan spreading the box as much as possible with Baylor-like WR splits. Until PSU got sick of this on the last one that setup was highly effective. In general, Peppers has a combination of speed and surprising power after contact that very much appeals.
He probably can't pass block even a tiny bit, but I'd rather have him rolling into a route anyway. I wonder if we get some Peppers/Smith backfields out of the gun against OSU.
Rudock's game stands up. Jake Rudock's stats weren't as whiz-bang as those from the previous two weeks, but this was a slightly better defense he was going up against. PSU entered the game fourth in the country in YPA allowed and is still 6th nationally in S&P+. Rudock's consistent, efficient 6.7 YPA is excellent in context. Rudock's day was highlighted by a near-replica of the bad-ass dig route that Chesson scored on against Indiana, down to the baffled defensive backs hammering each other:
I've been trying to ignore this for much of the year, but S&P actually likes our passing offense a lot—they're 22nd. Rudock is completing 64% of his passes for 7.0 YPA with a 16:9 TD-INT rate against a number of defenses that are good against the pass.
Too much of Rudock's production has come against the really bad defenses on the schedule for me to agree that Michigan's passing game has actually been a top 25 outfit over the course of the season. But if you're asking me about this weekend? Yeah, I buy it.
This of course only adds to Harbaugh's reputation as a quarterback builder. QBs just cannot stay bad when coached by him. That is an incredible asset to have your head coach bring to the table.
Interception was not so much. Rudock's interception was pretty bad. It was immediately after he got wrecked when Kyle Kalis missed a stunt pickup, which probably contributed to a bad decision. That'll happen, and it was the only throw of the day that was remotely close to an INT. I'll take that against a proficient pass D.
OL bits. The most interesting bit of the PFF take on the  game may in fact be something about Penn State. Austin Johnson was slightly negative and Anthony Zettel approximately even on the day:
Neither Zettel nor Johnson were able to get much going versus the Wolverines' offensive line, with Zettel getting four pressures and Johnson zero.
Pass blocking was a bit iffy against Indiana but the line rebounded with a strong outing. Rudock didn't get nailed much other than the one ugly sack. Nassib's absence had a lot to do with that but Penn State has a bunch of guys who contribute in that department and a suite of blitzes that have been quite successful this year. FWIW, Cole managed to break the defensive front's deathlock on the top 5 performers.
I'm not sure I can agree with PFF's grade for Rudock (-1.3), as he had an efficient day against a good defense. That seems exceptionally harsh for a productive outing in which the screen stuff probably his YPA down (in contrast to the Rutgers screens that averaged about 25 yards a pop).
DEFENSE
[Upchurch]
A bad start… Barkley's first carry broke for 56 yards.
That is about 70% Henry, as Michigan has a slant/backside blitz. He gets cut and the G can release free. Henry has been very good this year but when he ends up on the backside of a stretch he gets cut a lot.
Neither LB does great. Both should be expecting cutback; Morgan overcommits to the frontside and then Bolden's first instinct is that super frustrating thing where he tries to go upfield. Bolden needs to give as much ground as necessary to get around the pulling G and do something, anything to slow Barkley. Bolden does this all the time. He rarely understands when he needs to mitigate instead of MAKING PLAYS.
This view makes it clear that there was nothing Wilson could do. Barkley cuts right upfield with no delay and he's shuffling to stay with the stretch; there is no way anyone but a superhero can shut that much space down when the play breaks that quickly. Wilson did manage to tackle, which saved Michigan four points.
[Upchurch]
…but after that, nothing. Barkley's 14 subsequent attempts netted 12 yards. Michigan executed a zone-oriented run blitz much better in this game than they did against Indiana. It is in fact the one you see in the GIF above where a DB or LB is put on the backside and the line is free to slant hard to the play. Michigan had one more hiccup that saw Barkley grab 15 yards. Everything else was throttled.
On the bright side, maybe we can keep him around a bit longer. The Penn State touchdown was a pretty terrible play by Peppers. There are underthrown deep balls on which circumstance dictates you get beat, and then there is what happened to Peppers.
I thought the long completion Jeremy Clark got beat on against Indiana was mostly fate. The WR is always going to have an advantage when it comes to finding the ball. The WR looks, and then the CB sees that and looks himself. In the split second that takes the WR can get the drop on the CB. Clark got beat in that moment.
The PSU touchdown was not that.
Peppers turned his head and then got completely lost. Instead of locating the ball and slowing down to try to make a play on it he turns back upfield and tries to find the WR again. That's frustrating. If Peppers slows up and leaps for the ball and it goes over his hand, I can live with that. Instead the WR is uncontested.
Still, Peppers is getting better in coverage. He was challenged several times in this game and only truly beaten on this play. He got an important PBU one of PSU's goal-to-go situations and probably would have had another on third down, but Hackenberg got pressured and threw it high. He's come a long way from the opener, when he couldn't stay particularly close to Britain Covey.
ouch, ouch, ouch, ouch [Upchurch]
Hackenbleurgh. Michigan sacked Hackenberg four times and pressured him on a whopping two-thirds of his dropbacks, according to PFF. Par for the course for both teams this year.
Reconfigure. Michigan started the game playing Taco Charlton as the buck. Sort of. Charlton was playing defensive end. He did not pop out as a quasi-linebacker at any point. But he was out there with Wormley, Hurst, and Henry. That's a move I wondered if they might make next year. After the Glasgow injury that timeline accelerated.
James Ross has not proven to be a guy who can play DE at 230—not that anybody can. Meanwhile there's more pressure on that spot to be a solid run defender in the absence of Glasgow. Even if there are fewer coverage/stunt hijinks you can run with Charlton out there as a true DE, he's an upgrade on Ross when it comes to the day-in, day-out work there.
With Mario Ojemudia and RJS graduating, options at buck next year are:
Lawrence Marshall, who we've seen neither hide nor hair of despite a bucket of preseason hype.
Redshirt freshman-to-be Rueben Jones
A 6'6", 280 pound senior who has earned significant playing time on a great DL and done well with it.
With Mone returning, Hurst's ability to move to three-tech, and hopefully true freshman Rashan Gary, Michigan won't need Charlton to provide depth at SDE. And he did well for himself as a starter-ish here:
The most successful pass-rushers were DE Taco Charlton (+4.6), who had seven total pressures with two sacks, and DE Chris Wormley (+3.7), who had 10 total pressures also with two sacks.
On another defense Ross might be a star [Upchurch]
Linebackers… eh. Another game in which the linebackers weren't that relevant because the DL was so dominant. James Ross, freed up by the Charlton move to be the SAM he was supposed to be, had a couple of outstanding plays on the edge where he did that annihilate-blocker-in-space thing. It must be very frustrating for him to finally have a position and for that position to all but drop out of the defense.
Bolden, Morgan, and Gedeon did a good job cleaning up on the backside when Barkley would try to make something out of a disaster zone, so there's that. I thought the Barkley wheel route was mostly RPS.
Dymonte Thomas is pretty fast. Thomas got over the top of one of Hackenberg's deep balls and had a shot to intercept. He was on a dead sprint and could not do it, but I don't think we've seen a safety manage that in a long time. Jarrod Wilson is going to be one of the more underrated guys of the past few years because he is boring; I do not expect Thomas to be boring, and I mostly expect to regret that. But if he can make up for it by being more of a playmaker then we are in business. I have nothing concrete here; I just want to note that he felt really fast for the third straight week.
SPECIAL TEAMS
Punt block. Okay. That one is on Baxter, as PSU overloaded the weak side and overwhelmed the three blockers. Michigan would get the yardage back later on…
The back-breaking KOR. Not bad:
This return by Jourdan Lewis today: Wow! pic.twitter.com/kGsda0taDy

— Alejandro Zúñiga (@ByAZuniga) November 21, 2015
Lewis's ability to dance through several tackles impresses. Michigan also had a Jehu Chesson return almost break it. Michigan is averaging ten yards more per kickoff return than its opponents.
Inside the 20. O'Neill has 21 inside the 20 and three touchbacks. Since one of those touchbacks was on a 60+ yard punt, he's got a 10:1 ratio of punts drops inside the 20 to touchbacks in pooch situations. That is a game-changer for your punting decisions.
A new long snapper. Isaiah Hole caught a change at that spot after a battered Scott Sypniewski had a couple issues against Indiana:
LS @ARobinson50_LS filled in admirably for Sypniewski. Did a great job! pic.twitter.com/ptHXZV4ifC

— Isaiah Hole (@isaiahhole) November 22, 2015
Andrew Robinson had no problems.
MISCELLANEOUS
Harbaugh face montage of the week. Amazing work from Eric:
We need to update our credit cards. I don't think the refs have received payment this year.
This was called "PF illegal block below the waist." Good grief #MICHvsPSU @mgoblog @SamWebb77 @MaizenBrew pic.twitter.com/YCjHGqntCa

— John Kallis (@Kali1128) November 22, 2015
That was the capper on a day of calls ranging from questionable to absurd. Jourdan Lewis got hit with an extremely tenuous pass interference call on ball that was 15 yards overthrown; Jabrill Peppers got hit with PI flag for getting shoved in the face and flailing about like someone who had temporarily lost his equilibrium. Targeting roulette came out against Michigan for the 24,440th time this season. (Although I'm way less mad about that now since that would have knocked Anthony Zettel out of the first half of PSU-MSU.)
And everyone missed this at the time, but when Michigan had their punt blocked it landed a yard behind the line of scrimmage. A kick that does not get to the line of scrimmage can be picked up and advanced by anybody. Michigan picked it up an advanced it; the officials blew the play dead. With no PSU players around that probably would have been a first down and more.
Oh boy, this crew again. All you need to know about the overall competence level of this ESPN crew is that it was deep into the second quarter when they bothered to mention that Carl Nassib had not played. Nassib has 15.5 sacks. He is kind of a big deal. The instant PSU takes a snap without him on the field there should be big flashing signs that say "CARL NASSIB AIN'T PLAYIN', and by that we mean HE IS LITERALLY NOT ON THE FIELD. WE ARE NOT USING SLIGHTLY OUTDATED SLANG TO INDICATE HE IS GOOD."
Instead we got a 20-minute long sermon about how Christian Hackenberg should have taken off running instead of throwing a bomb downfield. Brock Huard is never more intolerable than when he descends into Hectoring Schoolmarm mode, and God does he do that a lot. When he isn't doing that he's urging Penn State to spread the field and "run downhill" one week after Indiana had success doing anything but that.
Harbaugh quote of the week. We're totally having a Harbaugh Quote Of The Year competition this offseason. This week's entry is very strong:
Harbaugh said potential to lay egg at PS didn't occur to him:"I don't really like comparing humans to chickens or any other type of animal."

— angelique (@chengelis) November 21, 2015
Harbaugh justified freakout of the week. I AGREE
Harbaugh justified freakout of the week set to Nelly. This is not a weekly category yet but I dearly hope it becomes one.
I mean, I don't since it takes a ridiculous pass interference flag to cause Harbaugh to audition for the Chippendales.
Game theory bits. On Michigan's side of things, Harbaugh passed on an opportunity to go for it on fourth and two on the PSU 43. This was about halfway through the third quarter with Michigan up 14-10. I thought that was fine.
As I've said repeatedly this year, when you have the kind of defense and punter that Michigan does the decision matrix slides towards punting. When you play 1950s football you can make 1950s decisions. PSU's offense to that point had been two big plays and virtually nothing else, so the field position that punting buys you is going to be more valuable than field position against, say, Baylor. In addition, Michigan was clearly skeptical of their ability to run.
I was also fine with James Franklin's decision to kick the field goal down 8 in the fourth quarter. The advanced NFL stats calculator says it's a slightly wrong decision (33% to win by going versus 30% for kicking) but that's with NFL numbers. The combination of PSU's shaky kicking, their inability to run for yard one, and the fact that they felt pretty unlikely to get a two point conversion all suggest that at the very least the decision is defensible. That felt like six of one, half-dozen of the other.
On the other hand, PSU punting from the M 38 and 34 was a bit more questionable. I'd rather have a shot at the 51 yard field goal even with shaky kicking than the 14 yards PSU ended up with after the ensuing punt went into the endzone on the fly. 4th and 8 on the 38 is tough for a team like PSU, but when you're the underdog you should lean towards aggression.
HERE
Trash Cans Full of Dirt
* I've got to bring this section heading back out from retirement in honor of the defensive line. Six of Michigan's 10 TFLs were made by defensive linemen, with Taco Charlton recording 3 for 18 yards. The defensive line also tallied 4 sacks. Excising sack yardage, PSU was held under 100 yards rushing on the day, finishing with 96 yards on 18 carries. Remember, 56 of those came on one run. Remove that and it's 40 yards on 17 carries. Not quite 27 for 27, but not bad either.
* A week after the two safeties led Michigan with 10 tackles each, the top 5 tacklers were non-safeties. Hill and Wilson each recorded 3 tackles. That's more like it.
I went back and looked at last year around this time, to see if any images might be relevant or particularly humorous given how this weekend played out.  And what I realized, beyond the fact that I'm on WAY too many message boards and reddit threads, is that it was f'ing DARK around this time last year.  I mean, some of the first images that pops up is a dog literally shitting during a competition

and of a motorcyclist running into a car while an interview is going on.

It wasn't just that UM was losing; that had unfortunately become a common occurrence years before.  The losing, sadly, I could live with as a fan; it ruins your day, but rarely do teams go a whole season without blowing a game or just running into a better opponent.  No, what these pictures made so clear was how much melancholy and ennui surrounded the program.  It became such a chore to watch these games, to see a team with top-20 talent and bottom-20 coaching sludgefart their way through 12 games a year, that I'm honestly not sure I'd have continued writing these had that malaise carried on to this season (and yeah, I know a couple of you probably wished I had stopped).  It just felt like an unnecessary strain, watching this program further devolve and looking for the fool's gold of "progress" in crude accomplishments such as "they nearly broke 200 yards of offense", "Devin Gardner walked off the field in one piece", and "they almost won on the road this time".  And by its very nature, my goal is to keep these articles upbeat and rarely serious, not a dour litany of the failings everyone already watched on Saturday.
A visit report from SpikeFan2016:
Treatment of Michigan Fans: This was the biggest surprise. I had heard a lot of things about how PSU fans are very hostile to visitors, but we were treated very well by the Penn State fans. Nearly everyone was pleasant. We chatted a bunch with those seated around us and, even though I was sitting in a non-visitors section, I felt completely comfortable cheering loudly for Michigan. Nobody ever said anything when we yelled. Walking around before the game, we did get a few "Michigan Sucks or Fuck Michigan", but it was few and far between. (They have this thing where they say "It's 10:02 AM (or any random time) and Michigan still sucks" which I found kind of funny. I wonder if this started in the Hoke years after the fake "resurgence" in 2011). Again, this could've been due to the noon game factor, or the fact that they aren't as good as us this year, but Penn State fans were very accommodating and I was impressed with their hospitality.
This has been my experience  as well on my two trips to State College. You get the occasional student who will yell a thing at you and everyone else is very nice. There is the occasional dude from Philly who thinks he's at an Eagles game. Other than that it's a fanbase pretty similar to Notre Dame—a loony set of internet fans that gives people the wrong impression.
ELSEWHERE
You know what it is!!!! #GoBlue pic.twitter.com/isu5B2uUN2

— Michigan Athletics (@UMichAthletics) November 21, 2015
I'm not a participant but Reddit's CFB community is pretty great whenever I stumble across it.
Preview: #MICHvsPSU pic.twitter.com/kM7Lnw4rwV

— RedditCFB (@RedditCFB) November 21, 2015
At least we have this in the aftermath of Urban's worst game ever.
Good morning, part 2: pic.twitter.com/YFT0NHRt9s

— EL RAINBOW WARRIOR (@edsbs) November 22, 2015
Also… uh… the line opened OSU –2.5 and immediately swung five points.
In the summer Michigan was more than a two-TD dog. If they can follow through on that with a win the disappointment of watching whatever that was on Saturday will be quite nicely salved with a shift in the direction of The Game and a NY6 bowl.
Newsists. Michigan is going to be searching people this weekend, understandably. Recommend y'all get in early, because lines are going to be long. Grades. Baumgardner:
Twelve months ago, Brady Hoke's program was broken. It wasn't just sliding off track, it was lost. Completely and totally. The team had no identity. The culture was soft. Michigan gave effort, but never quite knew how to channel it. It was rock bottom.

One year later, Jim Harbaugh's program is surging. Completely and totally. The team has an identity. Its culture is blue collar and centers around relentless work. It knows exactly where it's going.
PSU-M was the highest rated nooner of the season on ESPN networks.
Bloggists. MVictors:
On Business.  Handle your business!  Props to Dantonio for out-toughing and out-coaching the Buckeyes down in the snake pit.  You can't count on anyone else to do your dirty work.  And I think this explains a lot: I confirmed that these guys were in charge of protecting Urban Meyer's brain:
"Hi, I'm successful comedian Aziz Ansari, and I went to Michigan." "Hi, I'm scruffy derelict Aziz Ansari and I went to Ohio State."
OFFENSIVE TEAM CHAMPION – Jake Rudock is the man! Plain and simple. We are seeing now, what Jim Harbaugh saw in #15 months ago. Calm. Cool. Accurate. Heady. Sure, he fumbled, and threw a pick when he locked onto a receiver in the game, but he is starting to play Brian Griese-esque. He makes good decisions and my gosh is he accurate! I'm not saying he is flawless but "Dad" as the guys on the team call him is getting it done. Nice going, Pops!
Perhaps most encouragingly, Taco Charlton stepped up and had likely his best game as a Wolverine, leading the defense with a pair of sacks and playing like the athletic, big-time recruit he is. He notched three tackles for loss, and Chris Wormley (2 TFL) and James Ross (2 TFL) found their way into the backfield, too. Other than Jake Rudock's late-season renaissance, the emergence of a different defensive lineman each week has been the most exciting part of the season.
Michigan's defense mostly looked great. Except for about three plays, Michigan's defense looked excellent. Early on, Michigan allowed Penn State RB Saquon Barkley to break free for a 56-yard run after Willie Henry was chopped to the ground and Joe Bolden failed to fill the hole with any aggression whatsoever. Jabrill Peppers failed to locate a back-shoulder throw that turned into a 25-yard touchdown pass to Saeed Blacknall. The Wolverines also had some tackling issues on a completed seam route, but otherwise, the defense looked excellent. The 207 total yards by Penn State was their second-lowest of the season (behind Temple and their 10 sacks of Christian Hackenberg).
HSR:
For Michigan, the progress that Jake Rudock has made since Week 1 has been nothing short of astonishing.  Rudock has gone from a liability to an asset, becoming one of the singular reasons that Michigan has won the last two games.  He is making good decisions (OK, the interception was suboptimal, he didn't look off his receiver and threw a laser right at the Nittany Lion defender.), he's making good use of the field position granted to him when the special teams unit breaks a return, and he has removed the sense of "waiting for the other shoe to drop" paranoia that has haunted Michigan's quarterbacks of recent vintage.  Coach Harbaugh has proven his quarterback whisperer bonafides yet again.  You hate to look ahead, especially with a season that has been so rewarding still in progress, but man, is it exciting.  So exciting.
MNBN.
Most Penn State fans were willing to concede that the officiating was, for once, not a matter worthy of a UN inquisition. But there are always holdouts.
An actual email I just received and what my brain hurts pic.twitter.com/JBP9e9TDp6

— Anthony Broome (@anthonytbroome) November 22, 2015
Unless that's a notable MSU twitter troll.