Monday Recruitin' Says Iuck Fllinois
Happy trails, #1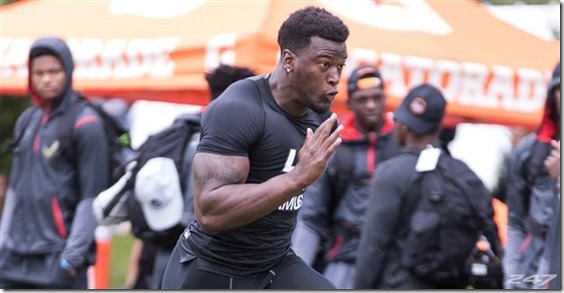 let's keep O'Maury Samuels plz
By now I don't have to tell you that 5* CA RB Najee Harris stuck with Alabama after the world's highest low-profile recruitment. While it would have been real nice to get the #1 recruit in the country in back-to-back years, Michigan is well stocked at running back for the next few years with Chris Evans, Karan Higdon, and redshirt freshmen Kareem Walker and Kingston Davis already on campus.
Losing AJ Dillon stings a bit more now; getting the slightly wobbly O'Maury Samuels to cease wobbling is a January key.
Ultimate crootin' comes to Aubrey Solomon
5* GA DT Aubrey Solomon arrived at the Army game proclaiming that Alabama had a "huge" lead; later he popped up on Periscope saying things that you usually read on people's shirts at away games. (Especially Illinois, for reasons that remain obscure.) Thus ended Michigan's long, strange recruitment of—

Er. That is a Ryan Bartow crystal ball in favor of Michigan entered on the seventh, which he explained thusly:
Per a source, Solomon reached out to his high school staff following the bowl game in San Antonio indicating he's planning to commit to the Wolverines.

Solomon, per a source, indicated a similar message to Michigan's staff later in the evening.
Bartow is a national 247 guy with the excellent track record you can see above. Most recently he was ahead of the curve on Isaiah Wilson's late shift to Georgia.
More detail? Sam Webb has extensive interviews with Solomon and his mother after The Periscope Event. Solomon himself was contrite...
"(Michigan is) one of my top schools," he replied. "Bama is top, but Michigan is up there with Georgia too. So you never know."
...and said that an upcoming official to USC was the last trip he'd take. Solomon's mother, meanwhile, has seemingly memorized everything about the official she and her son took this fall, and lists an If Momma Decided top three of Michigan, Georgia Tech(!), and Alabama. Lorenz, meanwhile, reports that he's been told Michigan "truly made progress" with Mrs. Caldwell on the official, which the interview confirms. Also that certain people in his camp aren't big fans of Alabama.
Extensive parental interviews with Sam are a good thing. So are Serious 247 Analyst crystal balls. Offsetting that good thing are some less than good things, but if you told me I'd be fairly optimistic about landing Solomon after last week I'd take that and run.
The stretch run
With the Army decisions out of the way, Michigan has 25 solid commits and approximately seven spots left in the class. The situation for everyone who's still on the board, has an offer, and has bothered to visit or schedule one:
NM RB O'Maury Samuels is scheduled for a mid-January official. If that comes off it's likely he sticks in the class. No other visits scheduled at this instant. WAG: 90% to stick.
UT RB Sione Heimuli-Lund has said he'll take an official sometime this month. He's said he'll official for months now and hasn't; he's definitely a Harbaugh guy. WAG: 2%.
GA WR Nico Collins has had Michigan at the top of his recruitment for months now, and visited on his own dime repeatedly. That's a recipe for getting a bit talent out of the South but Michigan has to dodge some officials. Wiltfong heard from a "source close to Clay-Chalkville" that Georgia is Michigan's biggest competition and that that source "thinks" it will eventually be UGA. That would be a kick in the nuts, not least because... (WAG: 50%)
...IA WR Oliver Martin isn't mentioning Michigan any more in interviews, seemingly because Michigan ceased their pursuit. Webb and Lorenz were predicting Michigan removing itself before articles like the above started popping up, so that's probably what happened here. That only makes sense if they're extremely confident in Collins. We'll see. Martin only has one official set in January, that to MSU. Michigan could pop back up here. WAG: 10%
FL OL Kai-Leon Herbert has officials set up to Auburn, Miami, and Florida. He's been circumspect in interviews to the point where he doesn't seem like a commit, and Michigan's already had their shot. WAG: 30%.
FL OL/DT Tedarrell Slaton has named Florida his leader and Michigan is drifting away. Slaton told Josh Newkirk that he talks to Michigan "sometimes." He's been on campus but without a 180 this isn't happening; step one in that process is scheduling a January official. WAG: 0% without official, 30% with one.
GA DT Aubrey Solomon was extensively discussed above. WAG: lol don't even ask.
UT DT Jay Tufele is one of those guys who nobody has a good read on. He recently asserted to Scout that location doesn't matter, which means "recruit has been asked about location and given the standard answer." WAG: 33%.
MS LB Willie Gay may or may not have been screwin' around when he said he was headed to LSU; buzz there is "real" per Lorenz, but Michigan thinks they're very much in it. Per Sam, mom and aunt—who were with him on his official—are in Michigan's corner and pushing. Playing time seems to be key. Gay told Lorenz that it was "50/50" he would take an unofficial to Michigan in January. That would echo Rashan Gary and make everyone feel much better that one-time Michigan lead was going to stick. WAG: 40%.
CT CB Brandon Sebastian will take an official in January and a flip is on the table. WAG: 80%.
CA CB Elijah Hicks is going to stick with ND, I guess? Because Brian Kelly seems like a good idea right now? WAG: 10%.
I project 3 or 4 weird guy spots available.
Army bowl scouting
MI CB Ambry Thomas popped up periodically. He made Scout's East top five on Day two largely because he was able to contend with Peoples-Jones and "his length and speed makes him a tough defender for receivers to separate from."
Donovan Peoples-Jones vs. Jeff Okudah pic.twitter.com/TkY8g8OzKi

— EJ Holland (@EJHolland247) January 3, 2017
MI WR Donovan Peoples-Jones "explodes off the ball" per Brandon Brown—I haven't seen much national scouting from Rivals yet—and beat UGA commit Richard LeCounte deep because he had "no chance of running with Peoples-Jones." Scout put him in a top five because he "regularly showed the ability to stretch the field vertically." Lorenz reported that he "did what he was supposed to do" to maintain his spot as the #1 WR on the composite.
CT WR Tarik Black "flashed a bunch" per 247 and made the East top 5 on Scout because he's a "smooth athlete with a big catch radius" who "really stood out in a strong receiver group." Brown reported that he is the "most consistently effective receiver" on his team because he's not just a big body:
His ability to quickly get downfield at the snap allowed him to easily eat up the cushion of the East cornerbacks, who spent much of the day playing off coverage. Black showed off an advanced understanding of how to use his stem and body movements to manipulate defenders. ...

What was most impressive during today's practice was Black's speed, which does not show up on film as well as it did during today's practice. Black was able to run by several defenders on vertical routes, often gaining several steps on corners. He made a number of impressive plays, but one of his best was blowing past Detroit (Mich.) Cass Tech cornerback Donovan Johnson on a go route.
We've been talking about how fast Johnson is for a couple months here, usually when we're wondering why MSU didn't bother offering him. For a 6'4" guy to blow by him is maybe a bit of a fluke but also impressive. Sam thought he was "the revelation" for Michigan fans at the Army game; Lorenz thought he was "really good" and had an argument to move up.
Part two of Filiaga/Irving-Bey pic.twitter.com/Fbq9nxW7w5

— Steve Lorenz (@TremendousUM) January 3, 2017
MI DT Deron Irving-Bey didn't come in for much notice nationally; Brown noted that after some early success against an ND commit Irving-Bey started to get predictable and lose reps. He was playing end, which I don't think is going to be his spot at Michigan. One dollar says he's a three tech, and his performance there is in "ask again later" territory. OTOH, he nearly earned a starting spot on his team per Sam because of his "speed off the edge."
for some reason this picture makes me think Willie Gay is in a Coen brothers movie
In guys we hope are future commits, Solomon was praised for a "twitchy first step" and his strength by 247; after day one they named him the #2 guy on his team since he "split double teams with ease ... showing elite quickness and high energy." Scout talked up his "excellent get-off and close-quarters quickness".
Tufele was also one of the most-praised defensive linemen. 247: "the one defensive lineman that can beat you with quickness and power ... consistently the toughest West defender to slow down." A top performers take: "great quickness in interior one-on-ones and he shows big-time power in defeating run blocks." Scout: "most dominant interior defensive lineman in practice ... step is as quick as any one in this class and his got great strength to push his blockers off the ball."
Gay was named the "best pass game linebacker" by 247 because he's a "flash to the football" and is "the perfect nickel linebacker." In another of those top performers articles they asserted he is "maybe the most athletic linebacker in the country." A third 247 take: "outstanding first-move twitch, very fluid, great speed, rangy, has courage to stick his nose in against the run, made plays in the alley, was sound in drills, performed like a five-star." Lorenz further hinted he would get that bump in an Inside Michigan Recruiting.
Non-Army scouting
Brandon Brown talked with a Detroit King coach about Cass star and MI S Jaylen Kelly-Powell, who sounds like another one of those hybrid types that are so critical for defending the spread:
"He's ferocious against the run and can really tackle but he's really good in coverage too. He's a really strong kid. It's great when you can have a guy who can cover in man, play in the zone, and tackle in the box and Kelly-Powell is that guy. Even at a place like Michigan he should be able to stay on the field all the time."
Cass's coaches confirmed that coverage take when they matched JKP up on one Ambry Thomas in the city championship game:
"...we didn't think he was going to be on Ambry. He did a good job on Bry and that's tough to do. We were looking at him as a true safety but they did a good job switching that up and putting him on Bry like that."
There's talk that Kelly-Powell will be given a look at VIPER(!!!) as Michigan seeks to maintain the flexibility Peppers offered the 2016 defense. Willie Gay is the ideal fit there, but Michigan has some options if he ends up in the South.
Allen Trieu had a Q&A session which is worth the trip behind the paywall. This is the opinion I liked the most because I happen to agree with it:
Of the current commits, in your opinion, who in 4 years do Michigan fans look back at and say "wow he was undervalued coming in".

James Hudson recently earned a fourth star, but I could see that kid really blossoming further in college and out-performing his ranking. We ranked Taco Charlton somewhat cautiously as a lower four-star based on his outstanding physical traits, but also his rawness. He has developed into a potential first-round pick. We are at the same point with Hudson where he really came on as a senior and has great size and ability, but still has some parts of his game to improve.
Hudson's senior film is Willie Henry-esque. Dude is crazy strong and explosive. Might take a year; afterwards, look out.
Scout evaluated PA DE/DT Donovan Jeter's senior film and made him sound a bit like Ryan Glasgow:
...quick with his hands, and he uses several moves instead of just relying on his physical ability to overwhelm his opponent. ...gets up the field well from the defensive end position. He uses a swim move and also will club the offensive lineman. He also has a spin move, and he will use strength, led by a solid initial punch. ... body can easily handle 290 pounds, and keeping his quickness is not a concern. His hand speed will also allow him to be successful on the interior of the defensive line.
Three-tech is all set in this class and Michigan can turn one of Jeter, DIB, or Hudson into a nose if that turns out to be necessary. Having a pure NT like Tufele or Solomon is the one way they can seriously upgrade in January.
Etc.
FWIW, I had MI DT Phil Paea and NJ WR Brad Hawkins listed as early enrollees. Per Isaiah Hole those guys aren't actually EEs. Everyone else expected to arrive has done so.
In "Aubrey Solomon does something that is not surprising": he praises 2018 GA LB commit Otis Reese, a teammate, as "the best in the country."
Michigan is recruiting 2018 TX TE Malcolm Epps, a Bama commit. Hooray!