Michigan Museday: What We Asked of Them, Part III
(click the little pics for previous entries)
We're talking about these seniors. And I figure now's as good a time as any to specify exactly what we're thankful for. It's not simply loyalty to an institution: that for its own sake can lead to otherwise good institutions looking the other way when their members do awful things (see: MSU, OSU, PSU, SEC). Except for an extremely abstract and debatable conceptualization of Michigan as a "good guys" program, what our seniors have done by sticking through the "least rewarding Michigan careers in decades" is not a good because of a higher universal cause it served.
Whom it served was themse
lves (for they did get degrees), their fellow teammates who stayed, and most importantly for our purposes, us. We thank them for this because Michigan football, for reasons we can't quite articulate without sounding at least a little bit foolish, is massively, massively important to us. And while you can debate whether Michigan's football is—relatively or absolutely—a beacon of morality, or whether caring this much about the athletic derring do's of 22-year-olds is a healthy thing, what nobody is debating is that this thing called Michigan could have become something much less than it is today, and that these seniors, these seniors, saved it.
JUNIOR-JUNIOR JUNIOR JR.
Kenneth Earl "Junior" Hemingway had his own personal angry X–hating god. Services were split on him, depending on whether leaping (tremendous) or speed (sub-mendous) was the high school scout's attribute of choice. Part of that disagreement was, as you probably guessed, because of an injury his junior season. At times in his Michigan career Junior was sidelined with a bum shoulder, sometimes mononucleosis, sometimes a pulled hamstring, sometimes a sprained ankle, sometimes a sprained knee, sometimes an "abrasion," and sometimes another bum shoulder. And sometimes…
The mono struck shortly after that tantalizing catch in '08. Hemingway wasn't allowed to go near his teammates, except his roommate Mike Williams, and even then they had to label their videogame controllers so as not to spread the Junior juju. That was Junior's low point, but the resulting medical redshirt did give him this season (he played as a depth guy in '07).
A National Honor Society member and academic achievement winner, as the story goes (I haven't confirmed this but it matches most students' experiences including mine) he earned enough credits before the end of the '08 season to qualify for "junior standing," meaning Junior spent three years (academically, chronologically, redshirt-) as a junior, which I find fascinating. Possessed of remarkable body control, when Hemingway was available he was Michigan's go-to possession receiver who got tons of YAC, some inexplicable, some simply inconceivable:
Here's 50 more of it. Sometimes he out-leapt guys too.
"Junior always wants to make big plays," [Denard] Robinson said. "I think he's one of the best receivers in the country."
THE REACH
The same year Hemingway arrived, Michigan's offense transitioned to a zone running scheme. While MANBALL likes centers with enough mass to move massive nose tackles out of the hole, the perfect zone center is a guy who's really strong but also really nimble and really smart. A zone center who can get playside of a DT who's lined up playside of him, and seal that guy off—this is called a reach block—has pretty much created an instant 6 yards for the offense. It is also the hardest block for any offensive lineman to make. I learned this in October of 2008, when somebody first said that David Molk is the best offensive player on the team.
I have a thing for short people. My wife is a generous 5'0. Desmond Howard made me a Michigan fan. When Mike Hart graduated I never thought another player could ever displace him as all-time favorite Wolverine. Because football is weird the guy who would was already on the sidelines.
At one point Molk was a 5'6, 175-lb high school freshman. Then he discovered the weight room and it was love at first lift. Whereas most of Michigan's on-hand interior guys were a terrible fit for Rich Rodriguez's spread 'n shred and Barwis's legendary weight room, this hit-loving, high-motor, high-attitude, high-academic, low-elevation lineman was born for it.
In 2008 Molk never missed a single offensive play. The ones where he reached some dude and Brandon Minor went RAGE-ing into the secondary were interspersed with plays where the whittle guy got tossed into the backfield by various Ogbu monsters and inadvertently kicking Sheridan in the dong (3&O). Molk responded by getting stronger, winning the Iron Wolverine Award as the best-conditioned Michigan lineman. By his sophomore year he was a Lombardi and Rimington candidate and Michigan's offense came alive. Then he broke a foot against EMU, Moosman moved to center, and the offense wasn't as good. Molk came back from the foot (and surgery) for the first series against Penn State and Michigan went 70 yards in the opening scoring drive that consisted almost entirely of 7-yard gains. During that drive Molk tore a ligament in his knee, God canceled Christmas, and all things that ever happened again were the bad things.
If you are concerned that Molk's impending graduation means the dong-punching will start again, this is not an unreasonable fear.
Molk did return in '10—said he: "It's been almost eleven months. Somebody is going to pay."—and was a Rimington finalist and First Team All Big Ten, leading the way for Denard Robinson's Heisman candidate year despite more injuries that Molk refused to talk about.
The one we knew knocked him out in the 3rd play versus Iowa. That hurt the rest of the year, though you'd never hear that from Molk. Here's a snapshot of Molk from half-time of the Wisconsin game:
David Molk decided to pull himself up, and he wanted his teammates to come up with him. They were slumped in their stalls, ready to concede, when he stood up and marched around the room. "Hey, Michigan! Are we fucking scared? Because we're playing like it! We are all on our fucking heels. ALL OF US!

"We gotta drop our fucking nuts and MAN UP! We are NOT lying down! We are NOT scared! We will fight! We will FIGHT! And we will GET AFTER THEM!

"Everyone STAND UP! Stretch out! I mean it!"

"Get up!" Van Bergen said, and they did.

"We're gonna hit 'em in the fucking face," Molk said, "and they'll cry! They'll bleed! NOW LET'S GO!"
The offence went out and played the best half against the Badgers that Wisconsin saw all year. But the defense played the worst and Michigan lost 45-28.
Then Rodriguez was fired. Despite the accolades Molk's stature and the NFL's style didn't make a jump to the pro's likely. Not that Molk ever thought about it…
"A lot of thigns had to happen to go 3-9—not because of the coach, but because of the transition. Every guy who had a chance to leave, left. That tore our team apart. We lost starters, backups, you name it. There were only half of us left.

"We're a family. I love all you guys. No matter how much shit I give you—I love you. If we don't' stay together, we'll never make it. This program stays together. I don't want to see anyone leaving. If you do, we'll be crappy for three more years.

"I love Coad Rod. He did everything he could. But now it rests on us."
JUST JUMP ALREADY … (after the jump)
Another guy whose health had the power to make or break a Michigan season was a 3-star legacy recruit. That this was true said as much about Michigan's backfield in 2010 as it did about Troy Woolfolk. It was a good thing T-Wolf was the son of Butch because otherwise Michigan might never thought to offer an under-the-radar, 5'10 kid out of some Texas school.
Rivals had his 40 time at a pedestrian 4.5 but Michigan saw a wind-aided 10.4 in the 100 meter, invited him to camp, and offered. By his freshman year Troy was 2 inches taller and competing with Carlos Brown for fastest guy on the team.
He also couldn't figure out if he was a safety or a cornerback. His high school coach said "safety." MGoBlog said cornerback. Michigan said "DB." CB was the more pressing need, more so as fellow fliers Chris Richards and Johnny Sears sailed way wide. T-Wolf was pressed into service right away on that depth chart but played mostly on special teams. In '08 he was behind freshman Cissoko but played in the nickel later in the season.
The revelation came his junior year in 2009, when Woolfolk was obviously Michigan's best option at both free strong deep safety and at the cornerback spot opposite Warren. He ended up splitting between the two as the coaches couldn't figure out which gaping hole in the boat they'd rather cork with him. It turned out Woolfolk the CB > Woolfolk the S >>>>>> any other option at deep safety, though it took Gibson and GERG five more games to realize this than the fans. The best game for the '09 backfield came vs. Ohio State with JT Floyd and Warren and corner, and Woolfolk-Kovacs at safety. With Warren abandoning ship (to go undrafted in the NFL) the pendulum for 2010 swung back to CB, since Senior Woolfolk was seen as the sole Big Ten-caliber DB on the whole damn roster. He was in the best shape of his life and determined to earn the leadership role that had already de-facto-ed to him.
Then came the most wrathful angry god in the history of the meme.
If you didn't know already or guessed, you learned in August 2010 that MGoBlog does in fact have a "just jump already" tag. The minimum number of sorrowful comments followed by real men saying "don't be such whiny emo babies" after its deployment is 150, or else the coach is about to get fired. Losing Woolfolk at the beginning of last year: JJA deployed.
If you thought this was hard on Michigan fans who get overly emotional on the interwebs, it sucked a lot for Troy Woolfolk too. All that hard-earned muscle and speed wasted away while he was trapped in his bed, cut off from teammates who get the willies around career-threatening injuries, watching the freshmen in his stead get torn up from a hospital television. You've gotta think: just jump already. Troy didn't jump; he tweeted.
And he began the long road back to the football field. With yet another new staff, and a Michigan far distant from the one he played on way back in 2007, Woolfolk resumed his career in 2011 ready to do whatever his coaches asked of him and determined to be on the field no matter what the hating god said. A sprained ankle that saw him carted off from the WMU game: we've got tape right?  A broken hand in practice before Notre Dame: club it up and put me in there. You can guess the piece and it has probably been at least bruised this year as Woolfolk has battled both his body and strong playing time
challenges from the next generation of defensive backs. When Countess claimed his starting CB spot, the transfer plague claimed one more defensive back (Carvin Johnson) and Woolfolk moved back one more time to deep safety and set about fighting entrenched starter Thomas Gordon. When Kovacs got hurt Woolfolk leapt into the SS role.
There's been hints that the sum total of all that is taking its toll, that the coaches continue to play the battered old T-Woolf' this year partly out of senior nepotism. If so, who cares. Troy was the few minutes of sunlight in the polar winter of our defensive backfield these last few years. Where the absence of some of his classmates like RVB and Molk will leave large holes in the 2012 team and beyond, there was never going to be anything left of Woolfolk after this year anyway: the nanoparticles that once made up this legacy from Dulles, Texas, will remain in Michigan Stadium, strewn about amongst the rubber pellets of the field. Woolfolk jumped just one direction: All-in.
Even though T-Woolf will be absent, Troy will be on the sidelines coaching and cheering for Michigan till all the air has vacated my lungs.
And you can't have one without the other:
"When I first came here I knew Michigan was known for its defense," Woolfolk said. "People feared their defense. Ever since that I've just wanted to try and get that back."
STEVE WATSON
Steve Watson, (son of THAT Steve Watson): I don't know. He came in as kind of an afterthought of a tight end and got up to 4 stars with the standard "who-dat who commits to Michigan bump." In his time at Michigan Watson moved to DE to be depth there, moved back to TE, and then Brian's super-secret insider dope info he deigned to share with me when I asked last summer about super-
secret insider dope info was that Watson was being tried at fullback.
Watson's one of those guys you never know you need until you need a James Rogers or Joey Sarantos to step in. Michigan used to have tons of these guys—half of them named some form of Brackin or Brackens or Brackins or Spytek or BrackinSpytekSarantosOluigboReadCasseus. Except during positional Armageddons the Brackinswatsons of the depth chart will pop out for a famous TD catch one time in their careers. They also usually stick around and move around so much because damn it's fun to be part of winning Michigan football. He's also beat out Brandon Moore for a few two-TE starts and occasional playing time. Watson son of Watson has had a quiet career here but you don't damn the safety net just because you never had to fall into it. As for that one big play to remember you by, what're you doing Saturday Steve?
"Let's see, I came in as a tight end, moved to outside linebacker, then to defensive end, then back to tight end, then fullback as well … I could play any position on the team."
YOU CAN'T KNOCK HIM DOWN, EVER
Somewhere between the crippling, paralyzing fear about the linebacker depth post-David Harris, and the crippling, paralyzing fear about the defensive back depth post-Warren (and way before the crippling, paralyzing fear about defensive tackle post-Martin that's now in vogue) there was a short period after Patterson wasn't that good and Germany couldn't stick of crippling, paralyzing fear about post-Jamison defensive end. At one point the future depth chart said Brandon Graham (who in those pre-Barwis times was reportedly blowing up into a DT) and __________. Then into the 2008 defense rotated redshirt freshman Ryan Van Bergen.
While Graham expanded instead into one of the best players to ever wear (down) the winged helmet, opposite him stood RVB. Literally. Throw all the meaty OTs and double-teams and dirty Spartan chops at him as you like but Van Bergen doesn't go down unless there's a guy with a football under him to cushion the blow.
This mainstay of the last four years, RVB was your standard in-state 4-star defensive lineman playing OLB in high school, National Honor Society member and all-around athlete (he starred in basketball too). The question was less whether Michigan was set at SDE for the foreseeable future, and more whether he'd be a Van Alstyne (a DE), a Vander
Leest (a TE) or a Van Beek (FB/LB/special teams guy that nobody remembers). Early on the scouts and Brian said tight end (Brian also predicted the offer would come before anyone else). By signing day the ratings at SDE were there (he was close to a 5th star on Scout) but strangely not the hype. My own very stupid reason for not being excited about him is he had a look about him like what I would later call "Boren-ish".------------>
By 2009 if not before, he had managed to affix "solid" to his now-initialized name. When he screwed something up a little bit, like when as the backside tackle he missed an assignment that led to Indiana's long TD run, it was news (to the subsection of the fanbase to whom DTs missing assignments is news). This was a sophomore end in his fourth start ever, playing 3-tech in an incoherent 3-3-5 when he's been a 5-tech since high school, and here he is upset with himself and identifying immediately what he did wrong when really he's responsible for at most the first six of an 85-yard TD (the rest were young DBs who couldn't catch a 215-lb. freshman Indiana tailback). RVB's response was to singlehandedly blow up the next drive to finish 8/1/+7 in UFR for the day. Gimme 11 solids like that and I'll give you a championship defense.

RVB got better as that season got worse, portending much of his career as either "one of Michigan's few bright spots on defense" or "Michigan's lone bright spot on defense" on the days Martin and Woolfolk were hurt.
In 2010 RVB moved into the "not Brandon Graham" role, which turned out to mean mostly a 3-tech in a 3-3-5 that doesn't blitz. He also became a regular press conference face, and much ado was made over shots of him kicking field goals (he kicked in high school, where he put it in the uprights, during actual football games, so…). The few lizard brained coaches who felt they still needed to run the ball against Michigan noticed they couldn't knock Van Bergen down and Michigan wouldn't take Van Bergen out, like ever, so they ran away from him. Brian in the 2011 preview:
Van Bergen graded out almost as well as Martin over the course of the season thanks to his steady acquisition of points and half points for standing his ground against doubles or pushing offensive linemen into places they don't want to be. The UFR chart is really impressive…
He Don't ever try to make this man not stand anything.
At this point RVB might have had an out to the NFL available to him, though the uncertain labor thing made that unlikely. What also was unlikely, well you've heard the story enough times already. When Molk would get up and scare the hell out of people with his Bo-like passion for The Team (The Team, The Team), RVB would, of course, be standing up first and saying the thing that made everybody take Molk seriously.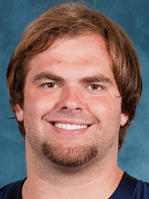 When it came time to pick 2011 captains—real captains, Mr. Rodriguez—the choice for the defense was virtually unanimous. When during Spring Practice the alumni who'd stayed at arm's length from the Rodriguez calamities returned en masse, it was Van Bergen who spoke up for his teammates and the fans who'd never left. When so many others around him, from his class, from his defense, from his position group, fell off, fell down, or had vicious real or metaphorical blows directed at their knees, RVB was always still standing. Now he had a beard and long hair and looked like Jack Black and bragged about sacking Denard in practice. Now too he was right up there with Mike Hart and his roommate as people who represent the heart of Michigan. He'll graduate with a degree in sociology with a potential NFL future ahead of him, hopefully at one position, but what he stood for at Michigan will be his legacy.
"The year my class came here was after the 1 versus 2 Ohio (State) game and Michigan went to the Rose Bowl," Van Bergen said, referring to the 2006 season. "That was my expectation — we're going to play Ohio to go to the Rose Bowl every year I'm here. I was going to have coach (Lloyd) Carr for my whole time here, and it was going to be great.

"The amount of adversity that has been encountered by this senior class, especially the fifth-year guys, I'd be hard-pressed to find another group that has survived and now thrives in that situation. I don't know how much people even realize how dedicated these guys were."
For these seniors, we give thanks. For these seniors, Beat Ohio!