Michigan Museday Fears Nippert
Unattributed from Colley Matrix computer poll / Archived from MGoBlue.com
Earlier this week Brian discussed the latest iteration of college football's playoff structure. While the commissioners try to get a ratification whip count from the states and techs etc., we're now left with a far narrower scope of playoff possibilities to argue, opine, and get ignored about. The number of teams is probably four. The parameters:
Site: Current bowls or home games for higher seeds.
Decision Process: BCS-like system or committee
At the moment I'm much more concerned with the first. Fortunately we have an entire BCS history's worth of trials to test these things. So let's just imagine that a four-team playoff was instituted in 1998 instead of the BCS.
Actually I did something similar last December to decide how big the field should be (answer: six). The point of this exercise is a little different in focusing on a four-team system; hopefully it'll give us a preview of what we're getting into. Perhaps by running through BCS history we can anticipate the kinds of controversies a four-team playoff will generate, and which iniquities of the current system will be eradicated.
Fortune Favors Where the Heart Is
Brian's all for home games and so am I, but that's because I'm a college football fan who likes campuses and pageantry and bands playing associative 19th century marching tunes and sidelines where the subs aren't $3.99 sandwiches. Fortunately money is on the side of home games too. Travel costs are at least halved, yes, but the capacities also increase by an average of 10,000 per game.
I got that number by re-seeding the last 14 years of BCS playoffs as if it was a four-team instead of two-team playoff, and showing the capacities of the home stadia they might have played in versus the bowl games they would have been assigned via a host's tie-in system:
| Year | Game | Game | Venue | Host Capacity | Bowl | Bowl Capacity |
| --- | --- | --- | --- | --- | --- | --- |
| 1998 | #1 v #4 | Ohio St @ Tennessee | Neyland | 102,455 | Sugar | 76,468 |
| 1998 | #2 v #3 | Kansas St @ FSU | Doak Campbell | 82,300 | Orange | 76,500 |
| 1999 | #1 v #4 | Alabama @ FSU | Doak Campbell | 82,300 | Orange | 76,500 |
| 1999 | #2 v #3 | Nebraska @ Va Tech | Lane Stadium | 66,233 | Fiesta | 73,227 |
| 2000 | #1 v #4 | Miami @ Oklahoma * | Gaylord | 82,112 | Fiesta | 73,227 |
| 2000 | #2 v #3 | Washington @ FSU † | Doak Campbell | 82,300 | Orange | 76,500 |
| 2001 | #1 v #4 | Colorado @ Miami | Dolphin Stadium | 76,500 | Orange | 76,500 |
| 2001 | #2 v #3 | Oregon @ Nebraska ‡ | Memorial | 81,067 | Fiesta | 73,227 |
| 2002 | #1 v #4 | USC @ Miami | Dolphin Stadium | 76,500 | Orange | 76,500 |
| 2002 | #2 v #3 | Georgia @ Ohio St | Ohio Stadium | 102,329 | Rose | 94,392 |
| 2003 | #1 v #4 | MICH @ Oklahoma§ | Gaylord | 82,112 | Fiesta | 73,227 |
| 2003 | #2 v #3 | USC @ LSU | Tiger Stadium | 99,500 | Sugar | 76,468 |
| 2004 | #1 v #4 | Utah @ USC ‖ | LA Coliseum | 93,607 | Rose | 94,392 |
| 2004 | #2 v #3 | Auburn @ Oklahoma | Gaylord | 82,112 | Fiesta | 73,227 |
| 2005 | #1 v #4 | Ohio St @ USC | LA Coliseum | 93,607 | Rose | 94,392 |
| 2005 | #2 v #3 | Penn St @ Texas | Darrell K Royal | 100,119 | Fiesta | 73,227 |
| 2006 | #1 v #4 | LSU @ Ohio St | Ohio Stadium | 102,329 | Rose | 94,392 |
| 2006 | #2 v #3 | Florida @ MICH ¶ | The Big House | 109,901 | Sugar | 76,468 |
| 2007 | #1 v #4 | Oklahoma @ Ohio St | Ohio Stadium | 102,329 | Rose | 94,392 |
| 2007 | #2 v #3 | Va Tech @ LSU | Tiger Stadium | 99,500 | Sugar | 76,468 |
| 2008 | #1 v #4 | Alabama @ Oklahoma | Gaylord | 82,112 | Fiesta | 73,227 |
| 2008 | #2 v #3 | Texas @ Florida | The Swamp | 88,548 | Sugar | 76,468 |
| 2009 | #1 v #4 | TCU @ Alabama | Bryant-Denny | 101,821 | Sugar | 76,468 |
| 2009 | #2 v #3 | Cincinnati @ Texas | Darrell K Royal | 100,119 | Fiesta | 73,227 |
| 2010 | #1 v #4 | Stanford @ Auburn | Jordan-Hare | 87,451 | Sugar | 76,468 |
| 2010 | #2 v #3 | TCU @ Oregon | Autzen | 54,000 | Rose | 94,392 |
| 2011 | #1 v #4 | Stanford @ LSU | Tiger Stadium | 99,500 | Sugar | 76,468 |
| 2011 | #2 v #3 | Okla St @ Alabama | Bryant-Denny | 101,821 | Orange | 76,500 |
------------------------------------------------------
* Miami finished 4th and Washington 3rd in the BCS standing, but I swapped them to avoid an FSU-Miami rematch.
† 10-1 Washington is in over 10-1 VT and 10-1 Oregon State.
‡ Nebraska/Colorado/Oregon is a mess. I figured 2 losses mean Colorado takes the back seat, and Oregon gets screwed by the committee who don't want a game in Eugene if they can avoid it.
§ Another mess. The committee could as easily put USC here to face Michigan.
‖ Texas and Cal were both ranked higher than Utah, but Utah gets nod so that 4/5 undefeated teams are in the playoffs Boise State is out.
¶ I put Michigan as the No. 2 and host since bumping Florida no longer avoids a rematch.
------------------------------------------------------
And the numbers:
| Factor | Home Game | Bowl |
| --- | --- | --- |
| Avg. Attendance | 89,807 | 79,390 |
| % of Games < 80k | 21.4% | 78.6% |
| Largest Crowd | 109,901 | 94,118 |
| Smallest Crowd | 54,000 | 73,227 |
In 1998 a difference of 10,000 seats might have been made up for by the bowl venues because of their luxury boxes and better concessions, but since then the big-time collegiate venues, i.e. the ones most likely to be ranked in the Top 2 at the end of the regular season, have more than caught up to the pros in every regard except in-stadium advertising (for good reason). Meanwhile the only bowl venue comparable to the homes of D-I power programs is the Rose (a college stadium).
There were some calls I had to make in there, for example LSU won't increase its capacity to 99,500 until 2014 (they're at 93,000 now). And U-Phoenix Stadium was listed at its maximum football capacity to date, not the one they say they can get to with their ultra-hydro-matic seating expansion system™, because if they couldn't whip them out for the Superbowl why would they have them for an NCAA semi-final?
Sanity-checking, I did this initially using real numbers—taking the largest announced capacities for each host's and bowl's venue for that year (example: Neyland Stadium's 107,653 in 1998 is from the '98 Florida game)—and the numbers barely moved. Avg. capacity for home games: 88,489; Avg. capacity for bowls: 77,877. Same difference.
Future-proofing the dolla dolla bill y'all advantage, college football stadiums are growing in capacity while the bowl stadiums aren't.
I emphasize this because the bits of conversation leaking from the commisionerati keep fearing things like Cincinnati (Nippert Stadium: 35,097) finishing in the Top 2. Looking above there are just four games in 28 in which a stadium of under 80,000 capacity would have hosted: Autzen's 54,000 once, Virginia Tech's 66,000 once, and two games at Miami (YTM)'s home, which is the same place they play the Orange Bowl.
This is our concern Lebowski
I don't believe the dreaded small venue is that much of a threat. Paul Brown Stadium is three miles away from Nippert and is tapped often for "big" games like West Virginia and Louisville. TCU is in Fort Worth, spitting distance from JerryWorld. Boise State sneaking in after trouncing the now mid-major Big East is the real concern, but they've been handily kept out of the Top Two so far; if it actually comes down to undefeated Boise getting a home seed, either suck it up and let them have the most important event in Idaho history they deserve after being so good so long, or find a way to slide a 2-loss SEC team ahead of them and ride out the now-standard outrage.
Brian mentioned the bowl games aren't worried about selling out since they sell mostly to scalpers who then assume the risk/reward of the eventual matchup, but this also creates a middle-man scenario. The reason scalpers do this is the market is almost always higher than the face value once the teams are decided, with fans commonly paying three times the initial value. If you want to know how to flow this price variance to the athletic departments instead of the scalpers, just have Dave Brandon give his seminar on Creating the Future™ to ADs; a huge donation to get on the waiting list for season tickets feels like fleecing, but if I'm paying $300 on Stubhub now, why wouldn't I donate $200 to the university to reserve my $100 seat?
There Is a Downside to Home Games
And I just hinted at a big one just now: any controversy a four-team field avoids over a two-team field, it gains back again by having either pollsters, computers, or committees parsing between nearly identical seasons to decide who hosts the #2-#3 game. All it takes is one petulant Dantonio (or Urban Meyer PR campaign, or Fulmer with Heisman envy) to swap Gators in the Big House for Wolverines in the Swamp.
Add that to the fact that you just swapped the "who's in" wrangling from 2-3 to 4-5, and now there's at least two teams every season likely to believe they got screwed. Neutral site games at least neutralize any advantage gained by being #2 rather than #3. Of course it also neutralizes the advantage of being #1 versus #4 (except for a vaguely easier matchup in the first round). There is a possibility of a compromise solution here where #1 plays #4 at home but the 2-3 game goes to a predetermined neutral site. Of course now you're just shifting that argument to 1-2.
Another advantage of using the bowls—to the ADs, not the fans—is that home games at college stadiums invite the nasty beast of student tickets. Students pay more now than they ever did (my senior year was $85) but it's still way less than alumni. Make them buy general admission for a semifinal game and you invite the inevitable Daily column and Diag outrage. Give 'em the student discount and you just wiped out much of your 10,000-toushie advantage. Go to a bowl and the question is moot.
ADDED: I forgot (and meant to) mention that another consideration against home sites is that the teams themselves would probably rather travel. The big schools use their bowl trips and bowl swag to reward the players and recruit new ones. Roy Roundtree (just using him as an e.g. senior everyone likes) would probably take the free trip to Pasadena over another home game in Ann Arbor if you put it to him that way. The big thing the bowls have going for them is that the teams themselves love traveling to the bowls.
A Few Case Studies
-----------------------
What happened: Tennessee came in 12-0 and an obvious No. 1, but there was some debate about who should play them. Florida State, near the peak of their powers, was the most sensible pick. Other claimants included one-loss Kansas State and Ohio State, both behind FSU more for the timing of their one loss than anything else. Tulane went undefeated spread 'n shredding a Conf-USA schedule. Arizona and Wisconsin also went 11-1.
And then we had a big debate about: Mostly that Kansas State wasn't invited to any BCS bowl; they ended up losing to Purdue in the Alamo.
If we had a playoff: Tennessee hosts Ohio State, Kansas State visits Tallahassee, and nobody complains but Tulane. The normal tie-ins for bowls fit just as nicely.
Outcome: Few thought Ohio State or Kansas State were better than Florida State so this works out either way.
-----------------------
What happened: Oklahoma was undefeated and an obvious #1. After that it was an inbred mess of one-loss teams. Florida State's loss was to one-loss Miami (YTM), as was V-Tech's only loss. Miami only lost to Washington, who only lost to Oregon, who had two losses one of which being to Oregon State, who only lost to Washington. FSU got the nod because they're Florida State.
And then we had a big debate about: If only Henson had been healthy all year. And the whole head-to-head-to-head thing.
If we had a playoff game: Well you leave out Oregon State and VT, though everyone but the fans of those teams could be down with that. But now you need to do some fiddling to avoid a rematch in the semifinals. For this reason you want FSU playing Washington, but which one hosts? Probably Florida State, and Miami has to be content with facing Oklahoma when they thought they should be hosts themselves.
Outcome: This illustrates the playoff problem of rematches, which if not controlled by a committee of sorts would become twice as likely now that twice as many teams are in the playoffs.
-----------------------
What happened: Similar situation as the previous year, fewer teams, more debate. Miami was obviously #1 and mentioned among the best teams ever. Nebraska thought they might be in that conversation until losing to Colorado, who went on to win the Big XII championship but had two losses. And then there's Oregon, as justifiable and as ignored in the year-long, racial-overtoned Huskers vs. Canes fest as Joey Harrington's Heisman-level campaign. Nebraska got the nod, and got demolished.
And then we had a big debate about: If you don't even win your conference… Nobody mentioned Oregon, which I thought was very weird and spent most of a night trying to convince the Daily sports editor to back over Colorado.
If we had a playoff game: Hooray they're all in. Again there's the rematch situation that's easily solved by having Colorado be the fourth seed and Oregon visit Nebraska. We all win.
Outcome: Here we see how a neutral site isn't necessarily a home game, since a Miami home game and the Orange Bowl are the same thing. On the other hand you're trading Tempe for Nebraska in early January.
-----------------------
What happened: There were three viable one-loss teams and only two spots. The BCS used computers to judge the strength of a season to make up for pollsters' obsession with shiny things and whatever happened three seconds ago, and this resulted in LSU and Oklahoma playing with USC left out despite being #1 to both polls of people who are easily distracted by Reggie Bush. The AP rebelled and said it would stick with USC if they beat Michigan in the Rose Bowl.
And then we had a big debate about: How computers and statistics and the hard realities of the world around us are not nearly as important to the greater human experience as the world that we perceive, that what makes us human is this capacity for fallibility, that we can make choices of the heart even in the face of concrete logical evidence. If you think otherwise then you're a pointy-eared bastard.
If we had a playoff game: Well there's three one-loss teams and then a whole slew of relatively even two-loss teams. However the 5th ranked one had just lost to the 4th ranked one, which was Michigan. So John Navarre and co. travel to Norman while USC faces LSU.
Outcome: I actually like our chances against Oklahoma. Not love, but like better than USC. Oh right, hypothetical. Well USC going to Baton Rouge instead of staying in L.A. because of a computer would bother them just as much as going to New Orleans instead of the Rose Bowl because of a computer.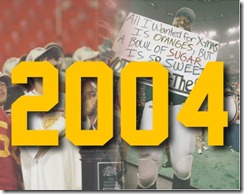 -----------------------
What happened: Virtually the same thing, different result. Three undefeated teams on top plus two undefeated mid-majors, and two one-loss teams between them.
And then we had a big debate about: How Auburn could be left out because pollsters don't care about strength of schedule and the computers were neutered.
If we had a playoff game: Well now Auburn is in but who plays USC? Can Mack Brown downvote Cal to get the Longhorns into the playoffs instead of the Rose Bowl? Or do they take the Bears for having lost only to USC (and do they play at USC again, or do we move the #1 seed so now Auburn's playing USC? Or do we take 11-0 Utah and skip the be-loss'ed teams? Then what about Boise State? Eh, screw Boise. Oklahoma gets Utah and Auburn visits USC.
Outcome: This is a classic example of how odd numbers screw with playoffs. A two-team playoff left out Auburn; a four-team playoff now elevates the Texas-Cal dishonesty to playoff proportions. That's why I said they ought to take Utah. What I don't want to see is for the system to force them to take an undefeated 6th seed over a 1-loss four-seed. I'm pretty sure by this point that I'm for a committee, not a ranking system, determining the seeds.
-----------------------
What happened: You already know about [deep echoey voice] FOOTBALL ARMAGEDDON and the result.
And then we had a big debate about: You know that too.
If we had a playoff game: Now the question is which two-loss team between LSU and USC? And down the line there's still one-loss Louisville, one-loss Wisconsin, and undefeated Boise State. This time I invite the Broncos, because there's such a clear line between Michigan's season and LSU's (at this point anyway).
Outcome: Here's the 2 or 3 problem. We know Florida got in when Michigan's prima facie case was far stronger, but that was to avoid a rematch of [deep voice] FOOTBALL ARMAGEDDON. Would they do the same just to avoid a January date in the vicinity of Great Lakes?
-----------------------
What happened: Final BCS Standings: 1. Oklahoma (12-1), 2. Florida (12-1), 3. Texas (11-1), 4. Alabama (12-1), 5. USC (11-1), 6. Utah 12-0, 7. Texas Tech (11-1), 8. Penn State (11-1), 9. Boise State (12-0)
And then we had a big debate about: All of the things.
If we had a playoff game: Half of the things.
Outcome: Expanding to four teams does not guarantee a national champ.
-----------------------
What happened: Five teams finished undefeated, and Florida had only lost to Bama in the SEC championship game. Since only two of the undefeated teams were from real BCS conferences (We had to be reminded multiple times that season that Cincy was in the Big East. q.v.) it was an easy choice.
And then we had a big debate about: How mid-majors who play perfect seasons always get screwed, even after they are careful to add at least one football team to their schedules full of Rocky Mountain mime schools.
If we had a playoff game: Boise still gets left out, Bama and Texas munch on snackycake undefeated teams before the inevitable matchup between them.
Outcome: You got the idea awhile ago. The following year TCU was undefeated and left out of an otherwise obvious matchup of Auburn and Oregon.
-----------------------
What happened: LSU was 13-0, and had already beaten No. 2 Alabama in Tuscaloosa, Okie State and Stanford made one-loss runs that nobody thought were as good as Bama's season. So we played the rematch nobody wanted to see outside the SEC, and horror of horrors the original loser won by enough to win the battle of "my win over you was better than your win over me, let's lolz at everyone else who is puny for not cutting their bad players and replacing them with robots! lolz lolz lolz S-E-C!"
And then we had a big debate about: How we need a playoffs.
If we had a playoff game: For the first time it would have been almost perfect.
Outcome: As with every other BCS season, the perfect system for any given year is the one implemented next year.
1999, 2000, 2002, and 2005 are examples of when a four-team playoff would have overly complicated a relatively simple field of two. This ought to be a greater concern than whether a school that seats 35,000 and doesn't have access to an NFL venue nearby will end up ranked in the Top 2. I believe an option to skip the semifinals in obvious situations would ensure they have the right playoff every year, but that creates its own problems.
Birthday shout-out to my little brother. You're getting MGoShirts again.