Michigan Basketball Season Preview: The Schedule
Part the third. Now that we've seen the Media Day and the Team, let's take a look at Michigan Men's Basketball's 2010-11 schedule.
Non Conference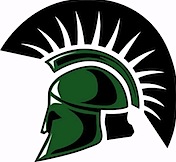 South Carolina Upstate
Nov 13 (Saturday), 7pm.
2009-10 Record: 6-23 (6-14 Atlantic Sun)
Final 2010 Kenpom rank: 280
Key returning players: G Ryan LeGates, F Mezie Uzochukwu, G Josh Chavis.
The USC Upstate Spartans were a very bad basketball team last year, and are likely to see a repeat of that this season, after losing their top two players in 7-3 center Nick Schneiders and 6-5 forward Pat Posey. The Spartans (Not Those Spartans) were horrible on offense, but mediocre defensively, so this should be a good first test for the Wolverines' young offense.
Bowling Green
Nov 18, 7pm.
2009-10 Record: 14-16 (6-10 MAC)
Final 2010 Kenpom rank: 206
Key returning players: F Scott Thomas, G Jordon Crawford, F Danny McElroy.
BGSU was below-average both offensively and defensively. They lose the two tallest players from last year's squad in 6-9 centers Otis Polk (a major contributor to the team) and Marc Larson (a role player). They'll have to replace that size with 6-10 freshman Cameron Black and 6-8 senior Mike Dabney, who is in his first year on the squad. With starting guard Jordon Crawford coming in at just 5-6, this will be one of the smaller teams the Wolverines play all year.
Gardner-Webb
Nov 21, 7pm.
2009-10 Record: 8-21 (5-13 Big South)
Final 2010 Kenpom Rank: 331
Key returning players: F Jonathan Moore, G David Brown.
The opening rounds of the Legends Classic does Michigan's RPI no favors, as Bowling Green is followed by Gardner Webb, yet another horrible team. The Runnin' Bulldogs were terrible last year against a ridiculously easy schedule, finishing in the bottom 30 teams in offensive efficiency and the bottom 15 in defensive efficiency. It couldn't get any worse, right? Well, first-year coach Chris Holtmann also loses 4 of the 6 most-deployed players from last season's squad. If this game is anything other than a walk in the park, there's big trouble ahead for the Wolverines.
Syracuse

Nov 26, 8pm (Atlantic City, NJ) - Legends Classic.
2009-10 Record: 30-5 (15-3 Big East)
Final 2010 Kenpom Rank: 4
Key Returning Players: G Scoop Jardine (at right), G Brandon Triche, F Mookie Jones.
Though the Orange lost Wes Johnson and Andy Rautins to the NBA and Arinze Onuaku to expired eligibility, they were such a good team last year, and are a consistent enough power to replace those players (they landed the nation's #5 shooting guard in Dion Walters, #19 small forward in CJ Fair, and #2 center in Fabricio de Melo). By nearly every metric, The Orange (no longer -men)  were and will be a better team than the Wolverines, and this should be a very tough game for John Beilein's crew to win.
Georgia Tech or UTEP
Nov 27 (Atlantic City, NJ) - Legends Classic.
Barring a major upset over Syracuse, Michigan will face the loser of Georgia Tech/UTEP in the consolation game of the Legends Classic. Georgia Tech was Kenpom's #27 team last year, while the Miners weren't far behind at #37.
@ Clemson
Nov 30, 9pm - Big Ten/ACC Challenge.
2009-10 Record: 21-11 (9-7 ACC)
Final 2010 Kenpom Rank: 20
Key Returning Players: G Demontez Stitt, G Tanner Smith, F/C Devin Booker.
Clemson will try to avenge their 2009 Tournament loss to the Wolverines, while Michigan tries to make up for choking away their Big Ten/ACC Challenge game last year against Boston College. The Tigers lost 1st-round draft pick Trevor Booker from last year's team, but return most of a pretty good nucleus. Clemson was a tournament team yet again last year, and particularly excelled on the defensive end (where T. Booker was an All-Conference pick). The Tigers also lost David Potter, whose departure should mean more minutes for Devin Booker.
Harvard
Dec 4, 1pm.
2009-10 Record: 21-8 (10-4 Ivy)
Final 2010 Kenpom Rank: 120
Key Returning Players: F Kyle Casey, F Keith Wright, G Dee Giger.
Tommy Amaker got revenge on his former employer by leading the Crimson to an upset just a year after getting fired by Michigan. Three short years later, he brings his squad into Crisler Arena to repeat the upset. However, Harvard lost guard Jeremy Lin in the offseason, by far their best player last year. They were decent offensively, and middle-of-the-pack on defense. They only beat one team in the Kenpom top 100 (Boston College, #62) last year, and a loss here would be an upset.
Utah
Dec 10, 6:30pm.
2009-10 Record: 14-17 (7-9 Mountain West)
Final 2010 Kenpom rank: 125
Key Returning Players: F Jay Watkins, G Chris Hines.
Michigan traveled out to Salt Lake City last fall and was embarrassed by a pretty bad Utah team in a game that Zack Novak missed with the flu. The Utes will come into Ann Arbor with a very different team, as Luka Drca and Kim Tillie have graduated, while Carlon Brown, Marshal Henderson, and Jordan Cyphers all left the program with eligibility remaining. Michigan's shooting was their downfall in Salt Lake City, and it remains to be seen if the new edition of the Wolverines will be any better in that regard.
North Carolina Central
Dec 14, 7pm.
2009-10 Record: 7-22 (Independent)
Final Kenpom rank: 338
Key Returning Players: NC Central's website doesn't have a 2010-11 roster up(!), so I'll assume every non-senior is back...
But it won't matter. NCC was a horrible basketball team last year, and it should be again this season. Four of the Eagles' seven wins came against non-D1 squads, and they were pasted by such college basketball luminaries as Savannah State and Longwood. They were a horrific team on offense, and a very bad one on defense, and that's a hole that will take more than one year to dig out of.
Oakland

Dec 18, noon.
2009-10 Record: 26-9 (17-1 Summit)
Final Kenpom rank: 146
Key Returning Players: C Keith Benson, G Larry Wright, G Ledrick Eackles.
The Golden Grizzlies were an NCAA tournament team last year, and a pair of 5th-year seniors in Benson and Wright will try to return them to the promised land. Oakland was a decent offense (outside of their inability to shoot from deep), but a fairly bad defense. Also of note: former Wolverine Laval Lucas-Perry (pictured at right, photo by Paul Nelson of mgoblog) is now on Oakland's roster, though he won't be eligible to play this season.
Bryant University
Dec 23, 6pm.
2009-10 Record: 1-29 (1-17 Northeast)
Final Kenpom rank: 346 (of 347).
Key Returning Players: G Raphael Jordan, F Vlad Kondratyev, F Cecil Gresham, F Claybrin McMath, G Erick Smith.
Bryant was the second-worst team in the country last year, per Ken Pomeroy, so it could be a blessing and a curse that they have many of their major contributors back. Those players probably aren't very good, but there should be improvement in stability. The team's leader in minutes, Chris Birrell, is out the door, but there's really nowhere to go but up.
Kansas
Jan 9.
2009-10 Record: 33-3 (15-1 Big 12)
Final Kenpom rank: 2.
Key Returning Players: F Marcus Morris, C Markieff Morris, G Elijah Johnson.
Hide yo kids, hide yo wife. Despite Kansas losing several players to the NBA, this should be a snuff film masquerading as an intercollegiate sporting event.
The Big Ten comes after the jump, in order of first appearance against Michigan (aside from the two 1-plays, who come last).
The Big Ten
Penn State

Home: Jan 2, 4pm. Away: Feb 6, 12pm.
2009-10 Record: 11-20 (3-15) 1-1 against Michigan.
Final Kenpom rank: 97.
Key Returning Players: G Talor Battle (photo at right by Paul Nelson of mgoblog), G Tim Frazier.
Talor Battle withdrew from the NBA Draft to return for one final season in Happy Valley after a subpar campaign left a sour taste in his mouth last year. A few role players return around him, so the Nittany Lions should be improved. Michigan was able to get the best of them once last year.
Wisconsin
Away: Jan 5, 8:30pm. Home: Feb 23, 6:30pm.
2009-10 Record: 24-9 (13-5) 2-0 against Michigan.
Final Kenpom rank: 9.
Key Returning Players: F Jon Leuer, G Jordan Taylor, F Ryan Evans.
Though Trevon Hughes and Jason Bohannon won't suit up in Madison this year, you can bet the Badgers will be a suffocating, frustrating defensive team - just like all Bo Ryan squads before them. Jon Leuer and Jordan Taylor should lead UW this season, and Keaton Nankivil will also play a big role.
Ohio State
Home: Jan 12, 6:30pm. Away: Feb 3, 7pm.
2009-10 Record: 29-8 (14-4) 2-1 against Michigan.
Final Kenpom rank: 5.
Key Returning Players: G William Buford, F David Lighty.
Evan Turner is gone, but Buford and Lighty will lead a team that returns sharpshooter Jon Diebler and certified fatboy Dallas Lauderdale. Adding the nation's #3 recruiting class (per Scout) can't hurt either, and Thad Matta should keep his squad humming along efficiently.
Indiana
Away: Jan 15, 8pm. Home: Feb 12, 4pm.
2009-10 Record: 10-21 (4-14)
Final Kenpom rank: 183
Key Returning Players: G Verdell Jones, F Christian Watford, G Maurice Creek, F Derek Elston.
The Hoosiers weren't a particularly good team last year, but they return a strong nucleus, and are in their second third year of The Tom Crean Reclamation Project. Several young players should step up, and there are a few stars in the making such as Jeremiah Rivers and Verdell Jones. The Hoosiers should easily be one of the top teams in the Big Ten's lower tier, unless they can make their way squarely into the middle.
Northwestern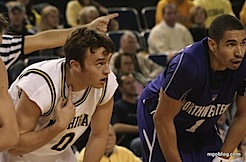 Away: Jan 18, 8pm. Home: Feb 9, 6:30pm.
2009-10 Record: 20-14 (7-11) 2-0 against Michigan
Final Kenpom rank: 82
Key Returning Players: F John Shurna, G Drew Crawford (pictured at right NOT getting poked in the neck by Zack Novak. Photo by Paul Nelson of mgoblog).
Kevin Coble made a shocking decision for Wildcat partisans to give up basketball in order to focus on academics, in a year when the Wildcats were poised to make their first-ever trip to the Big Dance. Jeremy Nash is the only other significant loss for this Northwestern team, so they may be able to make the push without Coble's help. Michigan lost two games against NU last year, one of them an epic choke job at home.
Minnesota
Home: Jan 22, 7pm. Away: Feb 26, 3:30pm.
2009-10 Record: 21-14 (9-9) 0-2 against Michigan.
Final Kenpom rank: 32
Key Returning Players: G Devoe Joseph???, C Colton Iverson, C Ralph Sampson III.
The Gophers have a ton of roster turnover, which could lead to a down year in he Twin Cities - especially until Devoe Joseph's status with the team is known. Lawrence Westbrook, Damian Johnson, and Paul Carter will no longer suit up in maroon and gold. Michigan was able to beat the more-talented edition of the Gophers twice last year (albeit with a more talented squad of their own), so it will be interesting to see what unfolds in their matchups this season.
Michigan State
Away: Jan 27, 7pm. Home: Mar 5, 2pm.
2009-10 Record: 28-9 (14-4) 2-0 against Michigan.
Final Kenpom rank: 23.
Key Returning Players: G Kalin Lucas, F Draymond Green, G Durrell Summers.
The Spartans are coming off yet another strong season, and I don't think I need to explain how our in-state pals have fared under Tom Izzo. Raymar Morgan is no longer a Spartan and Kalin Lucas is coming of a serious achilles injury, but this team stacks up among the most talented in the country.
Iowa
Home: Jan 30, 4pm. Away: Feb 19 or 20.
2009-10 Record: 10-22 (4-14) 0-3 against Michigan
Final Kenpom rank: 173
Key Returning Players: G Matt Gatens, G Cully Payne, G Eric May, F Jarryd Cole.
Fran McCaffery has a serious rebuilding job on his hands (one that several Hawkeyes, including Aaron Fuller, wanted no part of) to say goodbye to the Todd Lickliter era. The Hawkeyes were awful last year, and losing their best player probably won't go a long way toward rectifying that. Michigan managed the rare trifecta against Iowa last season.
Purdue
Home: Dec 28, 2pm. 1-Play.
2009-10 Record: 29-6 (14-4) 1-0 against Michigan.
Final Kenpom rank: 16
Key Returning Players: G E'Twaun Moore, C JaJuan Johnson.
Robbie Hummel has to be one of the unluckiest guys in America, because yet another knee injury has sidelined him for the season. With him, Purdue was looking like a National Championship contender, now they're merely a Big Ten Title contender (no small feat itself in a very strong league). The Wolverines only have to face the Boilers once, but I'm still having nightmares about how Jordan Morgan and Blake McLimans are going to stop JaJuan Johnson.
Illinois
Away: Feb 16, 7:30pm. 1-Play
2009-10 Record: 21-15 (10-8) 1-0 against Michigan.
Final Kenpom rank: 53
Key Returning Players: G Demetri McCamey, G Brandon Paul, F MIke Davis.
Guard DJ Richardson and center Mike Tisdale are among the returners for Illinois who didn't quiiiite make Kenpom's cutoff for "significant contributor," meaning the Illini lose only Dominique Keller - who played only a quarter of available minutes last year - from their heavy rotation. Bruce Weber's squad missed out on the NCAA tournament last year, but is poised to return to the dance in 2011.