Michigan Basketball 2009-10
Coming into the year, expectations were high for the Michigan basketball team. They were fresh off their first NCAA Tournament appearance in a decade, returning two of the best players in the Big Ten. They had to replace only walk-ons and a Canadian.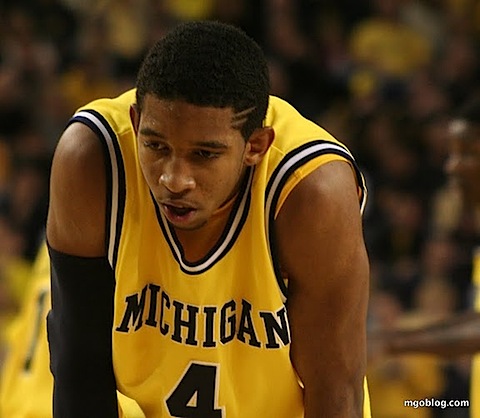 So that worked out great, right? Most Michigan fans probably would have told you that #15 in the nation was too high, but nobody would have had the audacity to tell you that the Wolverines would remain mostly healthy and still limp to a sub-.500 record. In its 18 defeats, the Michigan basketball team had found just about every way to lose. There was the time they were run off the court by an inferior opponent, the time they stayed in the game against a much better opponent despite missing one of their best players, the time they almost upset their instate rival but fell just short, and all variety of just not being the better team. Also times where Evan Turner hit a 37-foot prayer at the buzzer.
: (
There have to be reasons for these things happening, and no, Idiot Message Board Guy, that reason is not "JOHN BEILEIN SHOULD BE FIRED OMG."
Shooting
As with most John Beilein teams, Michigan was expected to bomb away from deep this year, and bomb away they did. Unfortunately, nobody seemed to tell them that they were supposed to, like, make some of those shots. For the season, they shot 41.6% from the field, and 29.9% from long range. This constituted 43.2% of their shots. Put it all together, and it results in a crappy 48.1 eFG% on the season. That's good for about 230th in the country. Last year, they shot 50.3 eFG%, and finished 117th.
For individual changes in shooting, I think we're going to need a...
Chart?
Chart. Players are arranged by the number of shots they took in 2009-10.
Michigan Shooting
Player
2008-09 eFG%
2009-10 eFG%
DeShawn Sims
53.4
51.6
Manny Harris
47.4
47.7
Stu Douglass
50.3
45.4
Zack Novak
50.5
47.9
Laval Lucas-Perry
49.6
45.1
Darius Morris
-
43.4
Zack Gibson
51.2
61.2
Anthony Wright
46.2
35.6
Matt Vogrich
-
53.6
Josh Bartelstein
-
0.00
Ben Cronin
50.00
33.3
Eso Akunne
-
66.7
Eric Puls
92.9
0.00
Corey Person
-
-
Kelvin Grady
50.00
-
CJ Lee
53.9
-
Jevohn Shepherd
48.5
-
David Merritt
50.9
-
Every returning player except Manny Harris and Zack Gibson saw a reduction in their shooting percentage from last year to this. I didn't check how many of those dropoffs are statistically significant (I imagine not very many of them, if any).
Also, for all the talk about how Michigan "only lost two walkons," everyone seems to have forgotten (and I'm guilty of this as well) that Kelvin Grady was an important part of last year's team, and a true point guard with some experience could have helped Michigan a ton this year. While some of the variation is probably luck, a team-wide regression points to poorer overall shot quality, and that starts with the gutted point guard position. This is true both with and without the ball: last year Lee, Grady, and Merritt were 1-2-3 in three point shooting. The three headed point guard took more threes than anyone on the team—172—and made more of them. This year the point guard was no-shoot Darius Morris and two guys, Laval Lucas-Perry and Stu Douglass, who struggled massively with at the spot.
Size
OK, so I take it back: injuries actually might have played a significant role in the season. Michigan was expecting to have at least one more big man in Ben Cronin, and maybe another in Jordan Morgan. Cronin, a true seven-footer, saw his season (and probably career) come to an end in November thanks to a recurring hip problem that surgery couldn't repair. Morgan is just a freshman, and probably wouldn't have played a significant role on the team even if he hadn't had a shoulder injury that forced surgery and a redshirt.
With Zack Gibson and Deshawn Sims Michigan's only players above 6-8 (and in Sims's case, he's only listed as so), this team was never going to be able to play big. Sure, they could have used Gibson and Sims together a bit more, but that also carried a risk of one of them getting in foul trouble and not having either of them when the other needed a rest.
Zack Novak is not a true power forward. Anybody who has watched the game of basketball and notice that he doesn't even graze 6-5 can tell you that. But Michigan didn't have a ton of (read: any) other options. Criticizing Novak for not being tall enough seems a little unfair, since I think that's mostly out of his control.
So, for all the coach-fans that say Michigan should have gone big or pounded inside more or whatever, they really couldn't do it much more than they did. They went to Sims early in nearly every game, but the opponents would figure it out in short order, and the option would disappear when shooters didn't emerge as a serious threat. At 6'8"-ish, Sims always struggled against guys pushing seven feet tall and no amount of development can fix that when you're the biggest guy on the court.
Coaching?
It's natural to look at the coaching of this team as a potential weakness. For all the limitations of this roster, it was mostly Beilein-assembled, particularly the guys who we were supposed to be relying on as shooters and either couldn't find the basket (Stu Douglass, Zack Novak) or the court (Matt Vogrich).
On a micro scale, there were individual strategic decisions in games that probably didn't make a lot of sense, either. Something with some guy named Turner comes to mind, I don't really remember. But for every one of those, there was probably a positive moment that either went unnoticed or, in one painful instance, un-capitalized upon.
At this point, it's far too early to even consider ditching the only coach who's taken Michigan to the tournament in the past decade. He has a track record of success at every level, and he hasn't done anything yet to show he's not capable of accomplishing that in Ann Arbor. For those who say "well he only lost walk-ons from a tournament team and went under .500," I reply: dude, you do realize that you just said this guy took a team to the tournament as he was forced to play walk-ons extensive time, right? As much as this team may have underachieved, it only looks worse because last year's squad overachieved so much by comparison.
Luck
There have been a lot of accusations over the past couple days that Michigan "underachieved" this year, which duh. However, those who say "Michigan only lost walk-ons off a tournament team should be in the tournament, bro" need to keep in mind that, as much as this team underachieved, last year's squad most definitely overachieved.
Luck most certainly played a role (F you, Evan Turner), and fortunately, Ken Pomeroy has a "Luck Rating" which measures a team's performance against expectation based on Pomeroy's rankings. Last year, Michigan was +0.004 in luck, 131st in the nation. This year? -0.086, 330th out of 347 D-1 teams. This team was horrifically unlucky this year, and slightly lucky last year, making the quality difference between the teams look much more severe than it actually was. In the end, Michigan finished 50th last year and 60th this year. The slide was real but not as severe as the numbers suggested.
For the record, this year's painfully inconsistent team was 238th in "Consistency" to Pomeroy. Last year's was actually worse at 266th.
Can It Get Better Next Year?
As the perpetually optimistic Michigan fan, I am inclined to say yes without even really thinking about the question. [Ed.: An exercise for the reader: if Tim is still perpetually optimistic, what short of a nuclear explosion centered on Michigan Stadium could cause him to lose this trait?] This team has to improve, right?
That partially hinges on the professional whims of Manny Harris. The eyeball test says he needs a senior, but he may be ready to move on. For what it's worth, Sam Webb suggests it's 65-35 Manny stays. The recruitment of Trey Zeigler is another huge factor, as he would be an instant-impact type.
The roster composition should be different next year either way, as Jordan Morgan and Blake McLimans will add some size. For the first time in Beilein's career at Michigan he'll have a true 4 for his system in the form of incoming freshman Evan "Metrics" Smotrycz. They'll have to be ready to contribute, since both of Michigan's post players are moving on after this season.
Michigan's shooting should (hopefully) improve after a decided downturn this year, and the roster should be much more experienced as long as Manny returns. Assuming "luck" is essentially random, the pendulum should swing back the other way (though that's not guaranteed - look at the football teams' turnover margin this fall), and hopefully break even at worst. If Manny comes back, it should be season in which Michigan contends for the NCAA tourney. Life on the bubble isn't satisfying four years into Beilein's tenure, but that's life.
The 2009-10 athletic season is on its way out, and bright times are ahead.