Michigan All-Pro Team: Defense
Ty Law's in the Hall of Fame. Tom Brady's the GOAT. And a bunch of former Michigan players just had their first go in the new AAFL. So I'm making a 53-man pro team out of Michigan alumni. I already did the offense. Here's Part II.
Previously:
Rules are the guy's Michigan career is irrelevant as long as he played here. Players are being judged by their contributions as a pro. Pro Bowls, starts, and longevity are more important than team success. It's also not simply a list of the greatest—I'm building a roster and some positions are considerably more stacked than others.
-----------------------------------------
Nose Tackle: Tom Keating (1964-'75)
Start about 5:28 and watch #74
Tom Keating played nose tackle for some of the greatest teams of the '60s and '70s, and was the fulcrum for one of the nastiest (and most successful) defenses in the history of the game. Keating's claim to fame at Michigan is he was the first Michigan player to touch the banner while captaining the defensive line for Bump's worst two teams.
Keating's pro career started slowly. Drafted by the Vikings (NFL) and the Bills (AFL), Keating chose the latter as they were one of the premier teams in the game. That proved a mistake, as Keating was relegated to a rotation spot on a stacked Bills roster (they were AFL Champions his first, second, and fourth years in the league).
Keating walked in 1966, and joined the Raiders. He was an immediate AFL All-Star, and by his second season in Oakland Keating was celebrated as the Aaron Donald of his time, anchoring a legendary Raiders defense that dominated the end of the 1960s. Except for the one season (1968) Keating missed with a leg injury, he was the premier DT in the league, and when the AFL merged with the NFL, he was the best in either. Their best defense was probably in 1970, the first year after the merger. But that was the year all of the Raiders' quarterbacks got injured and they had to re-sign kicker George Blanda to play quarterback. The injuries finally caught up in 1973, during the one year Keating spent mentoring what would become the front of the Steel Curtain. Keating's last great year was 1974 with the Chiefs, and he retired after 1975.
[After THE JUMP: One that got away]
-----------------------------------------
Three-Tech (DT): Trevor Pryce (1997-2010)
Do you remember the big outside linebacker who started nine games during that mid-'90s Angry Michigan Linebacker Hating God period, and then sat out the bowl game and transferred after allegedly stealing a car phone? Admittedly I did not—I had to have someone tell me Pryce played for Greg Mattison in Ann Arbor when they were with the Ravens. Pryce landed at Clemson, sat out a year, and then exploded in 1996 and left with eligibility remaining, a thing that back then was still pretty rare. I was also delighted to learn this because I had a Madden franchise at the time of only Michigan players, and Pryce at his peak had game-breaking ratings.
It was also the right move. Pryce bulked up to near 300 pounds on his massive 6'6" frame, went in the 1st round to the Broncos, and then moved down to defensive tackle on their Super Bowl-winning defenses. He really took off his sophomore year, when he could play the off-tackle or even strongside end more often, capping out at 13 sacks in his first Pro Bowl season of 1999. He would go to four of those with the Broncos, and was named first-team three times. His career then extended through the latter half of the aughts as a DT/DE on Baltimore's fantastic 2006-'09 4-3 under units. Pryce played a final year with the Jets in 2010 and retired with 91 career sacks. He's #46 to the Not In the Hall of Fame guys.
Pryce has made a second career as a young adult author; if your kids ever find Kulipari: An Army of Frogs on Netflix, that's his work. He can also play DT or DE.
Backups: Alan Branch (2007-'17) is a large dude whose career tracked quite closely to that of a five-star right at the same time that recruiting sites and evaluators alike were learning not to get too excited over 6'6"/350 athletic freaks. Looking back, Branch was ridiculous from the get-go, and we probably should have expected his long and productive career, which included two Super Bowl wins but not many individual honors over four different teams. I'm also taking Maurice Hurst (2018-present) now, even though PFF and MGoBlog remain the only people outside of his family who believe it, because I am convinced this roster would look stupid in three years if I didn't. The next options were the okay careers of Gabe Watson and Josh Williams, so give me the upside of Aaron Donald 2.0.
Honorable Mention: Gabe Watson (2006-'10) Josh Williams (2000-'05), Mike Hammerstein (1986-'90), Ryan Glasgow (2017-present), Mike Martin (2012-'15), Richard Ash (2015-'17), Glen Steele (1998-'03)
-----------------------------------------
Five-Tech (SDE): Albert "Ox" Wistert (1943-'51)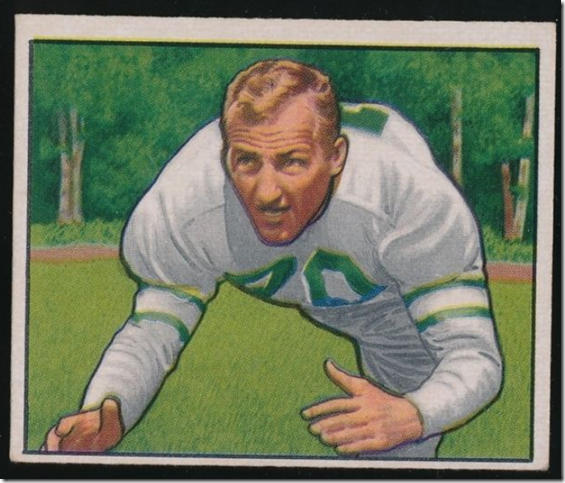 An eight(!)-time All-Pro selection, Albert was the third Wistert brother in age, the second to play for Michigan, and the only one to have an NFL career—eldest brother Francis "Whitey" Wistert went into professional baseball after college, and second brother Alvin "Moose" Wistert was already past 30 when he graduated in 1950. This is also cheating because Ox really made his name on offense, and in fact ended up playing offense-only in his last couple of years as platooning became standard. But I have too many great OTs and not enough good DTs to leave a legend off the field, especially when that legend was one of the best at his position over the last decade of single-platoon football.
I should also define what "Tackle" meant in those days, because that's changed. When Ox played the base defense was still the 6-2, and the 5-3 was the nickel formation that was well on its way to becoming an every-down thing. Either way, defensive tackles were still the guys who lined up opposite/outside offensive tackles:

That translates today to a five-tech or Anchor in the parlance of Don Brown's defense. Honestly the old terms made more sense.
Ox is also the only player to have his number retired by both Michigan and an NFL team. He was drafted by the Eagles in 1943 but due to the War they had to merge that season with the Steelers. Nevertheless the highest-paid rookie in football emerged over both rosters to start on both offense and defense. He was the Eagles captain from 1946 to 1950, leading Philly to two NFL championships in '48 and '49. When his career ended in 1951 he was the first Eagle to have his number retired, and in 2009 he was inducted into the Eagles honor roll.
One of the best players of the 1940s, Albert topped out at about 217 pounds, which even in his era was about 50 pounds lighter than the typical lineman. He made up for it with leverage and tenacity. Today he's another one of the guys that smart folk put on the top of revised Hall of Fame lists because the Hall typically forgot about linemen. Hall of Fame coach (and Michigan graduate) George Allen captured Wistert best in his book:
"He was as fine a blocker as you could want," former Washington … coach George Allen said in his book, Pro Football's 100 Greatest Players. "He didn't have the size to overpower people on the pass block, but he was a master of every kind of block. He always played in perfect position and was seldom off his feet. (Defensively), he was a superb pursuit man and seemed somehow to get in on every play. He was a sure tackler. He was maybe best against the run, but he was among the good early pass rushers."
Backup: Brandon Graham (2010-present). The Super Bowl that Brady lost last year was fine from a Michigan perspective because rising star Brandon Graham needed it more. The Eagles' first rounder had some injury issues early and bounced around between linebacker and DE, but finally settled in as an either-side starting DE in 2012 and was a second-team All-Pro in 2016.
Honorable Mention: Curtis Greer (1980-'87), Dave Gallagher (1974-'79), Kevin Brooks (1985-'90), Kerwin Waldroup (1996-'98)
-----------------------------------------
Weakside End: Len Ford* (1948-'58)
Len Ford came to Michigan after serving in WWII and was a star for the Mad Magicians. Nevertheless he went undrafted by the NFL, which at the time was still mostly white-only. So instead he became the most feared pass-rusher in the short history of the AAFC, starring on offense and defense. Ford was willing to stick it out but the AAFC, despite having the better talent, was falling apart. In 1950 they disbanded and the Browns snatched up Ford in the 2nd round (25th overall) in the dispersal draft. That draft is a who's who of '50s NFL greats, but Cleveland got the biggest steal. Ford went on to a Hall of Fame career.
Ford was targeted—this is only a few years after Jackie Robinson—his first year, and in the fourth game Pat Harder of the Cardinals hit Ford with an elbow (no facemasks back then) so hard it destroyed Ford's face. But Len, still on a liquid diet, demanded he get back in for the championship game when the Browns needed nothing less than a three-and-out, and he immediately got a 14-yard TFL, a sack, and another big TFL, leading the Browns to a championship. He would be the NFL's best defensive end through 1955. Ford hung around for the Jim Brown years and spent his last year with the Packers. Ford was inducted into the Hall of Fame in 1976.
Backup: Bill Hewitt* (1932-'43). Hewitt was just 5'9"/190; nevertheless he was an All-Pro six times, playing DE on defense and fullback on offense. The last NFL player not to use a helmet, Hewitt's nickname was "The offsides kid" because he was so good at timing the snap and causing havoc in the backfield. He was a two-time champion ('32 and '33), and a six-time All-Pro, and he's the reason they don't wear #56 anymore in Chicago. He was selected to the Hall of Fame in 1969.
Honorable Mention: In case two HoF'ers was't a clue, this position is deep. Frank Clark (2015-present) is one of the better DEs in the league right now, Len Ford's college roommate Bob Mann (1948-'54) was almost as good as his buddy, and James Hall (2000-'11), Roger Zatkoff (1953-'58), David Bowens  all had long NFL careers, while John Greene (1944-'50), Shantee Orr (2003-'08), John Hennessy (1977-'79), Pierre Woods (2006-'10), and Tim Jamison (2009-'14) had surprisingly long ones.
-----------------------------------------
Strongside Linebacker: LaMarr Woodley (2007-'15)
Michigan could never decide if Woodley was a DE or OLB. The Steelers just made him both. Super Bowl champion and Pro Bowler doesn't do LaMarr Woodley justice, since he played the strongside edge protector role in the Steelers' suffocating 3-4 defense (OLB-mate James Harrison got more clean pass rushes in that defense). Woodley still wracked up the sacks, highlights, and legends. In his first start Woodley looked like a future Hall of Famer, recording three tackles, a sack, an interception, a PBU, and fumble recovery.
Woodley gets extra credit for his amazing playoff play. He had multiple sacks in every game of the playoffs his first year and made the Pro Bowl in 2009. He lasted on the Steelers through 2013. He bounced around the league a couple more years then retired.
Backup: Cato June (2003-'09). Injuries slowed the onetime five-star safety prospect over his Michigan career, but Cato June found new life as the first modern hybrid SAM with the Colts, one of the main catalysts for turning the team that had Peyton Manning and no defense into a Super Bowl contender. One of the smartest guys in the NFL, June set the single-season record for picks by a linebacker by baiting openings in the slot then beating slot receivers to the ball. Cato was first-team All-Pro that year and won the Super Bowl the next. June went to Tampa Bay, who used him mostly as a pass-rusher, then bounced around a few more seasons. He's now one of the top high school coaches in the country.
HM: My dad always liked Mel Owens (1981-'89), Jake Ryan (2015-present), Victor Hobson (2003-'08), Rocky Rosema (1968-'71), Tommy Hendricks (2000-'04), Bobby Abrams (1990-'95)
-----------------------------------------
Middle Linebacker: John Anderson (1979-'89)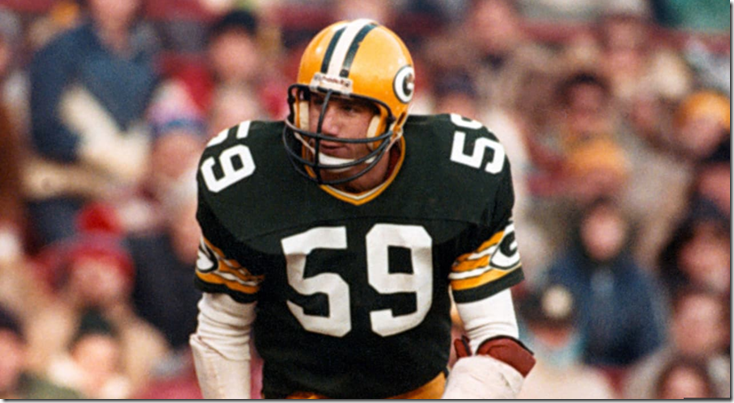 Via video on the Packers' website that they won't let you embed
Anderson came to Michigan from Wisconsin and returned thereafter, going 26th overall in the 1978 NFL Draft to the Green Bay Packers. Anderson remained a Packer for his entire career, moving back to inside linebacker after playing DE/OLB for Bo. He made the all-rookie team with five interceptions and 102 tackles (in the 13-game schedule).
After 12 years, Anderson retired the all-time Packers leader in tackles with 1,020, and was tied with Hall of Famer Ray Nitschke for most interceptions. While Anderson never won any national awards, he was named to the 1980s All-Decade Team by the Pro Football Hall of Fame, and inducted into the Packers Hall of Fame.
By the way Anderson also punted for Michigan in college, so if a special teams guy goes down he'd probably be decent modern option.
Backup:  David Harris (2007-'17) Especially loved around here because he was the first player that UFR correctly identified as extremely good at football, the Jets moved up in the 2nd round to draft Harris 47th overall. Harris won a starting job in 2008 and remained quietly excellent, appreciated by the experts but hardly nationally recognized as an elite player. That began to change in 2009 when the Jets defense finished atop the league in tempo-free stats and the nerds of New York adopted Harris as emblematic of the quietly excellent unit, earning him the nickname "The Hitman". Harris finished 2nd team All-Pro that year, the closest he would come. After 10 seasons and 1,109 tackles (but just six interceptions), Harris joined the Patriots for a run to the Super Bowl last year, but he wasn't a main contributor, and retired after the season
HM: Frank Nunley (1967-'76), Ron Simpkins (1980-'88), Ben Gedeon (2017-present), Sam Sword (1999-'02), Mike Lazetich (1945-'50)
-----------------------------------------
Weakside Linebacker: Larry Foote (2002-'14)
Sorry I don't have a video but between the Steelers putting out way too many behind-the-scenes vids and a tendency by Steelers fans to make awful slideshow/nu metal youtubes, you're lucky to find more than three seconds of slow-motion super-zoomed footage from Foote's excellent career. A mainstay as the weakside ILB in their 3-4 system of the aughts, Foote won two Super Bowls with Pittsburgh, none sweeter than XL in his deeply beloved hometown of Detroit (seriously, the guy named his son after Alan Trammell.)
Of course all the NFL films focused on backup RB Jerome Bettis and his 3 YPC on 14 carries, not the Detroiter who stayed near Detroit for college and led the Steelers defense with five solo tackles, a TFL, and a game-saving stop on a Hasselback scramble, holding the best offense in the NFL to 10 points, and proving once again that the media is good at finding a great story about a Michigan player then popularizing a similar story about a less inspiring, marginally useful Notre Dame player instead.
Foote came to the Lions after his first seven years with the Steelers were over, but that lasted just one year before Pittsburgh needed him back. He later joined the Arizona Cardinals as a player transitioning to coach, playing there one season and coaching linebackers there through this year. His NFL career totals: 134 starts, 807 tackles, 65 TFLs.
Backup: Bill Laskey (1965-'74). Another of those Raiders greats, Laskey was a contemporary of Keating and followed him to Buffalo then Oakland.  Laskey, an end in college, was selected to the 1965 Pro Bowl as a second-team all-AFL player as a rookie. He played all three linebacker positions for the Raiders for two AFL-champion teams, then went on to start for the Colts and Broncos for a couple of years each.
HM:  Ian Gold (2000-'07), Dhani Jones (2002-'10),  Dan Jilek (1976-'79), Fred Negus (1947-'50)
-----------------------------------------
Strong Safety: Dwight Hicks (1978-'86)
Drafted but not signed by the Lions in 1978, Hicks got his pro career started with the Toronto Argonauts, an inauspicious beginning for what would become a four-time Pro Bowler and star safety for the 49ers dynasty of the early '80s. The Wolfman (strong safety) for some of the Rick Leach-era teams, Hicks played most of his career at free safety in San Francisco's Cover 2 defense. Since Bill Walsh got his three other defensive backs in the first three rounds of the 1981 NFL Draft, Hicks suddenly found himself the resident veteran.
He was definitely the weirdest story of those teams—I was too young to remember them but apparently the fact that he was working in the store room of a health food store when they found him was played for a lot of human interest in the dead weeks before various 49er Super Bowls. Hicks and strong safety Ronnie Lott quickly formed one of the best safety tandems in the game as they won their first championship. By 1984 Hicks was the defensive captain of a team that went 15-1 in the regular season and cruised to another Super Bowl victory. Hicks was also the kick and punt returner for some of those teams. He remained with San Francisco through 1985 and spent a year with the Cols before retiring with 32 interceptions over nine years.
Backup: Keith Bostic (1983-1990) should have been included originally and I'm fixing that. A favorite of Bo, the hard-hitting Bostic grew up in Ann Arbor dreaming of playing for Michigan and was a turnover-machine at strong safety/wolfman in the early 1980s. Drafted by the Oilers in the 2nd round, Bostic was on the front end of a major rebuild, starting every game for the Oil from 1983 to 1989. Strong as a linebacker but fast enough for cornerback, he was one of the most physical safeties of his era, and owns a dubious NFL record for fewest interception return yards (-14 yards) in 1987, the year he went to the Pro Bowl.
HM: Mike Harden (1980-'90), Randy Logan (1973-'83), Jabrill Peppers (2017-present), Stevie Brown (2010-'14), Delano Hill (2017-present), Jordan Kovacs (2013-'15)
[EDIT 2/13: I forgot Keith Bostic. Sorry Harden, who in fairness lasted four seasons longer. Here's the Harden writeup: One of the hardest-hitting defensive backs of the 1980s, Harden played strong safety and cornerback for the Broncos over the course of the 1980s, and hauled in 33 interceptions, a franchise record later broken by Champ Bailey. He's also the bad guy in The Steve Largent story and went to jail for defrauding women.]
-----------------------------------------
Free Safety: Rick Volk (1967-'78)
It's weird to think that Michigan used to send a flawless string of great safeties to the NFL. That went back even before Bo, as Lightning Bolt Rick Volk chose to follow Uncle Bob Chappuis to Michigan rather than play for Woody Hayes in his hometown state. Though more guys were specializing, Volk played both ways at Michigan, switching from cornerback/halfback to safety/fullback (and some QB) as a senior.
He was the perfect fit for the new NFL, where passing was becoming the new big thing. As the deep safety for those great Baltimore Colts teams of the late-1960s, Volk alone created the free safety ideal of a tall (he was 6'3"), gliding cover guy who could play the deep middle of the field and cover sideline-to-sideline. Already a two-time Pro Bowler (he'd get a third in 1971) and NFL champion in 1968, Volk was the biggest reason nobody believed Joe Namath when he said he'd win Super Bowl III, and they were right not to, but Volk got hurt in that game.
Volk got his win though, sealing the Colts' victory in Super Bowl V (the first since the merger) with a pick of Cowboys QB Craig Morton to set up the tying TD. Volk remained with the Colts through 1975, then had a year with the Giants and two with the Dolphins. Volk still comes up on the edges of Hall of Fame talk.
Backup: Thom Darden (1972-'81) was a three-time All-Pro free safety for the Cleveland Browns and remains their all-time interceptions leader. Part of the great '68 class that Bump left, and part of the reason Woody lost his shit in the waning seconds of the Touchdown Billy Taylor game, Darden moved into the lineup immediately in the pros and spent most of the '70s patrolling the deep middle third of the Browns' secondary, but only made it to the playoffs twice, once his rookie year and again as his career was winding down in 1980. Darden also handled punt returns for the Browns.
HM: Earl Little (1998-'05), Ryan Mundy (2008-'15), Tom Curtis (1970-'71), Fred Julian (1960), Jarrod Wilson (2016-present), Dymonte Thomas (2017-present)
-----------------------------------------
Cornerback: Charles Woodson (1998-'15)
Unsurprisingly, the only defensive player to win the Heisman became one of the greatest defensive players in NFL history. Charles was clearly one of the most gifted athletes in the game, but what put him in among company like Randy Moss and Peyton Manning was his unmatched preparation. Woodson was selection 4th overall (after Peyton Manning, Ryan Leaf, and Andre Wadsworth) in the most top-heavy draft of all time, and should be a first-ballot Hall of Famer when his time comes. The NFL defensive rookie of the year in 1998 was a nine-time Pro Bowler, who had to reinvent his game by defining a new position in football in the back half of his career.
But let's start with the front half, when Woodson was a lockdown cornerback for the Raiders from 1998-2005. Their 2001 AFC Divisional Game, the snowy affair in New England, was the site of that strip sack by Woodson on Tom Brady; had it been ruled a fumble Woodson would have been in the Super Bowl; instead it would be the first championship for his old Michigan classmate. Finally in 2002, despite Woodson being hampered by a shoulder injury, the Raiders made it. Woodson wanted to leave as a free agent in 2003 but Oakland used the franchise tag on him.
Finally in 2006, after a couple of seasons cut short by leg injuries, Woodson was allowed to sign where he wanted and chose Green Bay. There, after eight seasons in the league, Woodson looked like a 20-year-old again, even going back to returning punts. In 2009, his 12th season, he finally won NFL Defensive Player of the Year. By 2010 he had more interceptions with the Packers than his eight years in Oakland, and returned to the Super Bowl. Woodson broke his collar bone during the game, but got his championship.
With his body aging, Woodson in 2012 converted to hybrid slot safety, a position previously played by Rod Woodson under the same defensive coordinator. The move added a few more years to his career, one in Green Bay and finally three more in Oakland. He retired tied for third in career PBUs, 11th in games started, 6th in punt return yards, 5th in interceptions, fifth in defensive touchdowns, and first in fumble return TDs, and was named to the Pro Football Hall of Fame's all-2000s team. He'll be eligible in 2021, and is considered a sure-fire pick along with Peyton Manning.
Cornerback: Ty Law* (1995-'09)
Of course we just put a cornerback in the Hall. The guy Woodson effectively replaced, Ty Law left Michigan with a year remaining to begin an NFL career that spanned 15 seasons, 203 games, 5 Pro Bowls, 53 interceptions, and almost a mile in interception return yards. The smallish DB went late in the 1st round in 1995 to the New England Patriots and spent most of his career there.
At first Law had a hard time unseating Maurice Hurst Sr., but won a starting job in Week 12 and sealed it with a sack on Colts quarterback Jim Harbaugh in the last week of the season (though Captain Comeback got the better of New England in both meetings that yea). Law's second year is when Bill Belichick arrived as defensive backs coach, and Belichick delighted to find a cornerback as interested in inventing coverages as himself. His coming out party was that season's game against the Cowboys, when Law picked two passes headed toward Michael Irvin. That year the Patriots played in the Super Bowl, but Belichick and Bill Parcells left, replaced by Pete Carroll. In '98 Law led the league in interceptions and made his first Pro Bowl.
Belichick returned in 2000 and the dynasty began. Law opened the scoring of the 2001 Super Bowl with an interception return, made the Pro Bowl in 2002 and 2003, and won a couple more Super Bowls. Now in his 11h season, the Patriots cut Law to clear cap, so Law joined the Jets and made another Pro Bowl. After that year the star ended up with the Chiefs for a couple of seasons, went back to the Jets in 2008, and finished his career with the 2009 Broncos. Law was elected to the Hall of Fame in February.
Backup: Dave Brown (1975-'89). The third corner is basically a starter, and Brown could hold his own with either of the above. One of the great safeties for Michigan, Brown went to the Steelers at the end of the 1st round of the 1975 Draft. That was right in the middle of the Steel Curtain so he was relegated to rotations, but returned punts and got his Super Bowl ring. The Steelers couldn't protect Brown in the expansion draft, however, so he became an original Seattle Seahawk. Over 159 games in 12 seasons Brown set every franchise record for cornerbacks—most of which he still holds. Brown made Pro Bowls in 1984 and '85. But in 1987 the Seahawks figured he hadn't much left and traded Brown to Green Bay, where he started for three more seasons. He remains 9th in NFL history with 62 career interceptions.
Other backups: Leon Hall (2007-'18) was a first round pick of the Bengals in 2007 and all-rookie, made the 2nd team Pro Bowl in 2009, and remains in the league today, though he's been bouncing around since leaving Cincy in 2015. Mike Bass (1967-'75) was a second-team all-pro in his seven years with Washington but had to quit in his prime after a spinal injury.
And Terry Barr (1957-'65) is my athlete; the Lions drafted him in 1957 (their last championship) to make him a cornerback and returner, and he was good at that, but he also kept being borrowed on offense, and in 1963 Barr made the switch full-time, finishing among the NFL leaders in all receiving categories in '63 and '64, his two Pro Bowl years. A bad knee injury cut his career short after that.
HM: Bennie McRae (1962-'71), John Rowser (1967-'76), Will Peterson (2001-'10), Marlin Jackson (2005-'09), Jourdan Lewis (2017-present), Brian Carpenter (1982-'84), Blake Countess (2016-present), Morgan Trent (2009-'11)
-----------------------------------------
Returner: Desmond Howard (1992-'02)
Super Bowl MVP. Also Pro Bowl 1996. But you're here for the 'turns. So here's some [sexy Ace voice] numbers:
2,895 punt return yards
7,959 kick return yards
8 punt return touchdowns
875 punt return yards and 3 TDs in one season (1996)
That Super Bowl.
Fear not, commenters of the offensive part, here's no way I'm leaving Desmond off this team. He started with Washington, who moved up to take him 4th overall because the thought the Packers would. But in three years there Dez wasn't much more than a returner, they left him open in the expansion draft, and Jacksonville grabbed him for a season. In 1996 the Packers finally got their guy and Howard made first team All-Pro as a returner and MVP of the Super Bowl, returning three punts for touchdowns. That season alone is the reason Desmond's NFL career is best remembered in a Packers uniform, even though he lasted longer with Washington and Detroit.
He signed on the following year with the Oakland Raiders and last two seasons there, allowing a brief moment of both of Michigan's living Heisman winners playing on the same team. Desmond rejoined the Packers in 1999 but was cut in the middle of the season and joined the Lions. He made the Pro Bowl again the following year, and ironically lasted longer in Detroit than any stop since Washington.
HM: George Hoey (1971-'75), Carl Ward (1967-'69)
-----------------------------------------
Kicker: Jay Feely (1999-2014)
It's not like there's a lot of competition for the one-time Pro Bowler who could tackle like a linebacker, kicked for nine different pro franchises in two leagues, twice led the NFL in points, and got a famous SNL skit made about him. Out of college Feely wasn't signed by an NFL team, and hardly looked like a guy who'd spend 16 seasons kicking for a living, going 2-for-5 on field goals and 8-for-13 on extra points for the Florida Bobcats of the Arena League in 1999 and 1-of-6 and 3-of-4 for the Tampa Bay Storm in 2000. But he showed up at the Atlanta Falcons training camp in April 2001 and stole the starting job from Jake Arians, converting 29 of 37 attempts, including a 55-yarder, being named the most surprising all-rookie selection on this list. The following year Feely set a franchise record by converting 32 field goals (on 40 attempts).
Feely signed with the Giants as a free agent in 2005 and made the Pro Bowl as an alternate despite a game when he famously missed three game-winning attempts in a 24-21 loss to the Seahawks (see SNL skit above), making a career-best 35 field goals the same year Neil Rackers set an NFL record of 40. After seasons of 35/42 and 23/27 in New York Feely bounced around: he signed with Miami and kicked a career-best (percentage-wise) 21/23, but butted heads with Parcells, who didn't think the kicker should be a big voice in the locker room, and really didn't appreciate Feely's tendency to speak his mind in public, whether the topic be politics, faith, or Michael Vick.
Feely signed on with the Jets for two years, then went to the Arizona Cardinals, who made better use of his athletic skills with trick plays and onside kicks. Feely hit his career-best 61-yarder with the Cardinals in 2012, but his skills began to fade after that. He was cut in 2014, kicked one game with the Bears, lost a close battle with Matt Prater for the Lions job, and called it a career, making the obvious jump to TV. While trying out with the Lions Feely angered most Michigan fans by jumping to the defense of Dave Brandon after the Minnesota debacle. Unlike Tuna, however, I'm not about to cut guys for voicing bad opinions.
HM: Ali Haji-Sheik (1983-'87), Remy Hamilton (2005), Hayden Epstein (2002), Bob Timberlake (1965), Todd Schlopy (1987)
-----------------------------------------
Punter: Don Bracken (1984-'93)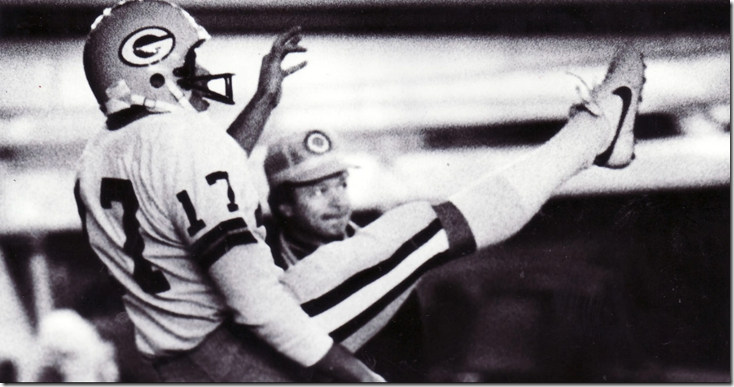 via the Packers
Again there isn't a lot of competition here. Monte Robbins is the only drafted guy but was cut and never made more than a practice squad after that. Zoltan lasted just four seasons and Matt Wile has played three so far). Punting in the old days was mostly the fullback's job, and the best of them—Tom Harmon, Frank Steketee and Harry Kipke—never punted professionally. My starting middle linebacker John Anderson didn't punt in the NFL either, but he was Michigan's punter in college so he can fill in.
But the guy I got was more than fine. Bracken's 73-yard punt in the 1981 Rose Bowl remains a record for the game.
Like Feely, Bracken didn't start in the NFL—he punted for the USFL's Michigan Panthers but got cut for an injured knee which also scared off every NFL team he tried out for. But a year's rest did that knee good, and the Packers signed Bracken in 1985, making him their punter for the next six seasons. Over that time he averaged 39.7 yards per punt, and was probably underrated, since modern statistics show Bracken had an underrated ability to limit returns.
The Rams picked Don up a year after the Packers released him, and that lasted another two seasons. Don died in October 2014 at just 52.
HM: Zoltan Mesko (2010-'13), Matt Wile (2016-present)
-----------------------------------------
Long Snapper (sorta): Don Dufek (1976-'84)
[Photo provided by Don, who's also the former president of the M Club]
Okay I actually have no idea if Dufek could long snap (some of the old linemen can), but it is absolutely necessary to find a spot for Bo's beloved Wolfman (and a good hockey player for Michigan as well), because it's impossible to keep Dufek off the roster. Just ask the Seattle Seahawks, who drafted Dufek in their inaugural season, cut him four times over the next eight training camps, and brought him back for the season each time. Don't bother looking up his stats to see if he deserves to be on my 53-man roster more than the guy (Peppers?) you have in mind, because the stats aren't going to be there. The special teams captain of the Hawks from their first year to 1984, Dufek is the patron saint of that type of guy all the good NFL teams carry because his presence makes the team that much better. Also he's one of the best kick/punt coverage guys the game's ever seen. I see his tailgate all the time on my way into Michigan games—next time I'll stop and ask if he can long snap.
-----------------------------------------
Seth's Final 53-Man Roster:
STARTERS
OFFENSE
 
DEFENSE
Pos
Player
Years Active
Primary 
Pos
Player
Years Active
Primary 
QB
Tom Brady
2000-Present
NE
NT
Tom Keating
1964-1975
OAK
RB
Ron Johnson
1969-1975
NYG
DT
Trevor Pryce
1997-2010
DEN
H
Elroy Hirsch*
1946-1957
Rams
SDE
Albert Wistert
1943-1951
PHI
X
Amani Toomer
1996-2008
NYG
WDE
Len Ford*
1948-1958
CLE
Z
Anthony Carter
1985-1995
MIN
SAM
LaMarr Woodley
2007-2015
PIT
TE
Ron Kramer
1957-1967
GB
MLB
John Anderson
1978-1989
GB
LT
Mike Kenn
1978-1994
ATL
WLB
Larry Foote
2002-2014
PIT
LG
Tom Mack*
1966-1978
Rams
SS
Dwight Hicks
1979-1986
49ers
C
John Morrow
1956-1966
CLE
FS
Rick Volk
1967-1978
Colts
RG
Steve Hutchinson
2001-2012
SEA
CB
Charles Woodson
1998-2015
OAK
RT
Dan Dierdorf*
1971-1983
Cards
CB
Ty Law*
1995-2009
NE
PK
Jay Feely
2001-2014
ATL/ARI
P
Don Bracken
1985-1993
GB
BACKUPS
Pos
Player
Years Active
Primary 
 
Pos
Player
Years Active
Primary 
QB
Benny Friedman*
1927-1934
NYG
DT
Alan Branch
2007-2017
ARI/NE
QB
Jim Harbaugh
1987-2000
CHI
DT
Maurice Hurst
2018-2018
OAK
RB
Tyrone Wheatley
1995-2004
NYG
DE
Brandon Graham
2010-2018
PHI
RB
Rob Lytle
1977-1983
DEN
DE/FB
Bill Hewitt*
1932-1943
CHI
RB
Leroy Hoard
1990-1999
BAL
LB
David Harris
2007-2017
NYJ
WR
Derrick Alexander
1994-2002
BAL
LB
Cato June
2003-2009
Colts
WR
Jason Avant
2006-2015
PHI
LB
Bill Laskey
1965-1974
OAK
WR
Chris Calloway
1990-2000
NYG
S
Keith Bostic
1983-1990
HOU
WR/R
Desmond Howard
1992-2002
GB
S
Thom Darden
1972-1981
CLE
TE
Tony McGee
1993-2003
CIN
S
Don Dufek
1976-1984
SEA
TE
Jim Mandich
1970-1978
MIA
CB
Dave Brown
1975-1989
SEA
G
Reggie McKenzie
1972-1984
Bills
CB
Leon Hall
2007-2018
CIN
T
Jake Long
2008-2016
MIA
CB
Mike Bass
1967-1975
WAS
T
Jon Runyan
1996-2009
PHI
ATH
Terry Barr
1957-1965
DET
OL/LS
Jonathan Goodwin
2002-2014
NO
 
 
 
 
NOTE: I am a mostly casual NFL fan who relies on the internet to get this stuff right. I skimmed through at least 200 (maybe twice that, according to my browser history right now) old games on YouTube for this project, mostly videos by fans who captured the games on home video way back when. You have no idea how many 1980s Seahawks and Broncos games there are out there! This series also would not have been possible without some incredible work by fans of NFL teams around the league who wrote about the best players to come through their franchises.The Pro Football Hall of Fame, and pro-football-reference.com's Michigan Players/Alumni page were particularly helpful.