MGoRadio 3.2: Asterisks & Obelisks
1 hour, 28 minutes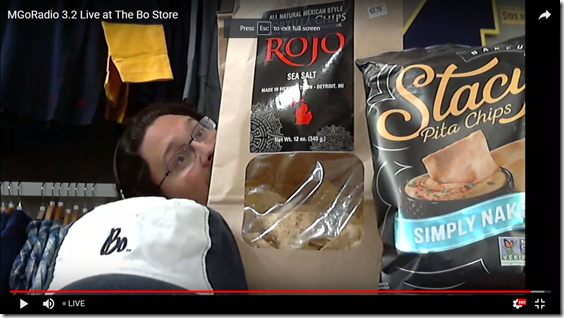 Brian successfully dodged my cell phone camera
MGoRadio is recorded before a live retail audience audience at the Bo Store on Fridays before home games (and Thursdays nights at various locations before away games).
---------------------------------
The Sponsors
We can do this because people support us. You should support them too so they'll want to do it again next year! The show is presented by UGP & The Bo Store, and if it wasn't for Rishi and Ryan we'd be talking to ourselves.
Our other sponsors are also key to all of this: Peak Wealth Management, Homesure Lending, Ann Arbor Elder Law, the Residence Inn Ann Arbor Downtown, the University of Michigan Alumni Association, Michigan Law Grad,, Human Element, DEO Bookkeeping, and Lantana Hummus
---------------------------------
After UFR: The Offense
starts at 1:00
Okay fine let's talk about Wilton Speight. We are getting sick of talking about Speight. He only had four incompletes in the charting, but they were again bad incompletes of the kind that sail into bad things territory. The OL is beefy on the right side and still learning; love that Cole doesn't chase bad blocks. Zentry! has some route chops.
After UFR: The Defense
starts at 27:29
Okay fine let's talk about Mike McCray. He doesn't seem to zone much and was not getting depth—that's weird out of a 5th year guy. The secondary only busted a couple of times and should have been saved by the DL. Hayden Moore made a perfect throw while under duress on one of these. Brandon Watson was getting straight-up tackled so Michigan went to zone. Kinnel's heroic tackle was amazing, his one miss was not so necessary.
Hoops & Hockey Recruiting
starts at 50:45
Michigan will get an official visit from the top overall player in the country, RJ Barrett, but that's not going to happen. Ignas Brazdeikis we feel good about. Beilein looking to take a just-a-shooter in this class. Missed a couple of elite wings so Iggy is a big deal. Hockey: Mel is recruiting at prime Red level. Is more good news on the way?
Air Force Preview
starts at 1:09:21
They will cut you and cut you and run run run run until the pass comes and it goes for long. Their main wingback Tim "Unfortunately Named" McVey and their quarterback are back and excellent; they turned over everybody else except the middle linebacker. Michigan hopefully won't play with a single high safety again. Are they really gonna man up Donovan Peoples-Jones? This feels like a big game for Grant Perry.
---------------------------------
MUSIC:
YouTube changed up their policies so we're trying to stay away from copyrighted music on live broadcasts. If you or a friend made some good tunes and don't have a label out scrubbing for them we'd be happy to feature you.
This week it's Greenland, who've been defunct for so long they probably barely remember they were in this band. The songs were "The Way It Is", "Rip Van Winkle" and "Captain Jack". Also: "Across 110th Street"
Bring a coat.
THE USUAL LINKS
---------------------------------
THIS PLAYER IS NEW AND CONFUSING
We have moved our podcasts off our server to Podbean. If you're using an app, that feed should update automatically and you will have to do nothing. If you like to listen on the page, here's the new player: