MGoBlog 3.0: An Update
Previously: The Preview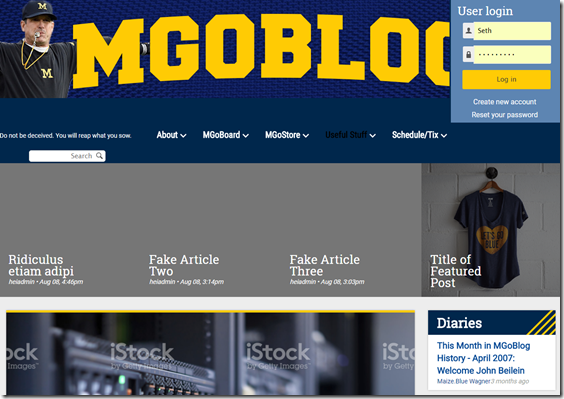 Coming soon: a groundbreaking series on 40 times
Sorry this is coming on a Saturday but I just got back from Chicago and figured best to get it out sooner than later.
So as you've no doubt noticed, the new site is taking awhile to roll out. Yes it is still happening, but each setback has pushed back the timetable to the point where we're getting up against the start of the season. Right now they've given us a very barebones dev site (above) to find all the glowing errors and make sure it feels like it should. Then we'll have a beta version, with content from the main site, for beta users to play with. We'd rather do it right than throw out a half-baked solution.
I want to reiterate that HUEL—which is what we're finally getting Ann Arbor-based site developer Human Element to call themselves—have been awesome. A site as old as ours can develop some pretty big hurdles to modernization and previous comers were never able to get past Level 1. HUEL is now on 7, and have already worked through more unforeseen monkey wrenches than I've bothered to count. Without them I don't know if this ever happens.
Jason, the CEO of Human Element, can explain it better than I can.
I want to let everyone know that both the HUEL and MGoBlog staff are diligently working on the site upgrade every day, and while it was our goal to have the new site up before the football season, software is hard. We are performing a 2-version upgrade from Drupal 6 to 8 while maintaining current required functionality, data and user history. At the same time we are adding new functionality and features as part of a complete overhaul of the user experience and site design. We have made significant progress and have solved all the major technical issues but we haven't had the time for proper user engagement and beta testing and do not want to want to push a product that isn't up to our quality standards.  

It is our short term goal to stabilize the existing site's hosting (thanks Nexcess!), while finishing the last pieces of the upgrade and redesign.  We are going to use this extended time period to sync data from the current site to the new site on a schedule and allow selected BETA testers to provide feedback until both teams feel the site is ready for initial release.  We will then move into a cycle of maintenance and improvement that should continue to improve the user experience over the next few years. 

The new site will be bigger, stronger, faster—but it's just taking a little longer than we hoped.

--Jason
You may see the site go offline at times in the middle of the nights as we prepare to shift to Nexcess servers from the one Brian and his brother built years ago.
[Couple of notes in response to prior feedback after the jump]
By category:
YOUR SITE IS BUGGY
"WELCOME TO YOUR NEW DRUPAL SITE" errors This is, as I understand it, a problem with the current site that Brian is trying to fix. We can restore right away when it happens but haven't been able to get to the root of the issue yet. This is on us not HUEL; we hired them to build us a new site and this is a problem with the old one.
USER EXPERIENCE
You keep your points and the plus/minus system in general. We were gonna do away with these or start everyone back from scratch but our forces were finally cornered in a canyon and our attempt at a flanking maneuver was cut off and finally our military advisors recommended total surrender was the only option.
The site will be device-responsive. Depending on what you're reading it on the layout will be subtly or dramatically different. The mobile version of the site will look much like an app. We'll have an app eventually but the mobile version lets us get the site out quicker.
We will still be free. It's the only way you'll take your Draftageddon and like it. Also it's what we believe in.
No we don't have pop-up ads or autoplay ads. We run just 2 ad networks and sell the rest ourselves. Once in awhile somebody sneaks something past Google Adwords and there's nothing we can do about that, but we take all possible measures not to have autoplay ads and pop-ups.
Comments & threads will be collapsible. This is a feature we demanded that we're really excited about. If you don't want to read the 40 replies about turtles to a comment you can quickly collapse it and move to the next thread. Threads go down to about 4 nested within each other then it's just a thread so no more shrinking shrinking shrinking replies.
Embedding should work. Drupal 8 should be way better at handling easy embed code of twitter and youtube and stuff.
LOOK AND FEEL
The banner isn't being done by a professional firm. It's being done by MonuMental, aka Jeremy Zieders, aka the guy who makes those awesome weekly wallpapers and puts them in the diaries, and designs the covers and section pages of HTTV every year.
Decks are coming. The main article view won't show them but we're going to have to write summaries of our articles so you can be more picky about what you read.
Organization. We'll be using the same taxonomy (the tags on each post), but they'll be more obvious in the new layout.
CAN WE HAVE THESE NICE THINGS?
Threading will be in the same order, not dynamic. It's by creation date. Posts are by time. Too much work for the server to be constantly re-sorting and we are going for speed and stability over more functions.
No on reply notifications for now. It's a feature we like about SBNation boards but not so important that it needed to be part of the rollout.
No on auto-refreshing. Again, server loads.
A calendar of all things is a good idea. Won't be in the initial implementation but we plan to retain HUEL to add new things after.
Those old links are gonna disappear. Sorry Jonny. So many of those links are defunct now anyway.
Search function is still run by Google. Again this is a thing that keeps our server load down. Let Google's servers handle that work.
No on user tagging. Again, stability and speed over fancy functions.
The "Tab" feature only worked with Drupal one. But we're talking to Transmitter Brewing about F2.
No private messaging. WAAAY beyond what we're equipped to handle.
No upload photos. It's a security risk.
Formatting and easy embedding in comments and posts. We'll be adding features as we go after launch since these are time-consuming and not necessary to start with.
Where is my HTTV? Email me Ken, if it hasn't come yet the mail lost in and I'll send you a new one.