MGoBBQ: Pulled Pepper Stout Beef

-----------------------
[What this is: We yoinked Joe Pichey from MMMGoBluBBQ to share his tailgating recipes and Stubb's offered to sponsor it because their CEO is a big fan of this site and he offered to buy meat for Joe to cook for us for the Marlin event two weeks ago and I missed the e-mail until it was too late and now I AM SO MAD AT MYSELF THAT I MISSED THAT!!!]
-----------------------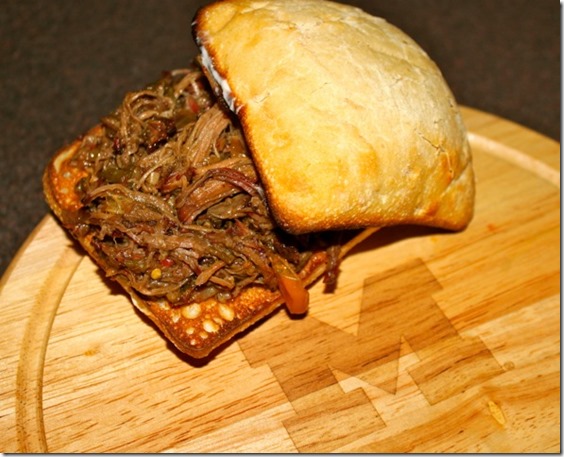 Typically, the Michigan vs. Sparty BBQ at my place has a larger than normal crowd. We have a fun good mix of fans from both sides and they all love tasty meats. One of our favorites is the Pulled Pepper Stout Beef. This one is a top 5. It combines everything we like. Meat, peppers, onions and beer. Find something in that combo that is not good. I dare ya. It's not only tasty, but very versatile. I love it on a toasted ciabatta roll, but could also be served on sourdough, hawaiian bread, tortilla, mashed taters, rice or even eaten by itself. Here's what you will need.
Ingredients:
  4 lbs chuck roast
  3 bell peppers. (I used 3. Red, Green and Yellow)
  3 Jalapeños ( I like it hot. Use 2 for less heat)
  1 lg red onion
  6 Garlic Cloves (Crushed)
  1/4 cup Worcestershire Sauce
  12 oz bottle of Guinness Extra Stout
  Kosher Salt and pepper
  BBQ sauce
[Jump for instructions]
Directions:
Fire up the grill or smoker for indirect heat. Shoot for a temp of 275 degrees.
Start with a 4 lb chuck roast and trim a little of the extra fat. If there isn't any extra fat, you are ready to season it up. What a beautiful hunk of meat.
Cover the chuck roast with salt and pepper mix. I love pepper, so I went extra heavy in this area. It adds a nice crust once the roast has been on the smoker or grill for a few hours.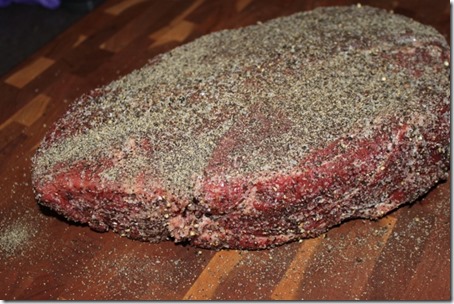 I smoked the roast at 275 for about 3 hours with 2 chunks of hickory wood. This is not mandatory, but I love the hickory flavor. Cook until the internal temp hits 165 degrees.
While the roast is on the smoker/grill, it's a good time to assemble the other ingredients.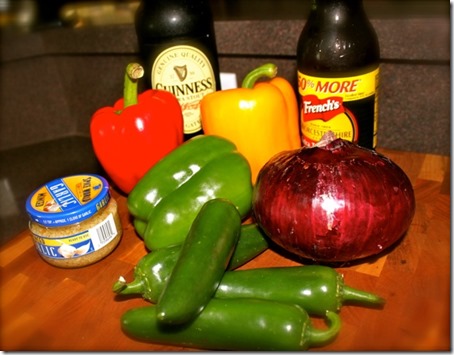 Cut up the peppers, onions, jalapeños and garlic and add to an aluminum pan along with the Worcestershire Sauce and Guinness. Mix em up and they are ready for the meat.
Once it hits 165 degrees internally, its time to add the meat to the veg. This usually takes around 3 hours, but can vary depending on the size of the roast. The higher temp will add a nice crust to the meat along with a pink ring of smokiness.
Add and foil (Tightly) I used 2 layers of foil on this one.
Crank up the smoker/grill or oven to 350 degrees and let go for about 3 hours. This is where the magic happens. The fat breaks down and the meat becomes fork tender.
After about 3 hours, give it a look. The meat should be fork tender and the veggies will be soft and juicy. If you don't have a pair of Meat Rakes, get some (Amazon link). This is one of my favorite BBQ tools. They do a great job shredding and pulling pork and beef. Go ahead and shred and mix it up.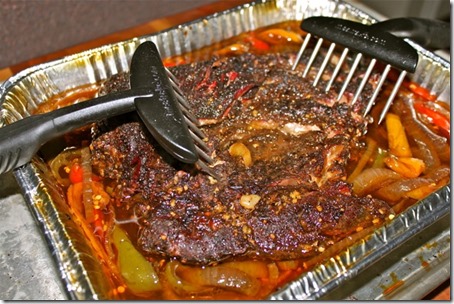 Once the meat and veggies are all mixed up, its time to put everything back in the 350 degree smoker/grill/oven for about 30 minutes until the juice reduces by half. Add a cup of your favorite BBQ sauce (Stubbs Sweet Heat is perfect) and mix well.

After 30 minutes, it should look like this. Grab a ciabatta, tortilla, french roll or just a fork and go to town.
I went with a ciabatta roll for this one. I had some horseradish sauce in the fridge and decided to add this to the toasted roll. This recipe will feed a crowd and give you plenty of options. It will also freeze really well if you are the first one ever to have leftovers.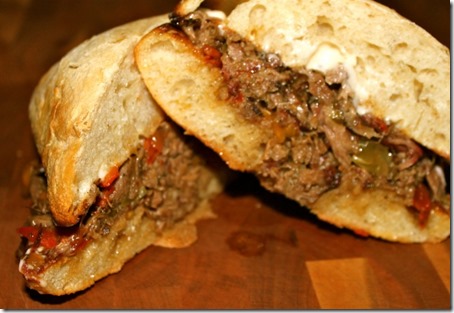 The original recipe was created by Larry at The Wolfe Pit. He has a great BBQ Blog. Check it out when you have a chance. Enjoy the game and send me pics of your finished Q. GO BLUE!!!