MGoBBQ: Pork Belly W/ Thermapen Giveaway

[ED-Seth: Good morning. We had some server problems this morning. I'm sure Brian will have a different diagnosis but my guess is once we uploaded the photos of these pork bellies the server took a meat nap. We've all been there, which is why Stubbs had the idea to have Joe Pichey from GoBlueBBQ (yes, new name, fewer M's) send us recipes. Good plan?]
------------------------------
I know this will come as a huge shock to everyone, but I love bacon. I think we all love bacon, right? This smoked pork belly is one step shy of becoming a giant slab of bacon. I have been on a pork belly kick for the last few weeks (Not Dr. Recommended) and have loved every minute of it. This is not only tasty and tender, its also easy to prepare. I was shocked when I first made this a few weeks back. Give it a shot and let me know what you think. Don't forget to enter the giveaway at the end.
Ingredients:
5 LB Pork Belly
Apple Cider
Stubbs Pork Rub
Stubbs Sticky Sweet BBQ Sauce
Honey
[Hit THE JUMP to see how you can win a free Thermapen]
Directions:
Set your smoker/grill up for indirect heat and shoot for a temperature zone of 225 - 250 degrees. You can also use your gas grill for this one by lighting half of the burners and placing the meat in the unlit area. As the coals are heating up, start prepping your pork belly. Mine came with the skin already removed. I bought mine at Costco and it was a thing of beauty. 
This one ran almost 10 lbs and had great layers of fat. MMMMmmmmm "Pre-bacon".
You can also find these at your local asian market any time of the year. If your belly comes with the skin, remove it with a sharp knife. A filet knife works great for this. It's super simple and only takes a few seconds. Once the skin is removed, season the entire belly with your Stubbs pork rub.
Now that the smoker is up to temp, add your favorite fruit wood or some pecan. We want something with a light smoke flavor and these work well.  Once the smoke is rollin, toss your belly on the hot grate. This will go for about 5 hours, so relax with a few beverages. This will go until the internal temp reaches 200-205 degrees.
I just like this pic, so I added it for no good reason.
Once the PB reaches 165 degrees, (Usually around the 3 hour mark) start basting or spritzing with apple cider. This helps keeps things moist and adds another layer of flavor to the bark. This has a lot of fat, so it's going to be super moist already but cider always adds a little extra.
At 195 degrees, mix some Stubbs Sticky Sweet and honey. Use a 50/50 ratio. Start basting and continue every 30 minutes until we reach 205 degrees. Don't go super heavy as we want to taste the rub and cider. Look at that great Thermapen.  Nice color, eh?  Keep reading for the giveaway.
Another pic for no reason.
Just before pulling it, give it one last coat of the thin sauce and a sprinkle of the pork rub and let it rest.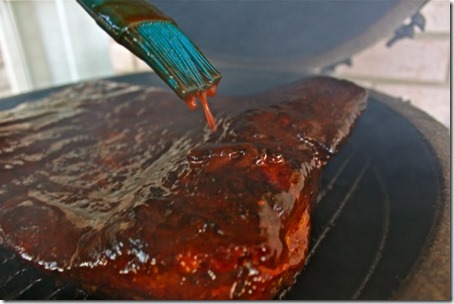 Tent with foil for 15 minutes. I like to slice mine in 2 inch cubes and serve on slider buns or on some steamed rice. This is so juicy and tender, you don't need any extra sauce. It's incredible as a leftover as well.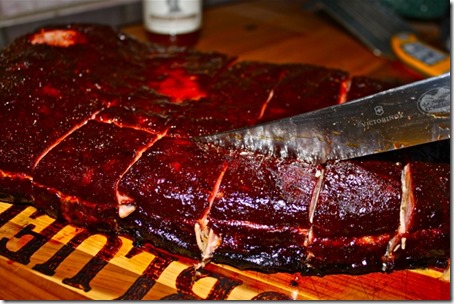 Whether it's served on a slider bun, over rice or at the end of a toothpick, the pork belly is fantastic. It's super easy to cook and your guests will love you for it. You will definitely earn a few helmet stickers for this one.
Pork Belly Sliders!!!!
Over rice works as well.
Thermoworks sent me a few Thermapens to give away after we took care of BYU. They are out in Utah and huge football fans. This is the one bbq gadget that I couldn't live without. It makes BBQ life easier. So here is the giveaway. It's simple. Over the off season, I purchased a large big green egg and a mini max egg.  I need a name for each of them as it's bad luck to cook without naming them. Maybe thats only for boats.....I'm not sure. Anywho, in the comments section below, let me know what I should name them. I'll pick my favorite and announce the winner in next week's post. The winner gets a yellow Classic Thermapen.  Here's the set up. Good luck and GO BLUE!!!!!