MGoBBQ: Planked Bacon Wrapped Meatloaf
[Ed-Seth: If you're from Michigan you're probably still calling brown ketchup "barbecue sauce" out of loyalty or something. In Harbaugh's America you don't have to settle for in-state just because it's in-state, especially when there are Michigan folk all over the country producing 5-stars. You take the best that Michigan has to offer and mix with the best of the rest.
We have the great pleasure of employing the services and serving utensils of Dallas-based Joe Pichey of GoBlueBBQ to write recipes for our most delicious sponsor, Stubb's BBQ sauce. Before you lock your refrigerator into 4 years of a plastic bottle on the door, I highly recommend scouting the talent at our Austin camp.]
Biggest game of the year! I can't remember being this jacked up for a game in years. If you're like me, you tend to eat when stressed or pumped up.  Shocker, my "go to" relaxing move is to fire up the grill and cook something.  I also wanted to wrap some protein in a lot of bacon. Hence, the bacon wrapped meatloaf. This one is fun, easy and extremely flavorful.
Ingredients:
Bacon
Stubbs Sweet Heat Sauce
1.5 LBS ground beef
Small Onion - Chopped)
Green Bell Pepper (Chopped)
Red Bell Pepper (Chopped)
2 eggs
1 cup Bread Crumbs
1/2 cup Parmesan Cheese
1/2 cup milk
Stubbs BBQ Rub
Chayder Grilling Planks - MICHIGAN PRODUCT!!!!!
[Hit THE JUMP for a local product that will jump off your tastebuds]
Start by soaking your Chayder Plank in water for 30 - 60 minutes. The Chayder Plank is not only the best on the market, it's also owned by a fellow MGOBLOG reader and DIE HARD Wolverine fan. John is based in Michigan and can be found tailgating at the Big House a few times each season.  They can be found on Amazon, so check em out.
As the plank is soaking, set your grill up for indirect heat at around 325 - 350 degrees. Mix all loaf ingredients until everything is incorporated.
Take your loaf pan and line it with bacon. I like to overlap the pieces slightly.
Brush the bacon with your Stubbs Sweet Heat sauce or the Sticky Sweet.  Both work great on this one.
Add your meatloaf and pack in tightly.
Now encase it in your bacon. Fold the tops over and press down slightly.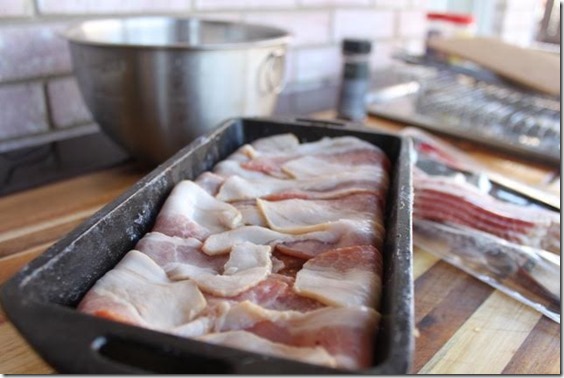 Add your wet plank to the hot grill and get some char on it.  This takes about 5 minutes over direct heat.
Turn over so that the charred side is facing up.  Place your loaf pan on top.
Jiggle and the meatloaf should fall right out.
Sprinkle with a little rub and let go for about an hour. The bacon will start to crisp at about 40 minutes. This is when we will add some sauce. I like to sauce at about 140 degrees internal.
The sweeter, the better for me.  I love that sweet sauce.
We are done once the internal temp hits 165 degrees and the bacon has some crisp to it.
Remove from the heat and let rest for a few minutes. This bugger is HOT!!!
This had some great flavor and was perfect on a cold day,  It's comfort food 101.  Perfect for the biggest game of the year. GO BLUE!