-----------------------
[What is this? Joe Pichey, serious bbq-ing dude, has been writing up tailgating recipes on his blog MMMGoBluBBQ and we "borrowed" him. Stubb's sponsored it because they're fans of the site and good people, and this whole Joe-MGoBlog-Stubb's-Readers thing seems like a match of destiny.]
-----------------------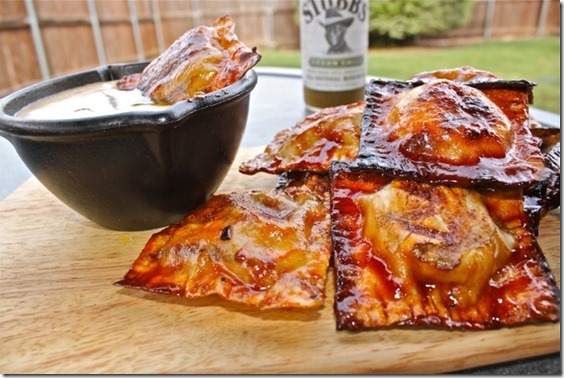 This recipe is perfect for tailgating as it can be assembled ahead of time and grilled up in less than 5 minutes. The grilled raviolis have three of my favorite traits: They are crunchy, bite sized and extremely DIPPABLE. What else could you ask for? You can also stuff just about anything inside. I've made coney raviolis, pizza raviolis and peanut butter and jalapeño jelly raviolis at recent tailgates, and all have been tasty.
Ingredients:
Won Ton Wrappers
Cooked Shrimp or Shredded Chicken
Havarti Cheese
Jalapeño (optional)
1 Egg (For Egg Wash)
Hatch Queso Dip: (Melt all ingredients in crockpot or cast iron pot)
1 lb Velveeta cheese block
1/2 cup Hatch Green Chili Sauce
[After the jump: this isn't at all hard to make]
Directions:
This is a pretty straightforward recipe, with plenty of options, so go crazy with your fillings. Shrimp and cheese are perfect matches for the Hatch Green Chili queso dip. These do not take long to cook, so a cheese that melts quickly is a must. Havarti Cheese does the trick here.
Lay out the won tons and place some cheese and on each wrapper. Chop the cooked shrimp into bite sized pieces. Add a shrimp or 2 to each wonton. Do not overfill as they tend to separate on the grill if you do. Make an egg wash with 1 egg and 1 TBS of water. Add a little egg wash to all 4 edges of the won ton. This will help hold them together.
Add a jalapeño if you like a little heat. Once you've done this, top with another wrapper and seal the edges by pressing down with a fork. They are now ready for the grill. Add all queso ingredients to your crockpot or cast iron pot and melt.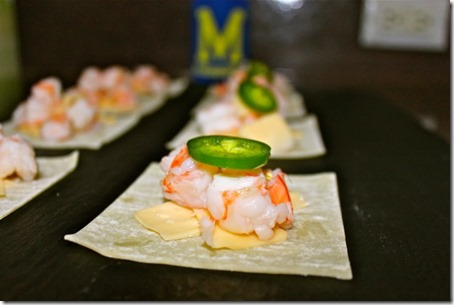 Set your grill up for medium direct heat. Make sure to oil your grill grates so your raviolis don't stick. Once the grill is ready, place raviolis over direct heat. These will crisp up nicely in about 2-3 minutes per side. Don't walk away as they will burn if left unattended.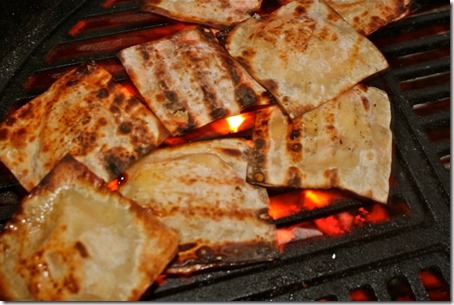 If they get overly crispy, move to a cooler part of the grill. Once the raviolis get some char and grill marks, you can move to the cool side and keep warm. Once all the raviolis are done, start dippin'.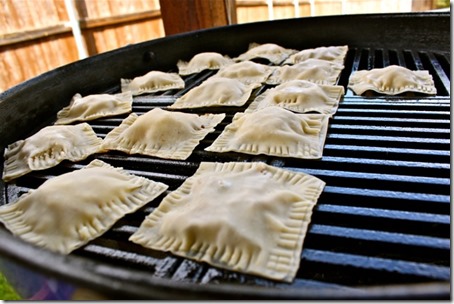 Another option is to brush each ravioli with a little hot BBQ sauce. It adds some flavor but takes away some of our crunchiness.  I like them both ways, but prefer the crunchy raviolis best. Let me know which one's you like best.
These are a great appetizer and your guests will love 'em.  Thanks to my buddy David at www.bbqdryrubs.com for the idea. He has some great recipe ideas, even for an LSU fan. Have a great week. GO BLUE!!!!