MGoBBQ: Cuban Hawaiian Sliders from Texas to Enjoy in Michigan While We Beat Maryland
[Sponsor Note (via Seth): Lantana pays for all of Joe Pichey's supplies so he can make these recipes and make you feel like your lunch doesn't nearly stack up. You should try their hummus because it's delicious

Also it's not made of cats!]
------------------------

I've been wanting to try this recipe for several years but never got around to it. After making an XL batch of these tasty treats, I am mad at myself for waiting so long. The original recipe can be found on the Kings Hawaiian site and is a classic. Since I had some leftovers taking up space in my fridge, I had to make these my own. I love a great CUBAN sandwich and even made one a few seasons back (Link Here) so why not go Cuban Hawaiian on this one. It's a messy and tasty batch of yummy finger & knife & fork kinda food.
Ingredients:
24 Kings Hawaiian Rolls
1 lb of deli ham
Leftover pulled pork
Dill pickles
8 slices of Swiss Cheese
Mayo
Hot Dog Mustard
2 TBS Dijon Mustard
1/2 cup Butter
1 TSP Worcestershire Sauce
1 small onion – Chopped
[After THE JUMP Slloooooooooobbbbbbs]
Directions:
This one can be made on the grill or in the oven. I chose to go with the Memphis Pellet smoker that I am testing for the month and see how she does. I preheated the grill to 350 degrees and assembled my ingredients.
Start by spraying your pan with a little Pam. I went with the butter flavor because it's butter flavored. Duh! Slice your Hawaiian rolls in half and place the bottom halves into your pan.
Add some mayo and mustard to the bread. Use as much as you want. Make it messy!
Now add some cheese.
Followed by ham and pickles. I'm not sure it you can tell, but I love me some pickles.
I had some pulled pork hangin' out in my fridge, so I added it all. This pork looked much better fresh off the pit, I promise.
Add the top half of the buns and press down so they all fit.
Now it's time to assemble the gooey goodness that binds this all together. In a pan, toss in your chopped onion, butter, Worcestershire Sauce and Dijon Mustard. Heat this over medium heat for about 7 to 10 minutes.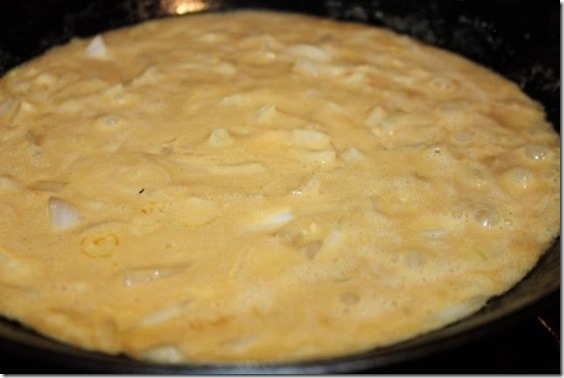 Once the onions have softened just a bit, pour them over the top of the sliders.
Some of the onions fell off the side and were scooped up by one of my fury vacuum cleaners. Meet Chloe, my new rescue pup. Her and Smokey Bones love it when I spill something.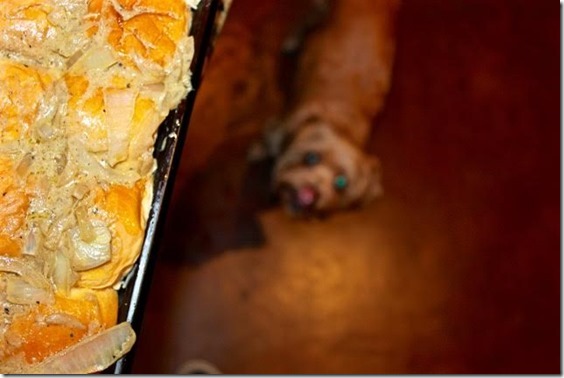 Cover with foil and place these on the grill or in the oven for 20 minutes. This Memphis grill is nice!!!! I feel like I'm cheating a little.
After 20 minutes covered, remove the foil and let go for another 10 minutes. The original recipe calls for only 10 minutes and 2 uncovered. I packed these with extra meat, so I went longer.
Once the tops start to brown and crisp, you can remove them from the heat. Let them rest for about 5 minutes as they are screaming hot. This dark pan really helped crisp up the bottom of the slider buns.
As I said earlier, these are a hot mess of a sandwich. The gooey cheese paired well with the dijon onion sauce. The pickles are a must for a Cuban style sandwich, so don't skip these.
I love the sliders along the edge of the pan. The gooey and crispy bread is soooooo good.
These went super fast at both the wedding reception and at my place. Give these a try and let me know what you think. Don't forget to load up on some Lantana Hummus while you're throwing these sliders together. I ate half a tub of the Black Bean Hummus as these were cooking. I'm really addicted to this stuff now. Thanks again Matt and Lantana Hummus for sponsoring this series.
GO BLUE!!!!!