MGoBBQ: Brisket on a Stick

-----------------------
[What this is: We yoinked Joe Pichey from MMMGoBluBBQ to share his tailgating recipes and Stubb's offered to sponsor it. This is one of those things where we really liked their BBQ sauce, and it turned out their CEO really likes this blog, and we like Joe's recipes, and we all end up with sticky fingers.]
-----------------------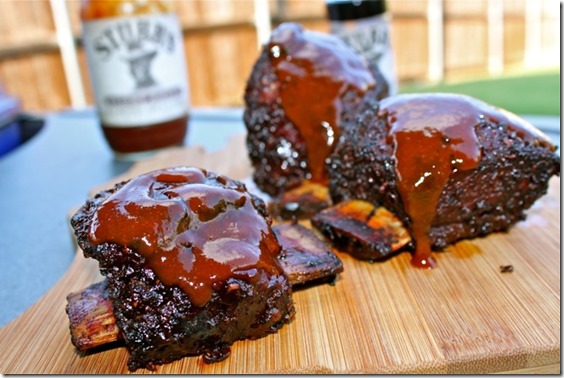 I love a great rib. It doesn't matter if it's pork, lamb, elk, beef or an albino sasquatch rib, I love em all. There is something extra special about eating meat off a stick or bone. Let's face it, it's just more fun.  The beef short rib is no different. This meaty "goodness" has it all. It's juicy, it's packed full of flavor and it won't break the bank. What else could you ask for?  It's also perfect for game-day due to its shorter cook time. (4-5 hours)
[After the jump: how to achieve your badge of honor]
Fire up the smoker to 275 degrees or set up the grill for indirect heat. I love using oak or hickory wood for big hunks of red meat instead of fruit woods. They pair well and won't get dominated by the strong beefy flavor. As the smoker is coming up to temp, add some Steak seasoning and you are ready to go. As you can see below, these BSR's were well marbled with some great "flavor". Remember, fat is flavor.
The Michigan cutting board is a popular wedding gift for ex-pats, but nobody's yet figured out what to do with the UP. At least with the New York one you can use Long Island to stir
Once each rib is seasoned, throw them on the smoker/grill with the bone side facing down. We will let them go for about 4-5 total.
After a few hours, you will notice the meat starts pulling back on the bone. This is a good thing. We are on our way to "beefy greatness". We can also see the BSR's starting to sweat. The fat is breaking down and keeping things moist. This is where a lot of the flavor comes from.  I also like to see where we are with the temps. There is nothing better than the Thermapen for checking the internal temperature.  If you don't have one, get one ASAP. You will thank me later.
Once we hit the 195 degree mark, it's time to sauce. If you would prefer to go sauce-less, feel free. Either way, they are great. I love the Stubbs Sticky Sweet on my ribs. Once sauced, I let them go until they hit 200-205 degrees internal. As you can see, the meat has pulled back on the bone for easy eating.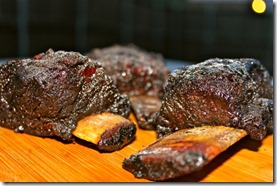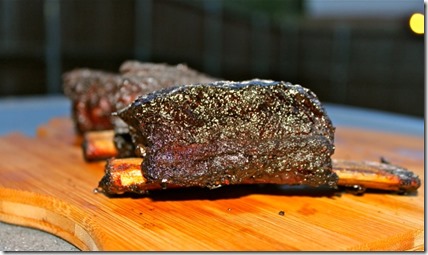 As you can see below, the smoke has penetrated the meat and created our "Badge of honor". The pink smoke ring.  Is it wrong that this gets me excited?
The finished product is fantastic and super tender. Feel free to walk around the house with your "Brisket-on-a-stick" in one hand and your favorite "barley pop" in the other. What could be more manly? Except for catching and eating your own albino sasquatch I mean.  Thanks for stopping by! If you have something you would like me to try, let me know. E-mail me here anytime.  Go blue!