[Sponsor Note (via Seth): Lantana is putting out a pumpkin flavor. Have you tried it yet? I'm usually not that into the pumpkin craze but there's literally not a

flavor I haven't liked yet. Also it's not made of cats! Also they sponsor Joe Pichey's BBQing so you can read about it]
------------------------
I love a good dessert that can be cooked on the grill. I really love desserts that are super easy and a bit messy. This one hits all the buttons for me and is always a favorite at tailgates. If you have kiddos, this is the perfect dessert to get them involved in the cooking process. The banana boats only have 4 ingredients and come complete with their own serving dish.
Ingredients:
Ripe Bananas
Peanut Butter
Chocolate Chips
Marshmallows or Marshmallow Cream
[After THE JUMP: BAAAAANANAAAA]
Directions:
Set your grill up for indirect heat and shoot for a temperature of 350 degrees. It's important to have help when you're firing up the grill. As always, Smokey Bones is there in case I drop anything.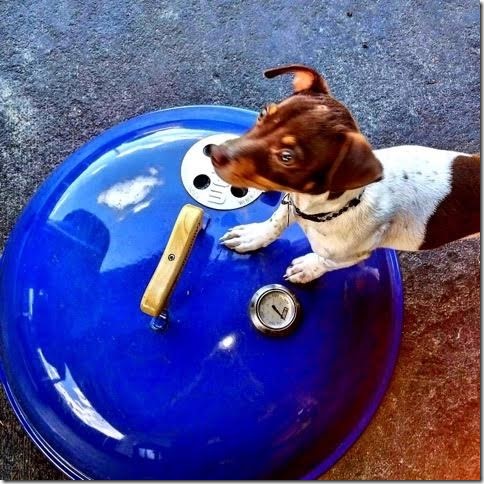 As the grill is heating up, slice the top of your banana from end to end. Make sure you do not slice all the way through the bottom peel. Open the nanner up and fill with your favorite peanut butter.
Once you and the kids have loaded the banana with as much peanut butter as humanly possible, add as many chocolate chips as you can. Stuff em all up in there.
Feel free to sprinkle on some nuts if you so desire. I tried a little exp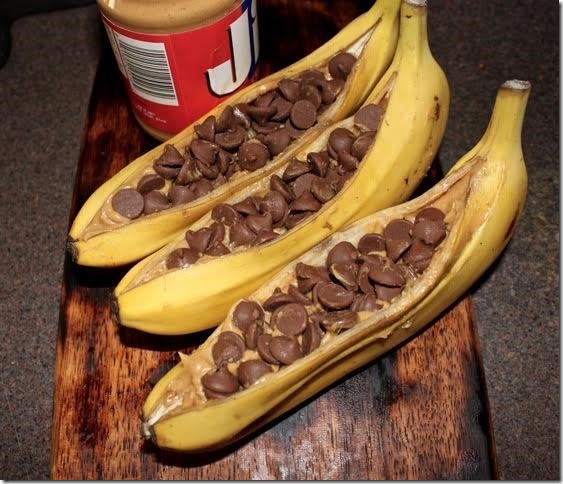 eriment with these and topped one with marshmallows and the other 2 with marshmallow cream. You really can't go wrong with either.
Another trick it to completely wrap these in foil and toss em in the fire. This is more of a "sitting around the campfire" kinda maneuver, but still a fun technique. After about 15 minutes at 350 degrees, they will start to turn dark and the marshmallow will start to melt.
After about 25 minutes, these buggers look like a mess of ooey-gooey goodness. The tops of our nanners were a bit charred, but that's how we like em. Anyone else prefer their marshmallows a little torched? The higher you can get these up in the cooking chamber, the more charred they will get. I set them on the upper rack on my grill and they darkened up nicely.
This is where you take a spoon and go to town. Give them a few mins to cool as the peanut butter and chocolate combo have formed somewhat of a HOT LAVA. Trust me, give them 5 minutes or so. Let me know what you think of this one and what different toppings you've tried.