Maximizing Your Fumble Luck
If nowhere else in the world, it is a well-established tenant on MGoBlog that forcing fumbles are mostly random and recovering them is almost more random. Historically, when I am evaluating an offense or a defense I exclude all fumble plays. They are huge swings in value for a game or player with very little correlation to the overall quality of the player or team. Some of what I found has caused to me reconsider the inclusion of certain fumble plays.
The Study
To look at how different types of plays contributed to fumble totals, I broke down the rate of lost fumbles (blue bar, left axis) and the odds of the defense recovering a fumble (yellow line, right axis) for six types of plays. Looking at over 700,000 plays from the last ten years, here is what I found.
Excluding sacks and punt returns, all other play types generate a lost fumble about 1% of the time. Punt returns are lost a little over 1 in 50 plays and sacks are the big defensive opportunity with 1 in 9 sacks causing a fumble and about 1 in 17 resulting in a turnover for the defense. What else is interesting is that the further you get away from the line of scrimmage, the more likely the defense is to recover a fumble. Completions and positive rushing plays are at the low end for lost fumbles but at the high end for defensive recoveries. As a defense, if you can generate fumbles down the field, there is a good chance for a turnover.
Based on this data, going forward I will be including plays where the defense recovers a fumble after a sack in my evaluations for team defense and offenses. Because of their increased incidence I felt like the generation of the swing play through a quality defensive play like a sack didn't warrant the exclusion. All other plays where a fumble is lost will continue to be excluded as more luck than skill.
Keeping the Ball in the Offense's Hands
For offenses crossing the line of scrimmage is about the best thing you can do to reduce your odds of losing the ball. In the above chart completions and rushes for positive yardage both generated the lowest total rate of lost fumbles. I broke those rushing plays down to see which position was the biggest culprit.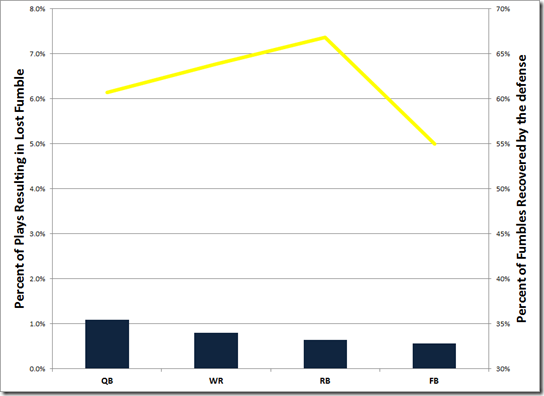 After crossing the line of scrimmage, quarterbacks are the most likely to lose a fumble on a running play. Fullbacks and running backs both fumble the ball on 1% of their positive rushes but fullbacks are specially trained fumble recovery machines as there is more than a 10 percentage point gap between the defense's ability to recover a running back's fumble as opposed to a fullback's fumble.
The offset of this data is even more striking. Here is what fumble rates look like for running plays (not sacks) that never make it back to the line of scrimmage.
The data here is clearly overrun with bad snaps and failed handoffs. Quarterbacks lose a fumble on 1 in 15 non-sack rushing plays attributed to them behind the line of scrimmage. Running back and wide receiver rates are also much higher than on other plays.
A 7% fumble rate but a 35% defensive recovery means that quarterbacks are given responsibility for a fumble on more than 1 in 5 plays that don't cross the line of scrimmage. Wide receiver rushes also have a better than average chance of recovering their own fumbles behind the line of scrimmage.
I looked at these behind the line of scrimmage numbers and ran them against whether a defensive player was credited for the forced fumble. On runs crossing the line of scrimmage a defensive player is credited with a forced fumble 80% of the time and that number is relatively consistent across all positions.
If you adjust the behind the line of scrimmage to say try and account for the non-forced fumbles (take the forced fumble numbers and assume they represent 80% of the total) the loss rates behind the line of scrimmage drop considerably. The rates are still higher than post line of scrimmage plays. QBs fall to 2.6%, WRs to 2.2% and RBs at 1.4%. When the fumble is forced by the defense behind the line of scrimmage, defenses recover nearly 70% of fumbles by backs and receivers but barely 50% of quarterbacks. In fact, of all forced fumbles on scrimmage plays, wide receivers and running backs lose the fumble 68% of the time, where quarterbacks only lose the ball 61% of the time. Not sure exactly what that is from but it's a pretty stark difference and with thousands of plays for both running backs and quarterbacks, one relatively immune from sample size concerns.
Up All Night to Get Flucky*
Based on these numbers a couple things stood out to me:
Sacks produce fumble at an obscene rate compared to any other play
Don't skimp on the fundamentals, poor snaps and hand-offs are a major source of fumbles
Positive plays are good for the offense, getting past the line of scrimmage greatly reduces the chance that a fumble occurs, but increases the defense's chances at a recovery if one is forced
Hitting ball carriers behind the line of scrimmage is a good way for a defense to generate fumbles
HOLD ON TO THE DAMN BALL! Punt returns are the most likely play to result in a lost fumble.
Not all fumbles are created equally, defenses recover nearly 70% of fumbles that are forced and only 45% when they are not.
Quarterbacks are fumble prone but their teams are better at recovering them than other players' fumbles
*Sorry, my kid has been singing this song for weeks now, I had to work it in to this article somehow.