Mattress Talk
10/21/2017 – Michigan 13, Penn State 42 – 5-2, 2-2 Big Ten
I'm still trying to figure out how this is a wicked burn [Patrick Barron]
Got a new mattress. Wife had been saying we should get one, and then I read this article about the crazy Online Mattress War between dudes who had gotten millions of dollars in affiliate sales as mattress reviewers and a leading mattress company that sued them. The company was kind of right that the mattress guys were not fully on the up and up, but neither was the company. The twist ending: company just bought the site and magically their problems were over, man.
Everyone wins, except the average Joe just looking for an honest mattress review. Insofar as that is possible. Which it's not for an idiosyncratic product that is supposed to hold up for years and years.
This article still convinced me that I should just buy a mattress online, because any industry that has people in that level of desperate hand-to-hand combat is a place where The Online is legitimately disruptive. Also I went into an Art Van once and felt like I needed a shower after I left. I bought one office chair. Guy said I was making an amazing choice buying this office chair. I had an incredible eye for office chairs. Nobody in the world could have picked out an office chair finer than the one I had just acquired, and at such a price. And so forth and so on.
So: I am sold that mattresses are vastly overpriced and open to disruption. Also I am the kind of person who would rather roll the dice on Amazon reviews than talk to someone who works on commission. So I went with the company at the beginning of the article that purveyed a mattress the vaguely shady review guy returned. They were not mentioned again and thus seemed to be more on the up and up than everyone else. I dislike angle shooters.
Here is an internet mattress. It comes in a white box that seems far too small for a mattress. After you hack through an Amazon's worth of plastic coverings to unroll it there is a final layer of protective covering. Pierce that with the steak knife you've commandeered and the mattress will take in a great gulp of air, like a drowning man who suddenly finds himself at the surface. Then you have a mattress.
It's springy. Good? I don't know? I slept on it. It was fine.
It is odd somehow, but that's probably not its fault. It's probably always odd to get a new mattress. It's doubly so for us since the monstrosity we are replacing is an old hand-me-down "pillow top" that's like a foot taller than this thing. The hand-me-down is the 1955 Buick of mattresses. It could double as a boat or siege weapon. You couldn't put it in a trebuchet unless you wanted to flatten something three feet away, but it would do quite well as a battering ram. Nice and roomy underneath. The padding above would mute the impacts of various rocks, arrows, and other sundry implements of murder being flung at your head. The tag you're not supposed to take off swears that flammability is not an issue. And when you get that thing going, momentum is going to take you right through that door. Have fun storming the castle!
Anyway, the placement of the reading lights in our bedroom now makes way more sense.
----------------------------------------------
The child—who goes by Denard Robinson Cook on the internet because I want his Google results to be his fault, not mine—lost his mind at this whole procedure. One of the great challenges of deploying the internet mattress was getting the little goober off the box spring long enough to simultaneously have a bed and an un-suffocated child.
He bangs the box spring and finds its texture pleasing. "BANG," he says, sort of. Getting the plastic off the mattress is a longer than expected, so he runs off to look at the old mattress, which is not in the spot it's been literally his whole life. "OH WOW," he says, distinctly and repeatedly. When the mattress arrived he pointed at the box and exclaimed "OH WOW" for two solid minutes, at varying levels of intensity. The intensity varied from much to lots.
Perhaps he has been raised to find beds and bedding to be a delight. Later I would discover that when my wife makes the bed there has evolved a certain strange ritual. There are four pillows, and after each is sheathed in its cover the wife will promise the child a "boof," which consists of whacking him surprisingly hard in the face with the pillow and throwing it on the bed. The child falls to the ground, cackling merriment, and gets up demanding to be boofed again.
After the pillows are all on the bed the child is thrown onto it, whereupon he flings himself onto every nook and cranny mutter-yelling "boof." Should an adult have the temerity to join the child on the bed, he or she will be shooed away. The child will cry "ah-weigh" until the offense is repaired, and then resume boofing itself.
This was the only part of the mattress procedure with an unpleasant whiff. It is now clear that the child enjoys throwing himself headlong at things, and having things hurled headlong at himself. He thus might want to play football, which is a sport of no account whatsoever that all thinking people rightly condemn.
AWARDS
Higdon, not Long above[Eric Upchurch]
Known Friends And Trusted Agents Of The Week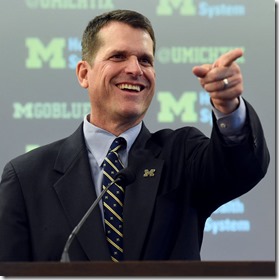 you're the man now, dog
#1 David Long? I guess? Long intercepted a pass on PSU's third drive, forestalling the beat down until the second half. He was considerably assisted in this endeavor by a Penn State miscommunication, but the other choices here are guys with under 50 yards of offense or other members of a defense that didn't do great. On a day when Michigan got bombed, just one tackle for Long is probably a good thing.
#2 Karan Higdon? Averaged three yards a carry and this felt sort of noble in the circumstances, with half his carries buried at the line by a defense with no respect for the pass and another fair chunk actually decent.
#3 Khaleke Hudson? I guess? TFL, PBU, and a QB hurry, whatever that means in the box score. Notably did not get torched by anyone unless my memory has failed me, which, thanks, memory. Doin' me a solid.
Honorable mention:
KFaTAotW Standings.
8: Devin Bush (#1 Florida, T2 Cincinnati, T2 Air Force, #1 Purdue)
5: Chase Winovich(#1 Air Force, #2a Purdue), Mo Hurst (#1 MSU, #2(T), Indiana), Karan Higdon (#1 Indiana, #2 PSU)
4: David Long (T3 Indiana, #1 PSU)
3: Mason Cole (#1, Cincinnati), Ty Isaac (#2, Florida, #3 Cincinnati), Lavert Hill(#2 MSU, T3 Indiana))
2: Quinn Nordin (#3 Florida, #3 Air Force), John O'Korn (#2 Purdue), Rashan Gary(T2 Indiana), Khaleke Hudson (T2 Cincinnati, #3 PSU).
1: Tyree Kinnel (T2 Cincinnati), Mike McCray(T2 Air Force), Sean McKeon(T3 Purdue), Zach Gentry (T3 Purdue), Brad Robbins(#3 MSU), Brandon Watson (T3 Indiana).
Who's Got It Better Than Us Of The Week
Michigan punches in a touchdown from the six by loading up in a three-TE set and manballing it in with power. This briefly saw Michigan come within a point and was the last event in the game that could be read as hopeful.
Honorable mention: David Long's INT; other touchdown; several plays on which PSU did not score a touchdown.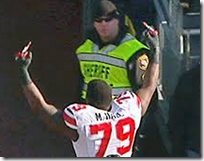 MARCUS HALL EPIC DOUBLE BIRD OF THE WEEK.
Quinn Nordin misses an extra point, which made it clear that it was about to be that kind of night.
Honorable mention: Most of the rest of the game. Saquon Barkley's opening touchdown rather stands out amongst the writhing mass of events. About one minute in to the game everyone was like "okay this is a huge loss," and they were eventually correct. Would rather that did not happen.
[After the JUMP: mattress SEO mattress links mattress reviews mattress coupons mattress mattress]
OFFENSE
Another year, another abomination. The story of Michigan football over the past decade in a sentence: their offensive line sucks. I was bracing for suck in this game and the suck outpaced my ability to brace: seven sacks and 2.5 YPC, and while that includes those sacks that feels close to fair since John O'Korn scrambled for about as many yards as he lost.
Any assertion that a position group on offense can be responded to with "yeah but what about those other guys," and yes, the OL problems are exacerbated by O'Korn's inability to read a defense and the wide receivers being (largely) freshmen. The suck reinforces itself. But the original sin on offense is an OL that starts a turnstile at right tackle no matter who's in the game.
I can't say I've reviewed what happened on the ground; there it might have been something more like the past two weeks where the blocking is mostly okay but a combination of one guy making a big error and a total lack of respect for Michigan's passing game nerf a bunch of plays near the line of scrimmage. As hopes go that's about as faint as it gets.
It's time. John O'Korn looked significantly improved from his last two outings and was still under six yards an attempt despite a defense that largely dared him to throw. He even had some help from his receivers, for a change, and nyet. A fair number of those sacks were on O'Korn sitting the pocket for four or five seconds without finding anyone—one particularly memorable incident saw O'Korn wait for a bunch of deep routes to break before throwing, with predictable results.
Michigan should look at Brandon Peters. This probably won't help, but neither is it likely to hurt much.
help from the wide receivers [Barron]
Only fair. This site has bagged on Kekoa Crawford's season quite a bit so we should point out that his diving, over-the-shoulder completion to set up one of Michigan's touchdowns was very nice.
Game seven. Nico Collins burned his redshirt irrevocably by playing on a wide receiver screen to DPJ. If you're going to burn a redshirt it should at least be for a route, right? At least he looked burly.
Other stuff? I feel this section should be longer but what is there to say, really? Michigan doesn't have a passing game and is caught between two different approaches on the ground. They're bad.
DEFENSE
The silver lining! Joe Moorhead is 100% getting a head coach job thanks to that game. His worst case scenario is landing at UCF after someone hires Frost, right? He has to be the Hot Coordinator Du Jour along with Brent Venables. That's the ticket.
nevermind [Barron]
Another silver lining! Instead of lingering on as a haunting what-if, that near pick-six by Hudson is instantly forgotten.
Eviscerated. I don't know if Penn State had been playing rope-a-dope for a month or what, but... yikes, man. The Saquon Barkley go route against Mike McCray was the grim capper on an RPS disaster that has to be Don Brown's worst outing since early days at Boston College. Michigan got rocked in many ways; tactics were foremost among the ways.
Moorhead clearly thought that inverted veer (or "power read" as it's often referred to these days) was an excellent way to attack Michigan's defense but didn't want the default runner to be his quarterback, thus the direct snap tweak. That paid off immediately as Michigan totally vacated the backside of the play on a long touchdown that came so quickly ABC didn't even cut to commercial afterwards.
After that faded somewhat Penn State went back to bombing it downfield, finding Michigan's safeties to be largely helpless. I'm not sure how much of that was on them. One deep corner route against Metellus was inch-perfect to the point where Charles Woodson himself couldn't have done anything about it; another was Penn State remembering that Mike Gesicki is seven feet tall and other people are not. Tyree Kinnel could have done better on the first one but still had his face in his guy's chest, providing a tiny window. Sometimes you just get got if you're a defense, and sometimes this happens about sixty consecutive times.
How much of that is Michigan's plan being bad and how much is running into a buzzsaw I'm not sure. Some of both, surely. Opposition defenses facing Penn State have made them drive the field, save for the occasional Barkley outburst, by playing zones with a lot of guys deep and making it easier underneath. This has sort of worked. Michigan refused to back off and got ripped.
Okay that sucks, but... if they do back off and make Penn State be the boring Barkley dumpoff factory they've been so far this year, what does that look like? Still a loss, because Michigan had under 300 yards of offense and scored 13 points. Playing balls to the wall was hypothetically more likely to result in turnovers that could swing the game? I don't know. Asking Don Brown to back off is like asking Denard Robinson to run a pro-style offense. I do know that.
Survey says. Yes, PSU was playing rope-a-dope for the past month. Andy Staples:
That Wildcat formation was the most obvious, but the Nittany Lions unveiled several new formations and motions Saturday just for Michigan. They had practiced all of these earlier, but they didn't want them on video, so they avoided using them in games. This included starting with an empty backfield and staying empty through the snap of the ball. (Previously, someone had motioned into the backfield from an empty set, or someone had motioned out of the backfield to create an empty set.) Barkley's juggling 42-yard touchdown catch came out of one of these formations.

It also included the occasional game of skill player monte, using pre-snap motion to disguise Barkley's location at the snap for as long as possible. The less time the Wolverines had to adjust after determining where Barkley would start each play, the better for Penn State. But while the Nittany Lions had saved some scheme specifically for Michigan, the Wolverines had opted to stick mostly with what they'd already shown Penn State on film. "They stayed true to themselves," Barkley said. "They changed a little bit of stuff, but they played us how they played a lot of other teams."
PSU is coming off a bye week, and prior to that they'd had blowouts over Indiana and Northwestern. Michigan has been in dogfights the past two weeks in which they had to bring more stuff out of the shadows, notably that counter run that got them a free touchdown against the Hoosiers. PSU spent the fourth quarter of their game against Indiana doing basic stuff with their backups. That's a luxury you get when you have an offense that can put games away.
On that long touchdown. Michigan's in their 4-2-5 package; they're running a 3-3-5 with Winovich in the Furbush role. But the main issue with the play is Gary getting lost way upfield:
That cutback lane is Gary and Winovich getting split, and it's mostly Gary treating this like it's third and 20, not second and four. With Gesicki in a route-type substance Hudson's gone and once the first level is breached you're asking a safety to find a cutback and do anything with Barkley in the open field.
The actual point of attack is jammed, and was pretty consistently jammed when PSU ran this. But give Barkley any window and you're screwed.
poor damn Mike McCray [Upchurch]
Solve your problems with anything other than Mike McCray on Saquon Barkley. Michigan mostly got away with putting their linebackers on running backs lined up outside after the Dalvin Cook event last year, but trying to get away with that crap when the opposition's running back is both a Heisman candidate and the team's leading receiver was always suicidal. Run a zone against empty. It's fine. Go ahead.
Wiping the LB level. PSU hit Michigan with Trace McSorley at the perfect moments, letting Barkley fakes draw the vast majority of the defense while McSorley got to pick through the remnants of the DL en route to seven yards a carry.
this didn't work for PSU [Upchurch]
Thunderdome did not materialize. The anticipated Bush/Barkley matchup didn't really happen, with only two memorable incidents. Barkley shook Bush to turn a modest gain into about nine; a bit later Bush shut down what looked like another chunk run by demonstrating what "sideline to sideline range" means. Both guys are good at football.
SPECIAL TEAMS
a moment of respite [Barron]
Uh, I guess there were some. Ambry Thomas had a nice kick return. Michigan buried Barkley at the 13 on one returnable kickoff, though that might have been an attempt to inflate Penn State's stats.
Oh: the punting. Blake Gillikin's punting was not a decisive advantage because he barely did it, but if the game had descended into a slog it probably would have been. He averaged 50 yards on his two kicks; Brad Robbins was at just 39, and he managed to give up 20 yards on returns despite that. He's been pretty meh since coming in for Will Hart.
MISCELLANEOUS
Eat at Arby's. Eat at Arby's.
Advice for message-boarders. The best way to get yourself banned is to start a dumb thread in the aftermath of a bad loss. That's just asking for a mod to look at your posting history and decide you're a jerk. RIP several people Saturday.
HERE
The only way Michigan was going to win this game was if it got into a rock fight, a boring-ass game from a bygone era where the space between the 30s was a muddy battleground and every run or pass looked like an NFL Blitz tackle.


But PSU was too good, too prepared to let Michigan ugly it up, and then it became an exercise in PSU's talented, experienced playmakers on offense matching up against Michigan's talented but inexperienced/ill-positioned defenders, and we all saw how that played out.

Michigan had it's moments, especially after picking off McSorley, driving down the field to score a TD. They nearly got another on the ensuing PSU possession, and McSorley again threw a bad pass, this time a screen directly into the arms of Hudson in the end zone, but who dropped it. And Michigan's second scoring drive was much like their first; a grinding affair featuring a nice mix of straight-ahead runs, a little O'Korn scrambling, and some nice pitch-and-catches. There were some subtle shifts on the line, a nice mix of zone and power, and basically the type of offense you hoped to see.

But as Ace noted in his recap, it did feel a bit smoke-and-mirrors. Michigan still hadn't figured out how to exploit the mismatches they had (mostly along the defensive line) or compensate for PSU's, chief amongst them Saquon Barkley on the move. I'll get into it later, but this was Dalvin Cook and FSU all over again, with McCray consistently losing in foot races with Barkley he could never expect to win, and PSU rightly using McSorley as a counter to Michigan's slanting by having him run through some gaping holes left by the flowing front 7. Sometimes you just get got, and when you have upperclassmen across your offense and probably the most complete back in the country (it's either Barkley or Bryce Love), it can get ugly.
The meta-state of our open threads:
So, this may be of interest to fans of "The State Of Our OPen Threads" - based on nearly 60 games of data: https://t.co/UPzxaDb1by

— LSAClassOf2000 (@LorneEC3) October 23, 2017
ELSEWHERE
Thinking about trying this pastrami recipe out. A few weeks ago I thought about, like, curing my own meats, but then the article I was reading veered into a discussion about which molds are good and which molds are very, very bad and I decided that I would definitely give my entire family food poisoning if I tried that.