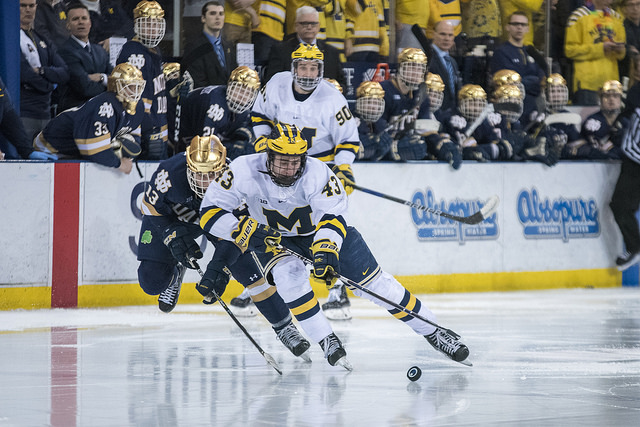 The Making of Quinn Hughes
The red carpet entrance and the spotlight and the microphone pack on his back and the reporters in front of him at the interview table and the handshakes, the endless stream of handshakes, were a month behind Quinn Hughes. The tension of the NHL Draft, with its imposing stage, megascreens, and work area for teams on the covered floor of the rink an amalgamation of a concert and an unwieldy TED talk, ended for Hughes soon after it began, with the Vancouver Canucks selecting him seventh overall. And so, in the midst of Hughes' Infinite Hockey Summer, the most extraordinary thing about a typical summer day spent at his family's home in the typical Detroit suburb of Plymouth was its ordinariness. At least, that's how it started.
**************
The best thing about the baseball field in the Hughes' neighborhood was that it was only a baseball field for part of the year. The rest of the time it was an outdoor rink, one fashioned the crudest way possible: flood it, freeze it, use it while it lasts. Quinn and his brothers—Jack, currently on the US National Team Development Program roster and likely to go first overall in next year's draft, and Luke, currently playing for the renowned Little Caesars program and a Michigan commit— used to walk to the rink, shovel, and play until they couldn't feel their feet. Frozen feet didn't deter them, though; the only thing that could stop them from playing was when their mother, Ellen, came down to the rink to force them home to warm up.
Flooded baseball fields were soon passed over in favor of a set of flooded tennis courts in a park they found in Toronto's Etobicoke neighborhood. The family had bounced around due to Quinn's father's coaching career; Jim spent two seasons as an assistant for the IHL's Orlando Solar Bears; two years as an assistant for the NHL's Boston Bruins; then three seasons, the last as head coach, with the AHL's Manchester Monarchs before moving to Toronto for a spot as an assistant coach of the AHL's Toronto Marlies (2006-2009) and then as the Director of Player Development for the Toronto Maple Leafs (2009-2015). The extended stay in Toronto gave them time to find hidden gems like Wedgewood Park's tennis courts, which didn't have boards (lining the rink with shoes worked as a substitute) but did have pipes and thus higher quality ice.
Quinn and his brothers spent every possible moment on the outdoor rink at Wedgewood. Ellen would bring hot chocolate and pizza down for the boys, whose biggest disappointment in life, as it was at the baseball diamond, was when they had to leave the ice. Things were slightly different at Wedgewood, though, as there were two things beyond parents that could force them off the rink: the lights getting shut off (this year it's at 10 PM, but Ellen says it was usually around midnight when the boys were playing) or the makeshift Zamboni—a John Deere tractor when not working its seasonal job— showing up to resurface the ice. "Like at 2 o'clock they'd come and you'd get off for like five minutes," Hughes says. "It sucked. It was brutal, because then you got cold again."
The rink was built across three tennis courts, which left plenty of room for Hughes to take on the neighborhood. "It'd be like me and my brothers and two or three other guys against 25, 30 kids and it'd be really fun," he says. He also made sure there was quality competition to compete against. "They would have a Friday night game, like a 7 o'clock game, and Quinn would say 'Can I fit as many kids as I can in the car?'" Ellen remembers. "Whoever was willing to go, because not all of them were willing to go, and after their game we'd drop them off at the outdoor rink until the lights got shut off."
[After THE JUMP: How a kid from Toronto with deep ties to Boston ended up in Ann Arbor, and why he stayed]
The five-minute cold snaps and undermanning his own team paid dividends for Hughes on a macro and micro level. "Just having fun out there, touching the puck the entire day, working on your skillset, having fun, growing your passion for the game," Hughes says. "I think absolutely [it helped]. Could be the biggest reason I am here right now just because that's kind of where I fell in love with the game. My other two brothers were the exact same thing and you can see how their game just translated well, so I think that's a big part of why I'm here."
Wedgewood Park was the reason Hughes kept filling his idle time with hockey, but did those hours under the lights spent deking half the neighborhood really help make him the player he is now? "Totally, because the creativity, just the fun, the passion, the skillsets, the lateral movement, the edges, and it's all competitive," Ellen says. "What he really stands out with is his edgework and puck control," says Dan Ninkovich, who has been training with Hughes since he was 13 and is the program coordinator at Beyond The Next Level training center in Oakville, Ontario. "I've been working with many players over the years including [Connor] McDavid, and I think he has some of the best set of hands I've seen on a guy in the course of 16 years of me working with professional players. Yeah, it's a big statement. His spatial awareness is also second to none."
"With him it's a collaboration of cool, calm, knowing that he can escape the opposition, so his edge work, his ability to accelerate out of cutbacks and turns, I think, is probably the differentiation between him and other players because he knows that even if he's in trouble, he can make that last-second cutback and get away from that forecheck and get rid of the puck," says John Wroblewski, the head coach of Hughes' U18 team. "So, I think it's been a maturation throughout 15 years of playing the game of he's got that knack of patience and persistence that elite players have."
It didn't take long for Michigan head coach Mel Pearson to find this out. Asked whether he remembers a time that Hughes wowed him on the ice, Pearson first says he does it at least once every practice, then launches into a story about what Hughes did on the road against Clarkson in Michigan's second game of the 2017-18 season. "He made a backhand saucer pass through the neutral zone from one side of the rink to the other right on one of our player's sticks, on his tape, and I had a comment about it: number one, most players won't see the play. Number two, most players won't even attempt it. And number three, I don't know if anybody could complete it and he did," Pearson says. "He did all three of those things and we saw moments like that from that point forward all year but that was the first one that stuck out where in a game you're going, 'Wow, that's pretty impressive.'"
​
[Bill Rapai]
Though trying to hang onto the puck and thread it to teammates while skating against an elementary-school-classroom worth of kids helped craft the elusiveness that is a signature of his game, Hughes' hockey education continued indoors at rinks around North America. "As young kids [Jim] would always take one of them anytime he could. If they were off from hockey, he would take them with him to scout games or watch games and when he was coaching he'd always have the kids at the game, he'd have them in the locker room," Ellen says. "They were always around the pro games no matter what the pro game was: minor league hockey or whether it was the American League Hockey or the National Hockey League."
Jim let the kids go beyond the locker room, too. Quinn never turned down a chance to skate, and Jim allowed the kids to get on the ice before or after practices. Though generally a child who preferred to observe from the edges before jumping into the fray, Quinn couldn't wait to get on the ice and actually play hockey. Ellen and Jim signed him up for a team at the earliest opportunity. Like, really early. "I think he was supposed to be four to play in the league and he hadn't turned four yet and we kept saying 'Tell everybody you're four,'"Ellen says, laughing. "'No, mom, I'm three.' We were like, 'Alright, well then you can't play.'"
He must have learned to leave his age out of things. Hughes played that year and continued to move up the ranks. By 2014 he was on the Toronto Marlboros' AAA Minor Midget team, but his small stature was starting to impact how he was perceived. "His confidence was lacking in the beginning because he wasn't up to par physically with his peers, and then he just exploded come minor midget hockey, after two years working with me," says Ninkovich. "He was pretty much a laughingstock. I knew guys from his team that wouldn't give him any respect, and that also affected his game."
Hughes responded with a high-scoring year in 2014-15, netting 13 goals and adding 31 assists to lead all defensemen on his Marlboros team in scoring and finishing eighth on the team in total points; five of the seven players who finished with more points have been drafted by NHL teams. Hughes recalls loving having teammates that pushed him, relished the opportunity to measure his game against players of a similar caliber.
There was no time, though, for Hughes to nurture his developing confidence with another year of Midget hockey. Players quickly age into the next level as they march toward their draft year, and Hughes had to make a choice. Sort of. He would be eligible for the U.S. National Team Development Program's U17 team for the 2015-16 season, and though he had grown up not only in Canada but in Toronto, the center of the hockey universe, he knew where he wanted to go next.
"He had always wanted to play for the U.S. national team. He had grown up watching these kids. He'd followed it, having a dad in hockey," Ellen says, failing to mention that she starred for Team USA and won a silver medal at the 1992 IIHF World Women's Championship. "He used to go to Lake Placid with his dad and watch the World Junior tryouts in the summer; that's where they used to always be. I think he just was hopeful to make that team. For him, he knew that if he got a spot, he was going. I don't think there was ever any doubt for him."
There was not. Hughes loved the structure and the competition, their track record of producing NHL talent and the opportunity to practice against them every day at the forefront of his thinking. "You're on the ice every day practicing against the best," Hughes says. "Maturity-wise, you're moving away from home and living with these guys. I think it teaches you to grow up faster. I just think the training—nobody works out, nobody skates longer and stuff like that. It's got so much to offer."
In the midst of all this, Hughes was already contemplating what he would do after his two seasons with the NTDP. Michigan was the first school to actively recruit him, and that appealed to him. Even so, pulling a rising-star, puck-moving defenseman out of Canada was going to be difficult. To add to the degree of difficulty, Hughes' family has deep ties to New England: his father played hockey at Providence College, his mother played hockey, soccer, and lacrosse at the University of New Hampshire, his uncle played hockey for Boston College, his cousin was playing hockey for Boston College at the time, and they have a vacation home in New Hampshire.
"We have so many family [members] in the Boston area, so we envisioned, alright, we've been in Canada 11 years—we never thought that would happen— we're going back to the East Coast," Ellen says. "It's gonna be cool, Quinn's gonna pick one of these schools out here— everybody was recruiting him, and Michigan was one of the schools we didn't know anybody at. We had a lot of connections other places, and they were one of the first ones that really came after him and he loved it."
He never stopped loving it, even though he knew that Red Berenson was unlikely to be his coach; Red told him as much, but he also told Hughes that his fingerprints would be on the program and that Michigan would always be Michigan. Hughes liked that there was a sense of certainty with Michigan; he knew what kind of degree he would get, and he liked the feeling of history in which the program was steeped.
A visit to Michigan came next, with Hughes able to tour campus with his mother. His interest grew, and Michigan's coaching staff started to work on Hughes' parents. Berenson had recruited Jim as part of his first Michigan class, but Hughes chose to attend Providence. At one point in the recruitment, Berenson looked at Jim and jokingly said, 'Don't screw this one up again.'
Sensing how close he was to committing and wanting him to get a better sense of what all the schools interested in him had to offer, Quinn's parents decided they needed to sit down and get him to pump the brakes on his college decision. It did not go the way they planned. "You're not going to talk him into something or out of something. He has his own thoughts and beliefs and I remember it was like January and we had said, Jim and I kind of said let's talk to him and let's tell him not to commit and these are the reasons why and blah blah blah blah blah," Ellen says. "And then we basically came out of our conversation with him and said, 'Alright, he's committed.'" The news officially broke on January 28, 2015.     
​
[James Coller]
Hughes packed and left to start his two seasons with the National Team Development Program in Plymouth at the age of 15. He may not have been living in his parents' home and able to tag along to the Air Canada Centre for Leafs games anymore, but he wasn't far removed from those who were involved in the professional game and able to dole out advice; instead of moving in with a typical billet family, Hughes moved in with Brady Tkachuk and his father, 19-year NHL veteran and U.S. Hockey Hall of Fame inductee Keith Tkachuk.
The advice and the competition didn't lead to immediate on-ice success for the U.S. National U17 team. "Their first year at the program they were awful if you look at their record. They could have been the worst team in the history of the program is what they were saying," Ellen recounts. "Then they turned things around, and that's a great process. And that psychologically was great for him just as a human being and for all of them to try to sort it out. It doesn't always go your way."
Individually, the player Hughes would become was starting to round into form. John Wroblewski, who would serve as the head coach of Hughes' U18 NTDP squad, recalls the first time he took notice of Hughes. It was in the midst of the U17's struggles—they dropped both games to the NAHL Prospects team in this early February series— but the in-season growth Hughes showed was remarkable. Wroblewski, then the head coach of the USHL's Youngstown Phantoms, went up against Hughes' team in September, but it was against the NAHL Prospects five months later that his attention was piqued. "The way that he could manipulate the opponent and draw in multiple defenders and then be able to—the options that he afforded his team at such a young age, I was intrigued with," Wroblewski says. "I actually, after watching him play, this is in February, I brought it back to Youngstown and tried to implement some of the things that I saw him do on the ice to benefit the team I was coaching at the time."
Half a year later, Wroblewski was the head coach of the player he'd been using practice time to get his young defensemen to emulate. Practice, however, is where Wroblewski first started to wonder whether Hughes would figure out how to fully harness his talent. He was having trouble with Wroblewski's drills, seemingly incapable of starting them at the right time. "You were left wanting more. Within a couple months it improved and then by the end of the year it was almost a totally different hockey player with regard to his uptake on systematic events and things you wanted to apply within the game or even within a practice," Wroblewski says. "It was astounding how quick what a turnaround it was for him." By the end of the season, Hughes was having such an impact on the game and his teammates that Wroblewski and his staff started designing systems around his ability to manipulate the defense.
This quick processing and ability to change on the fly doesn't surprise those close to Hughes. Jack Becker, Hughes' teammate at Michigan, bursts into laughter when I ask about how Hughes adapts to situations. "That's funny you say 'adapt.' He always tells me 'adapt or die.'"
"I think that's from their father working in pro hockey because he always talked to them like they were adults and they got to see kids that made it and didn't make it, and it's the real world," Ellen says. "It doesn't matter what it is you're in, unless you're the boss, you better be willing to adapt."
It is a skill well-suited to a hockey player, particularly one who showed up on Michigan's campus as the youngest player in NCAA Division I hockey. "I was 17, our captain was 24. I was a little bit nervous. I didn't really know what to expect from school," Hughes says. "I remember moving into the dorm, it was so busy. I think there was like 800 kids in our dorm last year in South Quad. So I wasn't really sure what was going on at the start and I didn't really know any of the guys but everyone was awesome. I just remember kind of getting my routine and then it kind of got easy school-wise and hockey-wise and stuff like that and I became very comfortable."
Before he could get comfortable or get into a routine Hughes had to get to know his new teammates, but he had a head start with one. Hughes had been playing against or with Josh Norris for years, going head-to-head when Norris' Oakland Junior Grizzlies faced Hughes' Toronto Marlboros and then playing together for two seasons with the NTDP. Jack Becker hadn't met Hughes before the two were on the ice wearing the same crest last August. Norris and Becker and Hughes became friends quickly because, as Hughes says, they have the same personality: "Mature, which I like, and they're funny. Fun to be around. We have a lot of fun together. They're both focused on hockey and focused kids."
"I think it's probably the main reason why we gravitated toward each other is just we're focused and I think we all want to make the next level and I think we all want to be around people who have the same values, so I think that's just the biggest thing," says Becker, who was drafted in the seventh round by the Bruins in 2015. "You become the people that you hang around with, so I think if you hang around with people who have the same values, that are focused and want to get to the next level in hockey but they also want to be good people, too, I think that's really important."
​
[James Coller]
Pearson saw in Hughes the unwavering focus Becker alluded to. "He's serious about his game," he says. "He's serious about how he approaches his workouts and everything he does, from on the ice to off the ice, is to help him become a better hockey player."
Focus and friendship wasn't enough for Michigan to find on-ice success in the first half of the 2017-18 season, though. The Wolverines swept one series prior to the Great Lakes invitational in early January, and that was against Vermont in the middle of October. They continually split series, and it showed in their 8-8-2 record. December's three-week holiday break provided an opportunity to recuperate and work on weaknesses in practice before the Great Lakes Invitational, except for the select few who were on World Junior Championship rosters.
Though it wasn't restful, World Juniors gave Hughes the motivational boost he didn't know he needed. His minutes dwindled as the tournament progressed, starting around 20 per game and falling to about four by the midpoint. "My World Juniors didn't go as well as I wanted it to," Hughes states matter-of-factly. "I was pissed off. I thought I should have played more, so I think it was a good kick—not that I needed a kick in the butt, but it was good for me. I came back here and I was more focused, more dialed in, and I think I just brought my game to another level, as did the whole team."
The back half of the schedule started with two close 2-1 losses to Notre Dame, the newest Big Ten men's hockey member institution. There were encouraging signs that weekend, as Michigan controlled the pace of play for four of the six periods and was otherwise good defensively against the #2 team in the country. Even so, team captain Tony Calderone decided that close wasn't good enough and that he needed to speak to his team.
Michigan traveled to Minneapolis for a series with Minnesota just five days after the Notre Dame games. After a film session in the visitors' locker room, Calderone waited for the coaches to leave and told the team he had something to say. He told them that some players may not be educated in the way the bid process works, but that they wouldn't get an NCAA Tournament bid the way things stood. Thinking that they could wait and turn it on in the Big Ten Tournament to secure the autobid that comes with winning a conference tournament wasn't something to bank on. "I said earlier how the leadership had such a big role on our team and Tony Calderone kind of took the room over and just said how we needed to come together as a team and it's either we come together as a team and have a great run here and try to put something together or we kind of just fall apart and let the season go to waste," Norris says.
With their backs pressed firmly against the wall by their own captain, Michigan started winning. They swept Minnesota that weekend, their first road sweep of the Gophers since the 1977-78 season. After that they swept Penn State, Michigan State, Notre Dame, Arizona State, and their Big Ten Tournament quarterfinal series with Wisconsin. Bid secured, the team didn't have to worry when they lost to Ohio State in the conference tournament semifinals.
The common thread that runs through everyone asked about Hughes' personality is starting with some kind of disclaimer about how he's very quiet at first, but opens up after you get to know him. By this point in the season, he was chirping Norris and Becker and Joseph Cecconi, his partner on Michigan's top defense pairing, during pregame warmups on the stadium concourse. Hughes and his teammates were having fun, and it wasn't hard to figure out why. "Winning is fun. We just kept winning. I feel like the more we won, the more we wanted to win," Hughes says. "I got a question a lot at the combine: do you hate losing or do you love winning? Something like that, and I was like, for me, I think it's love winning."
Hughes is asked about the NCAA Tournament run Michigan went on and his speech grows more rapid, his answers even more illustrative. He says we'll start in Worchester, their Regional site. "I remember everyone writing us off. Even guys that went to Michigan had their polls and they had Northeastern beating us and we were all like, aw, come on," Hughes demurs. "We were really confident going into that weekend for whatever reason, because the three teams there that were really good."
Those teams weren't just good, they were also practically playing home games. Both Northeastern and Boston University were playing less than an hour from their campus, and with BU beating Cornell in the first game of the day, Michigan knew before they hit the ice that a win over Northeastern wouldn't spare them from playing another pseudo-road game in the NCAA Tournament.
Michigan beat Northeastern and played said game against a powerhouse Boston University squad, and Michigan won that game, too. As improbable as it seemed in that locker room in Minnesota just two and a half months before, Michigan was going to the Frozen Four. "That was one of the best moments of my hockey career was realizing we were going to the Frozen Four," Hughes says, then pauses. "I still can't believe it now. I was like, 'How the hell did that happen?'"
​
[Patrick Barron]
The series with BU gave the team and the alumni and the fanbase at large something to celebrate, but it also provided Hughes an outlet to test how far his defensive game had progressed during the season. "I look back at the NCAA Tournament last year and him going up against Boston University and Jordan Greenway, who's in the NHL right now, and he really shut him down, so I guess that would be an example of his stick's really strong and he can get big on pucks," Becker says. "So, I think his defensive game's underrated, but I think us and the team, we see how good he can be on the backend."
It's no coincidence that Hughes was able to neutralize Greenway with stickwork, but the byproduct of observation and effort. "That's another big thing that he noticed himself skating with [Toronto Maple Leaf center John] Tavares," Ninkovich says. "He noticed that Tavares has an extremely good stick, meaning poke checks, meaning being able to dig the puck out, how relentless he is." 
Michigan lost their national title bid with six seconds remaining in the championship game, a hard fought game against an opponent that, after playing each other four times already, had downloaded all of Michigan's system and vice versa. What stands out most to Hughes from that game is not just the ending but the exhaustion. He felt lucky, however, that he didn't have time to dwell on the loss immediately after, as he was invited by USA Hockey to participate in the IIHF World Championship.
Unlike World Juniors, Hughes couldn't have been happier with how this tournament unfolded. An NHL coaching staff and roster filled with NHL stars gave him a reasonable proxy to test how his game fit at the highest level of professional hockey, and he was encouraged by how quickly he was able to acclimate. "It's about learning and adapting. Obviously that game's going to be different than college hockey, and so I remember in my first game against Denmark it was an exhibition and I struggled a bit because it was way faster and harder. My coach was just like, 'You've just got to adapt. Everyone adapts,'" Hughes says. It wouldn't have been a surprise, however, if he struggled in his first non-exhibition action. "I was nervous before the game," Hughes recalls, "because I was like, well, I just played pretty bad against Denmark and now I've got to play against Canada."
He played well in the game against Canada and each one after, his confidence surging. Hughes felt he was a different player from the first game of the tournament to the tenth, and he thinks he would have only gotten better had they kept playing. A little less than a month away from even being drafted by an NHL club, Hughes was leaning toward turning pro.
**************
Quinn's little brothers, Jack and Luke, floated in and out of the house, entertaining themselves with one of Quinn's favorite pastimes: pickup basketball on the glass hoop in their driveway. He loved any activity with a winner and loser, and Jack and Luke bore the brunt of this competitiveness over the years; Ellen used to beg Quinn to let his brothers win something, anything, just once, but he never relented. "Once gametime comes around, he's definitely the most competitive guy I know," says Norris. Quinn wanted to be squaring off against them on this ordinary summer day but had recently started limiting himself to just shooting occasional jumpers, as the three or four pounds of fluids he was losing after playing in the driveway against his brothers and subsequent exhaustion was having too large an impact on the off-ice training he already had difficulty fitting into his schedule.
At some point, Quinn's dad, Jim, threw some steaks on the grill. Inside, Quinn's mom was around, as was J.P. Brisson, Quinn's family advisor, and his son, Brendan Brisson. The Brissons were in town to for Brendan to take a recruiting visit to Michigan, where he committed. They chatted, the conversation eventually turning to where Hughes was in his decision to go back to Michigan for another season or leave for the NHL. The talk kept going and going as they threw out more 'what if?' scenarios, eventually cresting the three-hour mark.
"I didn't think I was going to make a decision that night but we kind of just kept talking and then a decision was clear, and I was like, 'So what the hell are we doing? We might as well. There's no reason to stretch it out any longer,'" Hughes says. Within minutes his family advisor was on the phone with the Canucks' general manager and Hughes was calling Vancouver's head coach, then Pearson. "It just kind of organically happened and he was thrilled with it," Ellen recalls. "I think it was at that point. You can only go around in circles so many times. I think he knew what he wanted to do for a while, I just think he hadn't chosen to pull the trigger."
In synthesizing some of the reasons Hughes came back (Hughes said he also felt they could win with the guys on the roster and wanted to finish what they started last season), Mel Pearson has a word of warning. "He really didn't have much time to just off-ice train and get himself stronger. I give him credit: for the time that he had, he went full out and he's gotten stronger, he's gotten leaner, he's gotten more explosive, but I can only imagine what a full summer, a good three months of actually working off-ice, will do for him as a player," he says. "I mean, he's a great player as it is, but boy, you get a little more explosive, you get a little bit quicker, you get a little bit stronger—he's so strong on his feet as it is, but you can always get stronger. I just think he played so much hockey he didn't have the opportunity to maybe train as much as he will next summer and I think you'll really see his growth and his strength and his explosiveness, all those things, take off next year." NHL players take note: Hughes will have had plenty of time to train once he reaches the league. Adapt or die.