Mailbag: Rugby Returns, Ridiculous Ticket Waitlist, Oregon Pined For
[Guh. Google image search for "rugby punt" and one of the first images is Zoltan making his very bad decision against Michigan State. Thanks for nothing, BWS.]
Rugby punt responses.
Yo Brian,

What do you think about having an up man for punt returns when we play against a rugby style punter?  How many times have we seen 25 - 30 yard punts turn into 50 yard net results because it was impossible for one man to cover enough ground to catch the ball.  If we had an up man he could immediately start moving toward the side that the punter runs toward and would be in position to fair catch many of these 30 yard floaters.   I actually like a two man return set up for all punts but it certainly seems to make sense against the rugby style.  My nomination for up man is Drew Dileo - great hands, dependable and seems to have an unflappable field presence.

All the best,
Jerry in Ibiza
Against traditional punts putting a second guy that far back could be an invitation for the opponent to run a fake. You could get away with it for a few games but once opponents plan for 9-on-11 you're asking for trouble.
That problem doesn't exist with spread punting*. Fakes there are invariably the punter taking off after he sees the opponent bug out downfield, something the returning team can prevent with three or four guys. So… yeah, I've been in favor of a second returner for a while now. The combo of spread with rugby style punting means returns are infrequent and the best you can hope for is to field the thing on the fly and hope to get lucky—having a guy a closer to the roll side who's 30 yards deep could save you dozens of yards of field position.
In the last year of the Rodriguez regime we actually saw something like that in the open practice. Michigan came out with three returners, one at normal depth in the middle of the field and two guys outside of him closer to the line of scrimmage. Never actually saw it in a game, though, and the punting was so terrible in that practice that we never even saw it return in practice.
I doubt Michigan ever does something like this—using the old-style punting is indicative of a regime that's not particularly innovative on special teams.
*[Rugby punt googling also turns up a coaching video on the thing calling it "shield" punting and enumerating its many advantages:
The traditional punt formation has only two gunners. Everyone else is tasked with protecting the punter until the kick is off, which means they lose time they could be using to go after the returner. The basic shield punt formation allows for much better coverage by spreading out seven gunners on the line of scrimmage with three defenders protecting the punter.

The shield punt is a simple formation that results in your opponents giving you fewer looks and allows you to minimize practice time spent on punt coverage. Your athletes have limited assignments which translates into quick learning and fewer reps in practice.
Seven gunners, man.
BONUS RANDOM Australian team logo: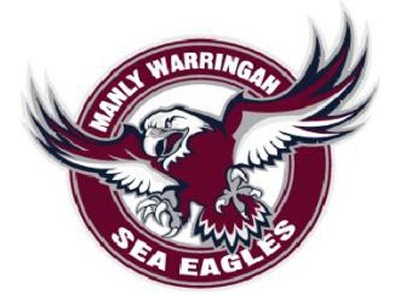 Is that a location or a description? ]
One of about a dozen emails about why we couldn't do anything against MSU.
Brian,

Denard, Borges, and the o-line are rightfully getting a lot of heat after Saturday's loss. How much of the blame should go on the wide receivers? MSU loaded up the box and dared UM to beat them through the air. They manned up on the wide-outs and sent the house. I remember a few plays Denard missed open guys, but on most passes the receivers were blanketed. On one pass over the middle, Denard stepped up into the pocket and threw a bullet to Roundtree. The pass was slightly to Roy's left, but instead of sliding his feet, he just reached for it, and the ball glanced off his hands. The best way to stop a team from blitzing is to beat man coverage. On the Roundtree TD, it took a near perfect throw to fit the ball in there.

Clearly MSU didn't respect our wide-outs' ability to beat man coverage. This is the first game I think we missed Stonum's speed. He had that huge catch and run to jump start the team 2 years ago against State. He also got the offense over the hump last year vs. (gulp) UMass. Hemingway is a good position guy, crafty after the catch, great on jump balls, but he's no burner. What impact do you think Stonum might have had on Saturday's game?

Thanks, Mike

PS - why no more bubbles? On the Denard pick 6, UM had 3(!) on 2 and didn't throw it. I don't think we're stretching the field enough horizontally anymore.
I have many of these arguing that various things were wrong with the offense, so if this isn't yours, apologies for not replying—I did read it and will go into UFR looking for it.
As for the wideouts, it seemed like the wind was also screwing with them. Michigan State suffered a half-dozen drops to go with Roundtree's. That's more evidence passing was not the best idea on Saturday.
Did they get open and if not was that their fault? It's hard to tell. While the WRs weren't open on that disastrous three-play sequence in the second quarter, other players were. If the QBs throw to the hand-wavingly wide open guys we're not having this conversation. On other plays they may not have been open because Michigan ran three guys deep into cover three. There was a shocking lack of short routes to exploit MSU's constant double-A-gap blitzing.
Just last week the WRs brought in seven iffy passes from the QBs against Northwestern, and while they aren't Edwards, Avant, and Breaston issuing those guys the blame when they hardly got a hand on the ball is goofy. The QBs and Borges were the main issues.
RE: bubbles. I don't know, man. Argh. They looked open all day. That's a symptom of a larger issue: lack of constraints in general. The base didn't do anything in large part because MSU was cheating it and Michigan had nothing to punish the cheating. It's possible they did but couldn't execute it—Meyer thought the pick six was a slant that a WR did not run.
Ticket wait list: not so good.
So I decided after many years to get my own tickets, expecting to go on a waitlist for end zone seats, maybe take a couple years or more for my name to come up.

I read the online info and sent an email to the ath dept to clarify. 

To sum up what I learned, I'm told that I have the opportunity to make a donation of $500 to be on the interest list for this year.  Key points:  500 minimum donation, but no guarantee of getting tickets.  $500 puts me on the list for this year only.  If I don't get them this year, then I need to cough up another $500 to try again next year.  Or just donate a large enough amount move higher up the list.  It's all about points.  More points move you up the list.  My degree is worth 5 points, which I could buy for a mere $500.

I told them to tell pass along my dislike to DB. 

Steve
This is bizarre given the many stories floating around on the internet stating that over the past half-dozen years or so you could jump the season ticket wait list with a donation of $100, $150 at worst. To reiterate, this is next year's home schedule: Air Force, UMass, Illinois, MSU, Northwestern, and Iowa. You could pay $500 for the privilege of being on the wait list, or you could take your 500 bucks, scalp every game, and have enough for a Wii left over.
I'll be fascinated to see how this works.
Ideal offenses.
Hey Brian,

Since there has been much criticism and analysis of the various systems deployed by current and former coaches, I am just curious: what is your ideal offense? As in, if you were to become an offensive coordinator, what would the personnel look like and which current system would it most resemble?

Thanks,
QVIST
Oregon. Oregon has the whole toolbox: power, inside zone, outside zone, constraints on all of those, the zone read, and a downfield passing game that is often a blitheringly open touchdown factory. There are a number of other systems that I wouldn't mind—I like Oklahoma's "have an NFL first round QB throwing to NFL first round wideouts" strategy—but the tiebreaker for me is Oregon's ability to manipulate the tempo of the game in their favor.
Oregon can play lightning fast when they have the opponent off balance, which keeps the opponent off balance. If they were to hypothetically be behind in a game, the up tempo nature of the system helps them there, too. If you're trying to kill a game it's nice to have a rushing attack well over seven yards a carry. And finally being really good and playing fast makes you less vulnerable to weird stuff because you're putting more possessions in the game.
Oklahoma's air-raid derived passing spread is also quite lovely but seems more vulnerable to vagaries in quarterback talent. Oregon made Jeremiah Masoli an all-conference player.
We will make an exception this time.
Brian,

I graduated from UM Law in 2006 and consider myself to be a huge Michigan fan. I went to Yale as an undergrad and was in an a capella singing group (I know, I know) called the Baker's Dozen. Through some weird circumstances, I found out last year that from the early '60s until the late '80s, my group sang and recorded "Hawaiian War Chant." 

As you would imagine, or, I would hope, can at least understand, I freaked out and immediately found and purchased a copy of an album from the 80s that contained the song.  In the meantime, an alum of the group sent me the attached mp3 which is a recording from the Baker's Dozen's 1960 album. 

My wife's about to have twins, so I figure the only logical thing to do is to send the girl to Michigan and the boy to Yale where he'll join the same group and revive the song.  That's not a weird plan, right?

Go Blue.

Tyler Mann
Here is one without the other:
Someone in the readership will no doubt find a 60s a capella version of Temptation now. This is what the readership does. It is a machine.