Mailbag: NCAA Reform #1, DL Moves, Coaching Evaluation, Bo Pelini's Secret Twin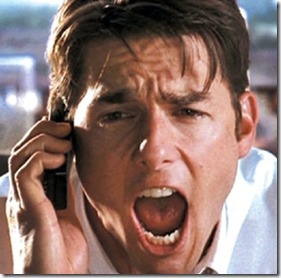 SHOW ME THE HENRY
How to resolve the NCAA being terrible thing.
Brian,

My friend and I were having a discussion about the best way to compensate college players, and he came up with the idea of paying players based on performance, sort of how incentive laden contracts work in the NFL, with the stipulation that the players will not receive the money until they graduate or go pro. I thought his idea was awful and unrealistic, because the "student athletes" would now become paid employees of the university and we essentially would have a semi-pro league on our hands. BUT, that got me thinking about a possible solution…

The issue we have here is the balance of compensation between stars and bench-warmers, large schools and small schools, men's sports and women's sports (which could also very well be a legal issue), revenue-generating and non-revenue-generating sports, etc. Instead of trying to figure out that mess, let's take the decision of compensation out of the universities' hands.

The solution: allow the student athletes to sign endorsement deals. If a corporation is willing to pay for a player's likeness, he deserves that money. However, the stipulation here is that all money earned by a student athlete through endorsements would have to be held in an escrow account, and the release of the money would be contingent upon the completion of the player's eligibility or his/her declaration to go pro, whichever comes first. Now if a player is caught accepting benefits beforehand, the NCAA would not look hypocritical when laying down punishments. Student athletes get compensated, legal issues are avoided, and you won't have a bunch of teenagers running around campus with millions of dollars to blow/get into mischief with.  What do you think? So crazy it just might work?

Go Blue,
Stephen Y
That's fine. It's a little paternalistic to tell the kids they can't have money until they get their degree, and that will be less effective at legitimizing the stuff under the table, because poor college kids will still want walking-around money. It's still fine.
I'm not sure why there's this widespread opposition to giving people money in exchange for services, but whatever middle ground you want to stake out that gives the kids their image rights and avoids Title IX issues is fine by me. Sign whatever you want, get whatever money you can acquire, and everything will be the same except compliance folk will have to find less mindlessly pedantic jobs. Worries about booster involvement are naïve—they're already involved.
The other major thing that the NCAA could do is get rid of their inane opposition to agents. If you're a legit agent with X number of current pro clients you can sign players regarded as prospects, and give them some advance on whatever they're going to make in the pros. (If you don't make the pros, that's just tough luck for the agent.) The NCAA doesn't even have to redirect any of the buckets of cash they're currently making to make the system
less impossible to manage
a more even playing field
fairer to the players
Yeah: a more even playing field. Right now no one is going to MAC schools over major offers, but schools willing to do under the table stuff—or just not stop it—have an advantage over schools that don't. And it's tough to figure out what the more moral position is there these days.
Hey Brian,

Sometimes in football, it seems that you just want to get the best guys on the field right?  Do you think we might see a DL consisting of Beyer, Henry, Qwash, Black?

I would think Black could flip back out to SDE pretty easily and could fold back in to 3 tech occasionally depending on the substitution patterns.  To me that gets your best pass rushers on the field more regularly and is the most likely combo to soak up OL in the run game too.

You mentioned that you expect Beyer to take Clark's job when Ryan comes back, but why not just make that switch now?  Wouldn't you rather get Gordon out there with Beyer than Clark at this point?

Thanks,
Daniel
(This was sent before Clark played well against UConn.)
If Michigan was going to put out its best line for one particular play against an I-formation that might well be it, but with opponents running out all kinds of spread packages and Michigan responding by lifting their nose tackle, Black's snaps are mostly going to be spent as an interior rush-type against shotgun formations. It's probably not worth moving him midseason to get a marginal improvement. While I like what I've seen from Henry so far, there was a play against UConn where he got obliterated. (Michigan was fortunate that UConn didn't block the second level well and held the gain down.) He's a work in progress.
Meanwhile on Cam Gordon: for whatever reason they're not playing him, and it's to the point that his lack of playing time speaks to a lack of performance. Beyer's been good, but mostly as a guy with his hand in the dirt. When Beyer's been put in coverage he's shown some flaws. Gordon's not getting more time is probably just his fate at this point.
I don't get it, either. They've been giving him seemingly genuine praise for years now and when it comes down to it they just don't put him on the field.
[After THE JUMP: evaluating Michigan's coaching staff, plus Bo Pelini axe murder.]
Subbing side effects.
Given Mattison's preference for subbing regularly in the front seven, could the coaches be doing this in part to mitigate the dropoff after guys graduate? I was surprised when a preview said Michigan lost 4 starters in the front 7 coming into this season (Campbell, Roh, Demens, Ryan) because their backups got a lot of run in '12, especially late in the season. Obviously Mattison mainly likes to sub to keep guys fresh, but could it have ancillary benefits for a college program by grooming the younger players for when they start, at which point they'll rotate with still more young guys? Could this an intentional part of player development?

Andrew S.
That is a salutary side effect, yes. If you know you're going to get at least a few snaps it's a lot more likely you are focused in practice than if you know the only way you're getting in the game is through injury typhoon. That helps development. It also helps with recruiting when you can point to players X and Y getting time as freshmen.
At some point—probably this point—there will be a time to cut down on that rotation and focus on the guys who are giving you quality time. I think we've seen that process start, as Glasgow hardly got a snap against UConn.
The obligatory coaching Q.
Brian,

Out of all the post-game analysis I have read or heard, your comment that there is nothing that the Michigan line does particularly well scares me the most. I was feeling that DB made a great hire, that this staff could recruit at a high level, teach and develop talent well and had great football minds in Borges and Mattison. I know it is just one game, but  I am now questioning the latter two points. I am worried about Hoke's ability to keep up with Urban Meyer. What is your overall opinion about this staff?

Peter
The defensive staff is unimpeachable. They immediately turned around GERG's clownfraudshow and have maintained a high level of performance without having anything resembling a player the NFL is highly interested in except Mike Martin. (I'm not counting Will Campbell, who is now an OL.) They developed JT Floyd from one of the worst corners to ever see the field at Michigan into a guy who got the maximum out of his ability.
Even now they're dealing with a talent level far below the one they'll have in the near future. Michigan's starters-plus-nickelback on defense are still mostly unheralded recruits. Only Quinton Washington, James Ross, Blake Countess, and Jarrod Wilson are consensus four-star types (Black and Taylor got one four star rating apiece from 3 and 4 services, respectively), and Washington was supposed to be an offensive lineman. They're still very young: they bring back all but five guys on their two-deep next year. And they pulled in Jabrill Peppers and are likely to grab Da'Shawn Hand and Malik McDowell. The trajectory here is looking excellent.
On the other side of the ball the jury is still out. Hecklinski seems to have done a fine job with Gallon and Dileo. Chesson is still a work in progress, and his other charges are Reynolds and Jackson. Running back coach is usually a place you stash a recruiter because playing running back is something you do or do not. Fred Jackson's probably retiring in the near future anyway. Ferrigno is the TEs guy, and he is going to get an incomplete for at least another two years. Funchess and AJ Williams both would have redshirted on a team that had any other scholarship tight ends, and Michigan would be gingerly working them both into the lineup behind Jerame Tuman types in any normal situation.
But this entire question is probably about two guys: Darrell Funk and Al Borges.
I still think Funk is in a similar situation as Ferrigno is: he's still trying to dig out of the bomb shelter. In retrospect the Braden-as-guard thing this spring was a major warning sign. Bryant can't stay healthy so your collection of non-freshman, scholarship options on the interior line is Jack Miller and Jack Miller. You know, the guy they were trying to replace. He's hamstrung by Borges's desire to run pretty much the opposite kind of system as they did last year and the lack of coherence in Michigan's running offense, but more importantly he's still in a situation in which he pretty much has to play three and only three guys on the interior OL. Bars is obviously not ready, Bryant is in and out of the lineup, and past that it's Joey Burzynski and true freshmen. When that's your fate sometimes you get stuck with guys who can't play.
In that vein: Funk should be given major points for acquiring and developing Glasgow, who I think is Michigan's best interior OL right now and will be a three-year starter. Where's Michigan without that? Starting Kyle Bosch, probably.
Next year is the real test for Funk. He'll get both guards back, but he will be replacing both tackles with guys he recruited and possibly the center. If there's not significant progress then, caterwauling should begin in earnest.
As for Borges, I find him maddening a lot but when I go check things out I often find that the stuff he called was open but his players biffed it. Still, you never know if you're going to get something like 40 points on Notre Dame or an inexplicable fart. I watch opponents tee off on Michigan's run game without getting punished for it. One of the fun things about breaking down Rodriguez games was waiting for the knockout punch when RR figured out what you were doing to his run game and tweaked something that left you holding your guts and choking on his dust. I got how that system worked.
Borges… I don't know, man. Half the time I think he's great, half the time I think he's a goober. He, too, is stuck with one and only one quarterback.
Whoah.
I can't believe I never noticed this before, but I think Bo Pelini has a long lost twin.  

Sincerely,
Chris Banish '96
Whoah. (Also you know that Pelini has killed someone with an axe and put them in a woodchipper.)