Mailbag: Mostly About Uniforms
Design elements
Brian,

Adding to the list of Adidas wrongs. What really irks me is that the only word appearing on the front of the current Michigan football uniform is Adidas. Unlike most schools, U-M jerseys were famously clean of any identifying words- the signature maize & blue color scheme was all that was needed. The simplistic Nike swoosh, though an identifying trademark, is far less noticeable.

Ed McArdle

Saginw, MI
Hoarding disease is a problem with a lot of uniforms these days. In an effort to brand brand brand everything they've cluttered the front of the jerseys with a series of logos: Adidas's clunky stripes, the Big Ten logo, legends patches, bowl patches, a block M or three. There is too much stuff on these uniforms:
They're probably dropping the Legends patches and replacing the Adidas Triangle Of Tiny Text with the swoosh will help; they can ease back on the block Ms.
The Big Ten logo is going to remain a grating presence until the end of time. Because you need to be reminded who is in the Big Ten these days. And that Michigan—surprise!—is in it. But some guy gave a presentation where he muttered something about brand equity, so we're stuck with it. The best they could do is something like they did at Crisler:
Michigan technically complies with the league mandate to have the Big Ten logo on the floor… very technically. If Michigan could get away with a blue-on-blue Big Ten logo that would improve things. I bet some clever person in the league office has already put in a regulation against it, unfortunately. 
Maybe a step too far.
Hello,

Am I crazy for thinking that this is the best look for the away uniform?? Obviously the jersey will be Nike but I love the simple all white jersey and blue numbers. There is enough maize on the helmet and the pants. Maybe put the Block M or number each shoulder pad. I just think simple is better and this jersey is sharp.
I like simple. That might be a bit too simple even for me. It gives off too much of a generic vibe. Is that a Michigan jersey or a random high school from 1950? I do not know.
The above does avoid the clutter mentioned above. It even avoids the many, many iterations of maize trim that have never really come off: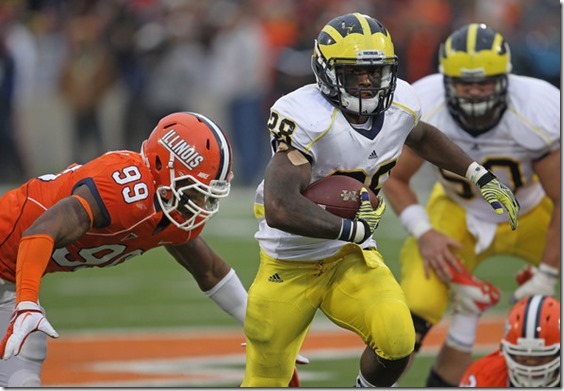 I am so done with maize piping, and maize outlines on the numbers, and maize maize maize on a white road jersey. But the above suggestion needs something to distinguish it. The correct number of design elements isn't a jiggityzillion but it's not zero unless you're Penn State.
Maybe the stripes from the Sugar Bowl jersey:
That everyone liked those is indicative of how low our expectations are these days. I thought they were fine and they have the chest clutter—this partially self-inflicted with a superfluous block M—and weird thin numbers that kind of make it look like everyone is wearing a kids' size. But they weren't a collaboration between a six year old with a glitter gun and the first guy cut on every season of Project Runway so we liked 'em.
[After the JUMP: Bo Xs and Os, and moar Nike.]
Bo X and O
I'm curious if you or anyone else in the mgoblogosphere has any knowledge of what kind of Xs and Os coach Bo was. Was he more Hoke, line up and out tough you or more Harbaugh, manball+ for lack of a better term.

-anon
I asked Craig Ross about this, because if anyone would know it would be him. This is his response.
----------------------------------
Brian:
Some nominal thoughts. I saw all of Bo's home games (road games often were not on TV in the 70s) save for 71-74 when I was in law school in Boston and only caught the OSU games. Plus, at the time, I didn't pay a lot of attention to what he was doing. I was strictly a rooting fan.
On defense Bo ran an "angle" 3-4 (I think the DL angled one way the LBs the other) with small quick NGs (Henry Hill was the early proto-type and he weighed right around 200-210) like Tim Davis or Al Cincich (if my memory is correct).  I am sure that he played these uber quick but safety sized NTs who tried to angle into the A gap and use their quickness as a disrupting factor. My brother, who played center in HS (but safety in college) was undersized at the position but said he hated playing against those kinds of DL, "that he would rather block a bigger and slower guy any day." Bo, plainly felt the same way. In those early days the passing offenses UM saw were both rare and pretty basic so Bo used a "Wolfback," a safety like Don Dufek  Jr, who could play zone against the pass but still come up to play against the option teams of the time.
My recall is that Bo was more of a zone than man to man guy on defense. By a wide margin. Once, at an M Club meeting I asked him about an INT where it seemed that the corner was blitzing (he called a corner blitz a "fire") and a receiver was uncovered. The QB saw the seeming lack of coverage and threw a quick ball to the WR---a hot read is my guess---but the DB had rope-a-doped the QB and was in coverage. INT. I thought that the DB had blown the coverage but had scrambled back just in time but Bo said "no, it was sugar," implying that they wanted to show the uncovered look, with the fake blitzer dropping into coverage on the snap. As an aside, this is what Scot Loeffler told me was a problem with offenses that rely too heavily on sight adjustments---that, essentially, the defense "would be calling all the plays,"
Bo's definite preference on defense was speed and not size. He played a lot of 200 pounders at LB, particularly at the ILB position.
On offense Bo was strictly an execution guy running triple options in 21 or 22 personnel---at least in his early days. I formation and always under center. Fake or handoff to the fullback, then the QB would probe to the play side with the TB as a pitch man. Or, he ran isolation plays with the FB isolating on a backer with the TB reading the FB's blocks. Bo's FBs were blockers who could run and were generally larger than the LBs or the NTs he used. Bob Perryman was a classic Bo FB, a guy who could block but was also a fantastic ball carrier.
Later, Bo used some wishbone or split backs at the goal line. I don't recall anything like 10 personnel ever.
His QBs were mostly runners. Dennis Franklin was phenomenal and he could throw it some but he had a very slow release. Franklin was 30-2-1 as a starter but I always felt that with some  modicum of a passing game UM would have been 32-1, worst case and quite possibly undefeated. Leach was a terrific triple option QB but he wasn't much of a passer and he was hamstrung by what seemed to me to be a pretty limited passing offense. Same with Steve Smith, who was a tough as nails runner and a better passer than Leach (and maybe Franklin),
Bo gap blocked. I don't know if he used any doo-dad blocks, Landry's and Lombardi's precursor to zone blocking. If I was going to compare Bo's offense to anyone it would be Lombardi, executing one play or sequence perfectly, and then countering off of it when the defense adjusted. I also think he became comfortable throwing some to his backs (usually the FB) and he may have been channeling some stuff Bud Grant was doing with the Vikings. Bo loved to trap, would use the power sweep.
I found Hoke's offenses to be schizophrenic, the Dr. Strangelove of the football world. He wanted to run power and west coast passing, but it always seemed to revert to zone, read options and a passing game I am sure made sense---much as it was, well, not very successful.  He never seemed to evolve past the spread pieces he inherited. Some bad fortune there but four years down the road the offense still seemed one with feet in different places. I felt like we were watching a platypus morph in a unicorn. Only there wasn't any unicorn.
Well, Bo's offense is all through the mist now. But even in the years when there was almost no passing (Leach was 32-100 in his frosh year, so 8.5 per game) it always seemed coherent, if maddening in its lack of dimension. Since Hoke's offense were the antithesis of coherence, I would have to hope Harbaugh will look a lot more like Bo, albeit with an actual passing game. To be honest I would guess that JH's offense will look more like Lloyd than Hoke or Bo. And, for me, that's a good thing.
I saw this with limited confidence that I am just not jabbering.
----------------------------------
So there you go.
Nike recruitin' now? 
Greetings MGoEmployee who is monitoring the inbox today,

Y'all seem fatigued by adidas/Nike/UA speculation, and this question likely betrays my lack of basketball recruiting knowledge, but do we know how basketball coaches handle shoe/apparel switchovers?  Does HCJB essentially recruit as a Nike coach now, even with the transition year? It has seemed like shoe companies can help push guys to schools they feel might need a boost (or at least I found the rumors re Auburn and UA to be credible). Seems very un-Beilein to want help like that, but I might be a bit Polyanna on him.

Thanks,

Tom in DC

PS: my copy of the magazine arrived in DC yesterday, and it's great. Keep up the good Harbaugh!
I have no idea how much impact that really has. Jaylen Brown made a lot of people think it has a big one… and then went to a Nike school. Since the kids Beilein is recruiting now aren't going to be on campus until next year anyway, I assume they'll start pitching Nike stuff. I still can't believe that's going to have more impact than "I take middling recruits and put them in the first round of the draft," but whatever works man.
I don't think it's going to make a big difference. As you mention, Beilein is not the kind of guy who is going to emphasize the shoes his program wears. It might get rid of a hurdle for kids who are interested; the ones who are probably won't change.
Campus events?
Brian,

With all the UNIFORMZ excitement, I wanted to know if there was any indication that Ann Arbor will get a NIKE football/basketball camp now with the new deal. The Opening has a regional in CBus and I would assume kids visit OSU (and if they aren't technically allowed too they still probably have a casual run in with an OSU coach at the local Red Robin...or something like that as well as getting to see the campus and facilities by participating). A NIKE Opening camp would really help for recruiting IMO. I know there is a regional in Chicago but what is the harm in adding one in AA?

Yours in Schadenfreude and UNIFORMZ,

814 East U
I kind of doubt it. Sound Mind, Sound Body is already in the area and brings a ton of kids from outside the region to it these days. With that, Harbaugh's satellite camps, and Michigan's own camp they're pretty booked up in the summers. Meanwhile there are 13 Opening regionals, two of which are already pretty close to kids in Michigan.
If Michigan pushes for it they might get it; Harbaugh seems to prefer bringing the show to the kids instead of vice versa.