3/31/2013 – Michigan 79, Florida 59 – 30-7, Final Four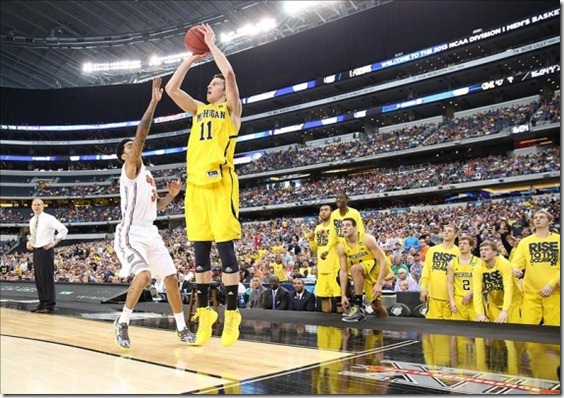 There was a point—probably the 360 GRIII dunk against Minnesota that capped a fist-pumping, game-sealing run on the home floor of what then seemed like a top-ten opponent—when this Michigan team's ceiling seemed limitless. If Michigan needed points, Trey Burke snapped his fingers and it was so. Nik Stauskas was flirting with all-time three-point shooting records; Tim Hardaway Jr seemed to have played himself into the first round, no questions. Defense was a minor issue, surely.
I spent chunks of words around this point talking about how everyone should grab this team and hold on tight, because joys like this don't come around very often. I think I wrote like three columns exhorting anyone who happened across this here blog to set aside cynicism or reserve and prise open their chest, the better to let your heart pound loose and free in the exhilaration of the moment.
Coming down from that was terribly sad. The shellshock of the first OSU game was okay, because they were young and still fought back like champions. That happened before the GR360 anyway. Losing at Indiana was expected, and relatively competitive and the Kohl Center debacle was a fluke. It was really the next two events that punched me right in the heart. When Michigan flat-out did not show up at Michigan State, I watched the second half on mute with a glass of whiskey in my hand. I don't even know what I did during the Penn State game, but I knew how it felt. It felt like Michigan basketball. Shit.
I was in orbit, man, and had not considered the possibility of forced reentry or what I'd turned the ol' heart into: a blast shield.
----------------------------
There are few things better in basketball than a three point shooter going nuts. For all the things Kevin Durant his done, he may be best loved for blowing up Rucker Park with four consecutive threes. I mean:
Dr. J got his nickname on that court, and he can't make Google autosuggest. Localized abatements in the law of probability have pull. Stauskas's early-season emergence was Rucker Park every night.
The fade was inevitable, but every time an announcer mentions Nik Stauskas's still-blazing three-point shooting people who have been watching Michigan play basketball all year only hear that shooting percentage is a couple points lower than it was a couple games ago. Part of the magic that made Michigan seem like an unstoppable train was Stauskas's three point shooting lines. Here are twelve consecutive games: 3/4, 3/4, 1/4, 2/3, 4/7, 4/5, 3/4, 2/5, 4/8, 2/7, 5/8, 5/8.
If he let it go, you expected it to go down. Not in the sense that you were momentarily allowing hope to overwhelm your reason. In the sense that the ball in the air was literally better than 50/50 to go in the hoop despite being launched from a great distance. Stauskas's shooting was a microcosm of the team; it was impossible to do anything other than stare at it, slack-jawed. Stupid grins optional, but recommended.
The wake-up call came at Ohio State. Stauskas didn't score in 23 minutes; he only got off three terrible looks from three. Guy probably hadn't gone a game without scoring since he was six. Towards the end his brain foundered. As the Big Ten season progressed, his fate followed the team's: 1/5 from three in the Indiana loss as Jordan Hull showed him what efficiency was; the same line at the Trohl center; 5 turnovers in the Penn State debacle; 1/8 from the field in the second Wisconsin loss. His decline was a microcosm of the team's.
The slump reached epic proportions in the most important games of the season. Entering the Florida game he was 2/16 from deep in his last four games. Michigan papered over that with liberal helpings of Trey Burke and Mitch McGary, but against Kansas they'd escaped, more plucky underdog surviving one more day than team gunning for a title. I'd burst from my seat to shout something about sending it in when Stauskas rose up in overtime against Kansas, and then sheepishly sat down when it clanged off the rim.
Sunday, Florida left him. I don't know if this was a decision to pick the 2/16 poison instead of Burke and McGary or simply a screwup. Whatever the reason, they left him. Stauskas knocked it down. High fives all around. Stauskas knocked another one down. Eyebrows cocked. What if…
The NBA Jam "on fire" three was next, and then another, and suddenly Stauskas was delivering on everything he'd promised in videos of his dad feeding him over and over again in his backyard, those stories about him breaking Beilein three-point drill records, that highlight package of Stauskas torching Baylor as a high school senior, every splashed three pointer against Eastern and Central. They poured it in from all over, but mostly from Stauskas, who we'd all literally seen dream about this in his backyard. A basketball metronome. Automatic. Open corner three, forget about it.
That was one thing. That was all Michigan needed to separate itself, to finish the course reversal that started in the second half against South Dakota State. The other thing: the last one, the one pictured above, was not wide open. Stauskas evaded a hard closeout, dribbled a step to his left, and launched from behind the backboard. Didn't matter. Stauskas was no longer bound by gravity.
*["Nik Stauskas's dad" is a candidate for the most boring job of the last 18 years]
Highlights
Seth Greenberg breaks it down:
And official NCAA highlights:
Official site video includes Bacari cheese speech, locker room stuff:
Return to Ann Arbor:
Bullets ahhhhhh!
It started with a whisper defense? Um… yeah. Michigan started this game lighting it up from the field, finishing the first half at a scorching 1.3 points per possession. But the difference between this game and, say, VCU, was the opponent's ability to score. VCU got a lot of points out of the gate; Florida got none.
As Doug Gottlieb mentioned at halftime, this was a gameplan thing. Michigan did indeed put GRIII on Erik Murphy. With visions of various Kansas 4s going 11/14 from the floor, Florida set to attacking him on the block. To say this did not work is an understatement on par with "Sunday was fun." Murphy couldn't get deep in the post and ended up throwing up tough shots while taking contact. His line for the game: 0/11, with nine of those inside the line.
By the time he did launch one of the threes he hits at a 46% clip, there were ten minutes left in the second half. He shot on consecutive possessions; the first was heavily contested and off balance. The second wasn't quite as terrible of a look but GRIII did get a hand in his face. Obviously both missed.
For the game, Florida took all of ten(!) threes. That's 18% of their shots from a team that usually puts up 40%. As someone who tracked the scary-low number of three pointers Wisconsin gave up all year let me tell you: that is downright Wisconsonian. As Bo Ryan watched this game through a film of tears, cutting box at the ready, he had a nagging feeling of familiarity as a team that bombs away went 2/10 from three. "That could have been us," he sniffled, forgetting entirely about Ryan Evans trying to shoot a free throw.
Is this post going to descend into Bo Ryan masochism fiction?
Well, is it?
…
…
Hmm. It appears the answer is no. Shame.
More on defense. Michigan's D held Florida to 0.9 points a possession in the first half… and improved(!) in the second half. All but eliminating threes did not come with an excessive cost on the interior, where Florida shot 46%. A lot of those were Boynton or Rosario runners a lot like the shots VCU was clanging; those are clearly things Michigan has just decided to give up. McGary went from challenging them fruitlessly and opening up opportunities for second chance shots to sticking to his man.
Extra possession watch. Rebounding numbers were essentially identical—both teams had 9 OREBs, Florida had one extra DREB. Michigan won turnovers by 4. So I'm a bit baffled as to where Michigan's seven extra shots came from. Both teams had 46 2PA; Michigan had 9 extra 3PA to Florida's 4 extra FTA. More of Florida's free throws could have come in and-one situations, but that doesn't make up for what looks like a seven-shot difference, does it?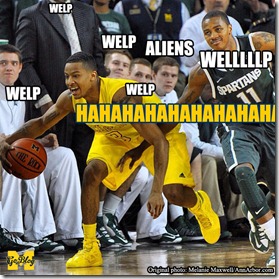 The Burke. Burke's trademark steal came off at the end of the first half, giving Michigan two points that seemed worth a lot more as Florida made their push towards a single-digit deficit. I'm not sure about you, but I almost expected that. Burke has a pirate's instinct for the moment, and with Michigan nowhere near the bonus it was a free shot at two. With Florida holding for the last shot, a missed steal that Florida presses gives Michigan an extra possession.
I don't really get to talk much game theory about basketball, but that's a situation in which Burke's skill combines with his intelligence to make that a majorly +EV move.
Mitch: cooled off, sort of. McGary's been on the kind of streak where you can announce some statline of his to a room and get gales of laughter back. I read a tweet that ended up in my timeline stating that McGary had eight points and six rebounds at the under 12 timeout in the first half, and the room went LOL.
McGary didn't continue that torrid pace and fell short of his third consecutive double-double. Still: 11 points on 9 shot equivalents, 9 rebounds, just one turnover, two blocks, and five(!) steals. I don't think I've ever seen a big who's better at coming from behind a post feed for a steal. He doesn't just knock it away and home, he knocks it away, goes and gets it, and then sometimes chucks an audacious over-the-head outlet pass that demands a Wes Unseld reference.
Everyone's searching for their McGary comparable, so here's mine: Brian Cardinal. Cardinal was a quality three point shooter (god, imagine that skill added to McGary's repertoire), but in terms of being a super-active big who generates possessions and has a floor-burn collection, I like it.
Morgan and Horford. Those guys got 14 minutes as McGary got in a bit of foul trouble, and produced. Horford was 3/3 from the floor; combined they acquired nine rebounds, three on offense, and had a 1:1 A:TO ratio. Once Murphy proved he couldn't exploit Robinson on the interior, Michigan didn't need to go two-post (though they did run it out for a minute or two in the first half); those guys got production in when they were called on.
Good to see Morgan getting enough time to contribute. It would be beyond brutal for him if he'd been limited to the minute he got in the first two games of the tournament.
Spike. Albrecht is on a minutes streak: 15 against VCU, 11 against Kansas, 14 here. This was his best outing, obviously. It struck me as Florida tried to pressure him just how impossible it is to get the ball off of the guy. Even Burke will occasionally get his pocket picked by Craft and the like; Albrecht is so low to the ground and capable of that instant spin, so pressing him is futile. With Florida desperate and pressing Spike came in to take the ball up, easily beat the press, and then handed off to Burke. That conserved Burke's energy for the final stretch.
Three steals, two of which led to layups, and a three he knocked down are bonuses. He's doesn't seem enough of a threat inside the line to hold off Walton next year but who cares about that? Right now he's Michigan's main guy off the bench. He's now 44% from three on the year, BTW (albeit on just 25 attempts).
I still don't get deploying him against Kansas, which wasn't pressing and was destroying Michigan at the four.
Hardaway. An awful shooting night, but the difference between Hardaway this year and last: he put up five assists.
Beilein talent eye x2. So Albrecht, obviously. His other offer, singular, was Appalachian State. Then there's Casey Prather, who is often cited as an exception to the rule that if Beilein tries to get you, you are good at basketball. After seeing him play are you telling me you wouldn't want to have the guy off the bench in the LeVert role? 6'6" sticky defenders aren't too common. He's got great rebounding numbers for a wing. He can't shoot, but there'd be a role for him on a Final Four team.
The number one thing to fix about college refereeing. The Wisconsin Chest is a foul, but is never called. The Chest occurs when a guy goes up for a shot and his defender scoots his chest up into the lower body of the defender. Guy takes a bump, shot difficulty goes up a lot, principle of verticality is violated. Never gets a call. I've noticed that Michigan is getting better at the Chest in the the last couple games, because I'm now thinking "that's a foul ARGH" when Michigan's on defense. Which, yay for right now and all that, but also I feel dirty.
Gottliebtake. I'm of two minds about Gottlieb. He's obviously annoying. Earlier this year I tweeted something to the effect of "that guy should wear a lucha libre mask and call himself Strongtake." He has one strength of opinion: extra.
But this does allow him to say interesting things and ask interesting questions. There should be someone badgering the committee rep about why Oregon was 12 seed and that guy should be rolling his eyes when the committee rep tells him "well, they were really an 11" as if anyone gets incensed about teams that are one line off of expectations. There should be someone doing college basketball games who won't shut up about how terrible the monitor review process is—there should be dozens, actually. There should be someone willing to bomb Billy Donovan's first half gameplan when it results in Florida going 1/5 from three. He seems to have a mild form of Tourette's—the white guy analyst comment. I'm in favor of weird guys, I guess.
Elsewhere
[12:39 PM] Ace: http://www.wdfn.com/pages/shep.html?article=11133369
[12:39 PM] Ace: BEILEIN DANCING ALERT
Every net-cutting video you could want. UMHoops recap. Slideshow from Melanie Maxwell. WE HAD SUBS
will it surprise you that Beilein says he's "trying to have more fun"?
IT WAS CRAZY
UMHoops photos.
OU's Greg Kampe on the Syracuse matchup and some other things. What do Michigan fans think? They are generally in favor! Wojo. Daily's Daniel Wasserman. Everett Cook. Meinke on Stauskas. Beard on Albrecht.
Congratulations! Go back to class. Michigan is a two point favorite. MVictors. They facetimed Novak from courtside after.