Lore
3/29/2013 – Michigan 87, Kansas 85 (OT) – 29-7, Elite Eight
Every year.
Every year from now until the country collapses into warring fiefdoms because of peak oil or some other nonsense, Trey Burke rising up from 30 feet over a 6'8" guy will make an appearance on someone's reel of insane NCAA tournament moments. Even after the collapse, if things go badly for you and you are captured anywhere from Topeka to Kansas City you can escape by just uttering the words "Trey Burke" and watching your captors seize helplessly. Collect their weapons and go. Once recovered they will be in a foul mood.
It's going to go in every time. You won't have that sickening lurch in your stomach as the bottom drops out of your hopes and then slowly tick-tick-ticks up the rollercoaster as the improbable trajectory seems true. Josh Bartlestein is way ahead of you on this, and you'll see Bartlestein start celebrating two beats before anyone else in the arena can figure out if they're going to live or die. This time, it'll go down. This time, every time.
Michigan wouldn't have been in this position if the rim had been kind at Ohio State, or at Wisconsin, or at home against Indiana. They'd have popped up a seed or two and avoided a team like the Jayhawks, maybe even gotten the gilded path the Buckeyes got and are determined to make look like the Bataan Death March. Thanks to a delirious two and a half minutes no one has been able to figure out yet, and probably never will, Michigan erased a ten-point deficit, and then that happened, and then Trey Burke did that twice more in overtime and Michigan's where they thought they might be when they walked into Assembly Hall the #1 team in the nation: playing a three seed for the right to go to the Final Four.
At this point I'm not sure that even matters that much. I mean, yeah, obviously it matters. But that shot is going in, over and over, for everyone, forever. It is written on cuneiform tablets found in ancient Sumeria, and a tatoo on Charles Barkley's forehead.
via @ggoodness56
I'll Probably Embed This On The Next Four Posts
Also a little more of the end of the game:
And Burke talking to Sager:
Because Twitter Will Kill Me If We Don't
There is a "WE HAD SUBS IT WAS CRAZY" shirt.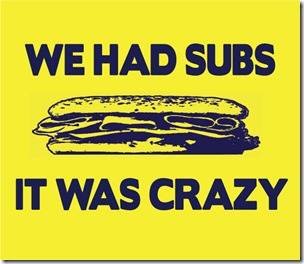 Mystify your friends.
Bullets
Ima let you block five shots Jeff Withey, but Mitch McGary is the greatest post of all time in this game. Wait, first Withey: the guy blocked a Trey Burke floater on a pick and roll, despite being a good five feet from the shooter. Boggle. Trey agrees:
He kind of surprised me the first half, once I got to the free throw line and shot.  He had a piece of it.  I think he was deep in the paint and he still got a piece of it.
Michigan shot 56% from two against him, boggle.
Okay, Mitch. First, inhale.
HAHAHAHHAHAHAHAHAAAAAAAA.
12/17 from the floor against Jeff Withey with 5 offensive rebounds and 9 defensive rebounds. Three steals. An assist. One turnover. One blocked shot and a second that was so clean in this world of "you can do anything as long as your arms aren't fouling a dude" that the sound of the whistle made me leap from my seat and cry "noooooo," Vader-style.
McGary spearheaded another blowout on the boards against Kansas, with Michigan doubling up the Jayhawks in offensive rebounds and winning the tempo-free battle 33% to 23%. He put up 25 points on 19 shot equivalents and generated at least eight extra possessions for M. He didn't pick up a foul until deep into the second half. I think we've just seen the best game of his career.
McGary has definitively arrived now. It's one thing to beat up on Juvonte Reddic and the four dwarves, entirely another to leave scattered bits of Jayhawk in your wake. The finer points of defense still elude him; that's the difference between McGary being pretty dang good next year or All American. That and free throws.
Now that we're used to the hugeness and the energy, the striking thing about McGary is how skilled he is. He hit an elbow jumper in this one and followed that up with a late turnaround from the short corner that was some Duncan business. His bunnies go down at a huge rate because he can slam them down when appropriate but also has excellent body control and the ability to shoot with both hands. Most of McGary's makes don't even touch the rim.
['shop via Ace.]
Relatedly. At halftime I made a comment about how I missed the version of Kansas that shot itself in the foot until it ran out of feet and just kept shooting, and more than one person said something about how they missed Burke. I was a little confused by this, and then the TV put up some chyron stating that he had zero points. Oh.
I didn't really feel that. Michigan had over a point per possession at halftime largely thanks to Burke getting the offense set up, and if he missed shots they often drew so much attention that GRIII or Mitch McGary was able to get a putback. Faced with the prospect of taking on Withey, he mostly got his teammates involved. Five assists is a lot of assists in a half.
I was frustrated by a thirty-foot bomb that came early in the shot clock and set up a break the other way. It felt selfish. Even that turned out to be necessary range-finding as Trey unleashed his inner Jimmer in the second half.
Win graph. Per reader request, the win graph from Kenpom: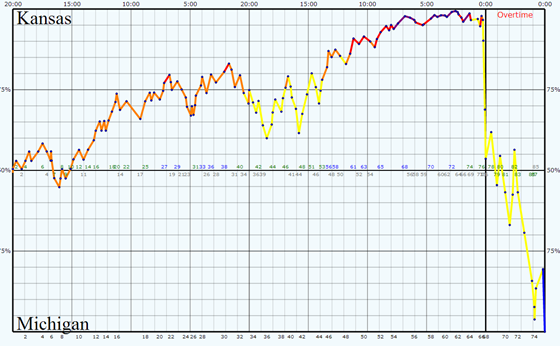 Michigan's win probability dipped to 0.6 with 2:33 left, down ten. That was one in a hundred—one in two hundred. Trey's shot took Michigan from 10% to just over 30%.
Jordan Morgan, scrapping. Morgan only got five minutes, about which more later. This bullet is a feel-good bullet about Morgan dusting himself off and turning in two huge plays:
scrapping to the ground after Hardaway's missed three pointer and eventually getting the ball to GRIII for his acrobatic layup.
forcing Nutpunch Johnson to orbit so far around the corner that by the time he realized Hardaway wasn't leaving McLemore, anything he threw up was going off he side of the backboard.
His boxscore contributions were thin (though I guess three rebounds in five minutes is pretty good), but Michigan did need him and he did come through. Beilein lifted McGary for him on that final possession; it's hard to see McGary pushing Johnson as far outside as Morgan ended up doing. Also, Morgan eventually decided to do nothing:
"I was going to go up with (Johnson) and I saw he was looking to pass. I backed off a little bit but the angle he had wasn't necessarily the best," Morgan said. "He didn't have a good angle to put it off the backboard, so he got caught too far under and if it had been a floater, that would have been tougher than putting it off the glass."
That zen decision is not something McGary specializes in.
Karma is going to punch you in the nuts. Speaking of ol' Nutpunch Johnson, he picked up an obvious charge shortly after being assessed the flagrant one, sat, came back, picked up a cheap one on an out of bounds play, and sat yet more time. He ended up getting 20 or so minutes in the last 25; he hit some shots… and had 0 assists to 5 turnovers, not even counting the mess he made of the last play. Oh and that McGary statline. Oh and missing the front end right before Burke blew everyone's brains up.
My only regret is that Johnson is a senior—otherwise we would have a delightful couple years of competing nicknames for the guy in the blogosphere.
Spike. I don't get it. Michigan gave Albrecht 11 minutes, and I was confused by about 10 of those—Burke sat for one. In this game it seemed like Michigan badly needed post defense, especially at the four. Kevin Young, Jamari Traylor and Perry Ellis combined to go 11/14, give or take an Ellis attempt against McGary when Withey was on the bench.
At 5'11", Albrecht is not noted for his post defense. While he was perfect for the up-and-down VCU outing, having him out there for a big chunk of time right after halftime was odd. He barely touched the ball on offense, and Michigan's defense with him out there was pretty porous.
Morgan at the four seemed like the move. Robinson had a decent night on offense and added three steals of his own, but, man, 11/14. Am I crazy here?
Stauskas took it easy, man. I predicted a tough night for Stauskas. He did okay. His attempts were relatively limited, which was fine. He took only good shots, hitting all three inside the arc and 1/4 from three—the OT miss was a killer. 11 points on 9 shot equivalents is decent output; he also had three assists.
But like man, if I can scream "make a free throw" in anguish at anyone, it's Stauskas. That missed front end would have paired with the foul on McGary's block in a Jacob Marley tapdance duet if Michigan hadn't pulled their asses out of the fire.
They really need an advantage call or something. If your foul does not prevent a fast break from fast breaking, the refs should just stick their arms out wildly to indicate a foul is coming but they have chosen to let the play go because the offense is in a fast break state.
If only my predictions weren't literally taking whatever Kenpom says and repeating it because I think predicting sporting events is an incredibly foolish pastime, as last night's game amply demonstrates. By which I mean, suck it local media!
Local writers
Nick Baumgardner, MLive: Kansas (66-61)
Kyle Meinke, MLive: Kansas (67-61)
Mark Snyder, Detroit Free Press: Kansas (67-63)
Mitch Albom, Detroit Free Press: Kansas (70-61)
Jeff Seidel, Detroit Free Press: Kansas (72-68)
Drew Sharp, Detroit Free Press: Kansas (71-65)
Rod Beard, Detroit News: Kansas (72-65)
Matt Charboneau, Detroit News: Kansas (74-68)
John Niyo, Detroit News: Kansas (67-63)
Bob Wojnowski, Detroit News: Kansas (72-68)
Brian Cook, MGoBlog: Michigan (by one)
(I also expected Kansas to win in my heart of hearts.)
Elsewhere
Burke postgame from GBW:
Trey Burke has taken the last shot for Michigan before but come up short several times.

Burke has seen his share of misses at the buzzer: Last season at Arkansas and this season at Ohio State, at Wisconsin and at home against Indiana.
One out of five is… fantastic right this instant.
MAY?
ARLINGTON, Texas -- Trey Burke may now officially be a folk hero, and Michigan's season is still alive.
Sample size. Woo.
Before the game, Michigan coach John Beilein wasn't ready to call that a slump or get a good feeling about McLemore's struggles.

"He's played how many games in postseason? Two?" Beilein said. "I wouldn't say that's a good sample size."
Presser transcript. Michigan has freshmen. Wojo. You did what to who?
Kansas center Jeff Withey was asked before his team faced Michigan whether he could dominate Mitch McGary.

"Yeah, definitely," Withey said. "He's not very tall. ... We'll definitely have to try taking advantage of my height."
That got telephoned into this:
"(McGary) looked at me last night, right before we went to bed, and he said, 'Did you hear what he said about me?" said Glenn Robinson III, McGary's roommate. "'He said, 'I'm not excited about his height. I don't think anything about his height. And I expect to dominate him.'

"I looked at him and was like, 'Oh. We'll show him.'"
If Withey had said his bit a couple days earlier by the time it got to McGary it would have described him as a midget toad, so Kansas actually got off easy there. Seniors hugging and such. Rapping and ancient Chinese texts. Horford is a trip yo:
there was forward Jon Horford, off in a far corner ... reading a book.

One more time: Jon Horford, 15 minutes after advancing to the Elite Eight in one his school's most exciting tournament games ever, was reading a book.

Reporter: Jon. Jon. Jon.

HEY, JON.

Still no answer.

Finally, after a shout from point guard Spike Albrecht, Horford looks up from his ruffled pages.

"Hey man, what's up?" he said, apparently ignorant to or indifferent of the fact reading a book at this time is not customary. And he wasn't exactly thumbing the pages of Sports Illustrated, either.

Horford was reading the "Tao Te Ching," an ancient Chinese text believed to have been penned between the sixth century and fourth century BC.
A first look at Florida.